The photographer's view: the Produce Awards trip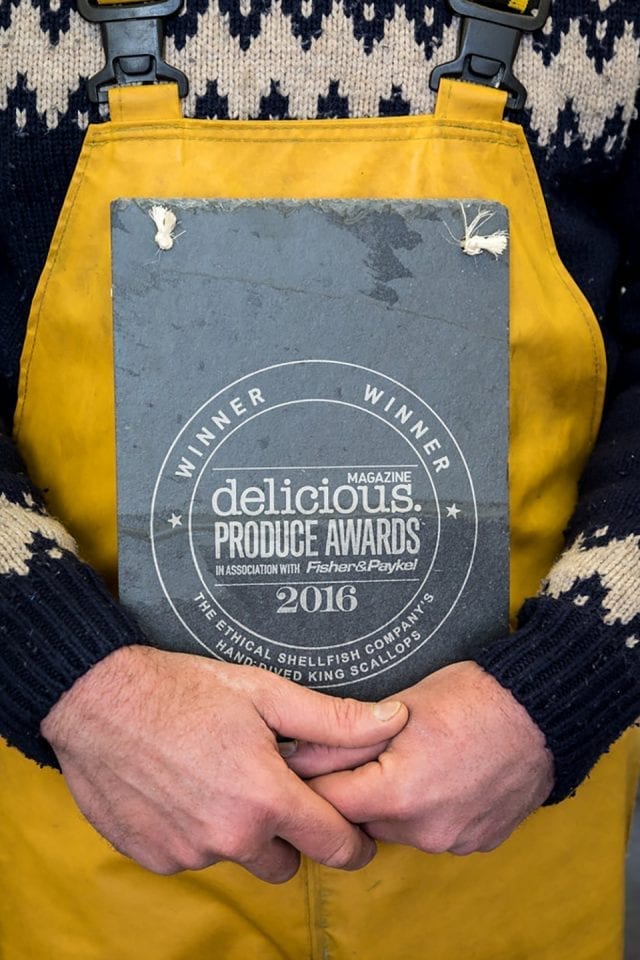 Last year delicious. launched the Produce Awards to find the country's best artisanal food producers. Earlier this month, super-photographer Joan Ransley and deputy editor Susan Low set out to meet some of the winners from Scotland and northern England. Here's a behind-the-scenes glimpse of their foray. Look out for the profiles of the winners in upcoming issues.
Here's Joan's diary of the trip…
What makes a Produce Awards winner? How do they come up with their ideas? What challenges do they face? To find out, during the early days of March, Susan and I met in Fort William to embark on a five-day road trip of Scotland and Cumbria. We also seized the opportunity to try out hotels that were potential candidates for the Great Escapes in the travel section.
Day 1, Inverlochy Castle Hotel, Torlundy  
Our excursion commenced in grand style. Inverlochy Castle Hotel is a Scottish baronial mansion at the foot of snow-covered Ben Nevis – the place for that very special winter break. How lovely to come in from a stroll by to the log fire blazing in the hearth and a pot of afternoon tea with scones. Dinner, a six-course tasting menu inspired by consultant chefs, Albert and Michel Roux Jr, with carefully chosen wines, is served in a candle-lit dining room, but I also took the opportunity to venture behind 'le pass' to photograph sous-chef Michele Bukkems, who obligingly ignited a pan of Ben Nevis brandy.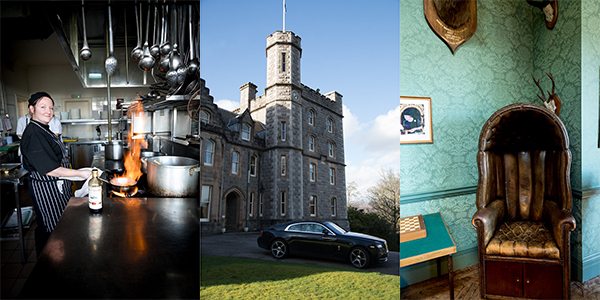 Day 2, Great Glen Charcuterie, Roy Bridge
A few miles up the glen in a tiny village, Anja and Jan Jacob Baak produce their prize-winning green pepper venison salami. We met in their beautiful white farmhouse set amid trees and wild flowers on the side of the mountain. I loved the personal touches; the handmade wreaths of twined summer herbs; a quirky coffee grinder powered by a decommissioned drill; the adorable terrier, who knew just how to pose for the camera and the treehouse Jan Jacob had lovingly constructed for his six children.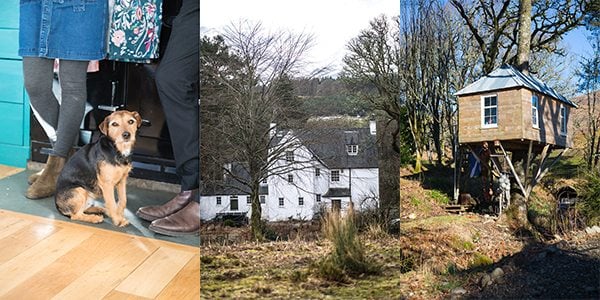 Venison is not easy to work with. It's only available at certain times of the year and needs to be frozen for at least a month before it is cured, and does not always have the optimum protein/fat content. Nevertheless, Jan Jacob has applied a scientist's attention to detail to create a year-round product from his environmentally controlled unit housed in what was once a butcher's shop.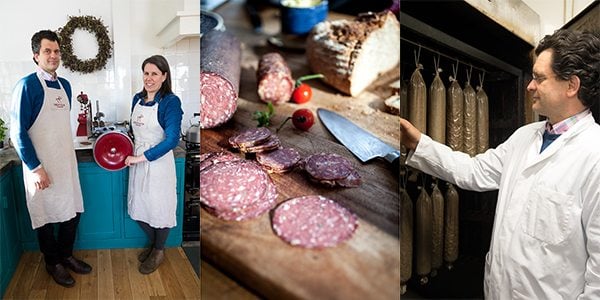 Ben Nevis was illuminated by a lowering sun as we drove along the side of Loch Eil to catch the ferry to the Island of Mull. The Western Isles Hotel in Tobermory had a certain genteel neglect that might be described as 'Caledonian chic'. The fire in the lobby was welcome and there were lovely views of the harbour from the spacious, if somewhat empty, dining room.
Day 3, The Ethical Shellfish Company, Mull 
We were running late for our rendezvous with Guy Grieve on Salen Pier. His voice sounded anxious. "A helicopter is waiting to pick up a consignment of salmon on the quay and I'm holding them off until you arrive." It was not the most auspicious start.  Nevertheless, the sea was calm, the sun warm and the light just perfect. Guy had a passion for the wilderness, having spent a year alone, hunting and foraging in Alaska. "The sea bed is the last great wilderness. I go to the wild places where the dredgers can't get to, select the mature scallops and leave the rest to grow. I then move on to another site." As he talked, Guy struggled into his dry suit, attached lead weights around his waist and with a tank full of enriched air, tumbled backwards into the sea. Forty minutes later, he emerged with a net full of large scallops, which he cleaned and cooked on a stove in the wheelhouse. They were tender, sweet and utterly delicious.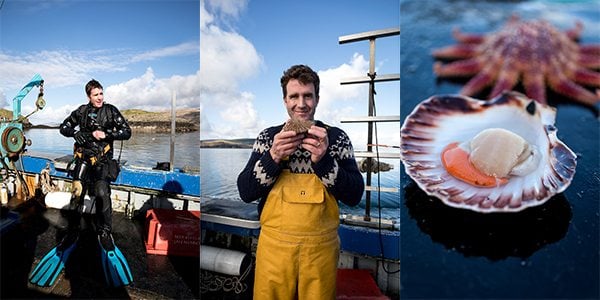 Back on the mainland we drove south into the Trossachs to the Lake of Menteith Hotel. From the hotel you can make out the lake isle of island Inchmahome, where four-year-old Mary Queen of Scots sheltered from the English after the Scots were defeated at the Battle of Pinkie in 1547. The hotel is a comfortable, spacious place with good food and a 'malt vault' with as impressive list of local single malt whiskies.

Day 4, Campsie Glen Smoke House, Kirkintilloch     
An industrial estate in Kirkintilloch 14 miles from Glasgow might seem an unlikely place to start a fish charcuterie business but that hasn't stopped proprietors Duncan and Cathie from making a success of it. Photography called for a little ingenuity, but with Cathie's winning smile and a photogenic russet brick wall, it all came together – and the prize-winning plate of island-cured halibut tasted as good as it looked.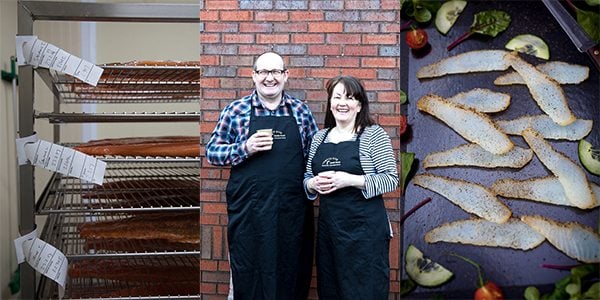 Rain set in as we crossed the border. The fading light and penetrating drizzle made our hotel difficult to locate but it was worth the effort. Haweswater Hotel in Bampton, near Penrith was exquisite; built in 1937, it's been lovingly restored with furnishings and fittings in the Art Deco style, with breathtaking views across Haweswater reservoir.

Day 5, Low Sizergh Barn, nr Kendal, Cumbria
Haweswater brooded under a threatening sky as we ate our breakfast and watched nippy red squirrels feed in the garden.
Our last visit was to Low Sizergh Barn, the dairy farm where Richard and Alison Park and their family produce raw milk, which visitors can purchase from a vending machine outside the farm shop. I tried some and found it tasted sweeter that pasteurised milk. The family is convinced that healthy milk comes from contented cows. Their herd is housed in a large airy barn during the winter. The cows are free to wander from their stalls to feed on the silage, get a drink of water and even have a massage from strategically situated rotating brushes. As spring arrives and the grass grows, the cows move into the fields to graze. Computers record each cow's milk yield and even monitor their activity using pedometers.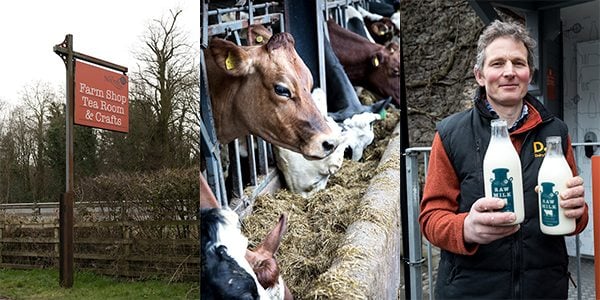 All too soon, our odyssey was over. We left inspired by the creativity and passion of those we met to launch and run successful businesses ethically and sustainably.
Subscribe to our magazine
Food lovers, treat yourself this Christmas... Enjoy 12 months of magazines for £29.99 – just £2.50 an issue.
Subscribe
Unleash your inner chef
Looking for inspiration? Receive the latest recipes with our newsletter