Baguette baking – not so much of le pain, especially when you add some vin…
The baguette. It's an iconic bread with an even crust that belies the passion and contention at its heart. It's a part of French life – the Décret Pain law of 1993 even dictates what can and can't be used and how it must be made – yet many a French baker guards their recipe jealously. As a budding baker, this seemed the ideal loaf to test my bread-making mettle. And with the prospect of a rainy weekend before me, I decided to inject a bit of joie de vivre into my London kitchen by cracking this loaf's secrets.
Finding a workable recipe was the first step. Despite the simple ingredients list (water, flour, yeast and salt), the method's another matter: the myriad recipes dictate a host of kneading techniques, proving times and temperatures.
Baguette flour from Flour Bin
After wading through what seemed like hundreds, I settled on a recipe for baguettes made using the fermented dough method (a type of sourdough), from baking pro Richard Bertinet's bread bible, Crust. I felt that with a classic Bertinet recipe on my side, I'd be guaranteed a rustic loaf with a good depth of flavour. So, armed with speciality baguette flour from Flour Bin and a good mixing bowl, I embarked on my bread-baking challenge.
The process of mixing, kneading and proving started on Saturday afternoon. Time and patience revealed themselves as ingredients just as vital as the flour, yeast, salt and water as I allowed the dough to rest and rise overnight.
On Sunday morning, there was more work to be done. First the bread needed to be mixed with the fermented white dough and, as the day wore on, there was more kneading and proving – sensibly interspersed with a glass of red. After all, I felt that the effort I put into thoroughly kneading and working the dough multiple times, meant that I, like the dough, deserved some time to rest too. And I was after joie de vivre…
Perfecting the rustic look…
Compared to the leisurely pace of alternating between kneading and leaving the dough to prove, the final sprint of my bread-making marathon was manic. It was imperative, according to my recipe, to transfer the baguettes to the oven as quickly as possible once the oven door had been opened in order to keep as high a temperature as possible, and in the heat of the moment (quite literally!), in a cruel twist of fate, my uncooked, perfectly shaped baguettes, ended up on top of each other.
After fretting over the eventual baking of the baguettes, which, I am not proud to admit, involved quite a lot of kneeling at the oven door and peering in as it baked, the result was a set of cooked, somewhat imperfectly shaped baguettes.
Not being one to judge a book by its cover, or in this case, a baguette by its very amateur appearance, Sunday supper was served in the form of an indoor picnic, complete with camembert and salami, with my home-baked baguettes (which definitely delivered on the rustic front) at its heart. And just a slight hangover on Monday morning.
Et voil
à – supper is served!
Subscribe to our magazine
Subscribe to delicious. magazine for HALF PRICE
Subscribe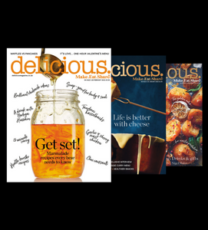 Join our newsletter
Packed with menu ideas, recipes, latest competitions and more...