"Bah, humbug"? It's Christmas!
Multi-coloured fairy lights bedecking every surface may be a step too cheesy, but Christmas cynics take note: this writer will not tolerate your I'm-too-cool posturing. No green-triangle pralines for you…
It's Christmas time and, as Paul Young crooned with Band Aid in 1984, "There's no need to be afraid". There's no need to be miserable either. Although, saying that, there's also no need to be a Christmas zealot. Don't get me started on those people who celebrate 'the most wonderful time of the year' every day, or who cover every inch of brickwork with a fairy light or glow-in-the-dark musical Santa. But I'll still take them over the people who purport not to like Christmas.

Of course, the festive season's not for everyone, especially those for whom it stirs up unhappy memories. I don't have an issue them: for the most part, they tend to slip quietly off somewhere and do their own thing. My problem is with the eye-rolling, deliberately cynical, 'Bah, humbug!' few who make sure we know they're above such tawdry celebrations and 'don't really do Christmas'.
Most of them are happy to take the time off, though. And the presents. And they'll certainly come round to your place, drink all your good port and scoff all the praline triangles while expostulating about why Christmas is beneath them. Sound like you? Really? You don't enjoy a good excuse for 12 days of indulgent celebration? Because I do. Why wouldn't I? Christmas is great!
That's not to say I'm overcome with goodwill from the time Christmas inveigles its way into the shops in September – not a bit of it. I only morph into festive mode once I've heard all the Christmas classics on the radio – Greg Lake, Nat King Cole, Bruce Springsteen, The Waitresses, obviously – and even then the good cheer barely lasts until New Year.
But for those magical few days of hardcore Christmas, I love it. Yes, I know it can be stressful, but for most of it the strain is worth it. And there are presents – who cares if every parcel contains a pair of socks? Then come the mince pies. For those alone I'd put up with a lot more than the Hades that is Oxford Street in December, an annoying sibling and an Atkins dieter who shuns Christmas lunch.
Oh, and there are few better indulgences than that festive post-prandial doze as the Queen delivers her annual speech and you remind yourself what a great family you have – at least while you're seeing them through sherry-tinted specs. So, Yuletide cynics, stop your posturing and give us all a break. Even Scrooge and The Grinch saw the error of their ways – but only after getting their comeuppance. Is that what you want in your stocking this year?
By Neil Davey
Illustration: Petra Manley-Leach
Subscribe to our magazine
Subscribe to delicious. magazine for HALF PRICE
Subscribe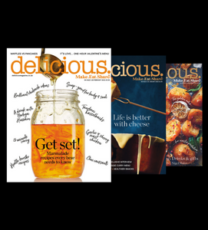 Join our newsletter
Packed with menu ideas, recipes, latest competitions and more...