4 three-course menus for February
There's always a reason to put on a feast and these 4 three-course menus prove it. We've got a show-stopping dinner party menu that's as colourful as it is tasty, plus a variation that's totally vegetarian-friendly. Our romantic meal for two is the perfect way to show someone you care this Valentine's Day and our menu for Shrove Tuesday, featuring three courses of pancakes, is one for true pancake-fanatics.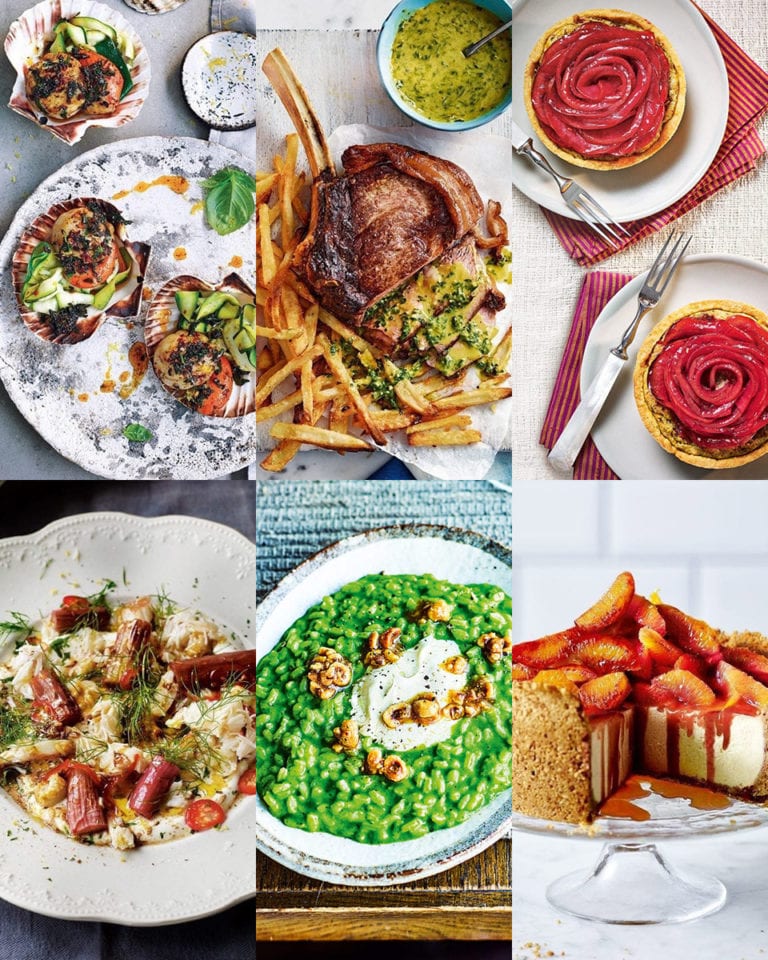 The show-stopping dinner party menu
Score points for presentation and flavour with this spectacular dinner party menu. Set standards high from the start with an elegant plate of fresh crab, soft rhubarb, thick Greek yoghurt and fennel seeds. It balances fresh flavours with richness to really give the dish wow-factor.
Next, this eye-popping green risotto takes centre stage topped with whipped creamy goat's cheese and a heavenly hazelnut-parmesan crumb. It's restaurant-style food that you can easily achieve within your own kitchen. Finally, our vanilla cheesecake topped with boozy caramel and blood oranges makes a fitting end to a standout meal.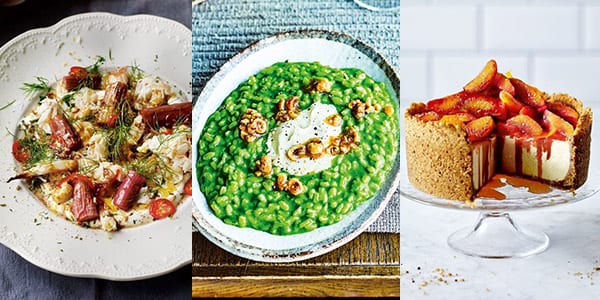 The vegetarian dinner party menu
The main course in this vegetarian menu is a recipe we're really proud of: a rich mushroom and beluga lentil ragù is topped with a cheesy, tahini crust and garnished with red onions, pine nuts and pomegranate seeds. You can easily make it in half an hour too – just remember to add the garnish at the last minute!
Before all of that, serve up our 5-ingredient sweet potato soup with garlic ciabatta toasts for a simple, make-ahead starter. It's no less delicious for being easy to make and looks stunning drizzled in cream and topped with pumpkin seeds. To finish, we've kept it light (and boozy) with caramelised pineapple cooked  in rum syrup and served with crème fraîche.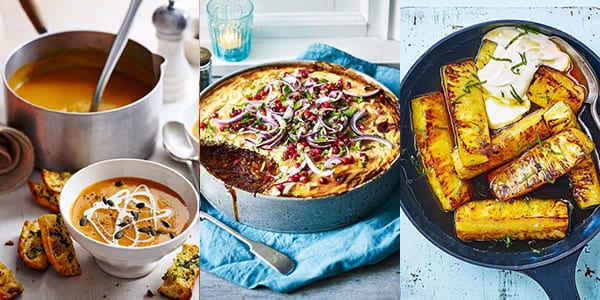 The romantic menu for two
Valentine's Day is a wonderful opportunity to share a lovingly-cooked meal with the special someone in your life. And, boy, have we got a good one…
Start off with scallops dressed in lemon, basil, chilli brown butter before moving on to this incredible rib eye steak recipe. We've served it with super skinny oven chips – for maximum crunch – as well as a rich pesto hollandaise sauce that will change your steak-and-chips game. Add an extra (floral) flourish to the meal with these rose-shaped tarts, filled with pistachio frangipane and fashioned out of apple 'petals'. Gorgeous!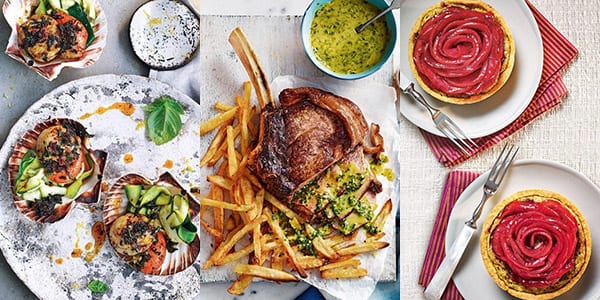 The Pancake Day menu
Go to town on Shrove Tuesday (25 February) with three courses of pancakes! Start with these easy smoked salmon pancake wraps ready in just 15 minutes – kids will love getting involved with rolling them up. For mains, take a tip from the French and make gorgeous veggie galettes filled with roasted tomatoes, grana padano and crème fraîche. For pudding, only a stack of classic crêpes drizzled in hot chocolate sauce will do (you can make them boozy if you like, too). Frying pans at the ready…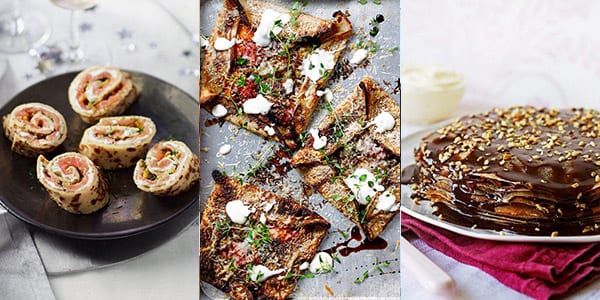 Want more menus? We've got lots of ideas for a Sunday lunch, plus seasonal menus for April, May, June and beyond. 
Or, go ahead and check out all our seasonal February recipes.