Food trends for 2011
What foods and culinary trends can you expect to be big in 2011? delicious. predicts what gastronomic fads will feature heavily in the coming months.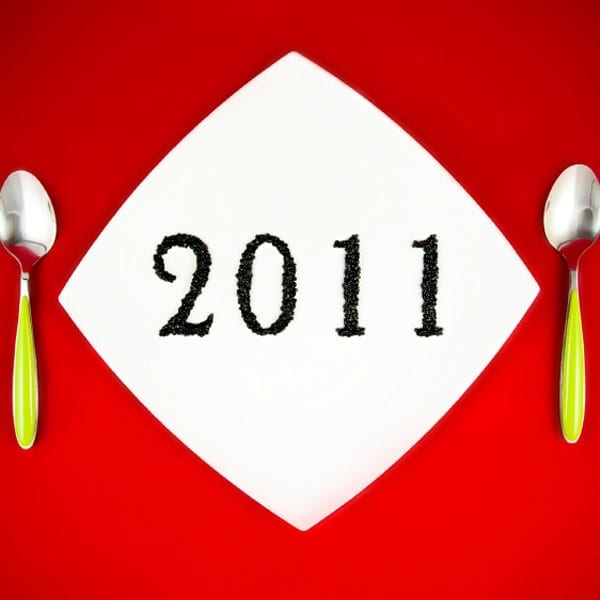 Be a carnivore with a conscience
2011 is not so much about becoming a vegetarian but about becoming more meat-aware. An over-consumption of red meat is linked to a number of health problems, including heart disease and certain cancers, while rearing and transporting meat is proving both a strain on the environment and the animals. But rather than turn your back on meat completely, simply reduce your consumption. Paul McCartney's
Meat Free Monday campaign
is the perfect start to giving meat a day off, and you'll find some excellent vegetarian cookbooks on the market – Ottolenghi's Plenty, Deborah Madison's The Green Cookbook, and Rachel de Thample's Less Meat, More Veg are encouraging tomes full of fabulous veggie recipes that won't have you pining for a plump steak.
The benefits of a vegetarian diet
.
Sustainable fish
The 2009 documentary The End of the Line publicised overfishing and its threat to marine wildlife and habitats. It even sparked a campaign to stop celebrity eatery Nobu serving bluefin tuna. More recently, Hugh Fearnley-Whittingstall's Fish Fight campaign is pushing for a ban on discards – insane amounts of by-catch fish that is thrown back into the sea, dead, because it exceeds quotas. The threat to our fish will only get worse in the next decade, so we need to play our part by making informed choices about what we eat. Confused? The
Marine Stewardship Council
will help.
What you can do to help fish stocks
.
Cherry juice
Hugely popular in countries such as Turkey, cherry juice has never really taken off in the UK – until recently. After securing a New Product of the Year nomination, Cherrygood is showing signs of real growth in the competitive drinks market. The sour Montmorency Cherries it's made from are full of antioxidants and drinking the sweet yet tart juice can possibly reduce inflammation – great if you're training – and aid a good night's sleep, due to high levels of melatonin. It's available from major supermarkets.
Cherrygood
.
Food festivals
The food at music festivals may have got a lot better over the last few years but Glastonbury and the like are still far from culinary paradises. However, festivals dedicated to both food and music are becoming more and more popular. Last year Harvest at Jimmy Doherty's farm featured The Zutons and The Futureheads alongside farmers' markets and chef demonstrations, and the autumn celebration returns in 2011 for its third year. It's not the only one combining food and music: in Belfast there's the Taste and Music Festival; in London there's Summer Sounds Music and Food Festival. Further afield, there is the World Music and Food Festival in the US.
www.harvestatjimmys.com
Food on the move
The USA is the spiritual home of the gourmet food truck. This new generation of street vendor is aggressively gourmet, politically correct and tech-savvy, alerting customers to its location using Twitter and Facebook. The trend has already reached our shores and is sure to become more popular – see our
feature on the UK street food revolution
.
Foraging
Like growing your own, foraging for food has become more popular as people try to save money on their food bills and eat locally to avoid food miles. This fashion has been heralded by Noma in Denmark, which won the S.Pellegrino World's Best Restaurant in 2010. Head chef René Redzepi uses foraged ingredients in a lot of his dishes, which have come as a revelation to diners who find that eating beech nuts and pine is not only possible but delicious. Ingredients such as wood sorrel can also be found on the menu at Claude Bosi's two Michelin starred Hibiscus in London. Expect to see many more restaurants following suit.
www.noma.dk
Picture by Vertical Veg/Sarah Cuttle
Growing food in urban spaces
With food prices rising, more and more people are growing their own fruit and vegetables and it's not just a countryside pursuit – GYO in urban spaces, with the aid of window boxes and small roof gardens, is set to be one of 2011's biggest new trends. Vertical Veg, one of several schemes trying to get city dwellers to start growing their own, points out that it can be a very profitable exercise, as well as fun one, showing that you can produce well over £500 of fruit and veg in a year with just a 9' x 6' balcony.
www.verticalveg.org.uk
Golden raisins
Golden raisins, made by treating white grapes with sulphur dioxide before baking, are already a big hit across the pond and have been tipped to feature here this year. They're already beginning to crop up on the menus at top restaurants, as an accompaniment to fish or cheese, and you may have seen the golden raisin purée in one of Claire Lara's (of Masterchef: the Professionals) winning dishes. It's not just its looks which set the golden raisin apart from its duller wrinkly peers, it has a superior flavour championed by chefs. Available from:
www.natco-online.com
Gourmet doughnuts
Doughnuts are more traditionally found in fast food outlets than on the dessert menu of a top restaurant but 2011 has big things in store for the humble snack so beloved of Homer Simpson. Like the macaroon before it, and the cupcake before that, the doughnut looks set to receive a makeover that will see it rubbing shoulders with some of Britain's poshest puddings. You can taste a gourmet doughnut at London's Coach and Horses in Clerkenwell, where a 'Sea Buckthorn Doughnut' is served.
www.thecoachandhorses.com
Korean cuisine
The next culinary trend. The Korean ingredient gochujang (a spicy bean paste) features in Nigella's latest book, Kitchen: Recipes from the Heart of the Home. In New York, chef-of-the-moment David Chang's Momofuku restaurants have put a spicy smile on many a visitor's face. Reader, it's time you knew your bibimbap from your bulgogi.
Korean restaurants in London
.
Spelt
Spelt is a variety of wheat that was once grown across Europe and was referred to as the 'marching grain' by the Romans because of its high energy content. The forgotten crop is making a comeback because of the many health benefits it has over common wheat, including a low GI and a high level of protein and B vitamins. Spelt's main advantage is that it's suitable for some people with wheat allergies. Sharpham Park are at the forefront of this mini-revolution in grain consumption: products include flour for baking, cereals and a spelt risotto.
www.sharphampark.com