To neglect to teach a child to cross the road safely is unfathomable, but to fail to train them how to cook is equally hazardous, warns author Sue Quinn.
I'm no tiger mother (enforced 6am piano practice? You're having a laugh) so I'm not proposing a mini MasterChef boot camp. But it seems to me that as it's our job to steer our kids into happy and healthy adulthood, teaching kids to feed themselves isn't optional – it's essential.
Children need to have a grasp of the basics of cooking to help them make good decisions and avoid the processed, sugar-laden diet that fuels the UK's killer obesity problem. Steps are being made in schools, with cookery lessons to be a compulsory part of the curriculum from 2014 – a welcome move – but parents can't expect the education system to carry the can for something so important. While a few hours of classroom instruction will be useful, it won't arm kids with all the cooking skills they need – or really inspire them to love food and its many creative possibilities. These things need to be nurtured at home.
The problem, of course, is not our children's lack of interest in cooking but the excuses we as parents make for not involving them more in the process. I for one am guilty of this. We tell ourselves we're too busy to rally the troops to help us in the kitchen; that they'll make too much mess; or they're just not interested in running through the A to Z of cookery. Worse, we convince ourselves Junior's homework or garden football drills are more important than learning how to nourish himself properly for his three-score years and 10. The truth is, they're not.
We need to change our mindset about teaching children to cook – it needn't be an all-or-nothing affair. Dedicated cooking sessions with kids can be educational and fun, and you can impart a whole range of valuable lessons about food, nutrition and meal preparation by involving kids in simple tasks such as chopping, peeling, grinding and stirring, or asking them to set the dinner table each evening or prepare their own packed lunch before school. Yes, that's right, I'm talking about assigning compulsory kitchen chores.
This approach might sound radical in an era when children are expected to do very little domestically, but it's time to buck the trend. Of course, there's the risk they'll grumble when instructed to swap computer game for balloon whisk, but most children I know enjoy playing sous chef when given encouragement. Make it part of every mealtime – delegate age-appropriate tasks (to children and adults), and keep the mood light by having the kids' favourite music blaring. The result: more hands make light work for you, while the children acquire life skills and – at long last – appreciate all the hard work that goes into putting a meal on the table.
Sue Quinn is author of The Kids Only Cook Book (Quadrille, £12.99)
Subscribe to our magazine
Subscribe to delicious. magazine for HALF PRICE
Subscribe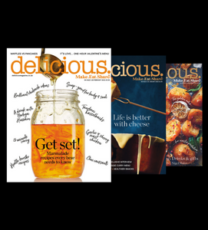 Join our newsletter
Packed with menu ideas, recipes, latest competitions and more...