Q&As with Petra Barran, Choc Star
First there came a man with a van… Then there came a woman with a van that specialises in spreading chocolate love to the far reaches of the UK from a customised vehicle. Petra Barran has made it her mission to travel the UK (and soon the world) offering to open people's hearts with a chocolate pud if they'll open their doors to her.
Tell us a bit about your mission, Petra…
I took off around Britain to see if the power of chocolate could lubricate the hinges of people's doors up and down the country. Proposition: If you give me dinner and a bed for the night, I'll make you a chocolate pudding. As soon as the 'c' word was mentioned compliance is almost always guaranteed!
Where do you stay? Is it a case of wherever you lay your choc that's your home?
All over. From people who read the blog to customers' to strangers I've just met, friends of friends, Facebook fans…
What made you embark on this (some would say) eccentric journey?
My deep-seated, inherent love of travel and new people. I had this van with wheels to go somewhere! And I wanted to explore Britain through new eyes. Suddenly journeys that might have seemed mundane if just getting from A to B, appeared a whole lot more exotic.
You worked with a famed chocolatier; would you advise this sort of experience to any budding chocolatiers?
I knew nothing really about chocolate when I first had the idea for Choc Star so I needed to gain deep knowledge. I decided to call up the best choc shop in town (
, at the time) and ask for a job. I absorbed all that new info up like a sponge! Yes – I would definitely recommend it.
The van
Tell us about the chocolate you offer and how much of it is fashioned by your own fair hands?
Choc Star is all about simple, tasty, fun chocolate treats. Hot chocolate, brownie fudge sundaes, malted choc milkshakes, chocolate ice creams, choc martini shots, Rocky Road – and chocolate bars (we stock Willie's). I make everything except the ice cream (sourced from small farms around the country). As for making the actual chocolate – no way. My goal with chocolate is born out of being out on the road – not making choc in a factory. Leave it to the experts! For the suppers I have made all kinds of different choc puds – from choc soufflés to hot choc fudge pud to iced choc terrine to white choc mousse…
Any favourites?
The classic and best seller from the van is the brownie fudge sundae: an ultra fudge brownie with vanilla ice cream and molten choc sauce.
You often rely on the goodness of strangers; has it been a heartening experience?
It's been amazing. Whether I'm in the van, parked up and selling my wares, or parked up in someone's driveway and having supper with them, the addition of chocolate to the equation softens everyone. Strangers become like immediate friends and all sorts of conversations take place.
Any weird moments/members of the public?
Lots – gruff Anglo-hating Glaswegians (soon bezzie mates), bird impersonators, the bacon butty guy from Brighouse, odd characters in a trailer park in Dorset.
Have you found out yet who likes chocolate the most?
No, it's still a mystery.
Men/women? North/south?
Nope… no rhyme or reason.
Any plans to take Choc Star abroad?
Yes! Watch this space…
Apart from inviting you, can people also hire you
?
Yes, call-out fee is £150 in Central London, £200 Greater London, £250 Home Counties… and going up according to how far away we need to travel. On top of this is the choc quota required – starting from £3 per head.
To invite Petra, to book Petra, or to follow her blog, visit the Chocstar website
Subscribe to our magazine
Subscribe to delicious. magazine for HALF PRICE
Subscribe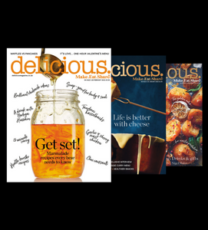 Join our newsletter
Packed with menu ideas, recipes, latest competitions and more...