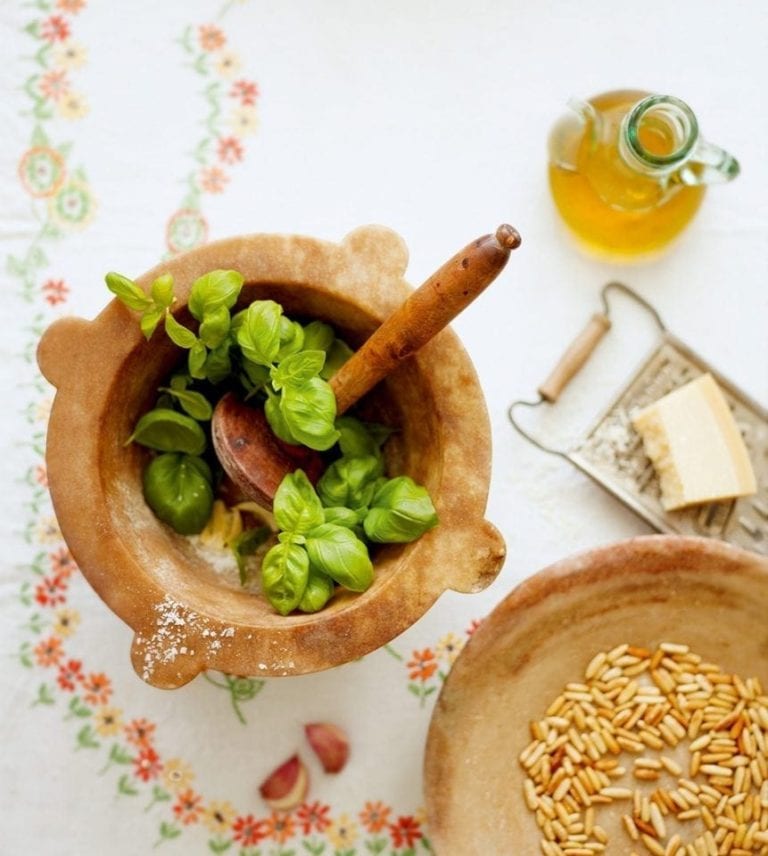 Serves 4

Ready in 10 minutes
You can vary this basil pesto recipe by using different herbs such as mint, coriander or flatleaf parsley, or replacing the pine nuts with almonds, cashews or walnuts.
Gluten-free recipes
delicious. tips
To use:
1. As well as stirring it into pasta, add a teaspoonful to a bowl of minestrone soup for an instant flavour boost.
2. Spread onto griddled bruschetta and top with fresh ricotta for a tasty starter.
3. Slather over chicken breasts or a piece of white fish, wrap in prosciutto and bake for a simple supper.
4. When cooking mussels, add a couple of teaspoons to the broth.
5. Stir into crème fraîche or mascarpone and use as a dip with spring veg.
6. It's perfect with simple antipasti such as mozzarella, tomatoes, prosciutto and crusty bread.
7. Stir it into mashed potato for a great flavour.

To store: Put the pesto in a sterilised jar and cover the surface of the pesto with a layer of olive oil. Top with a lid or cling film and keep in the fridge for up to 1 week.

To freeze: Leave out the Parmesan, spoon into ice-cube trays and open-freeze. Tip into freezer bags and keep frozen for up to 3 months. To use, defrost the required amount and stir through some Parmesan.