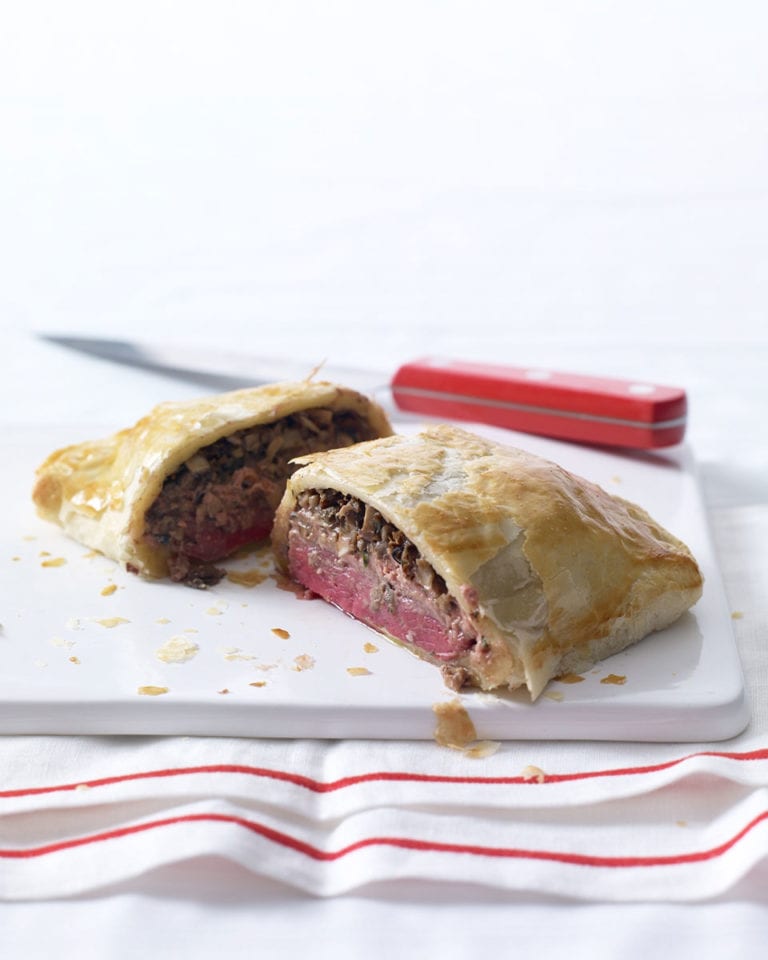 Serves 2

Takes 15 minutes to make, 20-25 minutes to cook, plus chilling
Beef fillet, mushroom pate and flaky puff pastry – these individual beef Wellingtons are easy to assemble, which makes them perfect for serving at a small dinner party. Each wellington serves two.
Prefer the full-sized version? Here's our classic beef wellington recipe, it serves 8-10 people. We've got a step-by-step guide too, just in case you find it a little tricky.
Ingredients
150g chestnut mushrooms, roughly chopped
5g dried wild mushrooms, soaked for 20 minutes in cold water, then drained
1 tbsp chopped fresh thyme
1 tbsp olive oil
2 x 150g fillet or rump steaks, 2-3cm thick
300g puff pastry
50g chicken liver pâté (we like Castle MacLellan)
1 medium free-range egg, beaten
Method
Preheat the oven to 220°C/fan200°C/gas 7. In a pan, cook the mushrooms and thyme in the olive oil over a medium heat for 5-10 minutes until golden and dry-ish. Season and leave to cool slightly.
Roll the pastry to 0.5cm thick, then cut into 2 x 40cm x 25cm rectangles. For each parcel, arrange half the mushrooms in a steak-size rectangle across the centre of the pastry. Smooth half the pâté over one side of a steak and place, pâté-side down, on the mushrooms. Season. Brush the exposed pastry with some beaten egg, then take the short sides and fold tightly over the steak and over one another. Trim and discard any pastry that extends beyond the parcel and crimp the open sides to seal. Turn over, brush all over with the remaining egg, then chill for 10 minutes.
Bake for 12 minutes for medium rare, or longer if you like. Rest for 5 minutes, then serve.