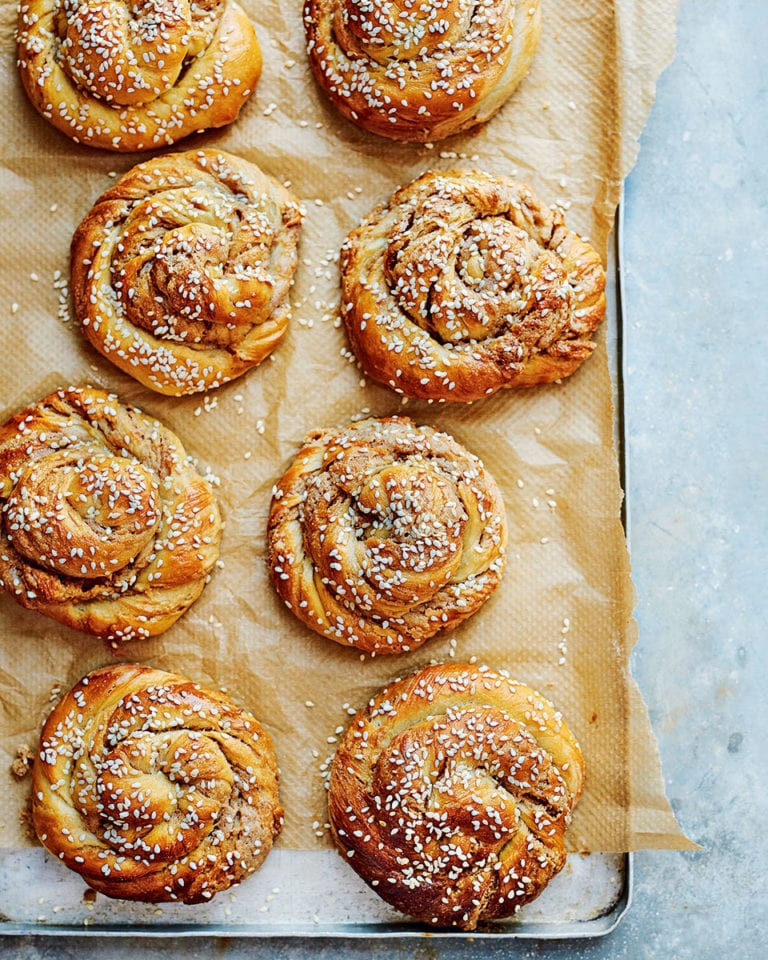 Test kitchen approved
Serves 8

Hands-on time 1 hour, plus rising, proving and cooling. Oven time, 20-25 min
Move over, cinnamon buns – there's a new sweet bun in town. In this recipe, author and campaigner Yasmin Khan brings us a crisp, light Mediterranean swirl bun that puts sesame-fragrant tahini front and centre.
Yasmin says: "Tahini swirls are eaten throughout Greece, Turkey and Cyprus, often grabbed from a street vendor in the morning and enjoyed with a cup of strong black coffee. This version leans towards the Cypriot type, with its crisper feel from the tahini oozing out of the pastry."
These buns are from Yasmin's latest book, Ripe Figs (Bloomsbury £26), filled with gorgeous recipes from Turkey, Greece and Cyprus.
Scroll down to "Tips" to watch the buns in action!
Nutrition: per serving
Calories

379kcals

Fat

17.9g (3.1g saturated)

Protein

9.2g

Carbohydrates

43.5g (14.7g sugars)

Fibre

3.3g fibre

Salt

0.4g salt
Ingredients
300g strong white bread flour, plus extra to dust
11⁄2 tbsp fast-action dried yeast
1⁄2 tsp salt
1 tsp caster sugar
150ml lukewarm whole milk
2 tbsp lukewarm water
1 medium free-range egg, at room temperature, beaten
5 tbsp sunflower oil
White sesame seeds to sprinkle
For the filling
125g tahini (see Know-how)
125g caster sugar
3⁄4 tsp ground cinnamon
For the glaze
1 egg yolk, lightly beaten
1 tsp caster sugar
You'll also need
1-2 baking trays lined with compostable baking paper
Method
Put the flour, yeast, salt and sugar in a bowl, then stir to mix. Make a well in the middle and pour in the lukewarm milk and water, the egg and oil. Mix together to form a dough, then knead on a lightly floured work surface for 10-12 minutes until smooth and elastic. Put in a bowl, cover with a damp clean tea towel and rest in a warm place for 1–11⁄2 hours until doubled in size.
Spoon the tahini, sugar and cinnamon for the filling into a bowl and mix to a thick paste.
On a lightly floured surface, divide the dough into 8 pieces. Take each piece of dough, roll it into a ball, then squash it into a flat disc about the size of your palm. Spoon 1 tsp of the filling onto the disc and spread it out until it covers the centre. Now pinch the sides of the dough inwards, so the filling is enclosed, then squash the dough flat into a disc again. Repeat, adding the filling to the other side. This incorporates layers of the tahini filling into the dough (see Know-how).
Now use your hands to gently mould each piece of dough into a sausage shape by carefully rolling and stretching it until you have a thin roll around 25cm long and 3cm wide.
Next, use a knife to spread more of the filling along the top of the roll of pastry, then gently twirl the 2 ends to form a loose spiral, like a cheese straw/twist. Finally, roll up this spiral into a coil and use your palm to press it down and flatten it out a little.
Put the tahini swirl on the prepared tray and repeat with the remaining pieces of dough, leaving a gap between each swirl (use 2 trays if you need to). Once you've prepared them all, leave to prove for 20 minutes.
Heat the oven to 160°C fan/ gas 4. Mix the egg yolk and sugar for the glaze, then brush it over the buns. Sprinkle sesame seeds on top, then bake for 20-25 minutes or until cooked through and golden brown. Leave to cool for 20 minutes before serving.
delicious. tips
Because jars of tahini can separate into oil and solids if they've been open for a while, blend any separated mixture together again. Otherwise, you risk the filling being too runny or too hard.

Take time over pinching together the dough in step 3 so the tahini doesn't seep out when you flatten it – you don't want any of that wonderful sesame flavour to escape onto the work surface. But don't worry – if the dough starts to break or the tahini leaks out onto the pastry in step 4 – it all adds to the flavour and texture of the final buns.

Watch how to make the buns in action, here:

The buns will keep for up to 3 days in an airtight container, but if you aren't eating them immediately it's best to reheat briefly. They also freeze well – put them in the oven from frozen and heat at 160°C fan/gas 4 for 10 minutes