Pig-swill coming back on the menu? We're all ears…
'Waste not, want not' is a motto that we live by, and cook by. Even in our mega-busy test kitchen, where we road-test more than 50 recipes each month, we keep try to keep food waste to a minimum through the enthusiastic use of doggie bags, plastic freezer containers and lots of leftover-love…
Food waste has become a much talked-about issue in recent years, thanks in part to organisations such as WRAP UK and their Love Food, Hate Waste campaign. There's a growing awareness of just how valuable the security of our food supply is, and brought into sharper focus as food prices surge. British households are tuning into the 'waste not' vibe: although we still waste an appalling 20 per cent of the food we buy, the amount of wastage is on the slide (a silver lining of the recession, maybe?).
Giving grist to the anti-waste mill is a new campaign initiated by food campaigner Tristram Stuartin partnership with chef Thomasina Miers. It's called The Pig Idea and its aim is to overturn a 2001 law, and make it legal once again for catering waste to be fed to animals.
The Pig Idea's campaign coordinator, Edd Colbert, says: "It's currently legal to feed unsold bread, dairy, fruit and vegetables to pigs so long as the retailer or business is registered with the correct authorities. This is a practice that we are advocating and encouraging, but our longer-term aim is to lift the ban on catering waste and animal by-products which are currently illegal but which, given the correct heat treatment, would be absolutely safe for non-ruminants (pigs and chickens) and also humans to eat."

The arguments in favour of bringing back good, old-fashioned pig-swill are pretty convincing. The Pig Idea folks say:
Feeding pigs cereal and soya-based crops contributes to deforestation, land hunger and pollution

UK pig farmers are being put out of business by high grain prices, despite having a ready-made food source for their livestock in the form of food waste

Around 20 times more carbon dioxide emissions can be saved by feeding food waste to pigs rather than sending it for anaerobic digestion (the next-best recycling option)




The United Nations estimates that feeding food waste instead of commercial grains to livestock helps to feed three billion people

Returning to the past?
Feeding pigs the stuff that humans didn't quite get around to eating has long been considered good animal husbandry. During World War II, the stables in Hyde Park were turned into a piggery, tended by the police. Until the late 1990s, pig bins, for collecting waste food to feed to pigs, were still a familiar sight in schools and canteens.
That all changed in 2001, following the outbreak of Foot and Mouth Disease. The Government, concerned that infected meat could enter the food chain, banned the feeding of catering waste to livestock. The ban was extended throughout Europe in 2002.
Pros and cons
The Pig Idea's big idea is not without its detractors. In a recent press release, the National Pig Association, which represents commercial producers in the UK, said: "We appreciate that The Pig Idea campaigners have the best of intentions and have been at pains to explain all the legal issues but we remain concerned that promoting the image of pigs eating waste food is unhelpful."
Nonetheless, it seems that change is a-hoof. A House of Commons Select Committee on Global Food Security recently backed calls for relaxing the laws on feeding food waste to livestock, recommending the "'Productive recycling' of unwanted food", including "using the food as animal feed" if appropriate.
Provided that waste food can be guaranteed to be safe – and a 'robust, legal framework for its safe processing' is part of The Pig Idea's plans – this new campaign has merit. Can we really afford to continue to throw good food away? We don't think so…
And get set to cook. Show your support for our farmers and use free-range British pork for these delicious. recipes.
Subscribe to our magazine
Subscribe to delicious. magazine for HALF PRICE
Subscribe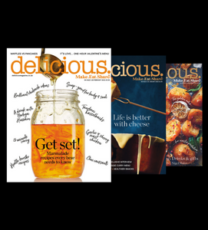 Join our newsletter
Packed with menu ideas, recipes, latest competitions and more...