The best home fish delivery services
How does fresh fish, delivered to your door less than 48 hours after it's been caught sound? The pandemic might not have offered a lot, but when it comes to the range of home food delivery companies offering fresh produce to your doorstep: the stakes have certainly been raised over the past 2 years!
Restaurant-quality seafood is now more widely available than ever before without the need to even leave your home. Better still, it's possible to enjoy ethically-fished produce from your own dining table at reasonable prices. Here we have pulled together the best home fish delivery companies, all of whom offer nationwide delivery in the UK.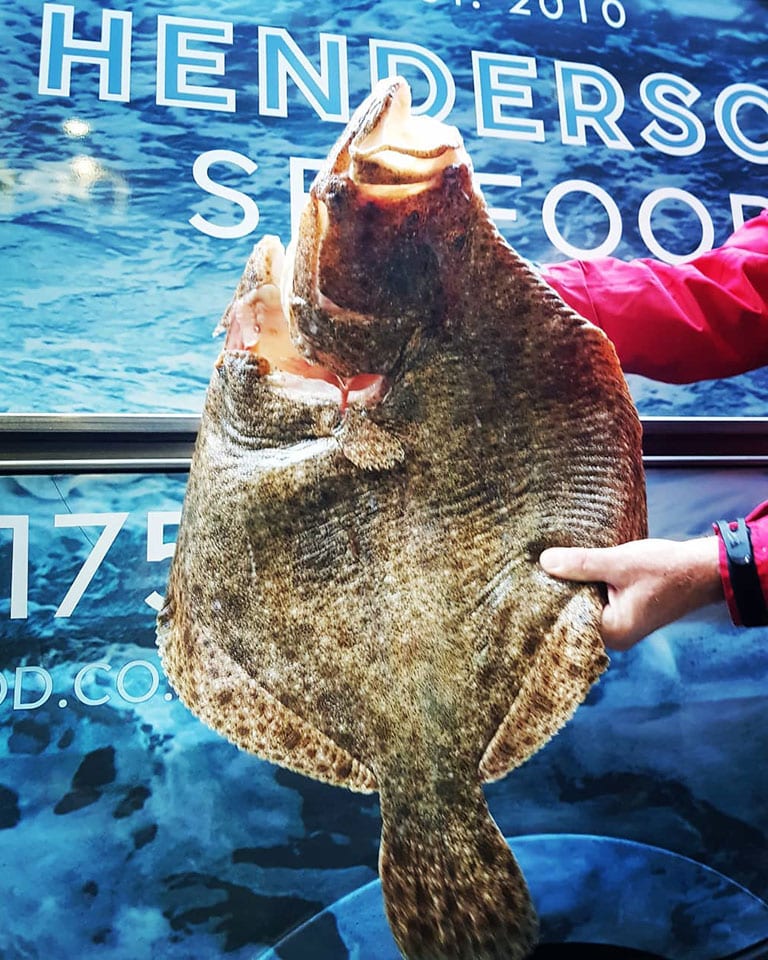 The 11 best home fish delivery services
Pesky turned into a direct-to-customer webshop over lockdown, and has grown in popularity ever since. It is probably the most direct way to buy fresh fish online: just sign up to their newsletter, and receive alerts of what's been caught and is available to buy in the 'market'. The market is open Monday-Thursday between 8-9am. Because Pesky allows you to buy directly from fishermen, the marketplace is 100% transparent, and the fish is as fresh as can be – delivered within 48 hours of being caught. You can either order a Day Boat Box (warning: these sell out fast), or create your own selection with the fish of your choice (whole or filleted).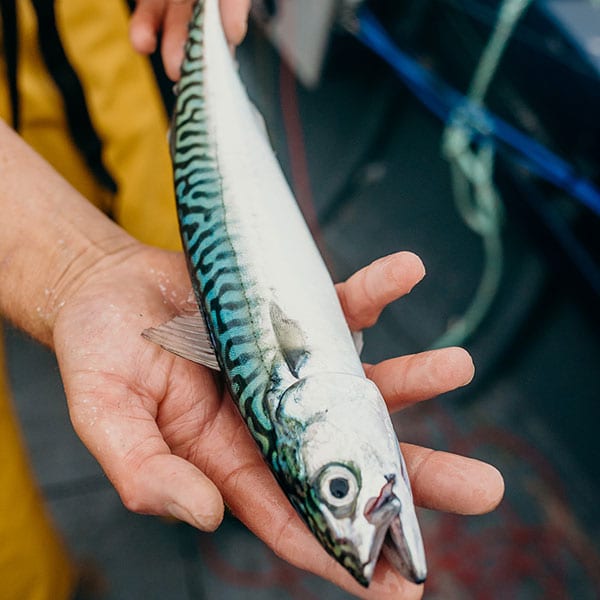 Best for?
Sustainability – as they help to make sure customers' needs meet that day's catch. In terms of fish and seafood, they're great for wild bass, monkfish, clams. Try the bass in this traybake, the monkfish in this comforting fish stew, and the clams in the all-important spaghetti vongole.
How much?
Prices vary. Orders over £35 are delivered free.
Henderson to Home launched in March delivering two different-sized fish boxes throughout London. Since then, they have grown rapidly and now deliver nationwide with DPD, and via their own vans in London, Monday to Friday. They offer set boxes: essential, boneless, shellfish or luxe, as well as day boat fish, hand picked crab, live langoustines & diver scallops of excellent quality. The website offers helpful how-to videos, for e.g. cooking live lobster, or how to make fish pie with Calum Franklin (who seriously endorses their fish pie mix) (£9.50).
Best for?
Super freshness. Go to them for turbot and Torbay prawns (while in season)! Try the turbot in this whole roast turbot with clams and fennel recipe, and the prawns griddled with garlic butter.
How much?
£5.50-£70.00. Boxes range from £30-50.
Rick Stein's Online Fishmongers
Rick Stein's Online Fishmonger brings a virtual offering to shoppers around the UK. On offer is shellfish, fillets for weeknights and whole fish like dover sole and plaice from Cornwall. There's also a selection of smoked fish like salmon and mackerel pâté. Orders arrive incredibly fresh, with at least 4 days shelf life, plus recipes and 'how-to' videos from Rick and Jack Stein.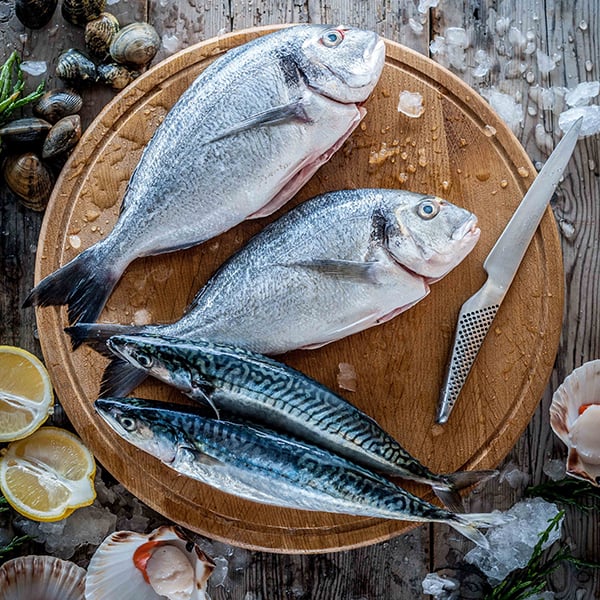 Best for?
Filleted fish, dressed crab and ready-to-eat dishes. Try the hake in these fish kievs, or the crab in Rick's crab linguine.
How much?
Prices vary, starting from £7. Boxes start at £40, and delivery is £7.95.
Wright Brothers at home brings their restaurant-quality seafood to your door. Wright Brothers select the best daily landings from their fishermen across Devon and Cornwall, prepared whole or portioned. They deliver to homes nationwide and like Henderson's, they use their own local vans within London. Choose from a seafood box, or select your favourite fish whole or as individual portions.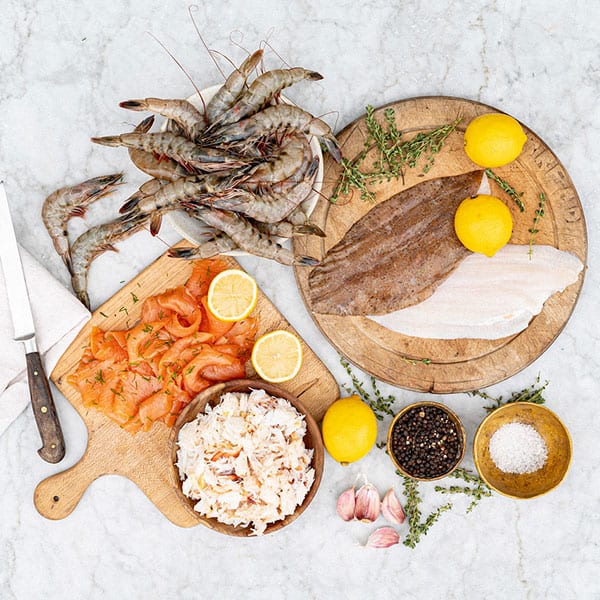 Best for?
Their oysters are of excellent quality (learn how to shuck them here). The Catch of the Day box and BBQ seafood box are extremely popular. See what you get and then browse our fish recipes for inspiration.
How much?
Prices vary, boxes range from £32-90. Free delivery over £50. 10% off your first order.
Fish for Thought began 12 years ago, with the aim of marrying the expertise of a traditional fishmonger with an online shop. Frustrated by the misleading information about where and how seafood is caught, Fish for Thought aims to lead by example in terms of sustainability: using fully-recyclable boxes with wool lining and cardboard, and steering clear of unsustainably-sourced species such as swordfish, tiger prawns or ray. Delivery is free on orders over £35.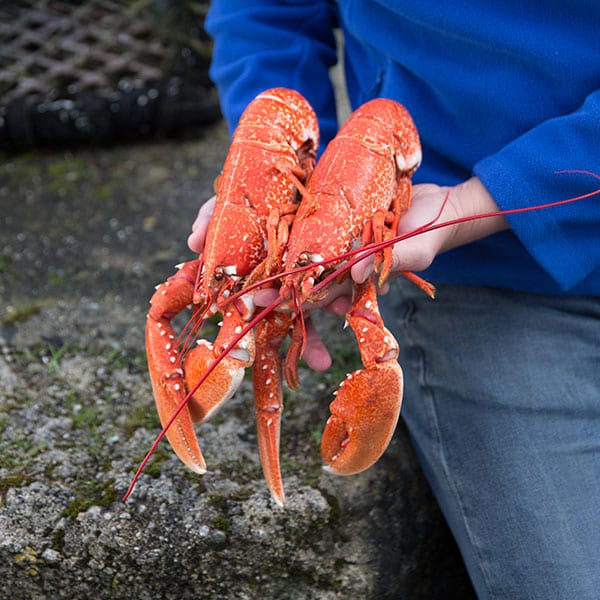 Best for?
Lobster, Cornish sole and oysters. Try the sole in our sole meuniere recipe, and learn how to prepare lobster here.
How much?
From £6-£56 for whole fish. £62-£100 for seafood boxes.
Swap up smoked salmon for some tremendous trout, delivered to your home by the very best in the business: ChalkStream. Their English trout is slow-grown for two years on the Test and Itchen Rivers in Hampshire – where fast-flowing pure chalk stream water runs. A number of well-known chefs rave about their top-notch produce and you really can expect restaurant-quality fish at home.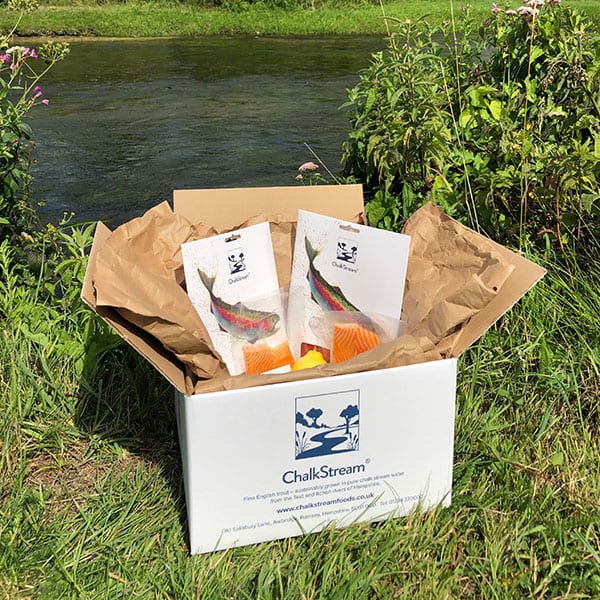 Best for?
Trout, in every form. Opt for their Great Taste Award-winning fillets, which can be pan fried for a sensational and simple dinner. Check out our trout recipes here for dinner ideas. Or, if you're a fan of smoked fish, try their hot smoked trout to really elevate your next stay-at-home brunch.
How much?
From £5 to £32 for fresh fish and £26+ for hampers. Free delivery on all orders.
When a prawn is fresh, tender and sweet, it's one of life's great pleasures. Now you can buy sustainably-farmed British king prawns by the 1kg boxful within hours of them coming out of the briny at the Great British Prawns farm in Stirlingshire. They're delivered ready to cook or freeze and they sing with flavour.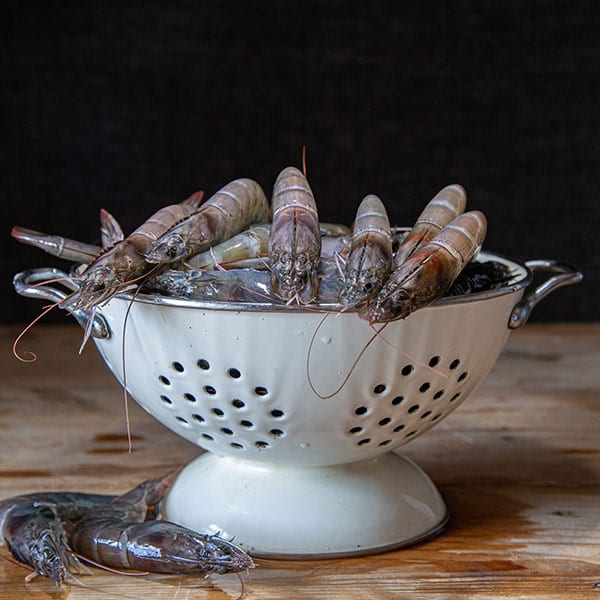 Best for?
Prawns, of course! Go for a classic prawn cocktail, or make them the main event in this chilli tomato prawn pasta dish.
How much?
A box of 30-40 costs £40, plus £4.99 delivery. Maybe share an order with a friend or neighbour to halve the delivery charge. Save 10 per cent in October 2020, paying £36 for a £40 box; use the code DELOCT20 when you check out at greatbritishprawns.com.
The Fish Society offers restaurant-quality fish, including sashimi-grade salmon, tuna and kingfish. All fish from The Fish Society is frozen, as they believe that fish frozen soon after landing is indistinguishable from fresh fish when cooked and served. Based in Wormley, England, Alistair and his small team take delivery of fish every morning, landed and auctioned in Cornwall, The Hebrides, Aberdeen and Norfolk, and in the French port of Boulogne. They process and freeze fish the day after it's been caught and bought.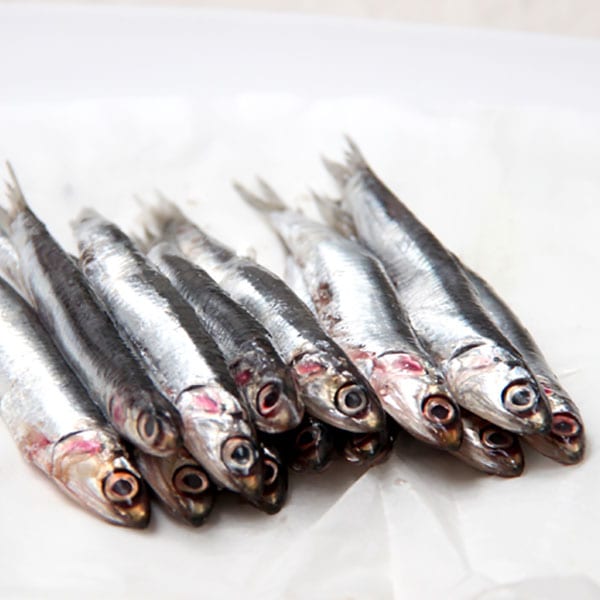 Best for?
A huge range of fish is available. In particular, their sashimi-grade salmon and black cod loins are super special. Try the salmon in our Nigiri sushi recipe.
How much?
From £5.20 for misshapen cuts, to £94.50 for a whole sturgeon.
Ish Fish, based in Grimsby, is a small company with a focus on recyclable packaging and sustainably sourced fish. The fish is sought dockside from the fish market in Grimsby, previously one of the biggest of its kind in Europe, with a long tradition of amazing fresh fish. Ordering is super simple: simply select your fish from the Ish Market or pick a pre-made box, or quickly set up a subscription. Select your delivery date when you checkout. They offer fresh fish boxes, or fish by the portion.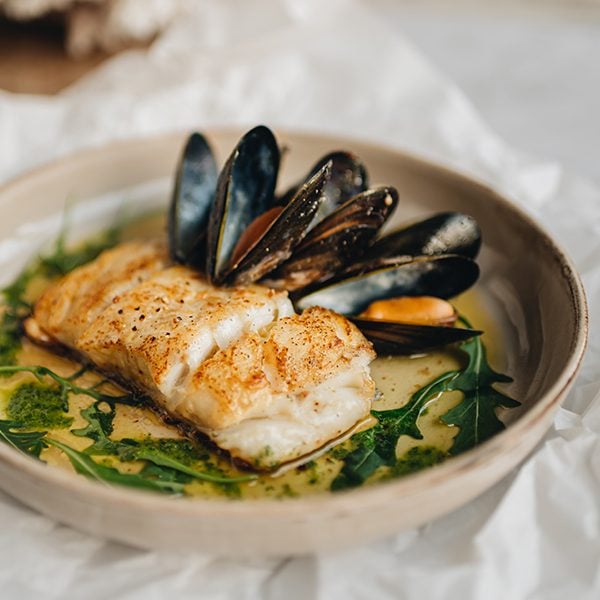 Best for?
White fish. Try their hake or halibut, or cod which is excellent value.
How much?
Portions from £4.50, and fish bundles from £60.
Forman & Field is a part of the Forman Family company, known for their well-renowned H. Forman & Son smoked salmon. They've recently upgraded their website, making it extremely simple to have fresh seafood delivered directly to your doorstep in three days or fewer. They offer fresh fish bundles, smoked salmon subscriptions, and dinner packages which take the stress out of cooking and showcase restaurant-quality, pre-made seafood dishes.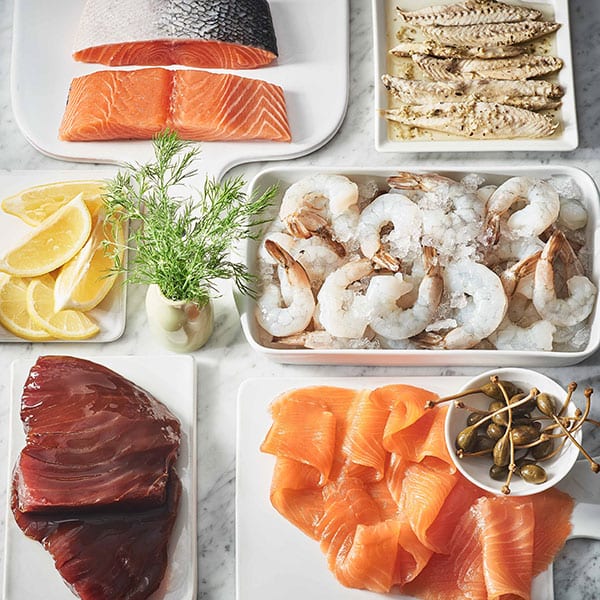 Best for?
Smoked salmon! Try their fishy favourites bundle, containing a selection of their favourite fresh fish and marinated seafood.
How much?
Smoked salmon subscriptions start from £99, and fish bundles from £44.95.
If the idea of cooking fish sounds like too much hassle, or you simply prefer oily fish such as sardines and mackerel, the The Tinned Fish Market are the people for you. Oily fish is great for your health, and the fish you can buy from these guys is tinned on the day of the catch and delivered to your door. The fish is sourced from family producers who deliver a quality product that protects the oceans. These sardines are so good, you can eat them straight from the tin with a slice of toast for lunch. Heaven. They also offer a variety of subscriptions, for those who'd like to be surprised with a range of different tins of top quality fish.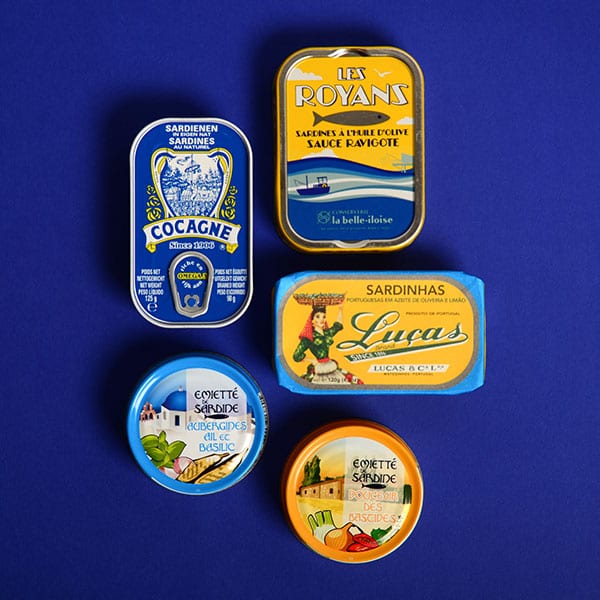 Best for?
Sardines, tuna, and mackerel. Go for a delicious sardines on toast for lunch, or try their superior tuna in a linguine or bean salad.
How much?
Tins from £3.90. Boxes are between £15-48. Subscriptions start from £45 for 3 months.
Subscribe to our magazine
Subscribe to delicious. magazine for HALF PRICE
Subscribe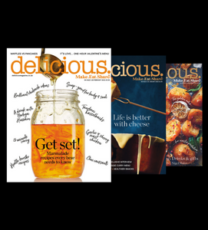 Join our newsletter
Packed with menu ideas, recipes, latest competitions and more...