All About Taste
Let's face it – regardless of the season or tipple, the British love to drink. Whether it's a glass of fine wine, a pint of real ale or a cup of tea or coffee, there's a world of flavour out there. Craig Butcher shows you how to appreciate them all fully with just one simple technique.
Let's be clear about one thing from the off – there are no real secrets to appreciating a fine wine, nor enjoying a cup of coffee, or choosing which olive oil you'll need for which purpose. There is rarely 'right' or 'wrong', just how it tastes to you and whether you enjoy it. The principles to enjoying all of these flavour profiles remain the same. While it helps if you have a good sense of smell (ladies, you're in luck – yours is usually superior to that of a man – solid gold fact!) and a broad vocabulary will help describe the flavours and aromas you're experiencing to others, neither are at all essential. Simply remember the four 'S's: See, Smell, Sup and Savour and you'll be well on your way to true enlightenment.
See
First things first, take a look at what's in front of you. It's usually the case with liquids that the darker the colour, the stronger the flavour. In the case of wine, depth of colour will be a good indicator of grape varietal, and also depth of flavour. Fuller reds like a shiraz tend towards deep burgundy, lighter pinot noirs, for example, tend towards cherry red or ruby. The greens of a sauvignon blanc evoke the grassy notes you'll get from that grape, an oaked chardonnay will have yellowish tinges.
The same is true of olive oils – lighter yellows often indicate a 'lighter' olive oil, with narrower flavours more suitable for frying with, though colour can also reflect olive varietal. Darker-coloured oils reveal an intense oil, usually virgin and frequently peppery.
In the case of tea, the colour will darken as the degree of fermentation it's undergone increases – from the greener colours of unfermented green tea, via the semi-fermented oolong (or 'blue' tea) to the deep earthy browns of a fermented and smoky lapsang souchong (black tea).
With beer, a continental lager is ordinarily a bright yellow, lighter in flavour, progressing to a golden brown for a hoppy, malty real ale, while the near-black of stouts and porters reveal the toasted hops from which they were made and hint at their flavour complexities.
Again, with coffee, darker coffee suggests a darker roasted bean and a more intense flavour profile. Lighter cups will suggest more zesty, citrus flavours, but is rarely an indicator of caffeine content. Cloudier cups of coffee result from cafetieres or stove-top percolators, clearer cups from filters.
Smell
Your hooter is a seriously powerful piece of kit, so use it well. The vast majority of what we describe as taste is in reality smelt – try tasting anything with a cold, or when blocking your nostrils, and you'll see what we mean.
All flavours develop when aerated, so circulating the liquid in a glass as with wine and olive oil, or getting up close and personal with coffee and tea will tell you a huge amount about its flavour profile. Any recoil to the aroma (or bouquet in the case of wine) is a natural reaction to 'corked' wine or rancid olive oil so go with your gut instinct here.
Any fruits on the nose are revealed in both wine and coffee, as is the minerality or earthiness of the land the grapes or beans were grown amongst. African coffees and European wines tend to share a minerality and earthiness, while New World wines and Latin American coffees will have strong floral and citrus bouquets owing to their climates. First flush (growth) teas are more fragrant and sweet on the nose, fermented teas tend towards the smoky which conceals any floral notes.
On the nose, olive oils are differentiated by the degree of herbaceous (or grassy) notes, varying intensity of citrus, nuttiness and pepper.
Sup
Getting amongst what you're tasting is of course key, and when the fun really starts. Your first impression will usually carry the day, and whether you like or loathe the flavour is entirely subjective. To get a good grip on what you're tasting, ensure the liquid is forced around your entire mouth – from the tip of your tongue to the back, and the roof of your mouth so the various sensors come into contact with it. This is less important with tea and coffee, where it's the 'instant hit' of flavour which will tell you most of what you need to know. Meanwhile, take in a good gulp of air to open the liquid up and draw the aromas into your nose. Don't be shy now – a good sharp intake of air will be noisy but effective! Take a brief moment to identify the flavours coming through.
Savour
This is what's it all about – after the instant hit of flavour comes some reflection. Try to distinguish the flavours and smells – many people find comparison with recognised smells helps in this. Wines can be identified by either fruits, herbs and spices, olive oils in terms of nuts and pepper, coffees as citrus, berries or chocolates.
How it feels in the mouth ("mouthfeel") will tell you much about its age, with 'weightier' liquids giving good body to red wine (and a good indicator of alcohol content), while zippy teas and coffees with high acidity (a good thing in this context, giving crispness and sharpness to the flavours) will have a short length on the palate.
With teas, expect good crispness on the tongue and a balance of depth with floral notes, or that earthy smokiness in darker teas.
With olive oils, the flavour is much more about the after-taste – strong, peppery olive oils (more often used in salads and dipping than cooking) will leave a mild and not unpleasant burning sensation at the back of the throat.
Want to learn more?
The really great news is that practice is key, which is the perfect excuse for getting amongst some really diverse flavours. If you want to learn more, simply try more, or for more information, try the sites below:
Coffee
are importers of superb premium coffee beans for the likes of
and Borough Market's
, so when it comes to running a
, they know their beans.
are importers of fair-trade single-estate coffees – experiment with the earthy, lively acidity notes of their Mount Elgon Ugandan offering so characteristic of African coffee, then compare it to the fruitier, chocolatey notes of their Macchu Picchu Peruvian coffee, a typically Latin American coffee style.
Wine
There are a huge number of wine courses available –
have a long heritage and beautiful surrounds to learn more about wine, or you can learn from home with an engaging read by
or combine two passions with a food and wine matching day from the
.
Tea
There's more to tea than just English breakfast tea – try bagged examples from
or loose teas from
or
and you'll appreciate the differences in style.
Beer
There is an enormous amount of variety in British beer, too much to detail here –
for more information from Beautiful Beer.
Olive Oil
Filippo Berio is one of the longest-established producers in Europe witih an excellent range of blends suiting different purposes as well as some excellent DOC single-estate oils reflecting their provenance.
for more.
Subscribe to our magazine
Subscribe to delicious. magazine for HALF PRICE
Subscribe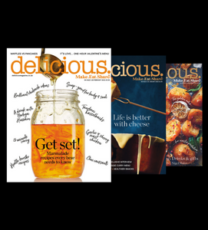 Join our newsletter
Packed with menu ideas, recipes, latest competitions and more...