All about whisky
Choosing a whisky can be daunting, so delicious. sent Craig Butcher to a masterclass with Glynn O'Shea at The Albannach. Our roving reporter was happy to participate.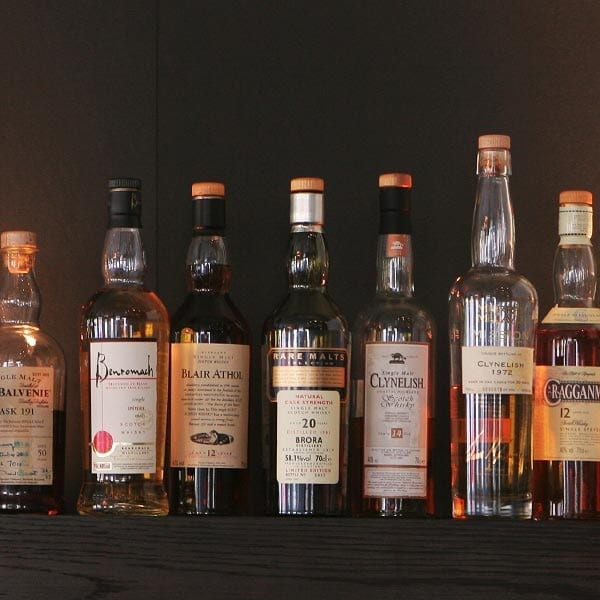 What is Scotch?
With 92 distilleries, Scotland is the undisputed home of whisky. But to achieve legally protected 'Scotch whisky' status, it must use only whole grain, be distilled in Scotland, age for a minimum of three years, in oak barrels only, AND aged in Scotland for the full duration. Hence the difference in title: 'whiskey' in Ireland and 'bourbon' in the USA, since these tipples can't meet those criteria.
How is whisky made?
Each whisky has grain at its heart, usually barley. Grains are turned into malts by adding water, the quality of which also affects the flavour. This process breaks down the grain's starchy structure, and it is this starch which will produce alcohol when yeast is added. The grains are then turned into malts during kilning, where they are dried over peat. The quality and intensity of the peat is what gives the resulting whisky its smoky profile. After fermentation, the whisky is usually double-filtered, sometimes triple-filtered, and then laid down in second-hand oak casks (by law) to mature for anywhere between 10 and 50 years.
Blends vs single malt
Blended whiskies are a combination of different single malt whiskies often produced by individual distilleries and combined to create a unique flavour profile, although:
Blends are not inherently inferior, nor are single malts necessarily superior. Blends merely allow the master blender to balance different flavours from the constituent single malts to achieve their desired flavour. More importantly, it allows branded whiskies such as Johnnie Walker to maintain a consistent flavour year after year, one which their customers expect.
The age on the label is the minimum age of the youngest malt in the blend – a 12-year-old whisky may well have considerably older whiskies within that blend than that stated on the label.
How to taste whisky
1. Clean your palate with some ice-cold water beforehand.
2. Smell the aroma from a distance of 10-15cm. Any closer and you'll simply get your nostrils drunk.
3. Unlike wine, colour is not a helpful indicator, although darker browns can suggest an older whisky, or the type of barrel it was matured in.
4. Roll the whisky around your mouth so it is in contact with your tongue, the roof and sides of your mouth.
5. You're looking for flavours of cocoa, cream and vanilla which make up the 'base' notes. Subsequently, the wintry spices and stewed fruits that make up the 'layer' notes should come out, along with the level of peatiness or smokiness.
Water and ice
It's perfectly acceptable to add water or ice to whisky, though ice will restrict the flavour and water sweetens it. Two parts whisky to one part water is a good rule of thumb.
Storage
An open bottle will be fine to drink for about a year, though will last indefinitely unopened.
How can I get my feet wet?
"If you've never had a spread before, you wouldn't start with Marmite – it's not going to go down well. Try starting with a lighter style, and with ice, which will take the heaviness away," says Glynn. He recommends the following two great entrance whiskies:
Dalwhinnie 15 year old, £29.99. Available at Waitrose and Oddbins
Edradour 10 year old, click here for stockists
For more developed tastes, Glynn recommends:
Lighter style – Auchentoshan 10 year old. Unusually for a single malt, it's triple-distilled. There are citrus aromas and cut grass on the nose with honeyed gingerbread notes; also a distinct whiff of vanilla derived from American oak bourbon maturation casks.
Medium weight – The Glenlivet 12 year old. Aged in sherry casks to bring out the spice notes, there are wine-like undercurrents, good honeyed notes of toffee and caramel and some sweetness.
Heavyweight – Laphroaig Single Islay Malt, Quarter-cask. So named for the quarter-size cask the whisky is matured rapidly in. Laphroaig is famed for its intense peatiness and full-bodied complexity.
Glynn O'Shea is Bar Manager at The Albannach, Scottish bar and restaurant in London's Trafalgar Square. For more information about the masterclasses, click here
Subscribe to our magazine
Subscribe to delicious. magazine for HALF PRICE
Subscribe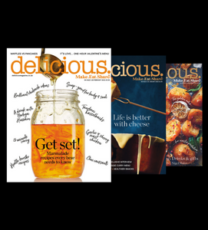 Join our newsletter
Packed with menu ideas, recipes, latest competitions and more...