The best food and drink Advent calendars for Christmas 2021
Want to know where to buy the best Advent calendars for Christmas this year? Look no further. We've sourced the finest Advent calendars for chocolate lovers, chilli-heads, whisky aficionados, beer buffs, and of course kids.
There is something to suit every budget, so give yourself the boost you need for Christmas 2021 with one of these terrific Advent calendars, handpicked by the delicious. team. We're just sad there isn't more than 25 days of advent fun to enjoy…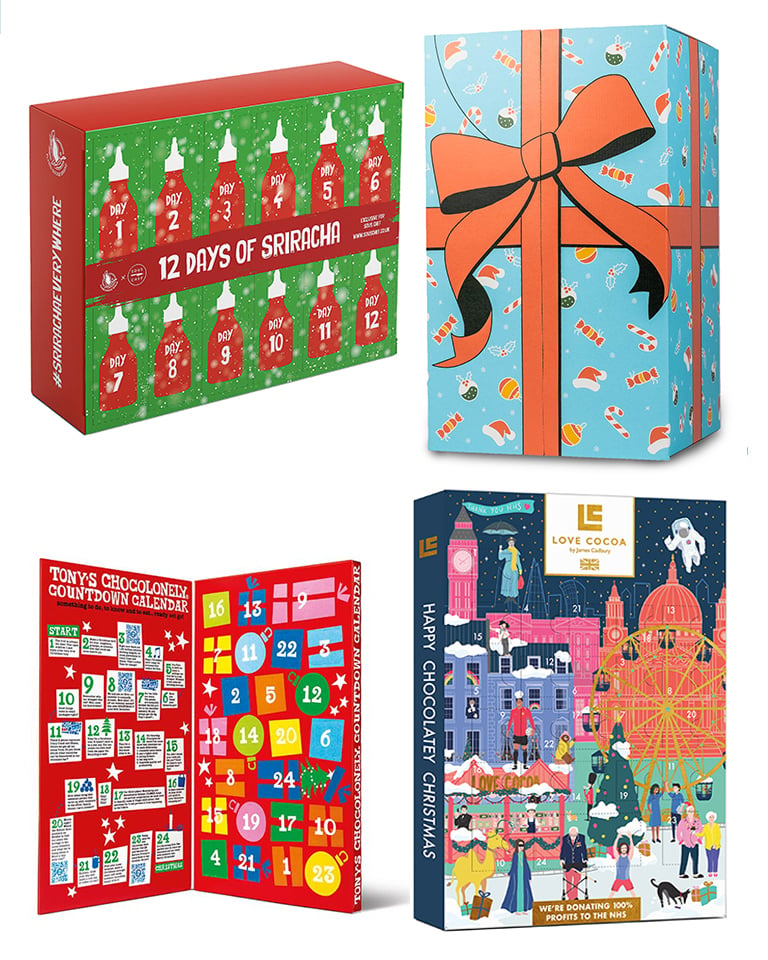 The nation's favourite hot sauce in an advent calendar! In an exclusive partnership between Sous Chef and producer Flying Goose, the much anticipated calendar will bring you 12 substantial 200ml bottles of the sauce – including the original flavour, the yellow, green, and wasabi versions, as well as Sriracha Mayo and Sriracha Yuzu.
Taste credentials The king of hot sauces in the UK needs no introduction, but Sriracha Black Pepper and Sriracha Yuzu deserve a mention; the former is warm and and delicious with eggs, while the latter will spice up many a comforting noodle soup or leftover turkey sandwich.
Best thing The generous sizes of sauce in this calendar mean you'll be using its contents well beyond January 1st. Available from Sous Chef, £39.99.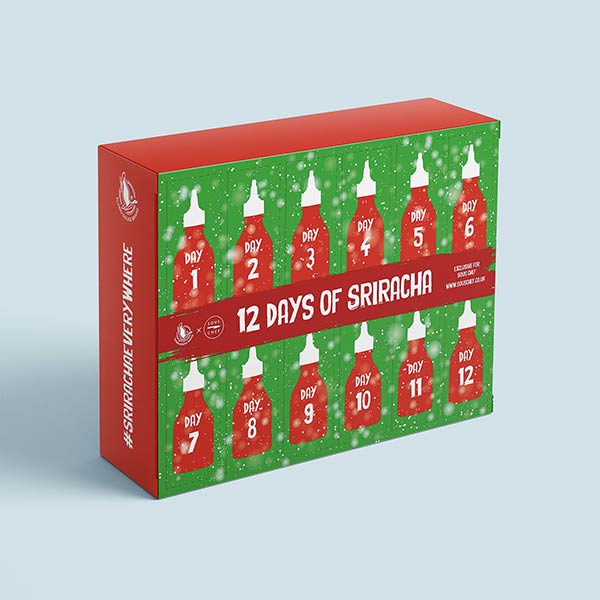 Jericho Coffee Traders Advent Calendar
Oxford-based micro coffee roasters Jericho Coffee Traders focus on getting the best out of their coffee, while being as eco-friendly as possible. Their brand new Christmas coffee Advent calendar gives you 12 freshly-roasted speciality coffees plus 12 handmade gingerbread men biscuits from Cotswolds-based bakery Hugo Lovage Patisserie. Not only does this calendar feel like something truly different but it delivers a feel-good factor of knowing your money is going towards supporting families, farms, charities and coffee cooperatives around the world.
Taste credentials Each day's blend varies vastly in terms of flavour; expect to try beans from Columbia, Equador, Ethopia and beyond. Keep your eyes peeled for Columbian blend "El Dorado" (spoiler alert: day no. 7) which boasts a beautifully sweet and rich flavour and was our favourite.
Best thing The calendar is available in three varieties of coffee: cafetière, whole bean or filter – meaning it suits everyone. Available from Jericho Coffee Traders, £29.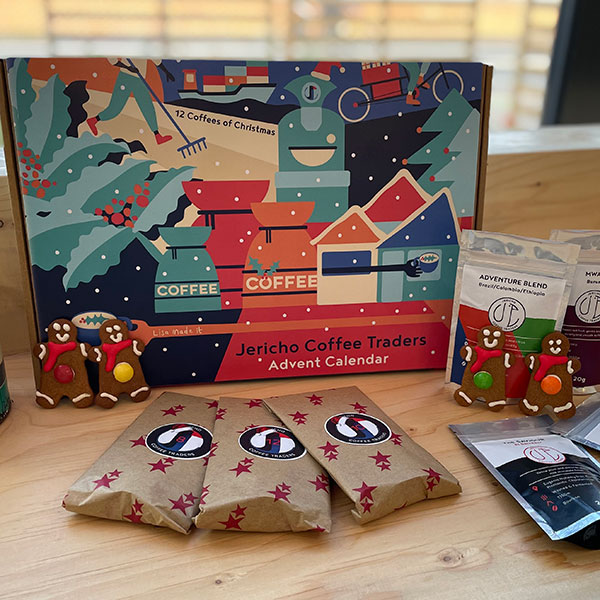 Hotel Chocolat's The Grand Advent Calendar
Jaws will hit the FLOOR when eyes clock this enormous chocolate feast. Chocolate kings Hotel Chocolat know how to get you excited in the build-up to Christmas and this spectacular advent contains a variety of generous gifts behind each door. Think mini crackers, gin liqueurs and luxury truffles.
Taste credentials The assortment of chocolates, liqueurs and nibbles vary from vegan options to milk, white and dark confections. There's a whole range of flavours to look forward to; from cinnamon roll to chocolate orange.
Best thing The treats inside are such a generous size that you can afford to give one to a friend or family member every couple of days. 'Tis the season of giving and all that…  Available from Hotel Chocolat, £68.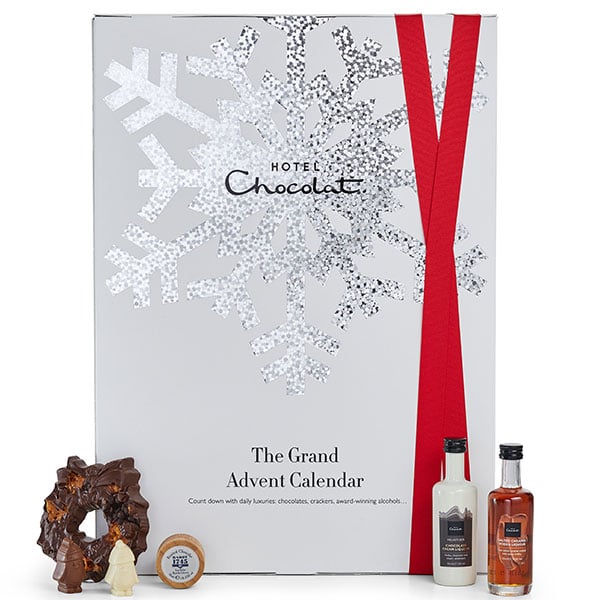 Paxtons' Artisan Advent Cheese Calendar
A first for Paxton & Whitfield, this calendar features 24 artisan cheeses selected by their cheesemongers. The calendar has been a few years in the making, and in order to give customers the best cheese experience possible, Paxton's plan to deliver the cheeses in 3 bouts of 8 freshly cut cheeses, to ensure they reach you in peak condition and don't take up precious room in your fridge. Each individually numbered advent box contains a factsheet on the inside with more information about the cheesemaker, and pairing ideas. Please note there is a limited run of 200 calendars.
Taste credentials Featuring nutty Gruyere and sweet yet salty Colston Bassett Stilton, as well as British stalwarts like Mrs Kikrham's and newer artisan cheeses that deserve your attention.
Best thing? Each Paxton & Whitfield advent box is beautifully presented and fully recyclable, with shredded paper inside and a minimum 75g cut of cheese. Available from Paxton & Whitfield (£150 with free UK delivery).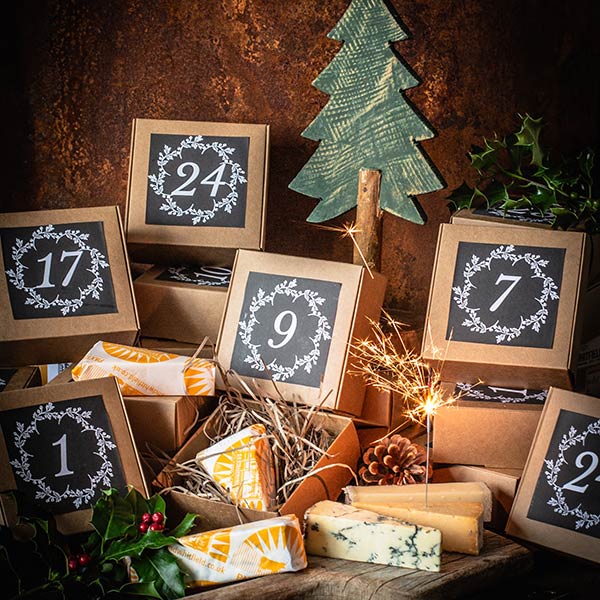 Lakrids Liquorice Advent Calendar
This chunky advent calendar offers 24 days' worth of top-quality (gluten-free) liquorice from Danish maker Lakrids by Bülow.
Taste credentials Each window contains a pack of crisp-shelled liquorice, with flavours ranging from creamy caramel to passion fruit, blueberry and buckthorn. It's a great way to taste many different flavours, and extremely hard not to open days in advance.
Best thing Packaging is made from recycled material and is itself 100% recyclable. Available from Sous Chef, £45.
Tony's Chocolonely Countdown Calendar
A jumbo advent calendar housing 25 'Tiny Tony's' from the company that's taken the chocolate world by storm. This is chocolate with a conscience: Tony's pays higher prices for its traceable cocoa beans and aims to end slavery in the chocolate industry.
Taste credentials Easy-to-love creamy taste. Dark milk pretzel toffee and milk caramel sea salt are among the 10 flavours.
Best thing Daily messages share the Tony's ethos, from a QR code to a cocoa documentary to a friendly prompt to help someone with their Christmas shopping.
Available from Sainsbury's, £12.99 for 255g.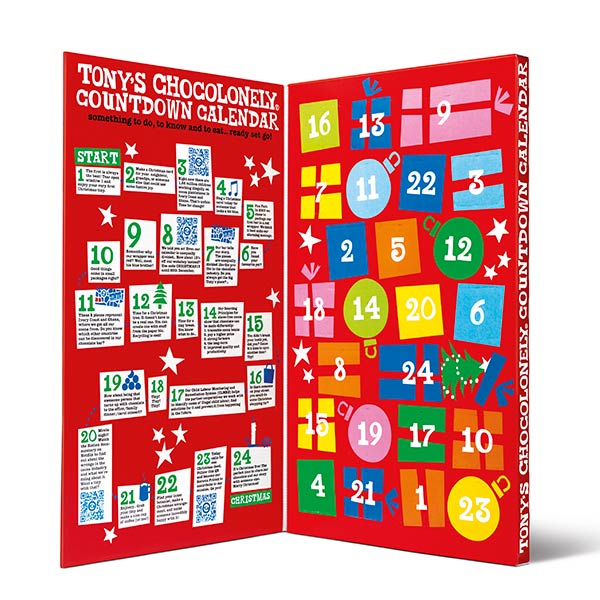 The Really Good Whisky Company
This diddy calendar from The Really Good Whisky Company might look small, but it delivers! Managing to pack in 25 unique drams of whisky from some of the UK's most well respected distilleries, such as Laphroaig, Speyburn, and Arran, the calendar is made of sturdy, weighted cardboard that holds its own when each door is opened. For lovers of Scotch, this is definitely our pick this year.
Taste credentials A range of rich, single malts from young, honeyed expressions to smokier 29-year old drams.
Best thing Each dram will be opened and reviewed every day on The Really Good Whisky company YouTube channel. Available from Really Good Whisky for £149.50.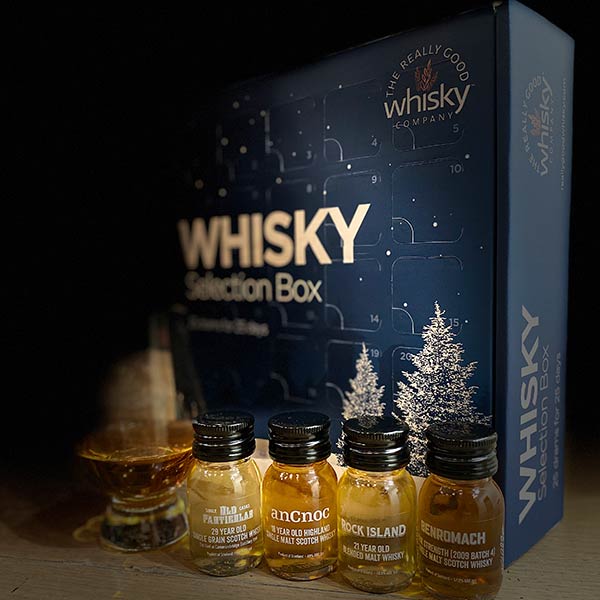 Love Cocoa Luxury Truffle Charity Calendar
James Cadbury (yes, a descendant of Mr Cadbury) started Love Cocoa to revive the family business's original values. This calendar pays tribute to British icons Mary Berry, Marcus Rashford and more, alongside NHS staff. Filled with sustainably sourced single-origin choc, it's plastic-free and 100% recyclable.
Taste credentials A rotation of four grown-up classics: crowd-pleasing hazelnut praline, bitter-but-balanced dark chocolate ganache, a nutty gianduja square and next-level rocher. Bigger treats lie in store for 24 and 25 December.
Best thing All profit (a decent chunk of the price – we checked) will be donated to NHS Charities Together, supporting NHS staff and volunteers. Available from Love Cocoa, £25.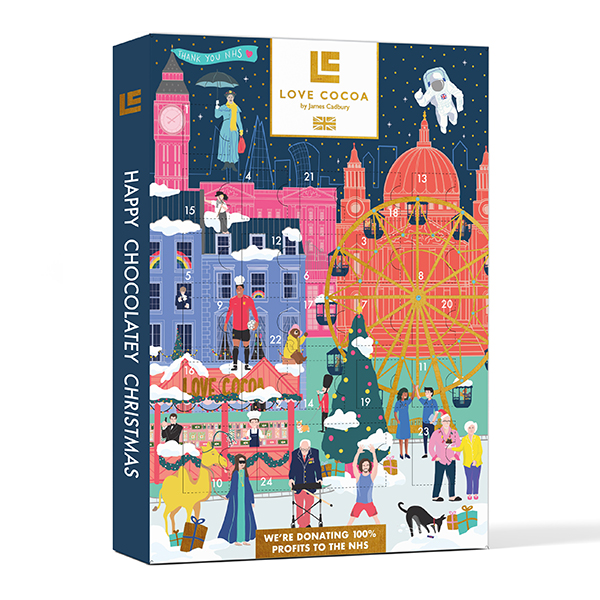 Whittard Coffee Advent Calendar for Two
Opening the front of this jewellery box of a calendar for your morning coffee is a jolly way to start the day – and with two in each drawer, you can share and compare.
Taste credentials Explore expressions from around the world, with six blends and six single origin ground coffees, all in compostable coffee bags.
Best thing Beyond its good looks? The coffee bags work like a teabag, so no machine or specialist equipment required – just a kettle and mug. Available from Whittard, £60.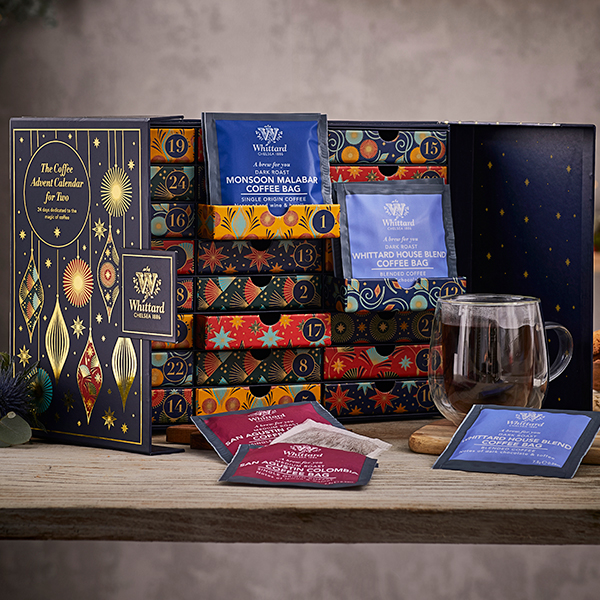 This combines organic choc with cute card characters to assemble – the (plastic-free) calendar's outer sleeve opens into a landscape to play with them on. Replace drawers back-to-front to reveal a picture by Christmas Eve.
Best thing Made from cacao, coconut and vanilla, the brand's vegan recipe is dairy, nut, soy and gluten free, so children with a variety of diets needn't miss out.
Taste credentials Single origin, ethically sourced Peruvian chocolate doesn't sound like kids' fare, but why not? The flavour is coconutty, but the smooth squares pleased our under-10 testers. Available from PLAYin CHOC, £55 (12-day version £27.50).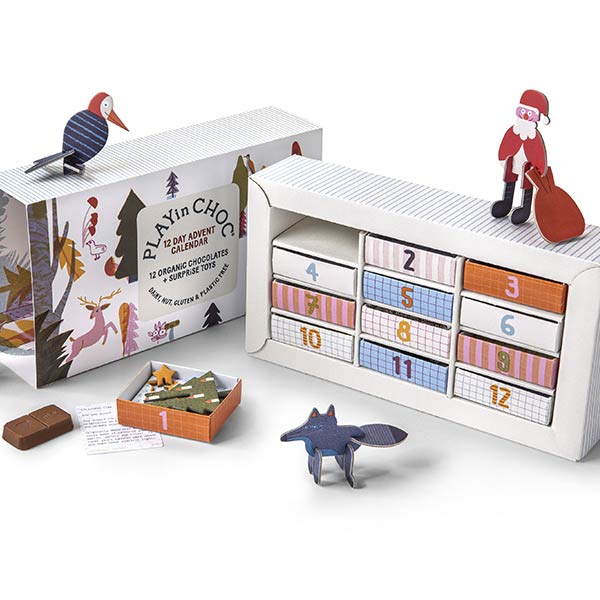 This reusable wooden calendar's silhouette design of the Christmas story means it doubles as a decoration and is ideal if you want to keep the religious significance of Advent in mind.
Taste credentials They're up to you! Fill the 24 drawers with treats, festive jokes or toys. The beauty is in the personalisation.
Best thing Great for starting a new Christmas tradition – and it lights up to look festive-twinkly (with the help of three AAA batteries). Available from Lakeland, for £49.99.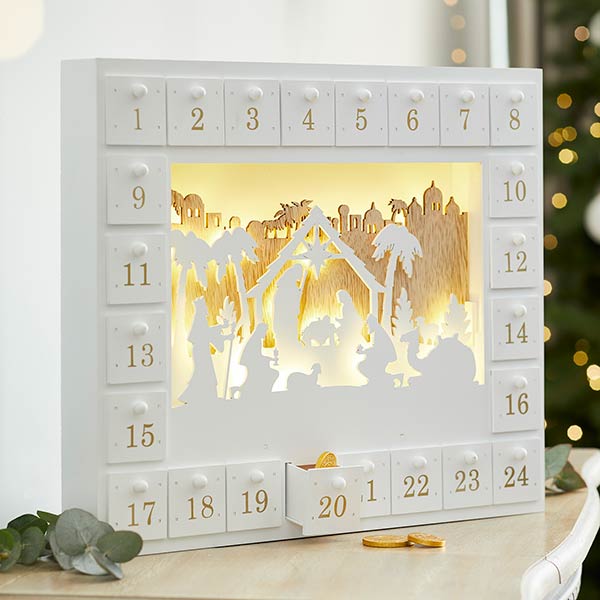 Freixenet & Divine 24 day advent calendar
Pairing up with fair trade chocolate makers Divine, Freixenet have created this jumbo size advent box with alternating treats of sparkling wine and chocolate to see you through the festive season. The advent calendar consists of 12 200ml bottles of fizz – Prosecco, Rose Cava and Freixenet's best known tipple, the Cordon Negro Cava; and 12 mini Divine chocolate bars – a selection of white, milk, dark and orange milk.
Taste credentials The sparkling selection makes for easy drinking, with all three making good apéritif pairings. The Divine bars are lovely quality (we especially loved the milk choc orange) and the 35g size was perfect for a post-dinner treat to share.
Best thing The mini bottles make a great mid-week treat, serving 1 generously, or 2 when used in a spritz. We also love the fair trade ethos of Divine, which is co-owned by their cocoa farmers, and is both palm oil and soy free. Available from Slurp (£74.95).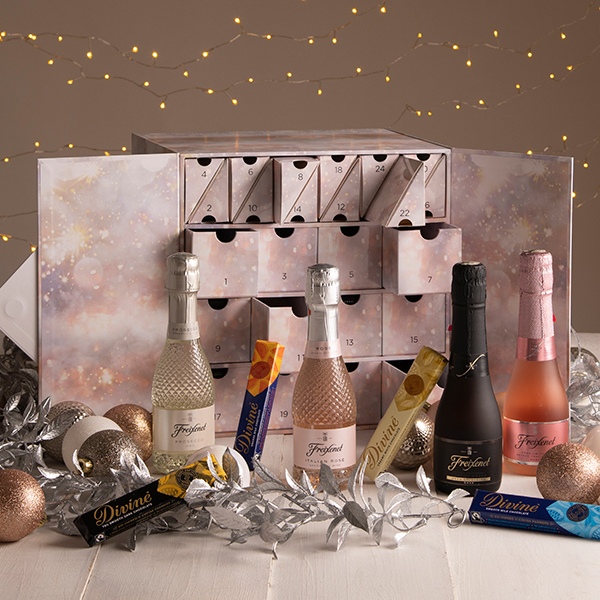 Bespoke chocolate brand Cartografie's limited run advent calendar comes in beautiful glue-free fully recyclable packaging. Inside are 25 stunning pralines, ganaches and chocolate discs, made from single estate cocoa beans. A Vanuatuan cocoa with Lapin Rouille Champagne and demerera ganache is as luxurious as it sounds, and a toasted pannettone flavoured chocolate from the Dominican Republic is as festive as it gets.
Taste credentials Each chocolate is balanced and allows the flavour of its bean to shine through. The sweet white miso ganache is a perfect example, made with chocolate from Madagascar, it's a perfect blend of saccharaine and umami.
Best thing This luxury calendar is housed in a wooden box that is intended to be kept, and each chocolate is as good to look at as it is to eat – one for the chocolate connoisseur. Available from Cartografie, for £155.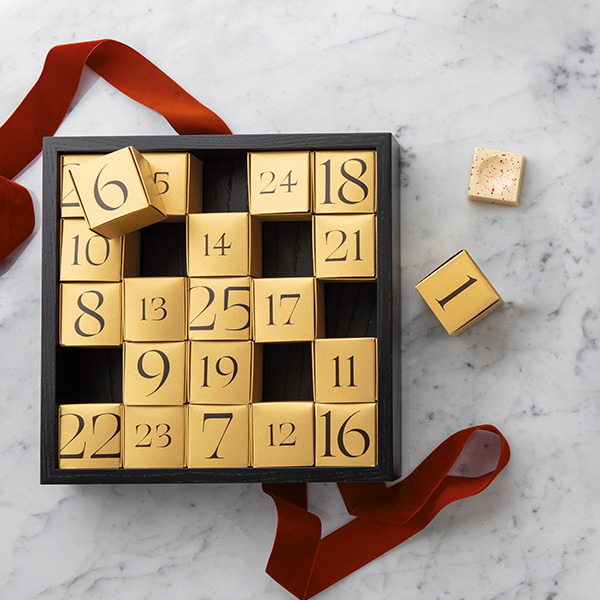 Fodabox Vegan Delights calendar
This is a great option for anyone looking for a dairy-free alternative this year, or just those who aren't that into chocolate and prefer a savoury snack.
Taste credentials These are perfect nibbles for your mid-afternoon snack or late night bite with a drink. Treats range from pickles, bar-snack nuts, olives, chutneys, and sweeter bites like popcorn.
Best thing Behind each door is something different, so you're not going to get bored with this calendar. Besides, who doesn't love a healthy snack? Available from Fodabox, £74.99.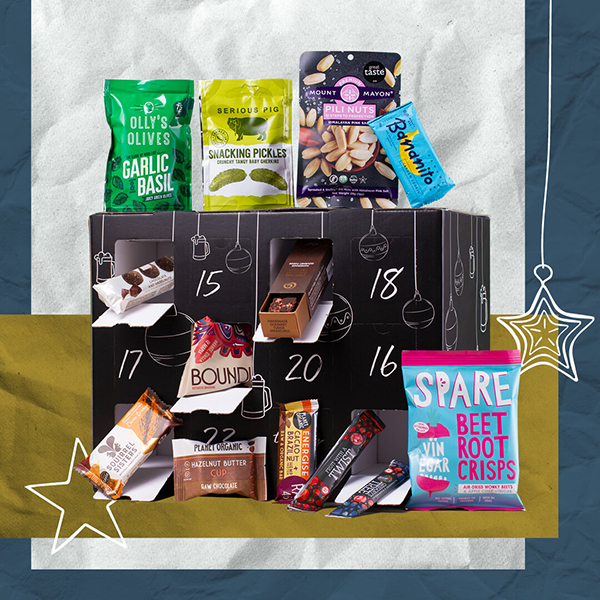 This adorable 3D chocolate filled house from Kinder is available exclusively at Selfridges, and is decorated with a playful festive scene to get the excitement going. There are 24 doors to open, and behind each is a tasty chocolate.
Taste credentials The 24 Kinder chocolate bars offer the reliable milky sweetness we have come to expect from the brand, and you'll even find a Kinder egg or two inside as well.
Best thing At 234g this advent is much more generous than most chocolate calendars. Available from Selfridges & Co, for £17.99.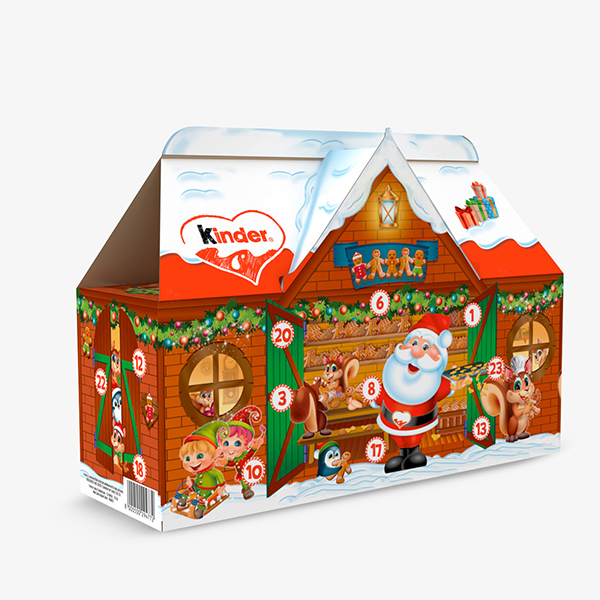 For fans of craft beer keen to support independent breweries the HonestBrew calendar is a definite winner. Inside are 24 different beers, including 12 new and unique HonestBrew collaborations. The team have created an online guide for aficionados to learn about each brew in the Christmas range.
Taste credentials There are beers of all styles inside, including a sweet and creamy Milkshake IPA from Croatia (a definite delicious. favourite), Winter Fruits Sour from Buxton Brewery and a Holiday Nitro Stout from Browar Stu Mostów in Poland. All tastes are covered here, though the focus is on IPAs, sours, pale ales and stouts.
Best thing Great for beerheads keen to try new and exciting flavours – this calendar includes exclusive brews that won't be available anywhere else. There is also a fun beer fact on the reverse of each door which is a nice touch. Available from Honest Brewing, for £74.90.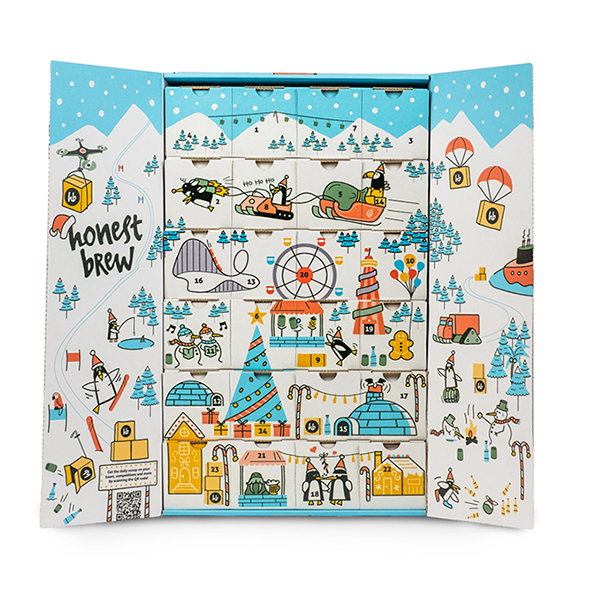 Carluccios Luxury Advent Calendar
Gear yourself up for a buon natale with Carluccio's Italian delicatessen-style advent calendar, filled with sweets, treats, aperitivos and spirits.
Taste credentials As well as sweet treats and boozy tipples to see you through December, behind certain doors, Carluccio's have also delivered some store cupboard essentials such as olive oil or pesto sauce – perfect for those rushed evenings during the busiest month of the year.
Best thing In an order to avoid waste, the calendar can be kept and recycled each year. We love that you could refill it and regift it to a friend or loved one next Christmas. Available from Carluccio's, for preorder (£79.95).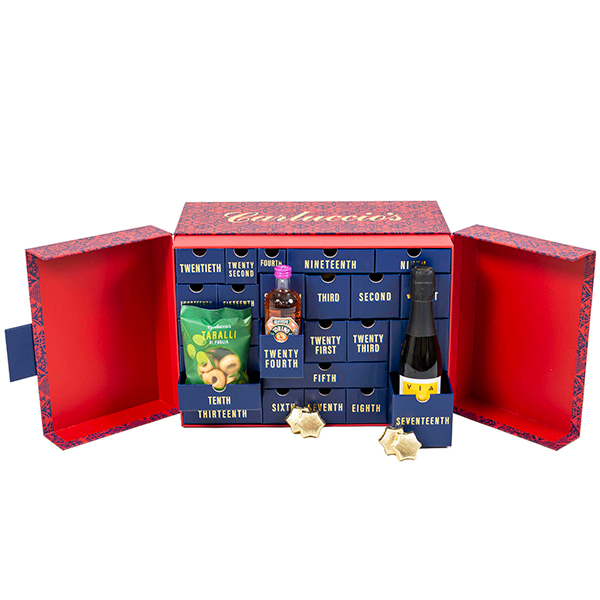 Subscribe to our magazine
Subscribe to delicious. magazine for HALF PRICE
Subscribe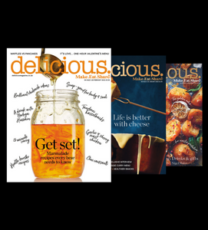 Join our newsletter
Packed with menu ideas, recipes, latest competitions and more...