The best food and drink Advent calendars for Christmas 2020
Want to know where to buy the best Advent calendars for Christmas this year? Look no further. We've sourced the finest Advent calendars for chocolate lovers, tee-totalers, gin aficionados, beer buffs, tea devotees and of course kids.
There is something to suit every budget, so give yourself the boost you need for Christmas 2020 with one of these terrific Advent calendars, handpicked by the delicious. team. We're just sad there isn't more than 25 days of advent fun to enjoy…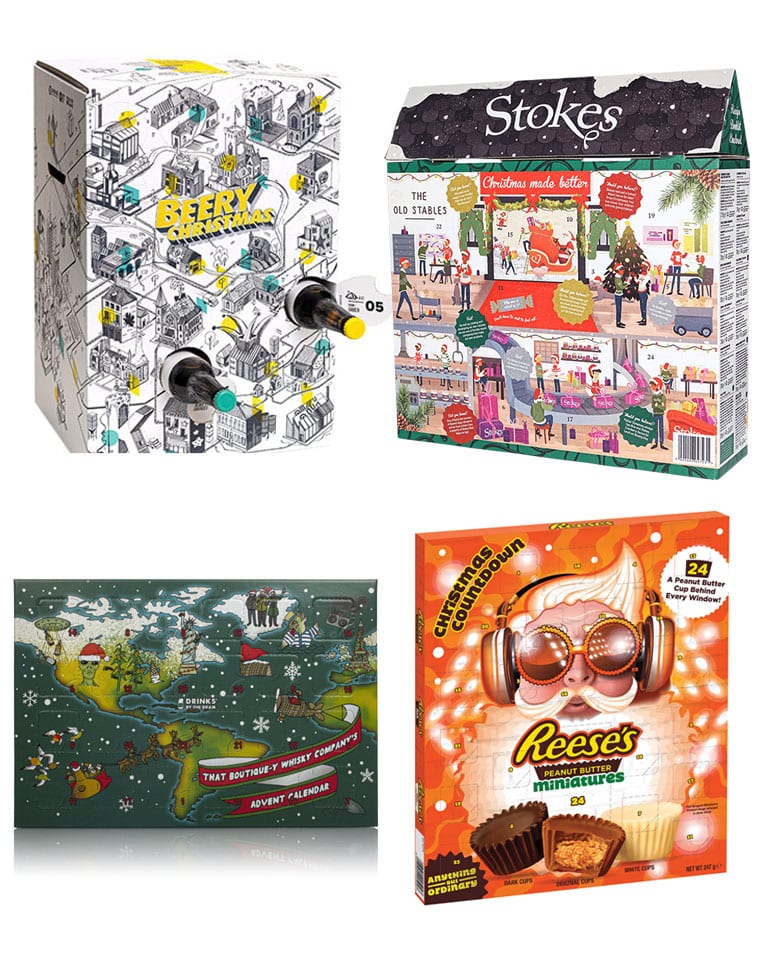 1. Reese's peanut butter cup Advent calendar
Reese's Peanut Butter Miniatures Advent promises a daily treat throughout December for peanut butter megafans. With 23 foil wrapped Peanut Butter Cup Miniatures in white, milk and dark chocolate flavours and two full size white Peanut Butter Cups behind window number 24, the Reese's advent Calendar is excellent value. Available for £5 at Sainsbury's (as well as Tesco, Asda, and Morrison's).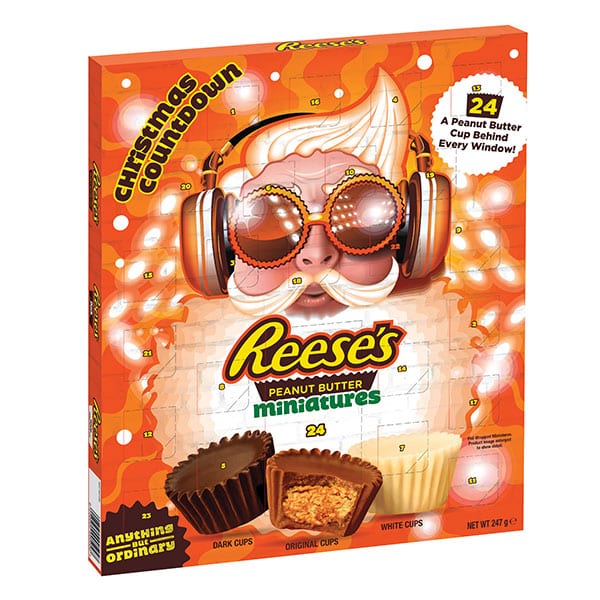 2. That Boutique-y Whisky Company's Advent calendar
Within the cardboard confines of this calendar you will find a different 30ml wax-sealed dram of independently-bottled whisky sat behind each of the 24 windows. Many will be expressions that you may not have tried before, and the handy 30ml form enables you to try them all at an affordable price. Count down to Christmas in a brilliantly delicious fashion as the nights draw in. £99.95 Master of Malt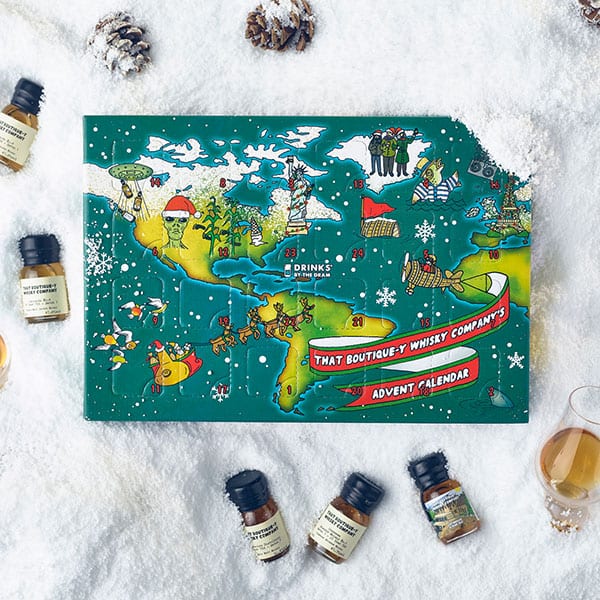 3. Dry Drinker Advent calendar
This is the calendar for those that don't want to wake up with a hangover. Whether you are a non-drinker, are trying to keep off the booze, or simply enjoy alcohol-free beers, the Dry Drinker calendar includes 24 alcohol-free beers, as well as a bonus glass to drink them from. £54.99, Dry Drinker.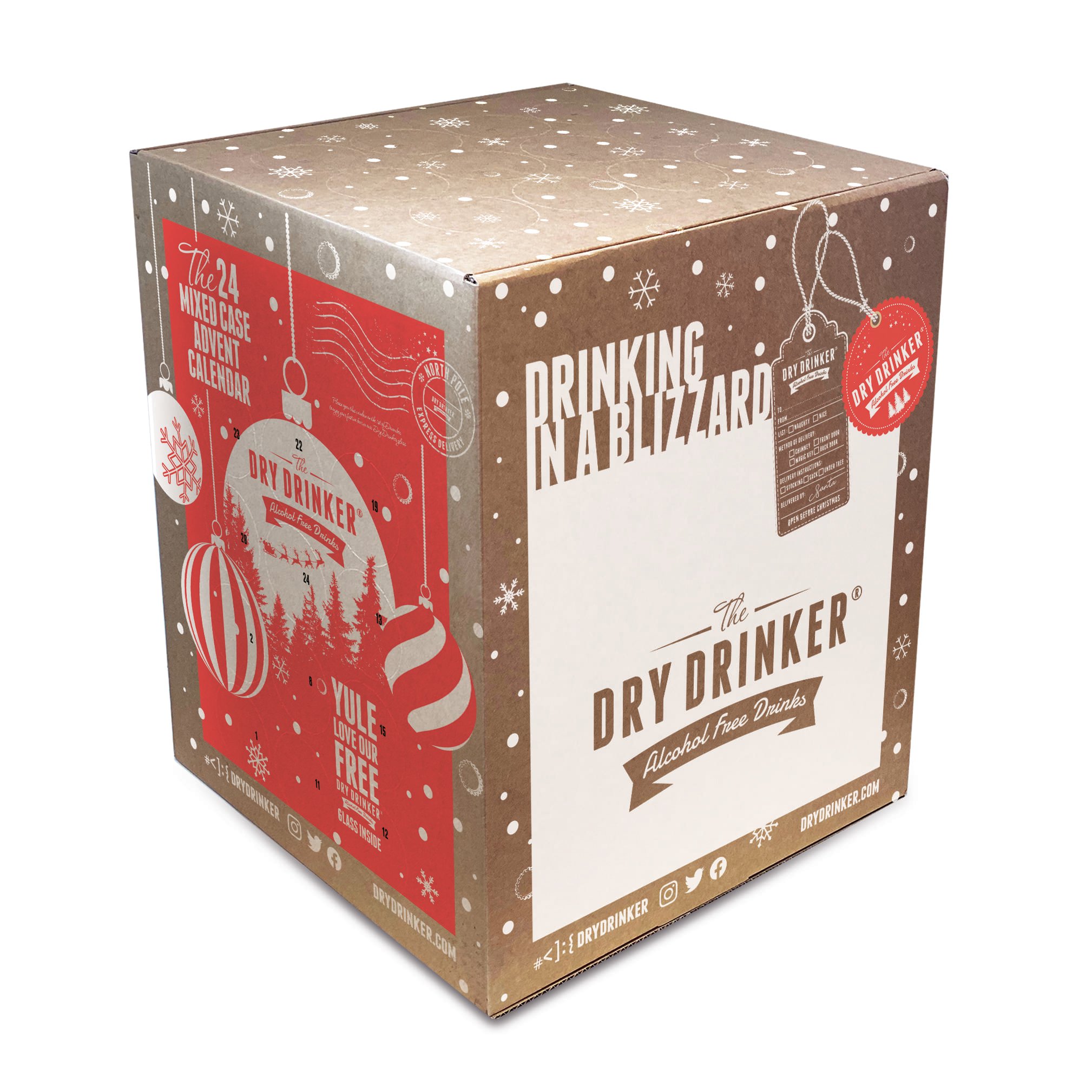 4.  Stokes sauces Advent calendar
Some people just don't have an appetite for chocolate, and that's okay. For the condiment lover in your life, this tasty mix of 24 of Stokes' most loved ketchups, sauces, mayonnaises, relishes, chutneys and preserves – brings something new to taste every day. Styled as a stable, the calendar also includes a recipe booklet full of exciting Christmas-themed recipes and tips to help you get the most from the Stokes products.  £35, Stokes Sauces.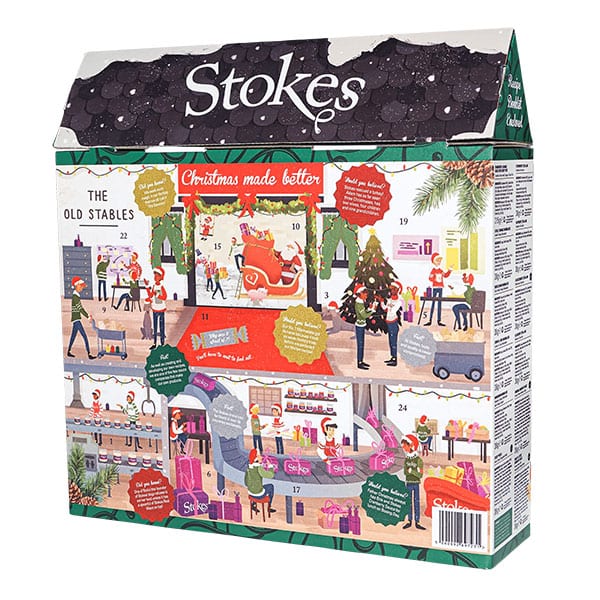 5. Hotel Chocolat's chocolate Advent calendar
A go-to treat for little ones this Christmas, Hotel Chocolat's Up to Snow Good calendar contains their most loveable chocolate characters. All of the 40% milk chocolate characters are modelled on their larger jolly chocolate pals, sketched and sculpted by their in-house Chocolate Sculptress. Hotel Chocolat don't use ready-made moulds. Their chocolate creations are unique and notably more-ish, too. £8, Hotel Chocolat.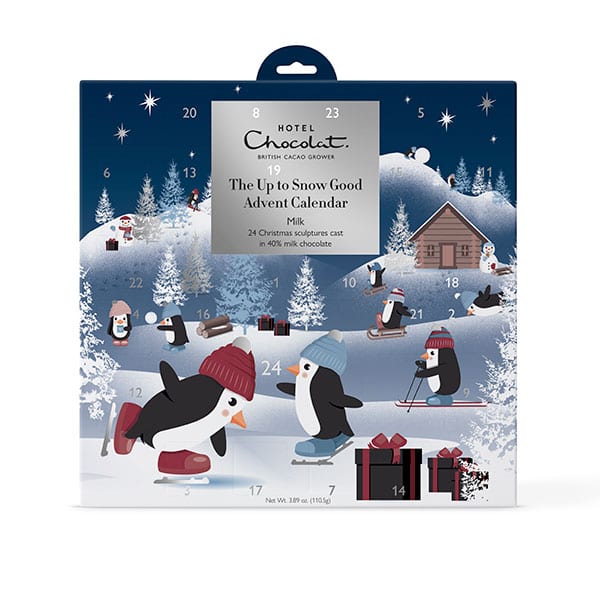 6.  Joe & Seph's popcorn Advent calendar

We can't get enough of Joe and Seph's incredible gourmet popcorn pouches; the perfect accompaniment to an evening of film-watching. The sheer size of this calendar, designed as a snow-covered Victorian shop-front, will get you festively giddy. But what really matters is the array of treats tucked inside, with popcorn flavours ranging from Banoffee Pie, Caramel and Belgian Chocolate and many more. If you can resist the urge to crack open door number 1 before the start of December, you'll have done yourself proud. £25, joeandsephs.co.uk.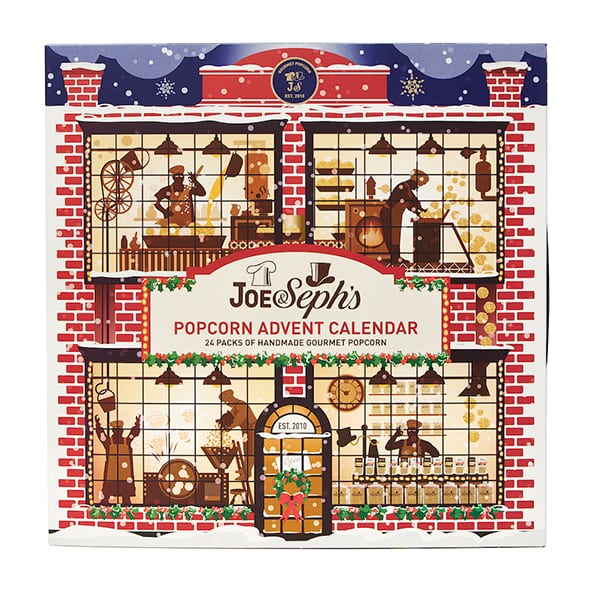 7. ALDI's wine Advent calendar
If wine is your drink, you will want to check out Aldi's Wine Advent Calendar. Behind each door is a different miniature bottle of red, white, rosé or fizz. All 24 wines are sourced from the top wine growing regions, such as Bordeaux and Macon Villages. Available in store and online from 1st November. £49.99, at Aldi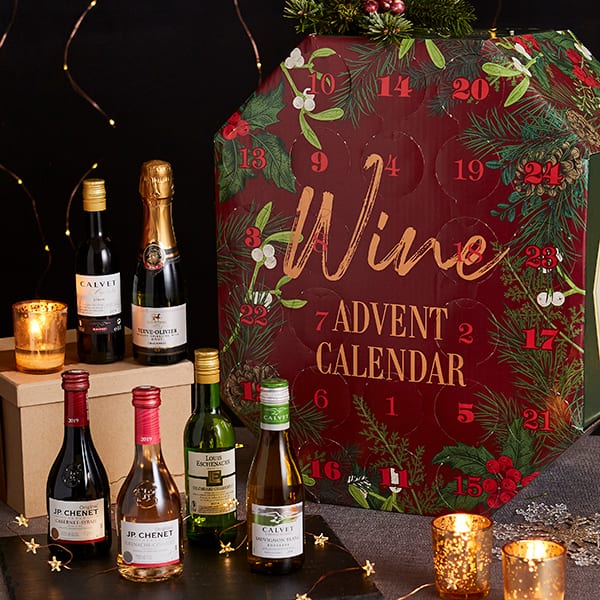 8. Bird & Blend's tea Advent calendar 
Go tea-total this Christmas with Bird & Blend's Tea Advent Calendar. A new brew every day from this beautifully illustrated advent box. This year's calendar includes limited edition teas like Fairytale of NY, Snowball & Eggnog, plus returning favourite like Gingerbread Chai, all vegan-friendly and plastic-free. £36, Bird & Blend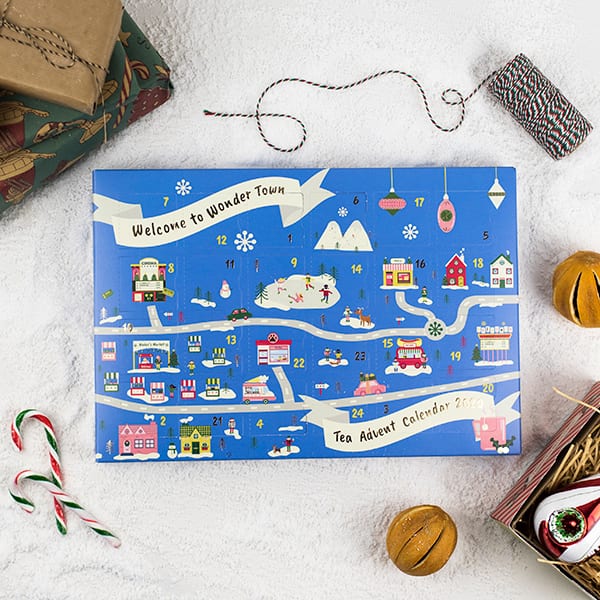 9. Mariage Frères tea Advent calendar
Start every morning of advent with a superior cup of tea. Behind each door of this gorgeous calendar you will find a luxury Mariage Frères' tea, from the fresh and fruity, to seasonal varieties such as the Esprit de Noel, a festive and aromatic tea rich in Christmas spices, orange peel and vanilla. Mariage Frères' classic flavours are also nestled inside – such as the signature Earl Grey. Painted in white and gold and decorated with silver stars, the calendar is available to buy in store at Mariage Frères Covent Garden and online from the end of October. £45 at Mariage Frères.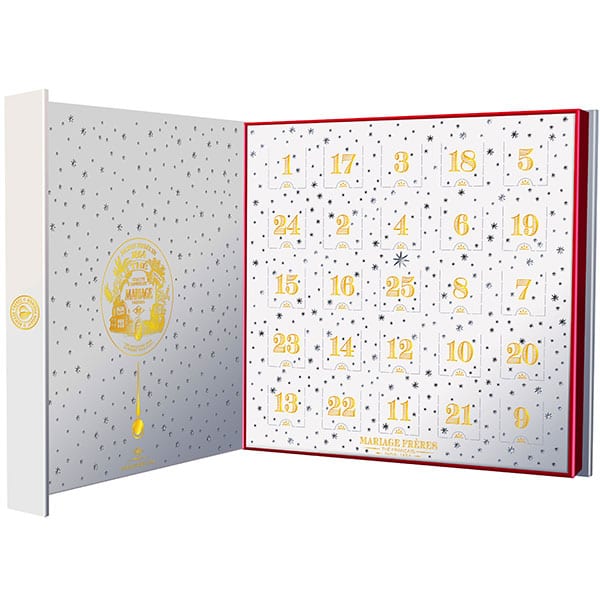 10. Whittard's hot chocolate Advent calendar for two
Serve your daily chocolate fix in hot chocolate form this Christmas. Whittard has seriously upped the ante with its new hot chocolate calendar for two, in which a duo of signature and festive mixes hide behind each door. We were excited to discover a variety of festive flavours inside such as Peanut Butter, Raspberry Ripple, Rocky Road and their signature hot chocolate with Christmas spices… £60, Whittard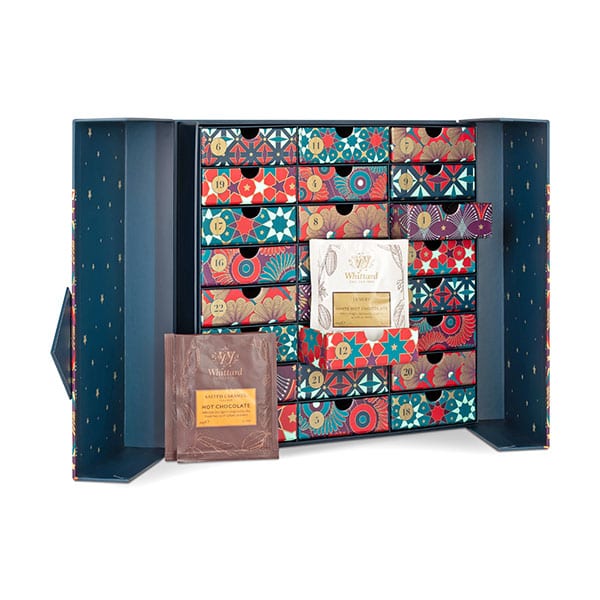 11. Bombay Saphire x London Graphic Centre gin Advent calendar
Unlike a typical advent calendar, the '12 Days of Creativity' is designed to be enjoyed over the days after Christmas and into the New Year, during 'Chrimbo Limbo' as it's known. Each day of the calendar holds a carefully chosen item to get the creative juices flowing through mixology or visual art. £75, londongraphics.co.uk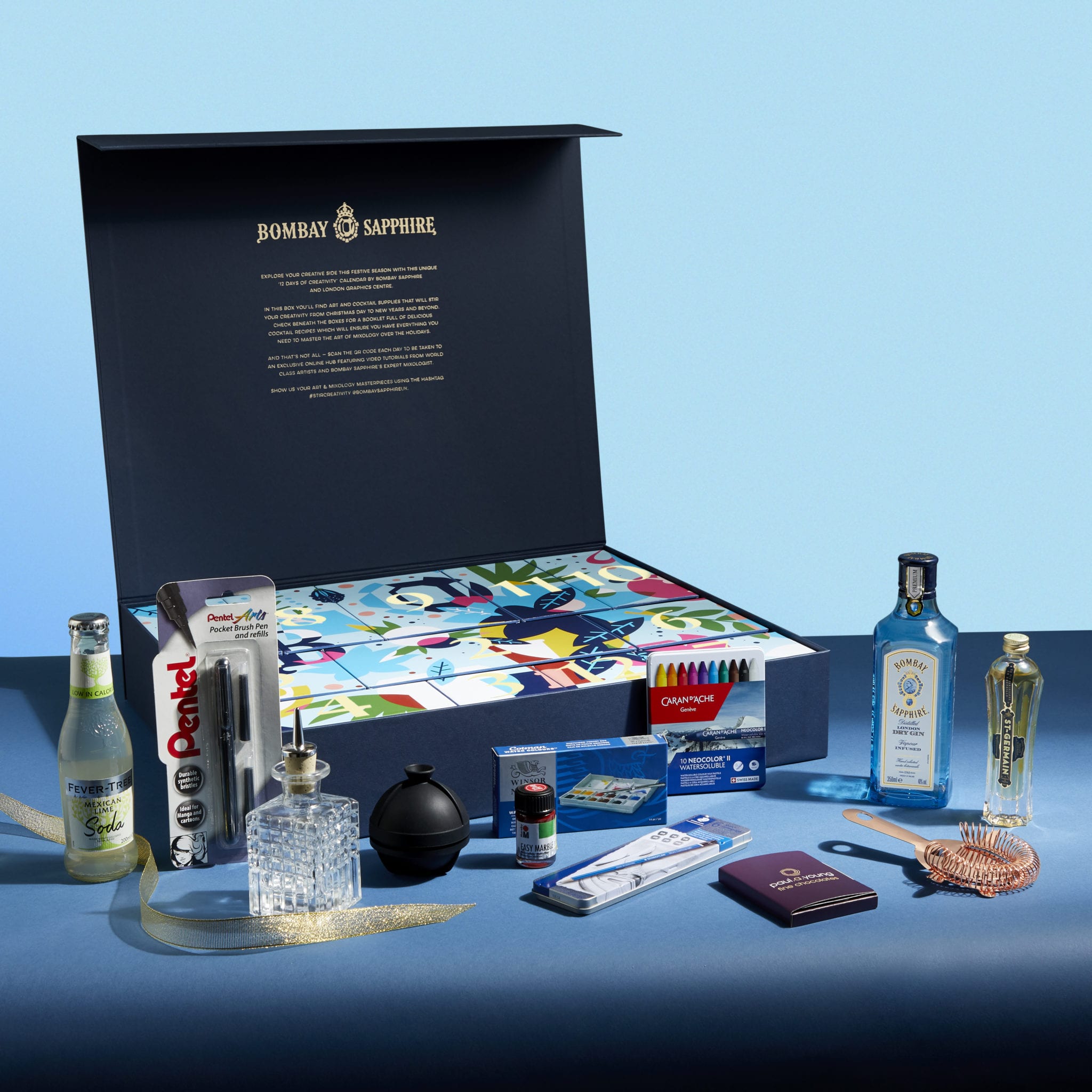 12. Drinks by the Dram's premium gin Advent calendar
Given that the UK's appetite for gin tends to get even stronger around Christmas time, there's a high chance you'll be looking for a gift to give a gin lover this year. For this reason, allow us to introduce Drinks by the Dram's Premium Gin Advent Calendar. Inside this booze-filled countdown awaits a delectable mix    from new discoveries to old favourites, along with some award-winning expressions. It's on the pricier side of the scale but with packaging so beautiful and the most luxurious of treats hidden inside, this is worth splashing the cash on this Christmas. £84.95, Masters of Malt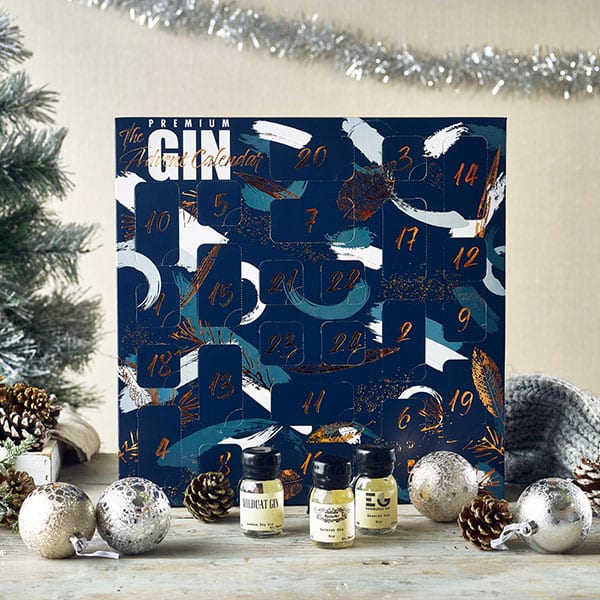 13. Beer Hawk's craft beer Advent calendar
Standing at a walloping 67cm tall, this is the crème de la crème of the boozy calendar genre. Inside this festive beer tower awaits 24 beers brewed exclusively for the calendar, with every single beer being a different style – meaning the lucky receiver will be up to their ears (literally) in brand new beer. We can think of worse scenarios to be in… £85 Beer Hawk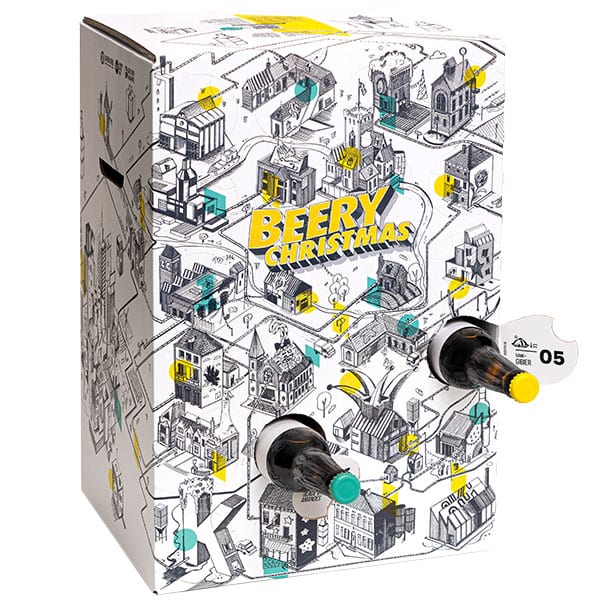 12. Montezumas vegan chocolate Advent calendar
For the vegan in your life, this is as close to milk chocolate as possible, without ever going near a cow. These chocolates are high in organic cocoa, smooth and creamy in texture, and come in 100% recyclable packaging. Montezuma's also have great traditional chocolate options available on their website.
£8.99, montezumas.co.uk.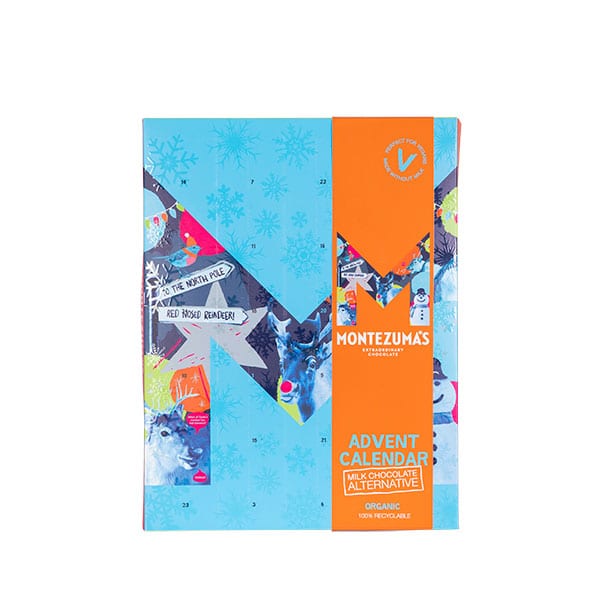 14. Fortnum & Mason's feasting Advent calendar 
Warning, this one comes with a hefty price tag! Fortnum & Mason's Feasting Advent calendar is packed with 25 of Fortnum's best-selling products and you definitely won't want to share. Every festive indulgence is covered from Orange & Champagne marmalade to start your day through to English cassis gin for an evening treat. If you're feeling generous you could share the chocolate caramel selection box with your bubble. But make sure to toast Christmas morning with your personal mini bottle of Fortnum's Champagne. £200, available in store and online, fortnumandmason.com.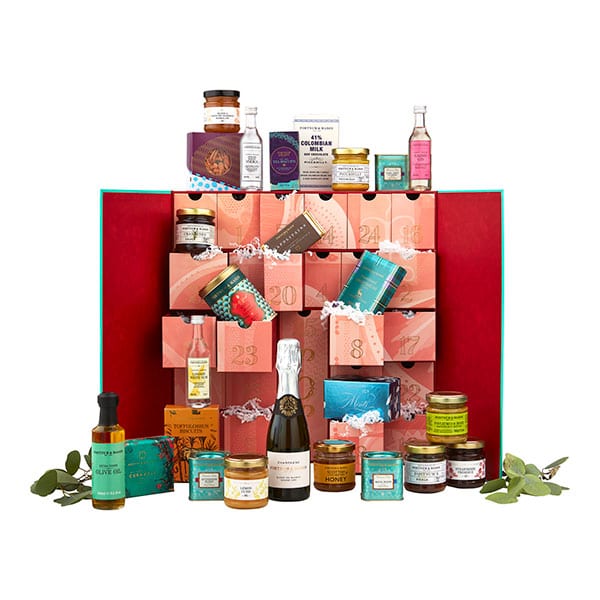 15. PG Tips tea Advent calendar
Talk about a pick-me-up – the PG Tips calendar includes 2 tea bags and a joke behind each door. Variants of tea include Original, Tasty Decaf, English Breakfast, Earl Grey, Green Tea, Raspberry, Peppermint and Camomile. £11.63, Amazon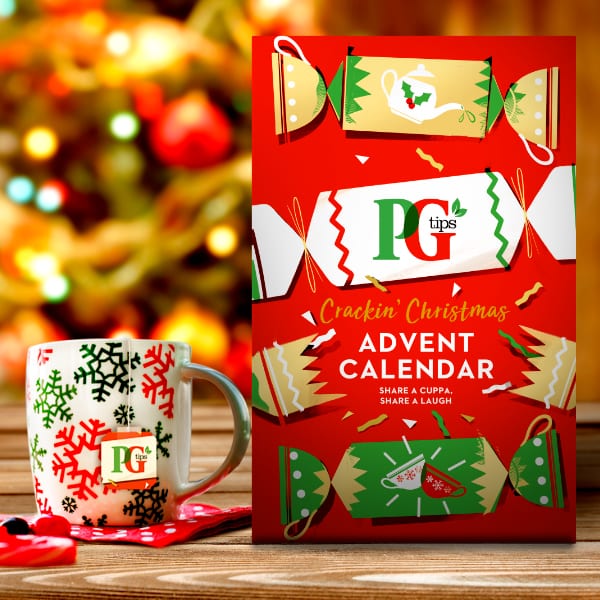 16. Pact coffee Advent calendar
For those who can't get going without a cup of Joe, this calendar from Pact is the one. Pact sources directly from coffee farmers and pays an average of 55% on top of Fairtrade rates, helping to support coffee growing communities. There are 25 different speciality coffees inside the calendar. The coffee connoisseur in your life will be pleased. £34.99, Selfridges.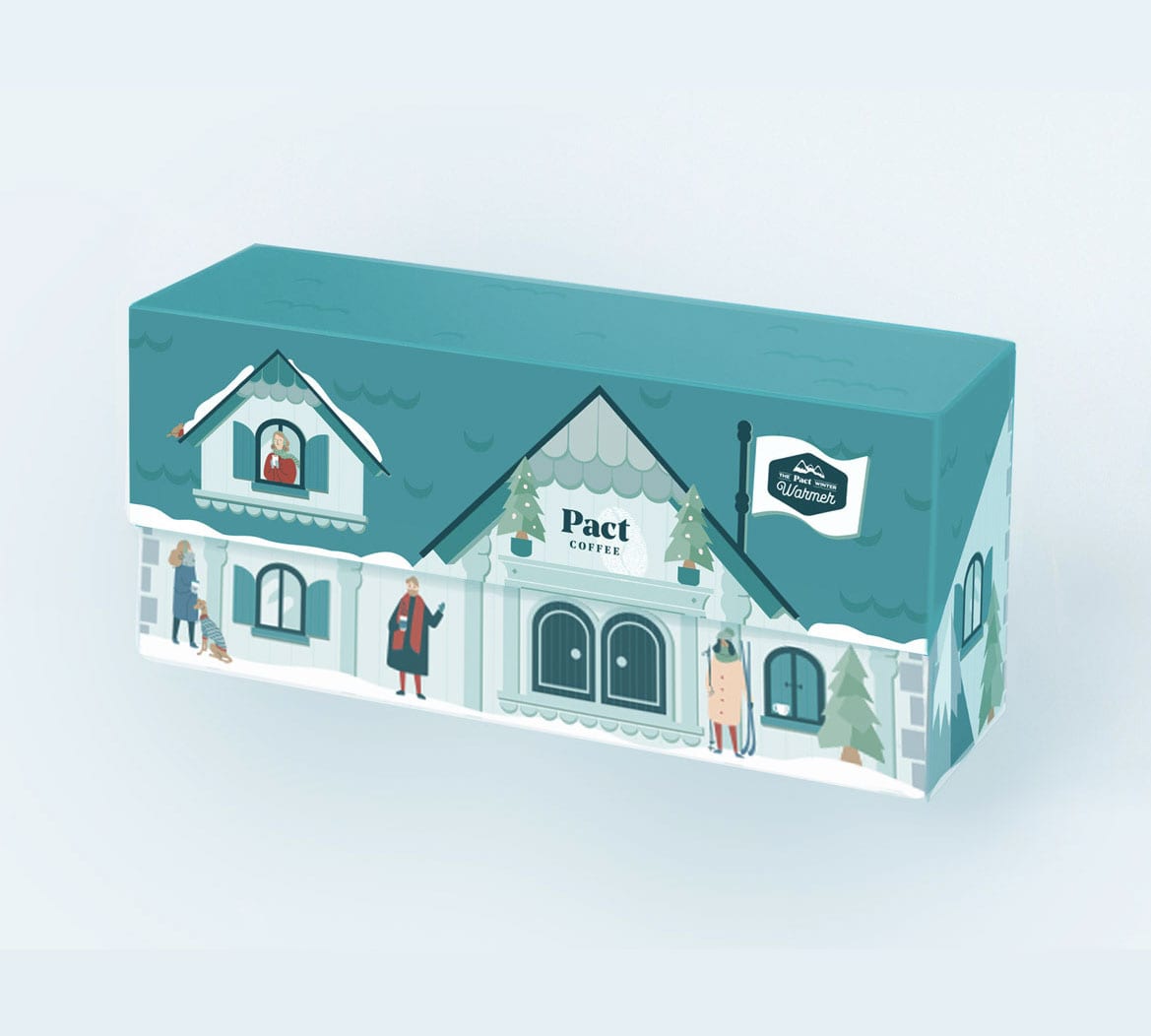 17. Little Moons mochi Advent calendar
Little Moons have launched the world's first Mochi advent calendar. Little Moons mochi bites are made by wrapping bite-sized balls of creamy artisan gelato ice cream in a layer of soft and delicate rice flour mochi dough. Mochi lovers will be delighted by the array of interesting flavours, from pistachio & coconut to salted caramel and yuzu lemon. £40, available at Little Moons pick and mix bar in Selfridges.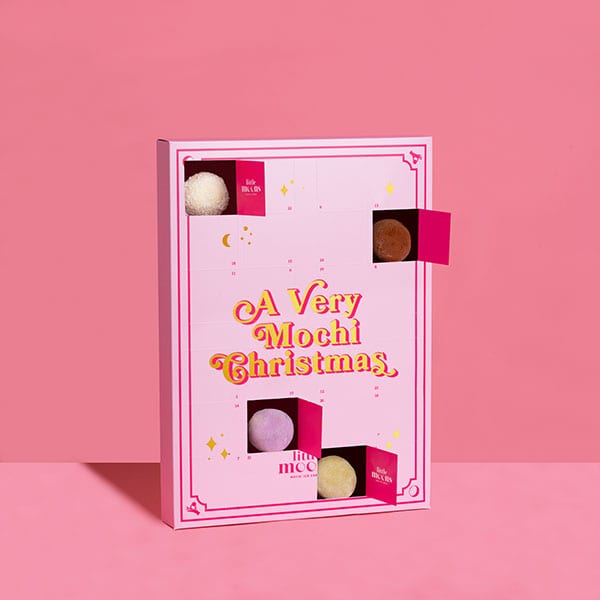 18. Niederegger marzipan Advent calendar
This 25 window Niederegger carousel advent calendar is packed with marzipan, truffles and pralines. It's a beauty to look at, plus you get more than one treat each day. £35.00, John Lewis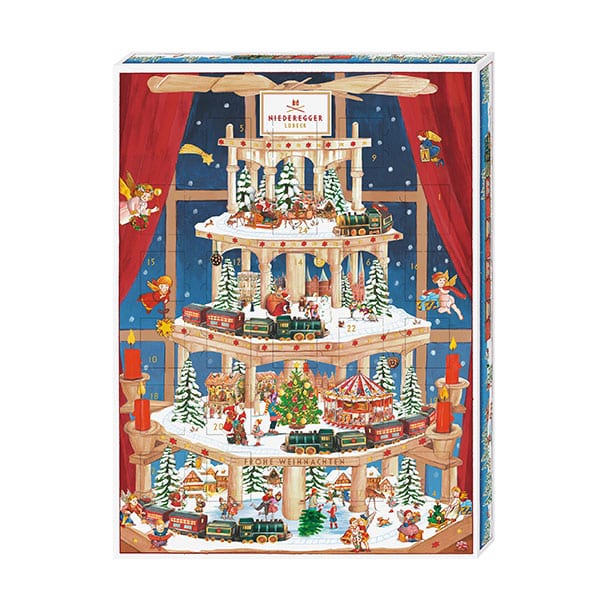 19. Walkers' Shortbread Advent calendar
For a daily dose of Christmas cheer, this advent calendar from Walkers' features 24 favourites including the Pure Butter Shortbread Fingers, Rounds and Mini Chocolate Chip Shortbread. £14.99, for a limited time only available at Walkers' Shortbread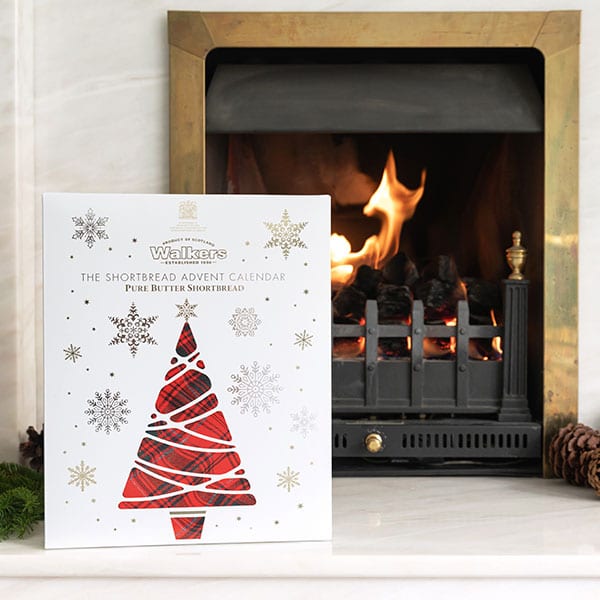 The best of the rest: 
24 days of Rum advent calendar
Boozy calendars are no longer limited to gin and fizz. Perfect for all the forgotten Rum lovers out there. £79.99, Amazon.
Lindt chocolate Advent calendar
The most universal of chocolate, this year comes hidden inside an adorable teddy bear. £15, Lindt
Candy Kittens Advent calendar
Jamie Laing of Made In Chelsea fame has created a showstopping build-your-own Christmas calendar to get you in the mood for festive fun. This 3D Advent Calendar Tree is filled with fruity flavours such as Tropical Mango, Wild Strawberry and Blueberry Bliss. £8, candykittens.co.uk
NOMO free-from Advent calendar
NOMO takes free-from seriously! This calendar is completely vegan and free of dairy, gluten, egg and nuts. Expect an assortment of non-dairy milk chocolate alternative as well as caramel and sea salt flavour choc drops. £5, Sainsbury's
The Spicery's impressive range of fragrant spice blends, from creamy kormas to fiery Madras, is a go-to gift for curry lovers. A recipe to make using the spice hides behind each window, adding a serious kick to your festivities. £29.95, Ocado.