The best food and drink Advent calendars for Christmas 2019
Want to know where to buy the best Advent calendars for Christmas this year? Look no further. We've sourced the finest advent calendars for chocolate lovers, gin aficionados, beer buffs, tea devotees and even luxury calendars for kids…
Count down to the big day with one of these terrific Advent calendars, handpicked by the delicious. team. We're just sad there isn't more than 25 days of advent fun to enjoy…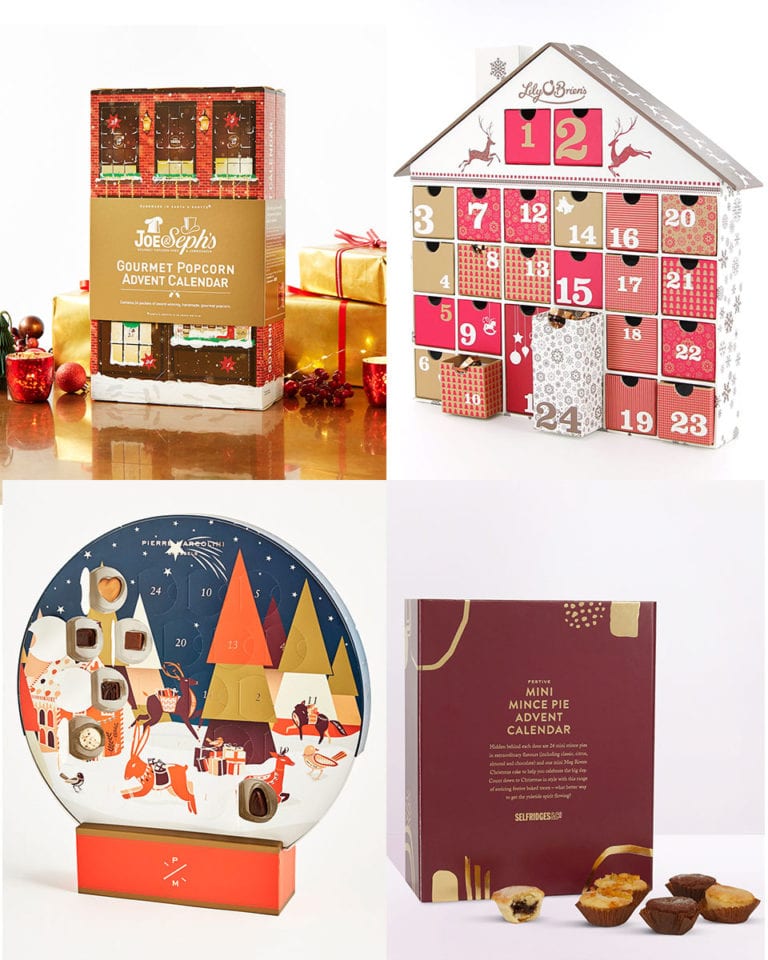 1. 12 Days of Outstanding Gin.
Given that the UK's appetite for gin tends to get even stronger around Christmas time, there's a high chance you'll be looking for a gift to give a gin lover this year. For this reason, may we introduce Cambridge Distillery's 12 Days of Outstanding Gin. Inside this booze-filled countdown awaits a delectable mix of unique flavours – some you never even knew you needed – including rose garden, smoked and a breakfast brew made up of lady grey and orange marmalade. It's on the pricier side of the scale but with packaging so beautiful and the most luxurious of treats hidden inside, this is worth splashing the cash on this Christmas. £99.99, Cambridge Distillery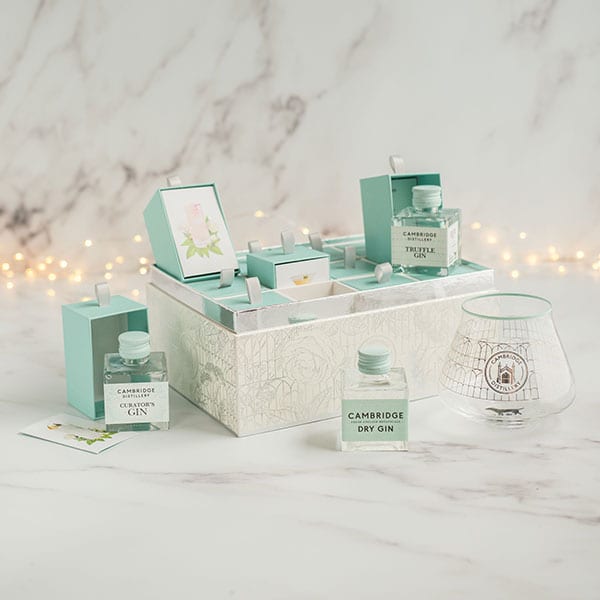 2.  A pop-ular gourmet calendar

We can't get enough of Joe and Seph's incredible gourmet popcorn pouches; who could resist their salted caramel popcorn? The sheer size of this calendar, designed as a snow-covered Victorian shop-front, will get the kids (and adults) festively giddy. But what really matters is the array of gourmet treats tucked inside, with popcorn flavours ranging from Banoffee Pie, Caramel and Belgian Chocolate and many more. If you can resist the urge to crack open door number 1 before the start of December, you'll have done yourself proud. £20, Ocado.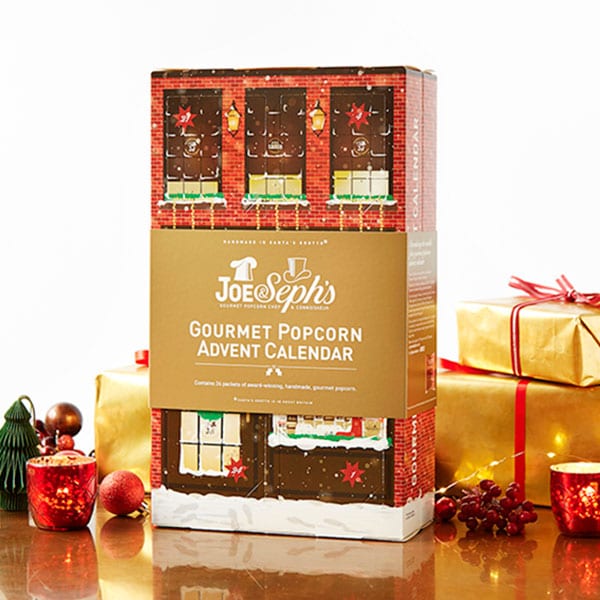 3. The Everything Advent
This is the ultimate calendar for committed chocoholics. Known for always offering up the very best in chocolate Advent calendars, Hotel Chocolat has gone the extra mile with The Everything Advent this year, offering a lip-smacking selection of some of their most iconic treats. This is the first time HC have released a calendar containing all of their best-selling chocolates, and avid fans can expect flavours such as such as Billionaire Shortbread, Champagne Truffle and Mousse au Chocolat. £26, Hotel Chocolat.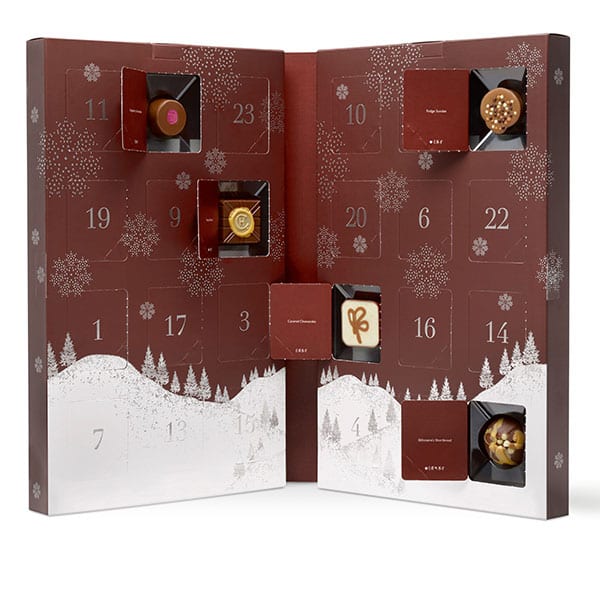 4. 12 days of Christmas
This is the ultimate calendar for cheese and wine buffs. The Bay Tree has released a knockout jam and chutney advent, featuring a mix of classic and inspired flavours including cider apple jelly, caramelised onion chutney and orange marmalade with whisky. For those who don't carry a penchant for chocolate, not only is it a different way to count down the festive days, but it's perfect for supplying cheese and wine nights. The store cupboard has never looked so good. £15, Ocado.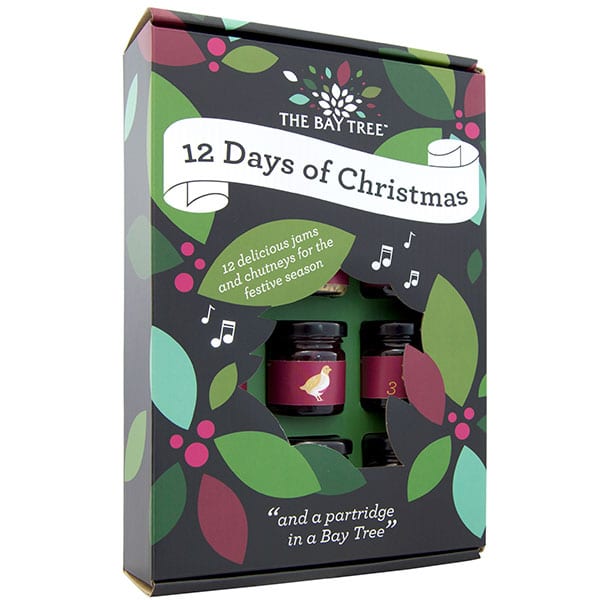 5.  'Tis the season to be mallow 
Some people just don't have an appetite for chocolate, and that's okay. Fortunately, you can tuck into flavoured marshmallows this Christmas time. This 3D calendar by boutique confectioner Belinda Clark is the gift which keeps on giving, with a horde of appealing flavours ranging from Salted Caramel to Passionfruit and Gingerbread (we won't spoil the rest). The individual boxes encasing the marshmallow are re-fillable, perfect for storing sweet treats for future Advents to come. £30, Belinda Clark.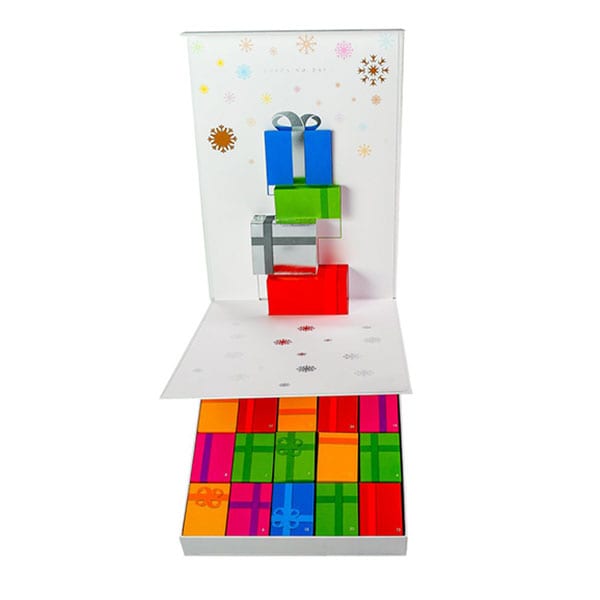 6. This really takes the biscuit
A go-to treat for little ones this Christmas, London-based Biscuiteers have gone above and beyond with a charming selection of hand-iced biscuits, ready to tuck into the pockets of a beautiful hand-crafted cloth. Not only do the biscuits take the form of classic festive figures – candy canes, teddy bears, toy soldiers – but they're notably more-ish, too. From £58, Biscuiteers.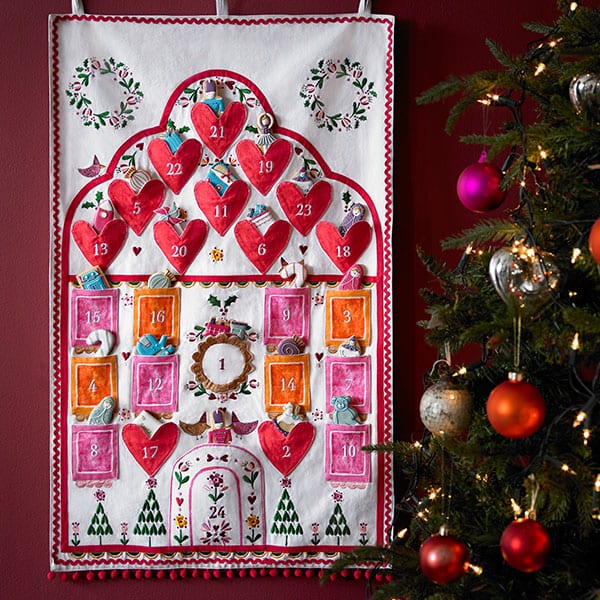 7. BYO Tea 
Go tea-total this Christmas with Bird & Blend's BYO, aka build your own tea calendar. This is a concept we can get on board with: Bird & Blend send a link, you pick from up to 60 tea and Matcha bags, and the tea elves will get to work on creating your personalised calendar. With flavours including Mulled Cider, Gingerbread Chai and Mint Humbug, you've got free reign to create a calendar that's entirely suited to your tea tastebuds. £45, Bird & Blend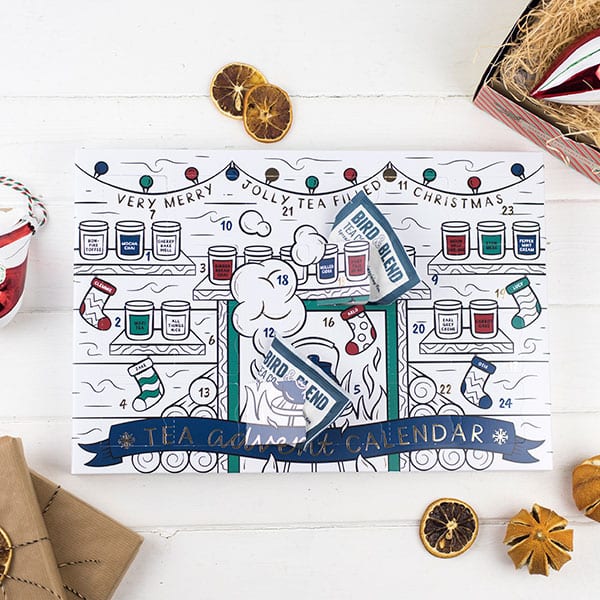 8. The one with the nation's favourite pig
Yes, you read that correctly. Your Percy Pig dreams are about to come true: M&S has brought out an Advent centred on its most loveable pig. Though there may be disappointment over the lack of gummy morsels in the run-up to the big day – Percys are swapped for chocolate pieces – a bag of the good stuff awaits the lucky receiver on the most festive day of all. £5, M&S.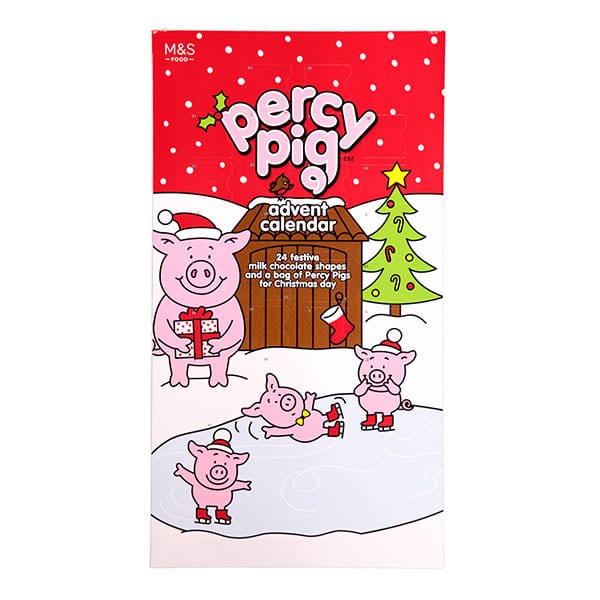 9. The Hot Chocolate Advent Calendar for Two
Serve your daily chocolate fix in hot chocolate form this Christmas. Whittard has seriously upped the ante with its new hot chocolate calendar for two, in which a duo of signature and festive mixes hide behind each door. We were excited to discover a variety of festive flavours inside such as Sticky Toffee Pudding, Rocky Road and their signature hot chocolate with Christmas spices…the only downside was feeling obliged to share. £45, Whittard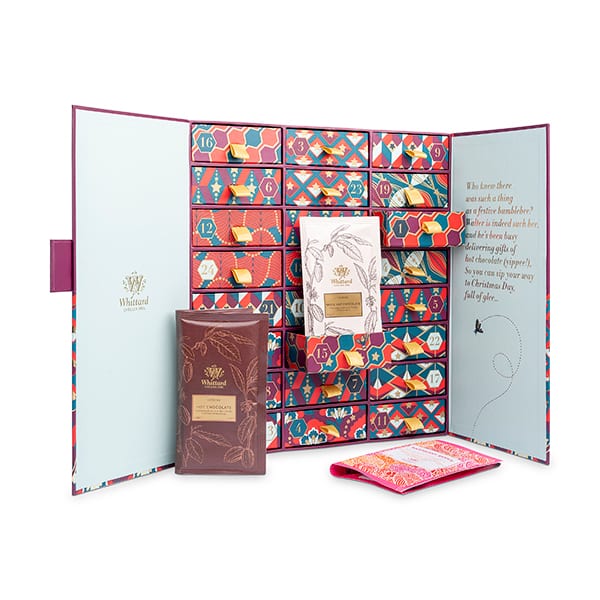 10. Mission marzipan 
The tradition of counting down the days until Christmas actually originates from Germany, so you could say this is the closest you'll get to a traditional Advent. German sweet producer Niederegger's calendar contains the most eye-popping selection of marzipan we've ever laid eyes on, with up to 19 different designs inside a towering Advent. The nostalgic image of Father Christmas, or should wesay Nikolaus, is so charming that it'll be hard to give away. £34.99 Niederegger
11. Craft beer ADVENTure calendar
Standing at a walloping 67cm tall, this is the crème de la crème of the boozy calendar genre. Inside this festive beer tower awaits 24 beers from 14 different countries – 19 of which have been specially brewed for the calendar – meaning the lucky receiver will be up to their ears in brand new beer – we can think of worse scenarios to be in… £59.99 Beer Hawk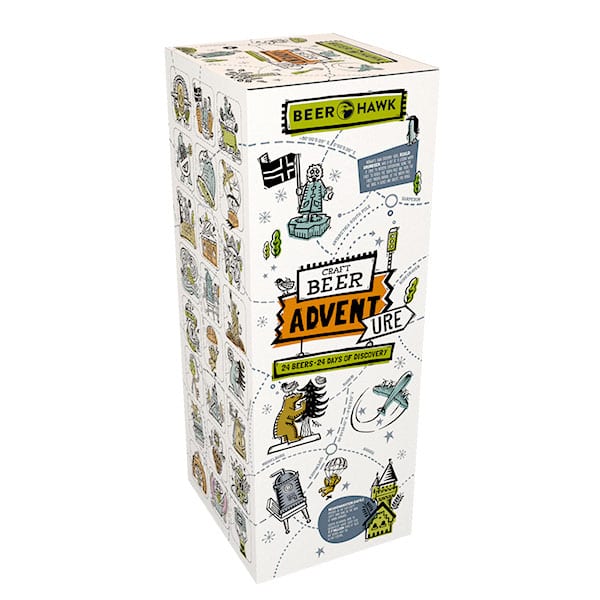 12. The Chocolate Advent House
If it's classic chocs you're after, you can't really go wrong with Lily O'Briens. The luxury chocolatier's charming chocolate house contains up to 28 chocolates, meaning you get even more bang for your buck. The particularly fluffy milk chocolate truffle is a noticeable standout amongst the line-up. We love that you can re-use the house for years to come. £25, Lily O'Briens.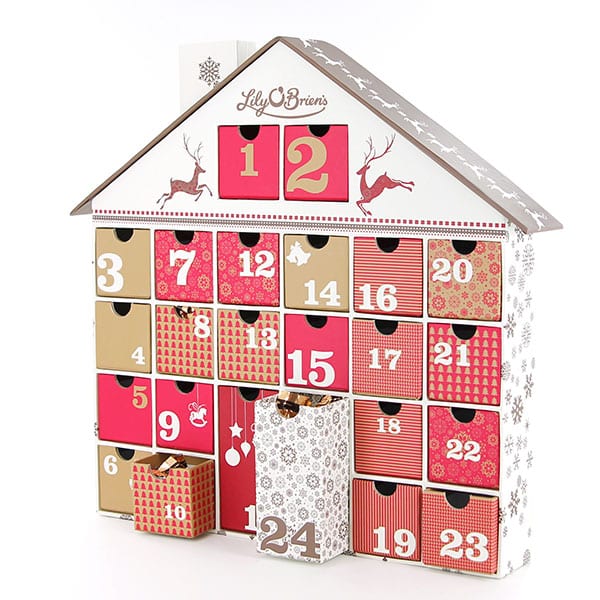 13. Take a loaker this beauty 
Brand new to the UK, Loacker's cracking wafer calendar contains a dazzling selection of 10 wafer flavours (the white chocolate and coconut wafer went down unbelievably well with the delicious. team). Slip these biscuit treats inside the adorable felt reindeer calendar which comes with it, and who knows, you may never look at chocolate calendars the same way again. Wafers, for the win. £14, Ocado.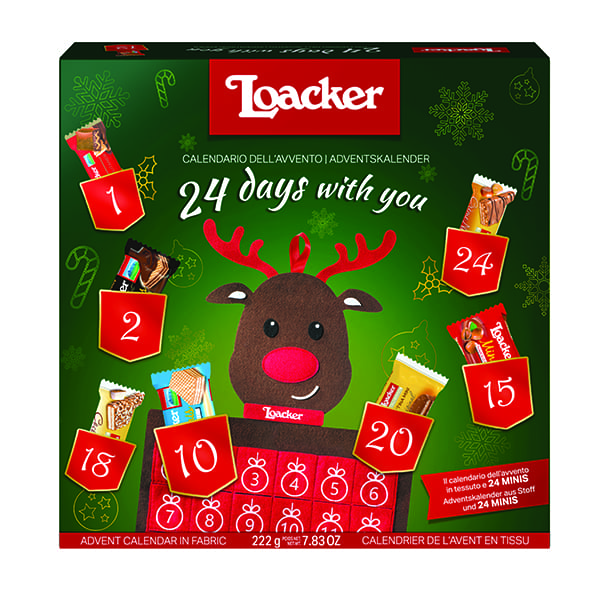 14. The 12 curries of Christmas 
It's time to spice up the festive season. New for this year, The Spicery's impressive range of fragrant spice blends, from creamy kormas to fiery Madras, is a go-to gift for curry lovers. A recipe to make using the spice hides behind each window, adding a serious kick to your festivities. £29.95, Ocado.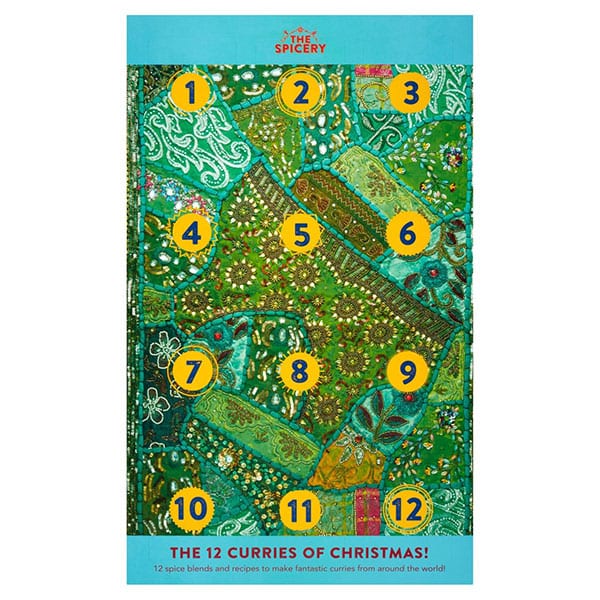 15. 24 days of praline 
Luxury Belgian chocolatier Pierre Marcolini has pulled out all the stops this year with its snow globe-inspired calendar. Expect a wide-ranging assortment of praline treats inside, flavoured with caramel, pistachio, salted caramel and more. It's on the pricier side, so make sure the lucky recipient is a fan of Pierre Marcolini, and you'll make their Christmas dreams come true. £49, Pierre Marcolini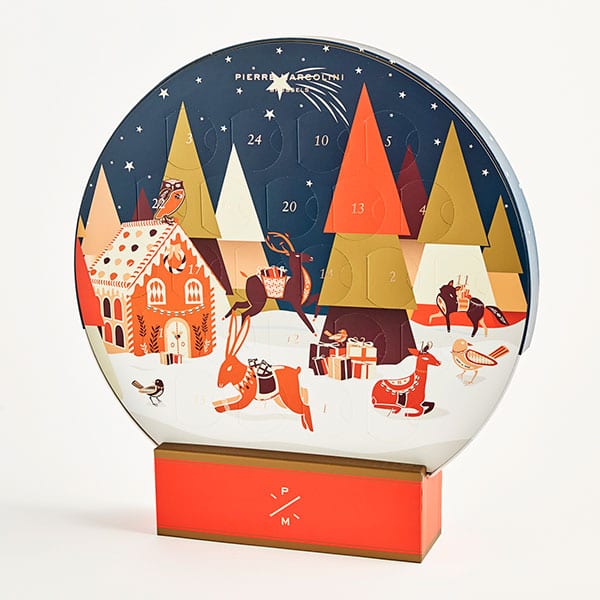 16. Eyes on the (mince) pies 
Selfridges' quaint mini mince pie advent calendar now gives us an excuse to tuck into a mince pie every single day in December (not that we weren't likely to be doing that anyway). This unique calendar boasts a range mini mince pies inside – expect the classic flavours but also one with a chocolate twist. If you're all mince pied-out by the 25th (pfft, as if) then fear not, an iced Christmas cake awaits behind door number 25. £39.99, Selfridges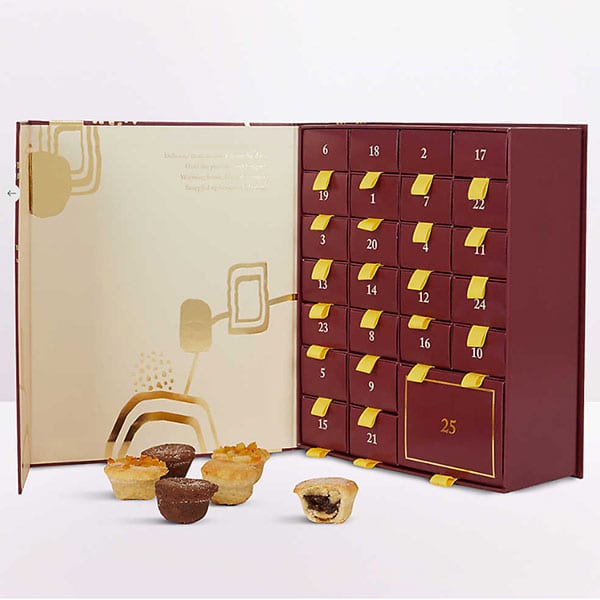 The best of the rest: 
That Boutique-y Gin Company
Gin calendars are doing the rounds, and this one is both value for money (given the amount of gin you get inside) and aesthetically pleasing. £49.95, Master of Malt
Everyone loves a truffle at Christmas time, so this is a fail-safe option for all ages to tuck into. £10, Amazon
Boozy calendars are no longer limited to gin and fizz. Perfect for all the forgotten Bourbon lovers out there. £30, Asda 
The most universal of chocolate, this year comes hidden inside an adorable teddy bear. £15, Lindt
Challenge the norm with a calendar filled with soft cheeses from Pavé d'Affinois, a French cheese made in the Rhône-Alpes region. £13, Asda 
Head over to the dark side with Divine's dark chocolate calendar, made with 70% cocoa (making it suitable for vegans). £5, Waitrose