Chocolatier classes
Chocolate making is a wonderfully mucky yet creative process. We picked some of the best classes from around the country, so all you have to do is book.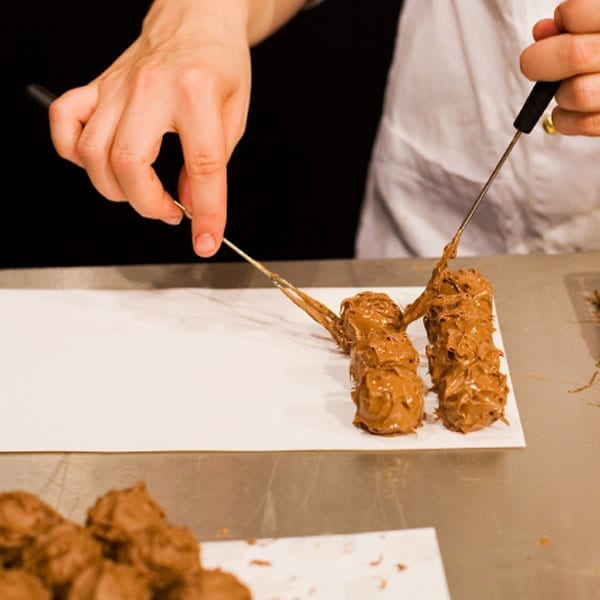 LONDON AND SURROUNDS
VARIOUS LOCATIONS
Chocolate Delight
Chocolate Delight runs classes at seven locations around the country. Students can try out many different chocolate and innovative chocolate tasks including chocolate portrait painting, as well as more traditional chocolate workshops. The charming owners, Gerry & Roo, also run the Chocolate Hotel in Bournemouth, where guest can experience the Chocolate weekend. They even run chocolate coated corporate team-work events. Courses last for about two hours and chocolate lovers will be able to take home nearly 30 truffles. Workshop prices start at £55 while prices for a chocolate weekend start at £279 based on two sharing.
Website
NORTH
Bettys
Bettys café first opened to the public in 1919 and nearly a century on it runs a mini empire of five cafés across the north-east and a thriving mail order business selling delicious teas, cakes and chocolate delicacies. Luckily, Bettys is willing to share the secrets of its culinary success at its cookery school in Harrogate, which runs courses in everything from fish suppers to bread making. Bettys offer several different chocolate courses run by professional chocolatiers from their craft bakery, covering many different elements of chocolate work from chocolate tempering to truffle making and baking. Day courses start at £160.
Website
Coghlans Cookery School
Coghlans runs courses in Chesterfield and Sheffield that aim to give students sound practical advice to increase their culinary know how whether they're beginners or professional chefs. The Champagne and Chocolate day offers a chance for real indulgence; students spend the morning crafting truffles and chocolate desserts followed by an afternoon of Champagne tasting. All this takes place under the expert eye of professional chefs and champagne connoisseurs. Prices start at £158.
Website
THE MIDLANDS
Seasoned cookery school
During this one-day chocolate patisserie course, you'll be part of a friendly group led by Will Torrent – a professional award-winning patisserie chef and head of all the new chocolate products at Waitrose.
You'll leave the course with a new set of skills and all the chocolate creations you've made throughout the day, such as peanut butter, raspberry and chocolate delice,salted caramel chocolate tart and more, plus bags of tempered chocolate decorations.
This day long course costs around £185 and is designed to give you total confidence in a wide range of chocolate techniques including baking, patisserie and chocolate tempering. Courses take place on the Catton Hall Estate, on the picturesque Derbyshire and Staffordshire border.
Website
EAST ANGLIA
The Lavender House
The Lavender House is a bustling restaurant and cookery school situated under a sixteenth century thatched roof just outside Norwich in Norfolk. There are professional training courses for chefs, plus amateur masterclasses. The chocolate kitchen day Chocoholics Anonymous includes hands-on training with step-by-step instructions and a goody bag to take home. Prices start at £100 for adults and £30 for children.
Website
SCOTLAND
Cocoa Black
Just south of Edinburgh, in Peebles, is Cocoa Black, run by Ruth Hinks. As well as selling her range of hand-made truffles online, Hinks runs a chocolate and patisserie school. This Easter she will be running classes for children and adults. They offer more than your average truffle making course and have sessions in creating your own gateaux and french pasty making (With chocolate on of cause). Classes start from £29.
Website
Glasgow Cookery School
This Scottish school offers a variety of courses on all things sweet, including several different chocolate classes. These include Saturday evening events where students enjoy food with wine and then make their own dessert, and one day chocolate masterclasses covering chocolate tempering and chocolate dessert making, with plenty of tastings along the way. Prices start at £40 for an evening course and £99.50 for a full day.
Website
Coco Chocolate
Coco Chocolate provides intimate chocolate making days in Edinburgh that are limited to just four people per class to ensure everyone gets individual attention and tuition. Students learn to temper chocolate by hand and by machine as well as making their own moulded chocolates and organic chocolate bars. Each student will take home a Coco hamper of chocolates made on the day. A day course is priced at £145.
Website