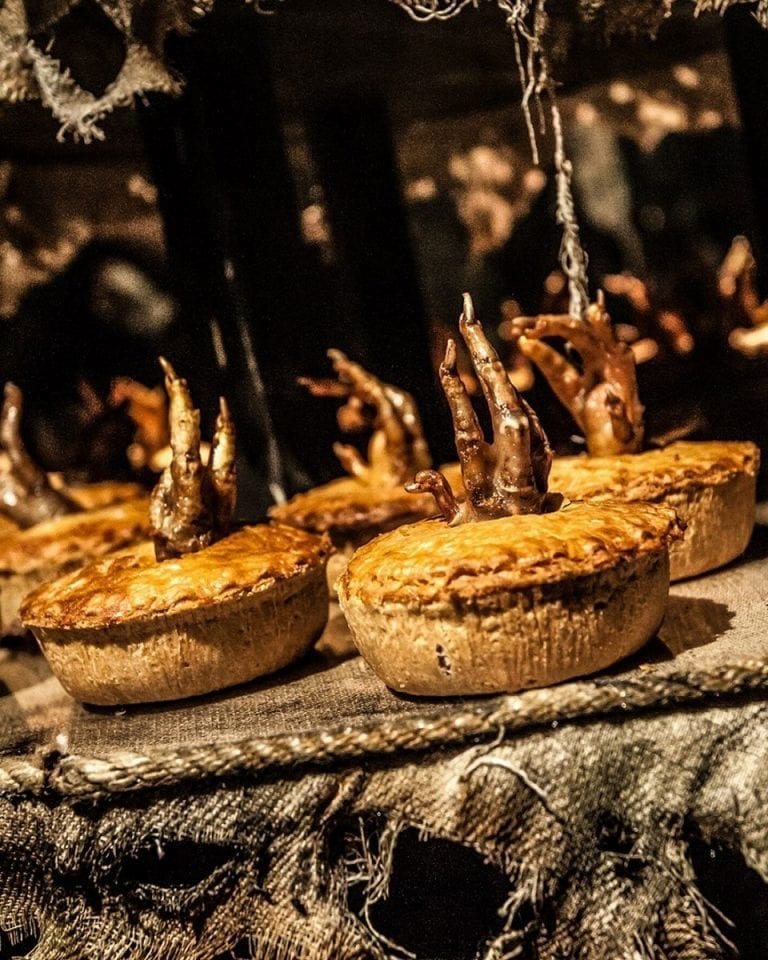 I remember Roald Dahl, creator of stories for children and adults alike, for his dark, magical tales and gruesome characters. His books – The BFG, George's Marvellous Medicine, James and the Giant Peach – are equal parts enchanting and disgusting.
When I received an invitation for dinner at The Twits, an immersive dining experience by award-winning theatre company Les Enfants Terribles and eccentric culinary creators Bompas and Parr, I knew I was in for a very strange night and only hoped the food wouldn't be Swigpill.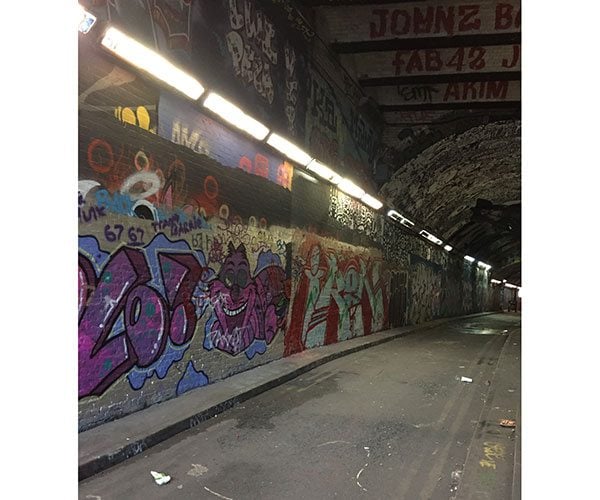 To find my dinner destination, The Vaults in central London, I wandered through a frightsome tunnel covered in graffiti from wall-to-ceiling underneath Waterloo station. I took a turning through some metal doors and entered an almost empty room where some quirkily-dressed staff assured me I was in the right place. I was shown through to a ramshackle bar, with bare wooden floorboards and chairs hanging from the ceiling, and ordered a drink using my jelly worm token. The bar was full of other guests apprehensively awaiting their dinner experience, sipping on unusual creations like an Old Fashioned with crushed sardines and cornflakes or a Negroni with dried mealworms.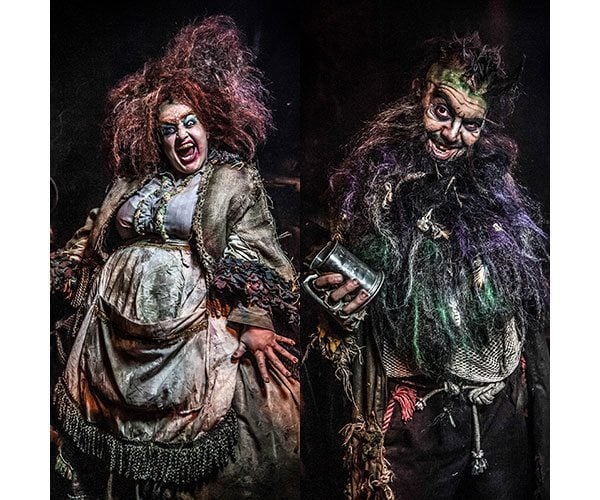 We were called into the Ghastly Garden, a dingy place that slightly smelt of damp and had a smoky haze, for awful aperitifs (sting and tonics made with nettle cordial and garnished with thistles) that didn't taste awful at all. At first the garden seemed to be nothing but a big, leafless tree covered in black duct tape and the occasional light bulb but once I started nosing around I realised there were appetisers hidden around the room; a pile of writhing worms was really cold spaghetti sprinkled with salt, the steaming compost heap contained slow-cooked quails eggs and the bird feed hanging from the tree branches was Marmite-coated nuts.
As I popped a chicken's heart into my mouth, Mr and Mrs Twit crashed into the room and welcomed us to their home, asking if we had enjoyed the 'canapes' – that's canapés without the accent. As a child, I had always found The Twits quite wretch-inducing but this frightful pair were more terrifying than I remember. Their dirty faces, food-stained clothes and matted hair weren't exactly making me hungry but they shouted at us to move to the dining hall, so that's what we did.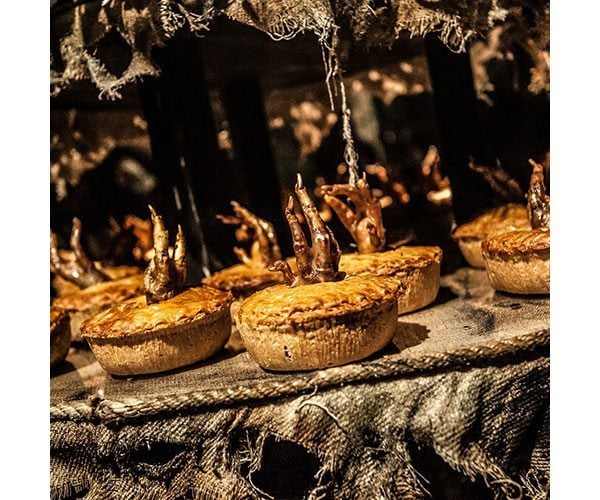 In the dimly lit hall, seated on benches at large wooden tables, we were served disgustingly delicious bird pie (buttery puff pastry with a rich pheasant filling and a real chicken's foot poking out the top, toe nails and all) with potatoes, coleslaw and a lurid-green parsley sauce that never stopped bubbling. The wine flowed freely as I chatted to the other guests and watched the horrifyingly humorous story of The Twits unfold.
As I finished dessert (a light and creamy caffeinated lime trifle that looks as if it may glow in the dark) and watched the fantastically huge, squawking Roly-Poly bird crash through the wall to finish off the nasty pair forever, I felt as if I was waking up from a bizarre but brilliant dream. The whole immersive experience was the perfect way to celebrate 100 years of Roald Dahl, giving me a glimpse into his incredible imagination and reminding us all why he will always be the world's greatest storyteller.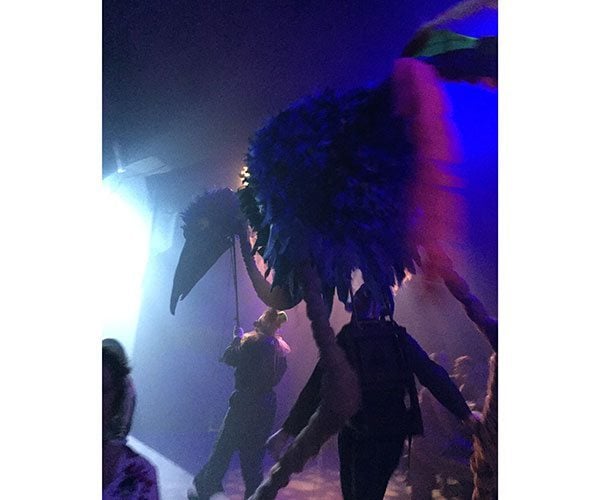 Subscribe to our magazine
Subscribe to delicious. magazine for HALF PRICE
Subscribe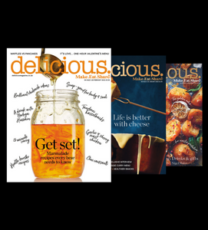 Join our newsletter
Packed with menu ideas, recipes, latest competitions and more...