Five minutes with David Thompson
The Australian-born chef is celebrated for elevating the status of Thai cuisine outside of Asia. His restaurant, nahm, became the first Michelin-starred Thai restaurant in Europe and the only starred Thai restaurant in the UK.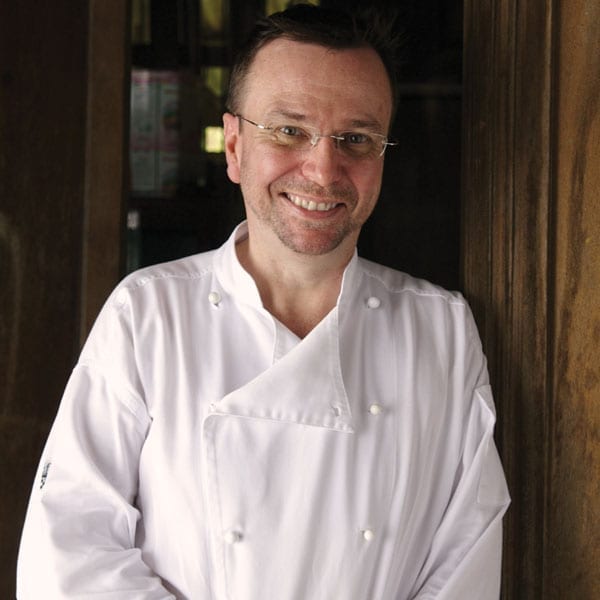 So, David, a busy year for you – the opening of another nahm restaurant in Bangkok and a new book…
I know, I should know better. It's insanely busy at the moment. I am working harder than I have ever have done but do you know I am really enjoying it. I look forward to coming to work, I really do.
How does nahm, Bangkok, differ from your London restaurant? Do you find you have a more discerning audience in Thailand?
Well there are more Thais working and eating in the place. They are certainly more familiar with the food, mostly appreciative, I'd like to think, but sometimes much more demanding and opinionated. It's more of a challenge but one I am enjoying.
Have you noticed that people's tastes differ in your two restaurants? Do diners' favourites vary, for example?
Oh very much, yes. Geng dtai plaa (fish innards stew) is exceedingly popular here – I'm in Bangkok at the moment. It's intense, murky, rich, madly spicy and ordered by almost ever table of Thais as well as the more daring Western ones. I am able to wander into the more authentic extremes of the Thai culinary world knowing that there'll be some customers who'll know and understand my rambling. In London, one has to be slightly more sedate. I don't mean the food is compromised, altered or less authentic, but some of the items on the menu are selected with the less intrepid diner in mind.
nahm is known for producing elegant, sophisticated dishes, yet Thai food wasn't seen as so until recently: what three adjectives would you use to describe Thai food?
Well, elegant, sophisticated and delicious immediately springs to mind. I also have to say balance too, the juggling of tastes, textures and seasonings. Balance is the crucial dynamic when cooking Thai food.
Do you find that people have a certain expectation of the Thai dishes you serve and are surprised when you divert from the usual?
Yes, many customers come to nahm with a preconception of what Thai food is, and their response to the unfamiliar items ranges from simple surprise to consternation. Hopefully, by the end of the meal, we've managed to divest some of the preconceptions… but sadly that's not always so.
Your new book is about Thai street food. Why have you chosen to focus on a more rustic form of cooking?
It's the most accessible of all Thai food. You can't help but stumble across it when you're in Thailand. It's one aspect of the cuisine I'd always disdained as being just a bit too commonplace to cook yet I actually loved to eat it. When I stay here – before the restaurant opened – I never cooked at home, and like most Thais, I simply availed myself of the fruits of the streets and ate out. Now I'm a bit older, I'm less precious about food and think not only is street food great to eat but it's rewarding to cook.
The book is beautifully illustrated – do you think many people are drawn to Asian cuisine because it represents a certain exoticism and the romance of travel?
Yes, I suppose some of its allure is its romance. But it's also because it tastes so good, is fast and accessible. I think the publisher wanted to convey the feel and taste of the streets so made sure there were plenty of photos to create the mise-en-scene.
Buy David's book here
Are you constantly sourcing and testing out new recipes? Do you still discover new dishes and ingredients?
Yes, sure, especially now with the new restaurant. I had to check all the London recipes because strangely enough they all need a slight adjustment. It's been good because everything has been checked and re-evaluated – a culinary spring cleaning! Being in Bangkok allows me to tinker with recipes and ingredients will a great ease. I just have to pop down to a nearby market and there'll always be something new. For instance, we have a curry on the menu made with guinea fowl and grateu, a southern ginger, which goes by the unlikely name of shampoo ginger. I found the recipe in a dusty old book and then found the ginger. It's a great curry that's now also on the London menu.
What is it about Thai food that you love the most? Its diversity? Flavours?
You can talk about it venerable past, it central role to thai culture, the regional diversity, the wide range of ingredients, the elegant poised seasonings, the sophisticated techniques and deft methods which Thai food musters, but really I love it because it tastes so bloody good.
You're Australian – do you think you were viewed with caution at first for being a master of Asian cuisine?
Naturally there is some degree of circumspection. I can understand this, as I've seen some Westerners purport to cook Thai food and I'm left scratching my head as well.
What are the high points – and the pitfalls – of being a chef and ambassador of Thai food?
Mmm… I guess I just love telling people about how good Thai food is, simply because it is. There's no real pitfall because anyone who has tasted Thai food, especially in Thailand, knows how delicious it is. For me, as a cook, it's been an ongoing quest to explore such diverse complex cuisine, one that's kept me enthralled for 20-odd years.
What tips would you give to people cooking Thai at home?
Be bold, Thai food is not about timid tastes. Try and find a good supplier; of course this is easier in London than elsewhere, but without proper ingredients the best, most experienced cook is doomed to the mediocre. Luckily Thai street food has more ingredients readily obtainable than pure Thai food. So go to an Oriental shop and explore. You'll come up with most of the ingredients needed.
David Thompson's new book, Thai Street Food, features in our round-up of the best books of 2010
Nahm London
Nahm Bangkok
Subscribe to our magazine
Subscribe to delicious. magazine for HALF PRICE
Subscribe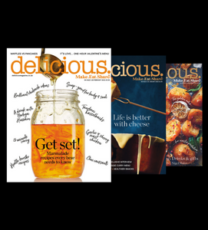 Join our newsletter
Packed with menu ideas, recipes, latest competitions and more...