Food for thought: chef Agnar Sverrisson, Texture, London
Top chef and co-owner of the Michelin-starred in-the-making Texture restaurant, Agnar explains why there's more to Icelandic food than puffin meat.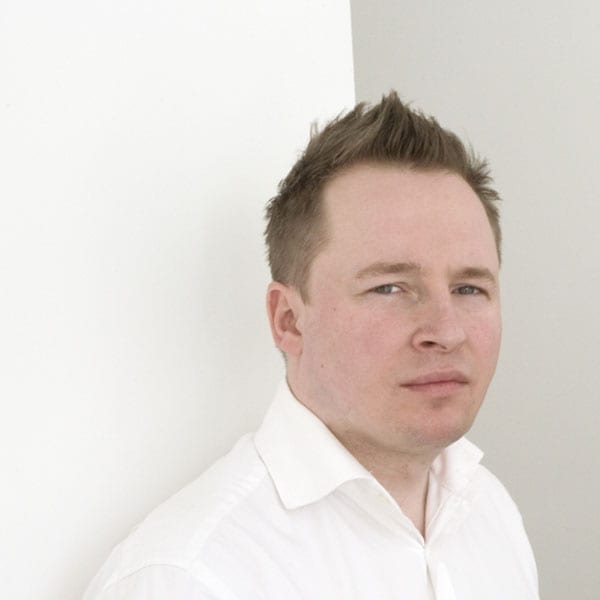 Born in Reykjavik, Agnar Sverrisson trained and worked in Iceland, before joining Gordon Ramsay's outfit, working at Pétrusunder Marcus Wareing. He then became head chef at Raymond Blanc's Le Manoir Aux Quat' Saisons before setting up Texture with top sommelier Xavier Rousset.
Aggi (as he's known) sources sustainably produced fish and promotes healthy cooking, making Texture an ideal venue for a summer meal. Experience an inspired menu of Icelandic cod, Icelandic lamb and skyr, a traditional dairy dessert.
delicious. magazine's web editor, Debra Waters, visited Texture, and wholeheartedly recommends this elegant restaurant with its calming decor enriched by the purple hues of Icelandic landscapes. Aggi's menu is haute – but not haughty – cuisine; skillfully cooked, inventively assembled, and graciously served.
Although the flavour combinations of some dishes look complex on paper, they complement each other: the chargrilled anjou pigeon with sweetcorn, shallot, bacon popcorn and red wine essence is delightfully light. Other dishes are as unadulterated as fjord water – the succulent Icelandic cod with brandade, avocado and sauce vierge, for example – and so pure that eating them is the culinary equivalent of having your sins absolved.
Seasonal ingredients (peas, asparagus, rhubarb) are of the highest quality, and Aggi's faithfulness to Icelandic ingredients, including lamb and cod, is encouraging. The focus on texture – especially apparent in the humorous 'coconut different textures' dessert with its bounty of coconut-infused puds  – enables diners' senses to be rewarded as well as their palates. 
Aggi's technical brilliance and sense of fun is reminiscent of Heston Blumenthal: extras; pine-smoked salmon with sorrel juice evocative of freshly-mown grass; Moscatel sabayon with strawberries served with liquid nitrogen, witches brew-style, are amusing touches that add to Texture's charm. If you need proof that Icelandic fare has moved away from the startling traditions of rotten shark and smoked lamb's head, delicious. recommends the world-class cuisine of Texture.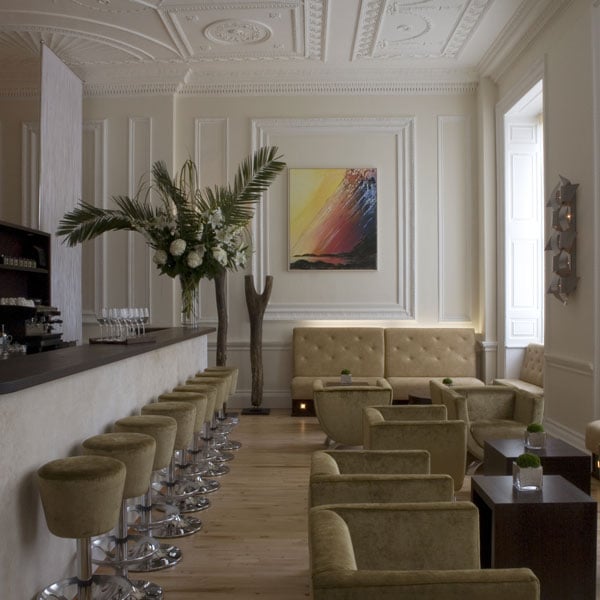 Texture: elegant cuisine; exquisite decor
Do you think Icelandic cuisine and chefs are finally getting the attention they deserve?
Icelandic and Nordic cuisine is definitely edging towards the spotlight and getting more attention than ever before. However, I think that it is only a matter of a little more time before Icelandic cooking becomes even more popular.
Why did you become a chef?
I was never one of those little boys who had set their hearts on becoming a chef. However, Marco Pierre White'book 'White Heat' literally changed my life; reading about his cooking, passion and life completely inspired me.
Raymond Blancwas also an incredibly important influence and I learnt a huge amount form him during my time at Le Manoir.
Is there a strong cooking culture in Iceland?
Yes and no. People do not tend to go out to eat as much as they do here and in America so they do a lot of cooking at home. However, cooking techniques in Iceland are quite modern; people do not tend to use traditional cooking methods.
Excuse the cliché, but some people have a pre-conception that Icelandic fare consists of boiled puffin and whale meat: do these traditions still exist?
These culinary traditions definitely still exist but are not as common as they use to be. Those dishes are lovely when they are cooked well, although they are often not. If I were to serve puffin at Texture I would probably roast it to bring out all its wonderful flavours. However, I would never serve whale meat in the restaurant, I am against whale hunting and Texture's menu would certainly never endorse it.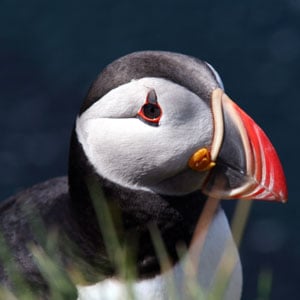 Puffin: wonderful roasted
Can you define contemporary Icelandic cuisine?
Contemporary Icelandic cuisine draws on local, Icelandic ingredients such as carp, halibut, langoustines, puffin and lamb. Icelandic chefs used to rely on foreign foods and imported produce from France but now Icelandic chefs are really celebrating homegrown produce which is fantastic and obviously far more 'green'.
Is there a national dish? Is Iceland's National Day a foodie celebration?
There are a few national dishes; smoked lamb's head and rotten shark to name a few. However, Iceland's national day is not really a foodie event; the focus is more on the drinking side of things!
Iceland: a different sort of fishing line
What are the differences between being a chef in Iceland and the UK?
Being a chef is a more relaxed profession in Iceland, most chefs there only work 15 hours a week. As I really wanted to kickstart my training, moving to Europe was the most natural step to take and I really love working in London. The restaurant scene here is much more exciting; the pace is faster and the people are more passionate.
You've worked in a number of high-profile kitchens, with respected chefs: what have you learned that's invaluable now you run your own business?
Respecting your staff is crucial; you are nothing on your own and you must look after those who work around you. The produce you work with must also be valued and waste should be minimized.
It is so important to use everything you possibly can; not only is this economical but it also tests your creativity. I also picked up inordinate amounts about running a kitchen at Le Manoir from Raymond Blanc and Gary Jones who taught me about flavours, seasonality as well as the operations side of things.
You have a passion for healthy food and limit fat in your cooking…
Healthy food is my food type of choice; I hate feeing uncomfortably full and stuffed after a meal. I prefer cleaner, lighter flavours of food that is not cooked with cream or butter and I really think that this is where the future of food lies. Adding fat does definitely not enhance flavours! I think people have grown bored of heavy food in fine dining restaurants. Try Aggi's scallop, cauliflower textures recipe).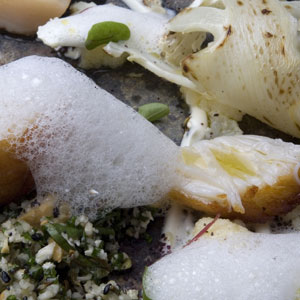 Scallop, cauliflower textures
Iceland's had bad press in the past for (rightly or wrongly) whale consumption and exploiting fish stocks – care to put the record straight?
The Icelandic government is absolutely fantastic at maintaining and improving its fish stocks. Icelandic fish is truly the best in the world so it is only natural that the demand for it is very high. However, the government have conducted extensive research and made incredible progress and so I definitely think that a bad reputation is undeserved.
What are your favourite, and most hated, Icelandic dishes?
I absolutely love smoked and salted lamb and another favourite of mine has got to be rotten skate which is also more delicious than it sounds! I hate lamb's testicles though, although they seem to be quite popular in Iceland!
And your favourite, and most hated, European dishes?
I like eating anything light and fresh and am not a very fussy eater. However, I detest jellied eels which seem to be quite a traditional English dish.
What are your plans? Do they involve cookbooks/TV appearances/world domination?
World domination sounds like a great plan! On a serious note though, I think I will just have to see what happens; every day brings a whole new set of challenges and I take each day as it comes.
Do you think
Icelandic cuisine will become more universally popular?
I think the future of Icelandic food is promising indeed; since chefs there are now relishing local produce Icelandic cuisine has really developed an identity of its own and ingredients like lamb, cod, seaweed and
skyrare becoming more universally popular.
Texture
34 Portman Square,
London
W1H 7BY
T: 0207 7224 0028
Subscribe to our magazine
Subscribe to delicious. magazine for HALF PRICE
Subscribe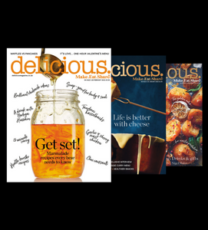 Join our newsletter
Packed with menu ideas, recipes, latest competitions and more...