Is it really possible to eat 5-a-day? The delicious. team find out…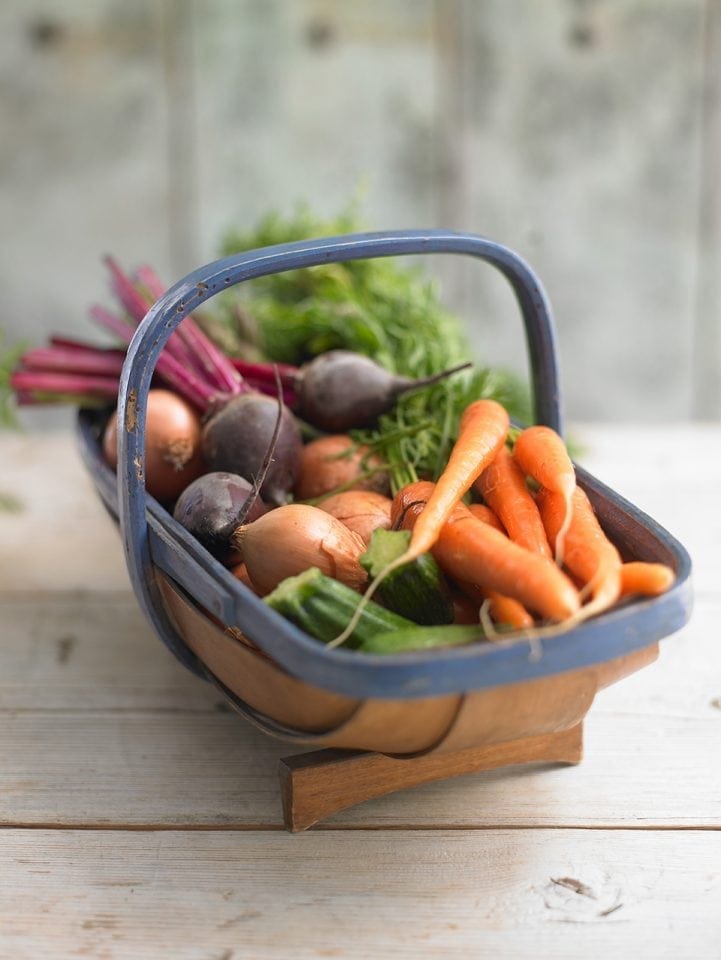 Is it really so hard to eat the recommended daily amount of fruit and veg – or is the talked-about goal of 10 portions simply unattainable? Three members of the delicious. team stepped up to the plate to see if they're as healthy as they think.
The challenge
To keep an honest food diary, recording the quantities of fruit, veg and pulses eaten on each day.
Use the Healthy Food Guide five-a-day card to see what does and does not count.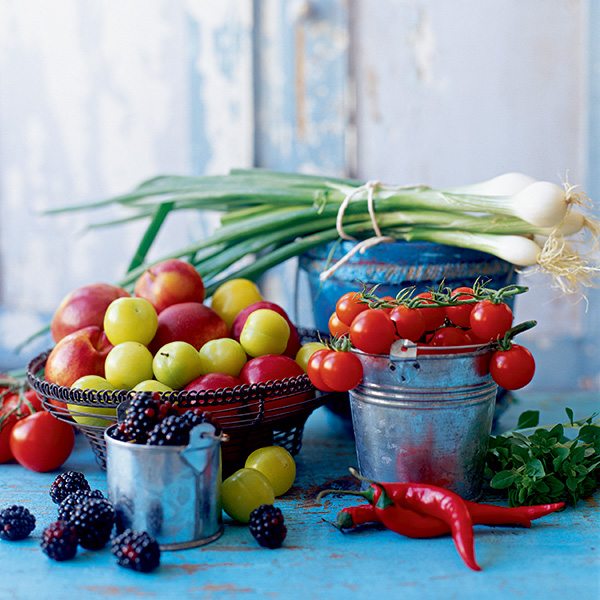 Karen Barnes, magazine editor
Day 1: half a banana, 2 apples, portion of broccoli, portion of carrots, 1 onion, plus several unexpected spoonfuls of tested recipes in the test kitchen, some of which contained veg. TOTAL: 6.5
Day 2: (a hectic press day): blueberries in my porridge (half a portion), pesto on a hasty lunch (not even half a portion)… TOTAL: less than one. EDITOR FAIL!
Day 3: Half a banana in my porridge, two apples, falafel and a big salad (two portions), portion of cooked spinach. TOTAL: 6
Day 4: 2 apples, home-made soup made with all veg (I'm guessing that was two portions), peas with dinner. TOTAL: 5
Day 5: Stewed apple in porridge (one portion), one apple, big salad for lunch (two portions), very late dinner involving no veg. TOTAL: 4
What I've learned:
I need to eat more veg and less fruit
It's hard eating veg on a really busy working day – but easier if you plan ahead.
I don't know how I would ever manage 10 portions a day
Becs Brett, digital editor
Day 1: 1 apple, 2 satsumas, a sandwich with tomato, cucumber and lettuce, 1 pear, a vegetarian chilli made with sweet potato, black beans, pinto beans, onion and celery.TOTAL: 9
Day 2: 1 apple, 2 satsumas, 1 pear, leftover chilli from the night before. TOTAL: 6
Day 3: 80g blueberries, 1 banana, 1 apple. Out for dinner, my friend made a chicken curry with lots of spinach but probably not enough to make a portion. TOTAL: 3
Day 4: 80g blueberries, salad with lettuce, pepper, cucumber, sweetcorn, beetroot and tomato. Out for dinner. TOTAL: 4
Day 5: Smoothie with 1 banana, handful of berries and three blocks of frozen spinach. Salad (as above). Out for dinner. TOTAL 6
What I've learned:
Writing down what I ate made me so much more aware of what I was eating. As soon as I knew I had to write down my intake, I definitely upped my game and tried to snack more healthily.
I'm a creature of habit but I need to break free and try to eat less fruit and more vegetables.
I eat out probably three or four times a week, making it hard to control the amount of vegetables I'm eating. I should try and eat at home more!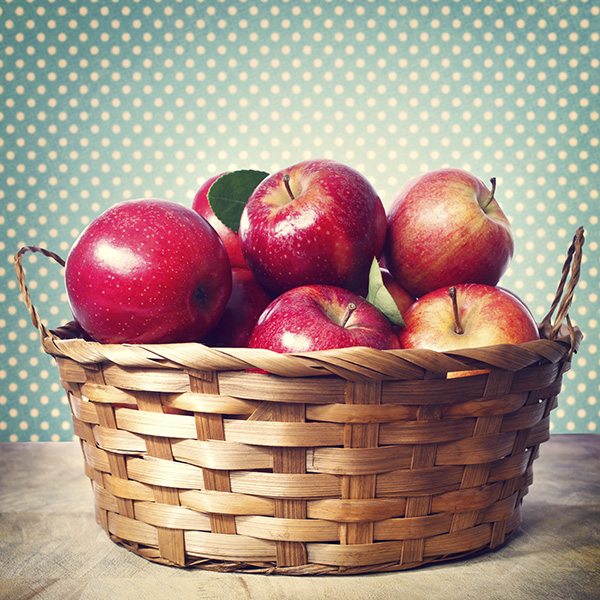 Rebecca Almond, senior sub editor
Day 1: 80g canned pineapple in juice, 150ml fresh orange juice, 2 plums, 50g mixed leaves, 80g cucumber, 2 tomatoes, 100g canned chickpeas in water, 1 apple, stir-fry including 250g stir-fry veg.TOTAL: 11 portions
Day 2:  2 plums, 150ml fresh grapefruit juice, 50g mixed leaves, 80g cucumber, 2 tomatoes, 100g canned chickpeas in water (drained). 1 large orange, 1 apple, lamb leg steaks with new potatoes and 80g tenderstem and 80g green beans. TOTAL: 10
Day 3: 1 large orange, 330ml coconut water, 1 apple, Pret avocado and chipotle chickpeas salad wrap, 1 orange, Pret Rainbow Veggie Pot, tortellini in tomato sauce with added veg, 130g courgette, 60g spinach. TOTAL: 10.5
How I found it:
Before taking on the challenge, I was pretty confident that I manage to fit the recommended five portions of fruit and veg into my days. My go-to snack is a piece of fruit, and my meals always feature some form of greenery. But I was surprised to see just HOW MUCH of the good stuff I'm eating without really giving it too much thought.
Salads and stir-fries are easy ways to pack in multiple servings of vegetables, without making you feel like a rabbit: toss in some meat, fish, tofu or grains for bulk, for example, and add plenty of flavour in the form of dressings and herbs.
On day two, the hefty servings of greens at dinner did feel like a lot to chew through, though. Had I not weighed them out, I'd probably have eaten about a third less than was on my plate.
I hit a hurdle when it came to eating out. I estimated the five-a-day qualities of my lunch and afternoon snack on day 3, but made a conscious effort to choose the veg-rich options. Granted, it's harder to cram four servings of vegetables into a sandwich than it is a salad. Continuing the carb pattern, I had pasta for dinner made with a ready-made jar of sauce. The jar weighed 340g and, because I wanted to make up for what I presumed was a veg shortfall for the day, I served the lot between two of us, and threw in some courgette and spinach for good measure. My pasta was swimming in the stuff, but I shovelled it down in the name of Vitamin C.
On days 4 and 5, I left the weighing scales in the drawer – it was all getting a little tedious. By my calculations on the previous day, I knew I was doing ok on the fruit and veg front and relaxed my tally, stirring a tablespoon of raisins into porridge here, sprinkling a handful of beans in there, whizzing half an avocado into a smoothie, and so on.
It's definitely easier to keep track of your fruit and veg intake when you cook things from scratch – but who has the time or inclination to weigh out every green morsel? Let's not get obsessive. The point is, you probably are eating more fruit and veg than you think, and a little conscious effort (I'll have a chicken and avocado sandwich instead of a meatball sub) can go a long way.
The results
Nutritionist Amanda Ursell says…
Everyone has done well when compared to the national average as our most recent National Dietary and Nutrition Survey revealed that most adults only manage four portions of fruit and vegetables a day.
Although Karen admits to an 'editors fail' on one particular day, I think we can all relate to days when things just don't add up in the fruit and veg stakes, however hard we try.
It's what we do in the long term however that counts and on her other days she averages 5.3 portions so that's more than most people manage! I agree totally with her tip to plan ahead. Just remembering to pop an apple in your bag before leaving home, having some satsumas on your desk or grabbing some grapes at lunchtime with a sandwich can make a big difference to your overall intake over the coming weeks and months.
Becs had an average of 5.6 servings a day and again I agree with her tip to emphasise vegetables. Although, anybody who manages '5-a-day' is clearly doing well, however they achieve it, a 3:2 veg to fruit ration is probably the best way forward.
Rebecca Almond ate an astonishing average of more than 10 portions per day. This would be a real challenge for most of us to achieve but will certainly mean that Rebecca is getting a great mix of vitamins, minerals, lots of antioxidants and plant compounds known as 'super nutrients' and along with fibre.
Subscribe to our magazine
Subscribe to delicious. magazine this month for a half price subscription
Subscribe