It's not just Manchego, amigo
Want to know a fideua from paella? Ex-ex-pat Jo Gallagher tries Rachel McCormack's Catalan cookery class to see if the cuisine is as authentic as the meals she ate in the kitchens of Catalunya.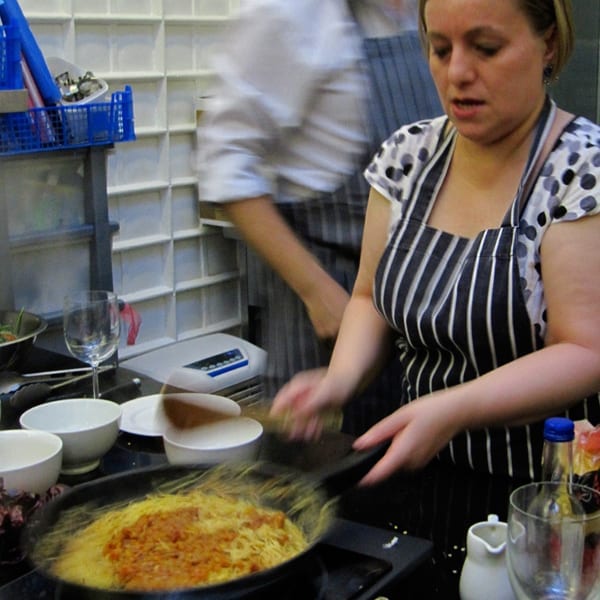 Having spent nine memorable years living and eating my way around Catalunya (also known as Catalonia) and letting others cook for me whilst lazily learning nothing myself, it was suggested I go on the Catalan cookery course given by a charismatic Scotswoman called Rachel McCormack. Rachel also spent several years in the same region as me, teaching English, immersing herself in the culture and making firm friends: Catalans are very proud of the fact that, unlike other parts of Spain, they are hard to get to know but pride themselves that once they are your friend they are your friend for life.
With Barcelona becoming such a popular city break destination in the last 10 years, most people will have heard of Catalunya – the most north-eastern region in Spain – Barcelona being its capital. For those who haven't, it's one of the 17 autonomous regions of Spain. Over seven million people live there. It has its own language – Catalan – a romance language that isn't Spanish and sometimes sounds like French. It has different customs to other parts of Spain and the majority of its population worship Barcelona Football Club.
Most relevant, it has its own cuisine. Catalunya is shadowed by the Pyrenees and stretches down along the Mediterranean coast from France so ingredients are abundant and include the heartiest meat, super-sized veg and fruit, and the most delectable seafood.
So I was intrigued to see how a British woman would interpret Catalan food. The cookery class takes place in Bea's of Bloomsbury, a quirky tea and cake shop in central London. The kitchen provides ample space for six of us, plus Rachel. She is a natural raconteur and starts by explaining the order of the evening. We start with fideua, a dish vaguely similar to paella but with fine pasta instead of rice. The base is fish stock like paella but you can add sofregit, a tomato and onion-based type of passata, which can also be used in other dishes.
Rachel takes time to explain the origins of both sofregit and fideua whilst letting us chop up ingredients. She explains that the sofregit will take at least an hour to cook. Once it's on the hob we relax and enjoy the aperitifs she has provided. Aside from Manchego, ham, olives and my favourite, guindillas – sweet but hot green chilli peppers – there's a goat's cheese called Garrotxa which on tasting takes me straight back to a friend's 'masia' (Catalan country house) in a village called Cabra, south of Barcelona.
All of this is presented to us with a tutored wine tasting. We are given a white wine from Catalunya, and as we sup its origins and grapes are explained by sommelier Gareth. It complements the aperitifs perfectly.
Rachel then teaches us to make pa amb tomaquet – bread rubbed with ripe tomato. It's a very simple art but an art all the same. We're invited to fry up some delicious chorizo in white wine and also sauté some black pudding in olive oil. This is devoured whilst we keep an eye on the sofregit.
We then move on to preparing romesco sauce and alioli – both accompaniments to the fideua that can be spread on bread or just mixed into the dish itself. Again, Rachel impresses with her knowledge of the history of the dishes whilst another wine is poured, this time a rosé.
I won't divulge the ingredients or recipes because they're better explained by Rachel. Her anecdotes, knowledge and passion make the class what it is. She is a believer in freedom in the kitchen, telling us to add or remove ingredients as we wish. I get the impression that she wants her students to have as a good a time in her class as she did when cooking with friends in Catalunya, which makes for a very relaxed atmosphere.
The evening ends with us sitting down to eat the fideua with more rosé wine and then dessert – a bread and wine concoction with that popular Catalan bubbly, cava. This is a good chance to get to know your fellow cooks.
Having lived in Catalunya for almost a decade, and spent many a night eating in Catalan restaurants, going to Catalan weddings and being fed by fantastic Catalan hosts, I can confirm that this class offers a truly authentic taste of this wonderful region's cooking. As they say in Catalunya, Bon profit!
Cost: £75 all inclusive
Dates: 27th July, 3rd August, then fortnightly on a Tuesday.
Check the website for full updates and details on how to book.

Subscribe to our magazine
Subscribe to delicious. magazine for HALF PRICE
Subscribe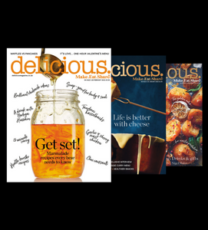 Join our newsletter
Packed with menu ideas, recipes, latest competitions and more...