Minutes with Kym Kester
The mother of all brownies has arrived. Light and crisp on the outside but sublimely dense and squidgy in the middle, these decadent delights are the creation of ex-TV producer Kym Kester. Buy, buy, buy!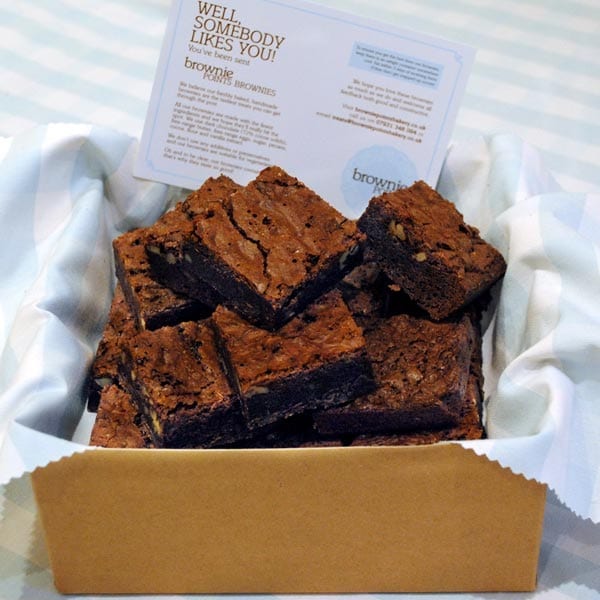 Kym has hung up her headset and now bakes the treats from home while looking after her two children. These irresistible brownies, jam-packed with pecans and chocolate chunks, are available online and come delivered in beautiful packaging, so they make the perfect gift.
I made the decision to change from TV producer to brownie maker…
when I had my daughter Matilda. I was working on Big Brother at the time and having a new Housemate of my own meant that life in TV was starting to become too difficult. Then I became pregnant again with my second child Milo and I started putting my plans into action. I actually went into labour baking a big Christmas order so on the very same day both my son and Brownie Points were born!
Working in TV in a high-pressure environment has enabled me to…
understand how important it is to plan thoroughly, keep calm and put systems in to place. I'm also used to working long hours so I'm often baking late into the night and packaging up the gift boxes early in the morning.
Brownies aren't as temperamental as celebrities but…
they are just as nutty!
My day-to-day involves…
baking, packaging, checking stock levels and sending out the gift boxes. I also check my website and emails regularly and work on new ideas and how to make the business more streamline.
SImple packaging, stunning brownies
I bake brownies over cupcakes and other puds because…
I think nothing hits the spot quite like a brownie. I have a knock-out recipe which I've been perfecting for years. With cupcakes you have the icing element which means you can't always send them all over the country. It also means we always have a cracking pudding in the house. We stick one of my brownies in the microwave for 30 seconds so it goes all gooey and serve with extra thick double cream or creme fraiche.
I believe that simple, stylish packaging…
is key. When you send something as a gift, you expect it to look beautiful and part of the joy of receiving it is holding something pretty in your hand.
The great thing about home-baking is…
the gorgeous aroma that fills the house.
In the future I'd like to…
make it common place for everyone to send brownies instead of flowers!
The advice I'd give to mums wanting to change career is…
do it. And if you have a clear idea of what you might want to do before you become a mum, start working on it now.
Kym's brownies cost £10.99 for six, £19.99 for 12 and £29.99 for 24, plus P&P. Visit
to order.
Subscribe to our magazine
Subscribe to delicious. magazine for HALF PRICE
Subscribe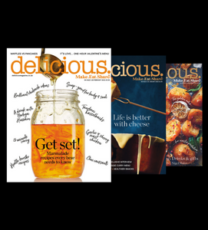 Join our newsletter
Packed with menu ideas, recipes, latest competitions and more...