Q&As with Matt Tebutt
The chef, restaurant owner, and UKTV Food presenter describes the wonders of Welsh produce, ponders on people's fascination with cookery shows, and lets us in on a few secrets about Market Kitchen…
Chef and TV presenter Matt can currently be seen sharing his trade secrets in the October issue of delicious. magazine. Matt is a passionate advocate of modern British cooking; as well as being the proprietor of The Foxhunter, an award-winning restaurant in Wales, he presents Market Kitchen – a celebration of seasonal food from top British chefs. Catch it on UKTV Food.
You trained at Leith's School of Food & Wine and worked with Marco Pierre White: do you think it's important for a chef to train with the best or is it down to the individual's talent?
It was important for me to work with and learn from some of my heroes. Being thrown in the deep-end in a top kitchen is daunting, but its brilliant experience. I would say that talent, good training and stamina are all equally important.
Your approach to cooking is 'keep it simple'. Is this because it's more accessible to people, or because you don't appreciate 'fussy' food?
I don't like to mess around too much with good quality ingredients. Mousses and foams can be more about the dish looking pretty rather than what it actually tastes like… and yes I suppose a simpler style of cooking is more accessible. Cooking shouldn't be a chore.
Why do you think so many people are fascinated by cookery shows?
Good chefs can be very charismatic and enthusiastic about their profession. I think people like to see a bit of passion and the excitement of a busy kitchen on their screens and whether they're actually going to cook the dishes or not, people do get very excited about good food.
What are the best/worst parts about cooking on a TV show?
It took a bit of getting used to cooking and talking to camera and reading an autocue with someone directing you through an earpiece… but once you get the hang of it, it can be as exciting as working in a kitchen. I get to meet a lot of interesting people on Market Kitchen – Michael Parkinson, Honor Blackman – as well as the best British chefs.
How do you choose the dishes you cook on Market Kitchen? Are you limited by what you cook?
Often there is a theme for the week or sometimes we need to stick to a budget for the dish, but apart from that I can use whatever seasonal produce takes my fancy. I often cook dishes taken from the menu at The Foxhunter and I draw from what's available in the markets to gain inspiration.
What's more tiring: working on MK or running your restaurant?
Good question – they are both very demanding in different ways. At The Foxhunter, as well as the stresses of running the kitchen, there's also the day-to–day running of the business. At least with filming it can be a long and exhausting day but you can go home afterwards and forget about it until next time, but with a restaurant, particularly now that we offer accommodation on site, it really is a lot of pressure 24-7. Running a country restaurant is not for the faint-hearted.
Tell us an insider's secret about working on MK
…
It's not a real cafe… nor is he a real waiter…
You're an honorary Welshman with a restaurant in Wales: do you have a favourite Welsh dish and produce that you especially like to cook with?
I'm very lucky to be based in this part of Monmouthshire… we have so much great produce on our doorstep that it would be difficult to pick a single favourite. Of course the lamb is fantastic, but so is the Longhorn beef and Madgetts' ducks. There's a Jersey herd in Abergavenny and a local asparagus farm, plus we have Raoul to supply us with wild and foraged foods, like marsh samphire and seabeet. One of our most popular dishes in the restaurant is a very simple one – Welsh lamb, jersey mash and marsh samphire.
With food miles and the credit crunch changing the way we eat, where do you see British cuisine headed?
It shouldn't change much for restaurants using mainly local produce already and hopefully it should encourage more establishments to join in. Ideally, it might encourage a return to more traditional and home-cooked dishes and it could even encourage farmers to bring back older varieties of fruit & veg and rare-breed animals to their farms. With food prices rising, I'm already looking to the cheaper, lesser-known cuts of meat that can be more tasty and satisfying than the more expensive cuts. Buying locally produced food, in season, makes financial and ecological sense… and the food tastes better too.
What are your plans for the future?
Putting together my first cookbook was a fantastic experience so, if it's well received, I think I'd like to work on recipes for another one! The Foxhunter is going from strength to strength, so no doubt that will continue to take up a lot of my time… but I would like to find the time to do some more overseas filming with Market Kitchen. We recently took a crew to Barcelona and visited the famous food markets and some of the local suppliers. I could definitely be persuaded to take more trips like that.
Matt Tebbutt Cooks Country is published by Mitchell Beazley price £20 and will be available from October 13th. Click
here
to order.
Subscribe to our magazine
Subscribe to delicious. magazine for HALF PRICE
Subscribe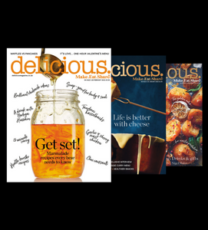 Join our newsletter
Packed with menu ideas, recipes, latest competitions and more...