Q&As with Theo Randall
Theo runs one of the best Italian restaurants in London, so he knows a thing or two about making the perfect pizza. We caught up with him to ask about his collaboration with Pizza Express and tips on how to cook Italian well – and inexpensively – at home.
Food's been an important part of your life since you were a child – do you think parents' relationship with food has a direct impact on the way children relate to eating?
I think it's important for parents to develop their children's tastebuds. When ours were born, we'd let them eat what they want so they could discover flavours and experiment. We'd eat the same, together as a family, as opposed to cooking separate meals. Now they love food.
You say that cooking is your greatest passion apart from your family. How do you balance a happy home life with the unsociable hours of a chef?
It's pretty tough but on Sunday we go out for lunch and have breakfast on Saturday mornings.
Is it just taste that appeals to you or the creative process involved in cooking?
Both. It's the taste and smell – as a kid I used to go to France and Italy on holiday; we'd go camping but eat in really nice restaurants. I was obsessed with olive oil, delicious bits of fish, spaghetti vongole. But it's also the process – seeing how things are made. To be a cook you have to go and see how cattle are killed, how veg is grown, how olives are processed; it gives you a tangible relationship with food.
Italian food is your speciality; many people think it's easier than it is to make pizza or pasta at home. What mistakes do people make?
They compromise on ingredients; they think if they substitute it will be fine. So they'll have a simple risotto or pasta dish in a restaurant and think it's easy. But we make pasta every day from scratch (in the restaurant); I source eggs from Genoa, and the flour's from Italy. And there are skills such as using oversized pans and lots of water to cook pasta, to prevent congealing.
Any more tips?
Use the best-quality ingredients – Italian if possible. Be as seasonal as possible. Italian food is seasonal. It's harder in the UK because our cuisine is all over the place and we have so much choice, so we can eat of season the whole time. But it's cheaper to eat in season. Also, to cook well you need to be organised; a good cook will shop in advance. Shopping can be just as rewarding as the cooking.
You were a vital cog in the wheel at the River Cafe; why leave?
I'd been there a long time and I loved every minute, but when this opportunity came up out of the blue (to work at the InterContinental Park Lane), I thought I couldn't miss this one. I wanted to prove to myself that I could do it.
Theo Randall at The InterContinental Park Lane recently won Italian Restaurant of the Year at the London Restaurant Awards – are such accolades important to you?
We'd been open less than two years; the other restaurants (in the same category) had been open more than 10. It was a great thing to win, and obviously it helps with the PR; it gets you noticed.
In the past, restaurants attached to hotels have often been dismissed in the UK (unlike other countries); do you believe that stigma has been erased?
It's still a bit of a problem, but in London it's changing a lot. Gordon Ramsay did a great job with Claridges and the Connaught, and hotel restaurants tend to have a nice address and they'e comfortable. Some stay specifically for the restaurant now.
How did your collaboration with Pizza Express come about and why do you think they didn't go for a big celebrity name?
It was before I won the award; they liked the food and that I was an English chap cooking Italian food. It shows that they're dynamic, that they went with someone slightly different.
How do you think Pizza Express remains authentic, and in what way does it differ from other Pizza chains?
There's more of a provenance and a history. And Pizza Express is consistent; it's used the same suppliers and producers from Day One – you get the same tomato sauce in Scotland as you would in London.
How did you choose the pizza toppings for your Pizza Express range?
I met Antonio, the pizza honcho, looked at the ingredients, wrote some recipes, came back and tried them, then came up with eight, then the final four. Some of differences are that I used other olives, and smaller, sweeter capers. I also changed the way my pizza dough was cooked and rolled – I prefer to eat pizza with my hands, folded over, so the oval shape came about; it stays crisp throughout, unlike rounder pizza, which has a thicker crust and is thinner and softer in the middle.
Is Italian cuisine a good choice in these credit-crunched times?
Italian food is perfect; you can make pasta or risotto, you don't have to use flash ingredients like sea bass. Buy small quantities of nice things from a deli – for instance, cavolo nero pasta or broccoli paste. Add pancetta or anchovies or Parmesan cheese – you only need a small amount. And buy online. I use
, which deliver Italian, French and British to your door.
Jamie Oliver is a fan of yours. Is celebrity chefdom of interest to you?
It's every chef's dream to have their own restaurant and be known for what they do well; I love what I do – if I get TV from it, fine, but to go too much to one side can affect your ideals. Of course, publicity helps your business, but then people expect to see you there. Gordon (Ramsay) is an exception – he has an empire and many talented people working for him.
Do you still learn on the job?
Kitchens are non-stop training, and cooking is all about nurturing and training people. I learn something every day – from experience, taste, reading. There's always a new ingredient, or the size of an ingredient can change a recipe. What's most important is to trust your instinct.
Theo Randall's top tips for perfect pizzas
Use strong plain flour for pizza dough as it has a higher gluten content, which creates a good, stretchy texture. To be really Italian, use '00' flour – this is really finely milled flour and gives a light and tasty dough.
Knock back the dough to release large air bubbles that would otherwise make the pizza uneven. Do this with oiled or floured fingers – reach down into the bowl, underneath the dough, gently lift it up and punch it down.
The rested dough should be soft to the touch but not too springy.
Stretching the dough is an art in itself. Pizzaiolos (the people who make pizza in pizzerias) start with plenty of flour on the table and give the dough ball a sharp slap. Avoid using too much pressure with your fingertips and rolling pin as it will kill the yeast and make the dough tough.
Preheat the oven to as hot as you can get it.
Never put your pizza into the oven until it has reached the optimum temperature.
Always put the pizzas onto a preheated baking sheet or, even better, a pizza stone, which gets very hot and makes the underside of the pizza really crispy.
Subscribe to our magazine
Subscribe to delicious. magazine for HALF PRICE
Subscribe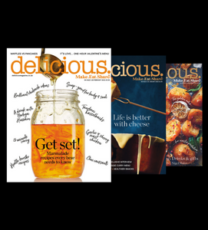 Join our newsletter
Packed with menu ideas, recipes, latest competitions and more...