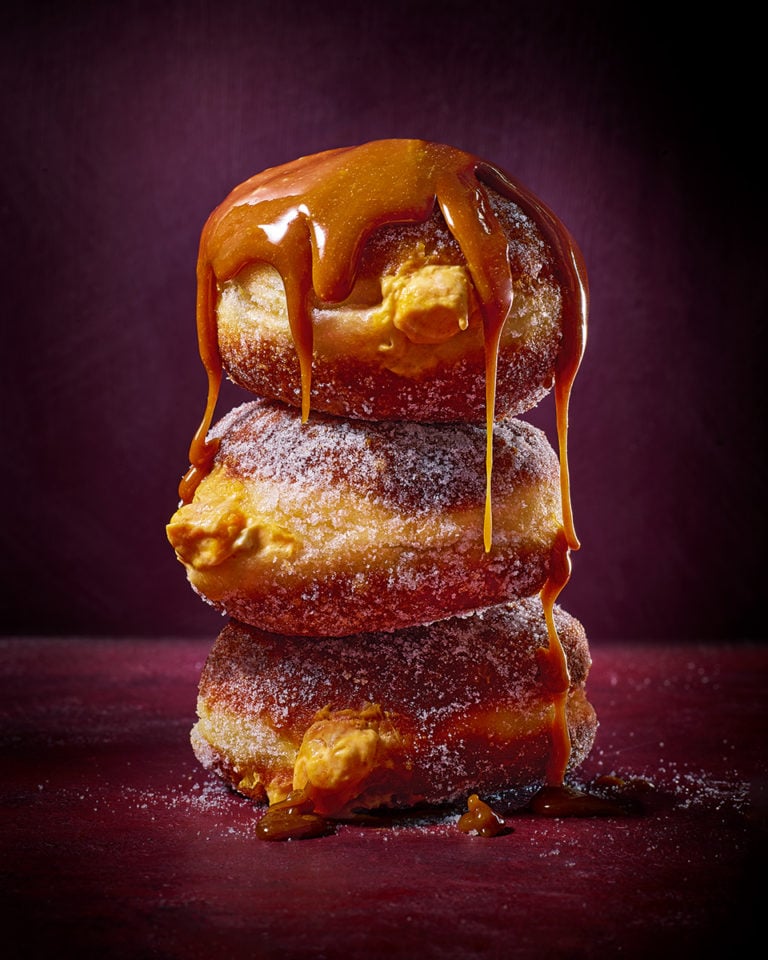 Test kitchen approved
10

1 hour 35 min, plus proving, overnight resting and cooling.
These puffy globes from the famed London bakery Bread Ahead are filled with pumpkin custard and dipped in toffee. They may look tricky but they're nothing to be scared of! You need to start the recipe the day before you want to serve the doughnuts, but they are well and truly worth the wait.
Matthew, owner of Bread Ahead, says the perfect anatomy of a doughnut should be a "golden, sugared outer crust, even buttery crumb and pale 'band of truth' that shows consistent, even proving".
Recipe from Bread Ahead by Matthew Jones (Hardie Grant £26), out 28 October.
Nutrition: per serving
Calories

459kcals

Fat

17.9g (7.9g saturated)

Protein

6.4g

Carbohydrates

67.1g (45.7g sugars)

Fibre

1.3g

Salt

0.5g
Ingredients
For the doughnuts
250g strong white bread flour plus extra for dusting
30g caster sugar
¾ tsp fine sea salt
Grated zest ½ small lemon
2 medium free-range eggs
8g fresh yeast or 4g dried active yeast (see Tips)
65g unsalted butter, softened
2 litres oil (rapeseed/canola, sunflower or corn) for deep frying, plus extra to grease
200g caster sugar for dusting
For the filling
1 small squash or pumpkin (about 400g)
60ml double cream
For the crème pâtissière
3 medium free-range egg yolks
60g caster sugar
30g plain flour
250ml whole milk
½ vanilla pod, seeds scraped
For the toffee topping
250g caster sugar
50g unsalted butter
You'll also need
2 baking sheets; an oven tray probe thermometer (or deep-fat fryer)
A floured dough scraper/spatula; kitchen paper
A food processor/blender; electric hand mixer; compostable baking paper
A piping bag and 1cm nozzle
Method
To make the dough, mix the flour, sugar, salt, lemon zest, eggs and yeast with 75g water in a bowl until it comes together. Turn the dough out onto the work surface and knead for 5 minutes using the heel of your hand. Let the dough rest for 1 minute.
Start to add the butter a quarter at a time, kneading it in until it's all incorporated. Knead the dough for a further 5 minutes until it is glossy, smooth and very elastic when pulled. Return the dough to the bowl, cover with a plate and leave to prove until doubled in size, about 1½ hours.
Knock back the dough (knead for a minute or two in the bowl to knock out any large air bubbles), re-cover the bowl and chill overnight.
The next day, cut the dough into 10 pieces, about 45-50g each. Dust the 2 baking sheets with flour or grease with a little oil. Roll the dough into 10 smooth, tight buns and put them on the prepared baking sheets, leaving room for the buns to expand. Cover lightly with a damp tea towel and leave to prove for about 2 hours or until doubled in size.
Next make the pumpkin purée. Heat the oven to 150°C fan/gas 3½. Halve the pumpkin and remove and discard the seeds and stringy core. Chop each half into quarters, carefully peel off the skin, then chop the flesh into 1cm cubes. Put the cubes on an oven tray and bake for 1 hour until the pumpkin is quite dry and lightly golden. Transfer to a food processor/blender and pulse to a purée. Leave to cool.
Meanwhile, prepare the crème pâtissière. Put the egg yolks and sugar in a bowl and whisk with a balloon whisk for a few seconds, then add the flour and whisk again.
Put the milk, vanilla pod and seeds in a heavy-based saucepan and gently heat until nearly boiling. Slowly pour the hot milk over the yolk mixture whisking constantly to prevent curdling, then return the mixture to the pan and cook over a medium heat, whisking constantly for about 3 minutes until thick.
Pass the mixture through a fine sieve into a bowl, then place a sheet of baking paper/cling film on the surface of the crème pâtissière to prevent a skin forming (don't forget to keep your vanilla pod – wash and dry it to use to flavour sugar). Leave to cool, then chill.
Whip the double cream in a large mixing bowl until thicken to stiff peaks (when you lift out the whisk, the tips of the peaks stay vertical).
Measure out 200g of the cooled pumpkin purée (see Don't Waste It) and add to the whipped cream along with the crème pâtissière (briefly beat the crème pat to loosen if it's stiff). Gently fold together using a large metal spoon in a figure-of-eight motion until the mixture is well combined. Fit the nozzle to a piping bag and fill with the pumpkin custard, then chill.
When you're ready to fry the doughnuts, half-fill a large heavy- based saucepan with the oil (or use a deep fat fryer) and heat to 180°C (see Tips).
Carefully remove the proved doughnuts from the tray by sliding a floured dough scraper or spatula underneath, then gently lower into the oil. Don't
overcrowd the fryer – cook 2-3 at a time, depending on the size of your pan. Fry for 2 minutes on each side until golden brown – they will puff up and float.
Remove the doughnuts from the fryer with a slotted spoon and put on kitchen paper to drain, then toss the doughnuts in a bowl with the caster sugar while still warm. Repeat (see tips) until all the doughnuts are fried. Leave to cool before filling.
Make a small hole in the crease of each doughnut with a butter knife (anywhere in the 'band of truth' – the white line between the fried top and bottom.) Take the piping bag out of the fridge and slowly pipe the mixture into each doughnut until plump (about 60g per doughnut).
Finally, prepare the toffee topping. Put the sugar in a heavy-based saucepan set over a medium heat. Heat for several minutes until the sugar has melted (shake the pan to help it melt evenly); keep heating until it has a rich caramel colour. Take off the heat and a the butter (be careful – it will
spit). Keep stirring until you have a smooth caramel. Very carefully dip one half of each filled doughnut into the caramel. Leave to set (it will be crisp like a crème brûlée), then devour.
delicious. tips
You need to start the recipe the day before you want to serve the doughnuts. You must make sure the oil temperature is correct each time before frying – if it's too high, the doughnuts will colour too quickly and burn but be raw in the middle; if it's too low, they'll absorb the oil and become greasy.

Alternate fillings: If you're making these out of pumpkin season – or if you just don't fancy the pumpkin flavour, you could fill them with the crème pâtissière (still adding the whipped cream) for a plain vanilla custard doughnut. Or, for a classic jam doughnut, use 250g good quality raspberry (or flavour) jam, loosened a tiny splash of hot water if the conserve is very set. Lemon curd makes a good filling too, with its tangy sharpness. And for chocolate doughnuts, fill them with your favourite nutty choc spread – you could beat in a tiny splash of cream to make it easier to pipe.

Easy swaps: If you can't find fresh yeast, use 4g (1 ¼ tsp) dried active yeast, or 2g fast action (instant) yeast instead.

Don't waste it: Leftover pumpkin purée will keep for 2-3 the fridge. Add to sauce or risotto.

The pumpkin purée and crème patissière can be prepared up to 1 day ahead. Store separately in the fridge then whip the cream and mix together when ready to assemble.

For a stand mixer, bring all of the dough ingredients, apart from the butter, together using a dough hook, and mix for a few minutes on medium speed. Let the dough rest for 1 minute. Take care that the mixer doesn't overheat – it needs to rest as well as the dough! Start it up again on a medium speed and slowly add the butter to the dough – about a quarter at a time. Once it is all incorporated, mix on high speed for 5 minutes.
Subscribe to our magazine
Subscribe to delicious. magazine for HALF PRICE
Subscribe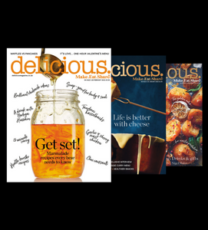 Join our newsletter
Packed with menu ideas, recipes, latest competitions and more...