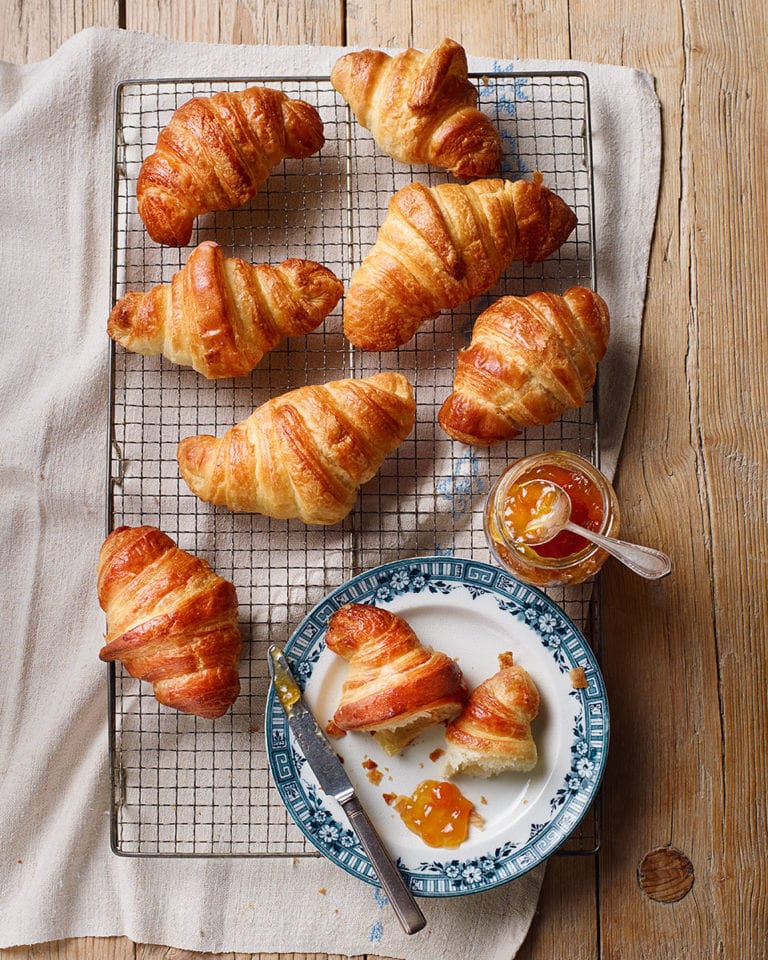 Makes 24 small or 14 large croissants

Hands-on time 1 hour, resting and proving time 5-5½ hours, oven time 20 minutes
Learn how to make classic butter croissants with this recipe by Richard Bertinet. They're the ultimate flaky pastry treat to enjoy for breakfast with a cup of coffee.
See our step-by-step guide too for extra tips and tricks.
delicious. tips
Use scales to weigh the milk and water. They'll give a more accurate reading than a measuring jug.

When cutting triangles or trimming the dough, use a sharp, straight-bladed chef's knife long enough to cut straight down in one clean slice. Don't press down on or drag the knife through the dough, as this will affect the rise.

You can make the croissants up to 12 hours before you bake them. Put the unbaked croissants on a tray/board and glaze with the egg wash. Put the tray/board inside a large freezer bag to enclose it loosely, then chill.   

To freeze, put the tray/board of finished, unbaked croissants in the freezer. Once frozen, transfer to a freezer bag and freeze for up to 3 months. Bake from frozen on a baking tray at 180°C/fan160°C/gas 4 for 18-20 minutes, turning the tray halfway through. Or, freeze the baked, cooled croissants on a tray until frozen, then transfer to a paper bag inside a freezer bag and return to the freezer for up to 3 months. Defrost fully, then warm in a hot oven to serve.

Buy fresh yeast from the baking section of large supermarkets, or from specialist baking shops, Ocado and other online cookshops. It will keep for 2 weeks, wrapped in the fridge, and it will freeze for up to 3 months.