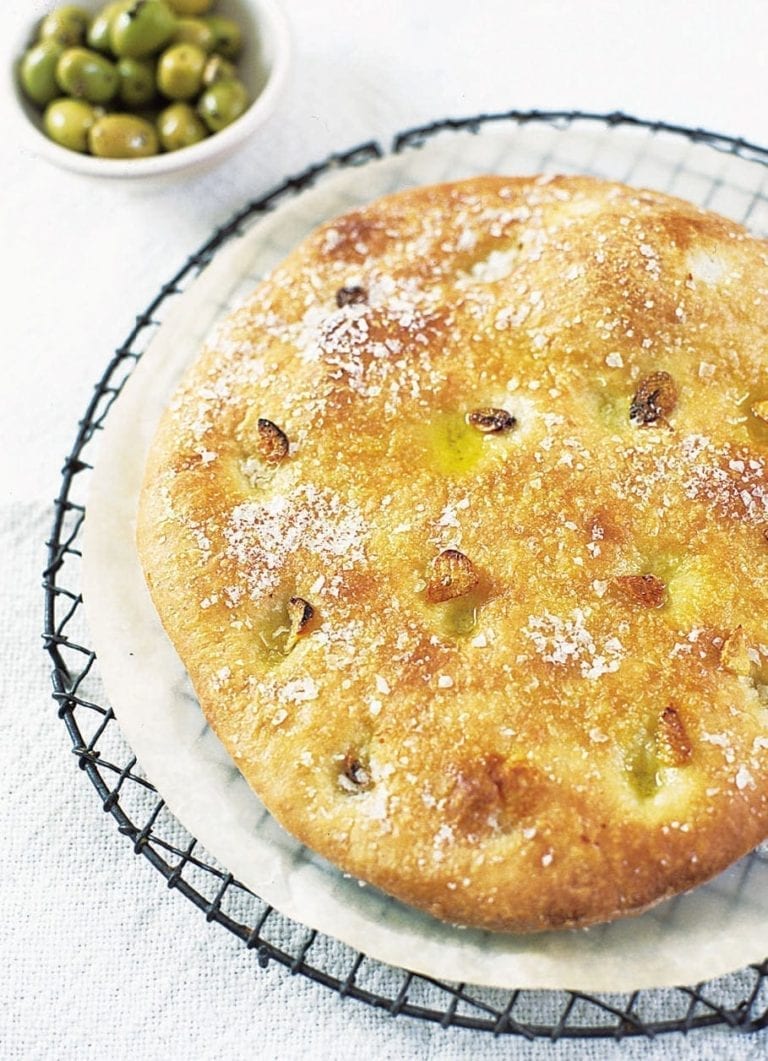 Serves 4

Takes 20 min to make, 15 min to bake, plus proving
Our easy garlic focaccia is a versatile bread recipe that could be served with soup, sliced open to make sandwiches or taken along as part of a picnic spread. Or, serve as the Italians do – with extra-virgin olive oil and good balsamic vinegar.
Ingredients
250g strong plain white flour, plus extra for dusting
1 tsp salt
7g sachet fast-action dried yeast
Olive oil
2 garlic cloves, thinly sliced
2 tsp Maldon sea salt
Method
Put the flour into a bowl with the salt, yeast and 1 tablespoon olive oil. Add 150ml warm water, stir with a wooden spoon, then use your hands to mix it all into a ball.
Sprinkle flour over a clean work surface and tip out the dough. Work the dough for 10 minutes to stretch and make smooth.
Pour 1 tablespoon olive oil onto the work surface. Sit the dough on top and roll out to a round about 30cm across with a rolling pin. Grease a pizza tray or large baking tray and line with baking paper and put the dough on it.
Scatter the garlic over the dough, then sprinkle with the salt. Cover with greased cling film and leave to rise in a warm place for 30 minutes to 1 hour. It will become puffy.
Preheat the oven to 220°C/fan200°C/gas 7. Discard the cling film and press your finger into the dough about 16 times and pour over a little more olive oil. Bake for 15 minutes until golden brown. Cool for 5 minutes, then tear into pieces to serve.