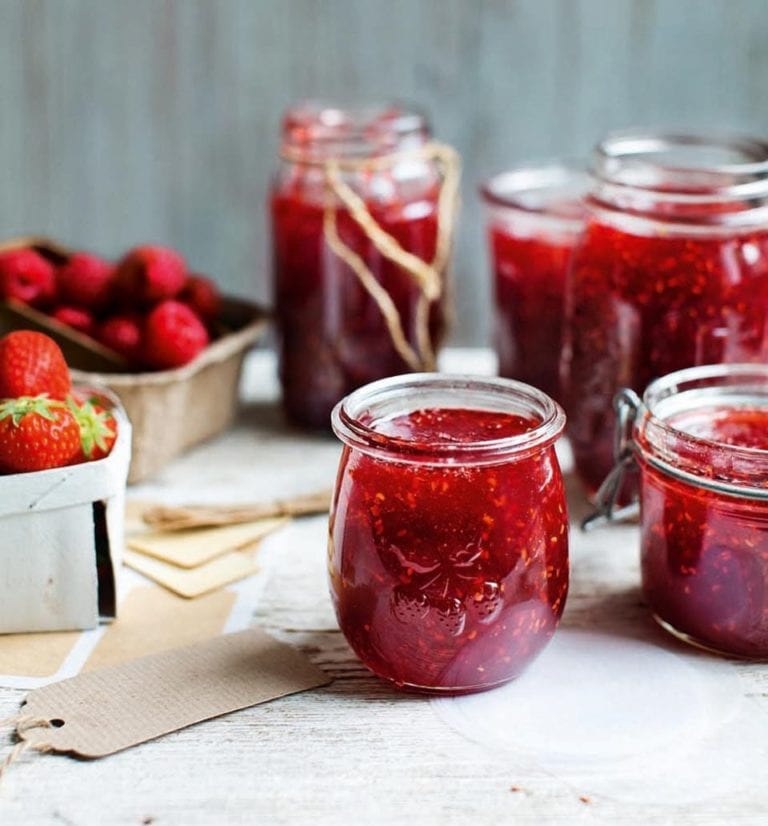 Makes about 1.5 litres

Hands-on time 30 min, plus macerating and cooling
Making jam is the best way to bottle your sunshine for over the winter. Follow our tips to perfect this challenging recipe every time.
Looking to make jam in the autumn months? How about trying our blackberry jam, instead
.
Nutrition: per serving
Calories

13kcals

Fat

nil

Protein

nil

Carbohydrates

3.2g (3.2g sugars)

Fibre

0.1g

Salt

nil
delicious. tips
To prevent sugar crystals: Allow the sugar to completely dissolve over a very low heat before bringing it up to the boil. If sugar is heated too quickly it can crystallise and, once formed, sugar crystals are very difficult to re-melt – especially when you have other ingredients in the pan, too.

To prevent jam being underset or overset: Take the pan off the heat to test the set of the jam. If it's still bubbling away while you spoon it onto the chilled plate, it may overcook. Remember, you can always put the jam back on the heat if it's not quite ready. Note also that a long, slow boil may destroy the pectin and produce a runnier set – cook the jam at a brisk rolling boil.

Check the berries are clean and free of dirt. But avoid washing them if you can – strawberries absorb water easily and excess water in the jam can dilute the pectin, making the set more difficult to achieve. If you must wash them, do so under cold running water but dry thoroughly with kitchen paper before using.

If you have lots of fresh picked fruit and little time, freeze measured quantities in perfect condition to make jam at a later date.

Strawberries are low in pectin (a natural gelling agent), but raspberries contain a little more. Adding lemon juice, which is high in pectin, helps to turn the jam from runny to thickened. Add a little more if you're worried about the jam not setting properly.

They may sound similar, but jam sugar and preserving sugar are not interchangeable. Unlike preserving sugar, jam sugar has added pectin so is best used when making jam with lower-pectin fruit (such as strawberries and raspberries).

You can vary the berries in the recipe if you like, but make sure you stick to the same total weight. If you're increasing the size of the batch, you'll need to boil the jam for longer.