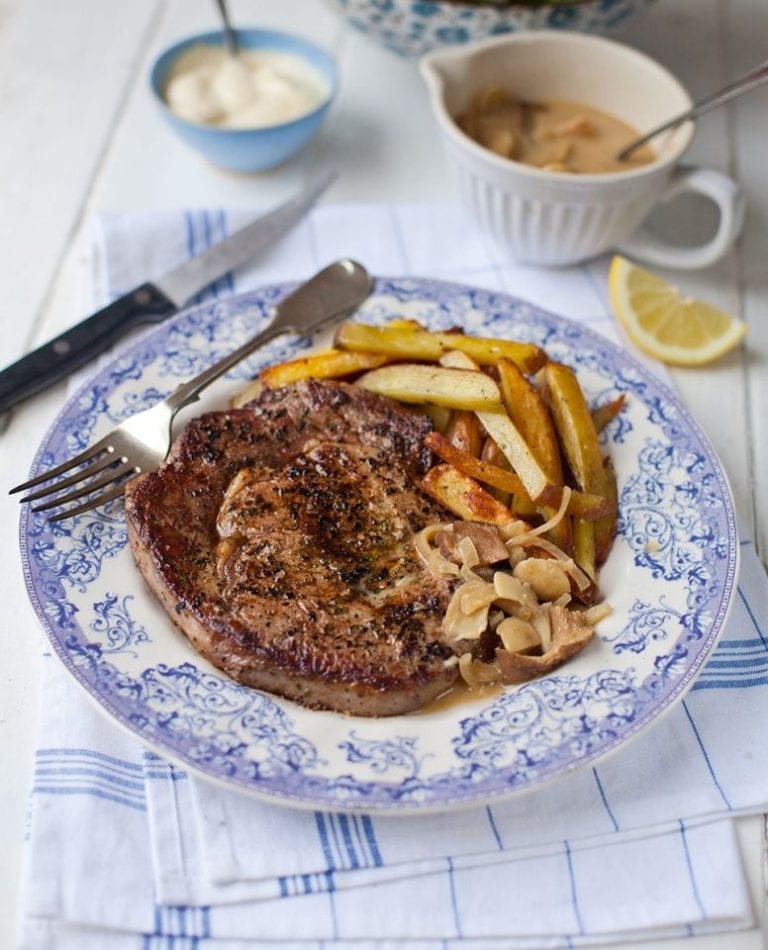 Serves 2

Takes 30 mins to make, 60 mins to cook
Cooking the perfect steak couldn't be simpler – it comes down to a few key factors. Follow Donal Skehan's recipe, classic steak and chips, for a supper that's second to none.
For the steak and chips: 722kcals, 39.9g fat (10.5g saturated), 54.1g protein, 36.6g carbs (1.3g sugars), 0.5g salt, 3.9g fibre
For the rich mushroom sauce: 287kcals, 24.6g fat (12.4g saturated), 6.5g protein, 3.5g carbs (2.4g sugars), 0.3g salt, 3g fibre
delicious. tips
It's essential to cook the steaks in a searing-hot pan so there's a constant sizzle and no chance of steaming.

Everyone has their own preference as to how they like their steak cooked. Here's a simple guide: press your index finger to your thumb, then press the muscle at the base of your thumb and compare the feel of that to the touch of the steak in the pan. If it's as soft as the flesh below your thumb, it's cooked about rare. Press the tip of your middle finger to the tip of your thumb for medium-rare, ring finger for medium, and little finger for well done.

There are lots of cuts of steak to choose from – fillet is one of the most tender but also one of the most expensive. For cost-conscious cooks, sirloin, rib-eye or rump are ideal – and usually have more flavour.

A good marbling of fat through the meat, which will melt away during cooking, giving flavour and keeping the steak moist. Try to choose meat with a deep, dark red colour. Bright, shiny red, wet-looking meat generally hasn't been hung for long enough and is likely to be chewier and less flavourful.

Oil the meat, rather than the pan, before cooking – it will spatter less, so there will be less to clean up. Make sure your steaks are at room temperature before cooking so the meat will be more evenly cooked throughout.