René Redzepi, Noma
A culinary alchemist, René Redzepi transforms rustic base materials into exquisite edible treasures at his innovative restaurant, Noma. So where does René find his inspiration? Fiona Sims found out.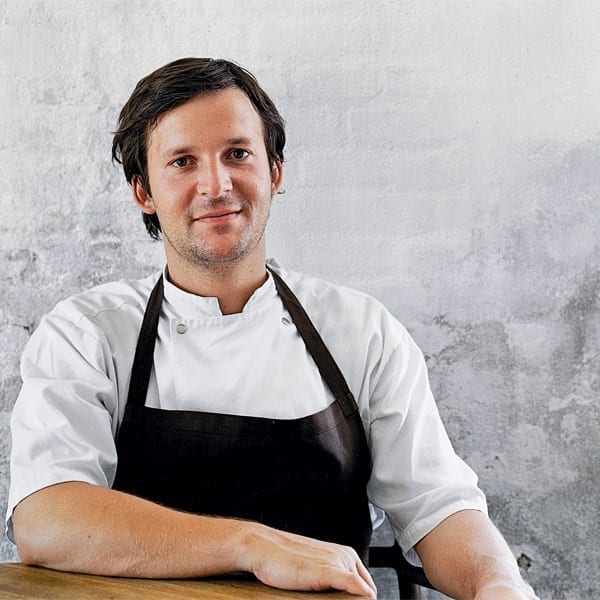 Earlier this year, Danish restaurant Noma was voted number one in The World's 50 Best Restaurants, thrusting chef and co-founder René Redzepi into the limelight. Despite the pressure that such an accolade brings, he is sanguine. "I don't think about it too much," he shrugs. Not that he's ungrateful. Redzepi's Copenhagen restaurant is booked so far ahead that only the determined, or lucky, are likely to succeed in snagging a table.
So why all the fuss? Redzepi is the undisputed master of 'new Nordic cuisine', an uncompromising, highly creative style of cooking that makes much of the produce and cooking heritage of the Nordic countries, involving techniques that are both classical and cutting-edge.
Ray Mears would approve of Redzepi's dish of poached deer served with foraged ramsons, pickled juniper berries, beet leaves, snails, chanterelles, fiddlehead ferns and a woodruff sauce. It's a delectable microcosm of the forest floor. Diners could spend hours musing over the ingredients of the 'soil' that a pot of fresh radishes come planted in. (It's made from malt and hazelnut flours.) You'd certainly look at a carrot differently after trying it Noma-style, roasted in goat butter, served with sorrel sauce and a light sprinkling of truffles from Gotland.
Redzepi and business partner Claus Meyer opened Noma in November 2003, in a quayside warehouse in the fashionable Christianshavn area of Copenhagen. The light, open space is filled with wooden dining chairs warmed up by sheepskin throws. Bare brick peeps through rough white plaster walls, while a solitary white candle and simple white vase of meadow flowers sits on each of the 12 tables.
It was the food, though, that made the critics sit up and take notice. One Michelin star soon followed, then another, four years after opening. A third is doubtless on the cards, if a recent meal was anything to go by. There's a vision here that is rare to find. Noma has proved inspirational, starting trends for bitter leaves, sour and smoky flavours, and the salting or pickling of locally foraged produce.
Ingredients with a difference
"You're not taken seriously these days if you haven't got a forager," says Redzepi, who is relaxed and instantly likeable, and who insists on a calm kitchen with no raised voices. His 28-strong brigade is expected to go foraging several times a week, often starting at dawn and returning (if all goes well) with the likes of bulrushes, sea buckthorn and seaweed.
"At first we went with a local forager, or we would take a picture and get a forager to identify things. But we pick a lot ourselves now, although we leave the mushrooms to the professionals," he says. "We ask ourselves, does it have an interesting flavour? So many things that grow have a history of being eaten – you had to, to survive." Redzepi and his crew also work with food historians, who help him to research old recipes.
Another thing that sets Noma apart is the prominent part vegetables play in its dishes. "You can only eat so much protein. We all have to eat more vegetables – more raw than cooked," urges Redzepi. Though his mother is Danish, his father is from rural Macedonia and he grew up there, feasting on lentils and beans, foraging for berries and chestnuts. "We had no fridges there… If you wanted milk, you had to milk the cow; if you wanted meat, you had to slaughter the animal yourself – but only for special occasions. I've always had a more plant-based diet," he says. "I know more about the Nordic region now, more about its flavours. But years went by before I truly understood it."
Going the extra mile
Redzepi has been looking at what grows nearby to help him create ideas for dishes. One example is the dessert 'strawberries and straw': strawberries served with chamomile, elderflower and small discs of hay parfait. "That came about after we visited the grower," says Redzepi. "Strawberries are grown on straw to keep down weeds such as chamomile. So the pastry chef and I said, 'Let's play with that.'
The other herbs in the dish, such as the elderflower, were also growing nearby. We toasted the hay at 200°C, infused cream with it for 24 hours for the parfait, and made a syrup with chamomile flowers." These are the lengths the Noma team goes to in pursuit of new taste experiences.
What happens in winter when the ground is thick with snow?
"It's challenging. We have virtually nothing in March, yet it's one of the best months for us creatively. You have to think out of the box. We have regular diners who visit up to three times a month, so imagine creating new desserts using carrots, without repeating? We're not afraid to develop a dish around a potato – we have the confidence to do it, though it's difficult to crack the code that makes it a proper, modern dish."
So what will he do next? "I've no idea," he says. "I could have several restaurants around the world, but I could never do another Noma. I could see myself settling in another country, starting from scratch. You have to re-boot yourself or at some point you start repeating yourself." Watch this space…
A snapshot of the Noma menu…
Bulrush and praline
Sea-buckthorn leather and pickled rosehip
Rye bread, chicken skin, lumpfish roe and smoked cheese
Radish, soil and herbs
Shrimps and sea urchin, cream and dill
Beetroots and sorrel, onion ash, malt puffs
New potato and milk skin, stems and lovage
Violet carrot and truffle from Gotland
White and green asparagus, pine
Summer deer and snails, forest shoots and chanterelles
Sheep's milk mousse, sorrel and fennel seeds
Strawberries and straw.
Noma website
Subscribe to our magazine
Food lovers, treat yourself this Christmas... Enjoy 12 months of magazines for £29.99 – just £2.50 an issue.
Subscribe
Unleash your inner chef
Looking for inspiration? Receive the latest recipes with our newsletter