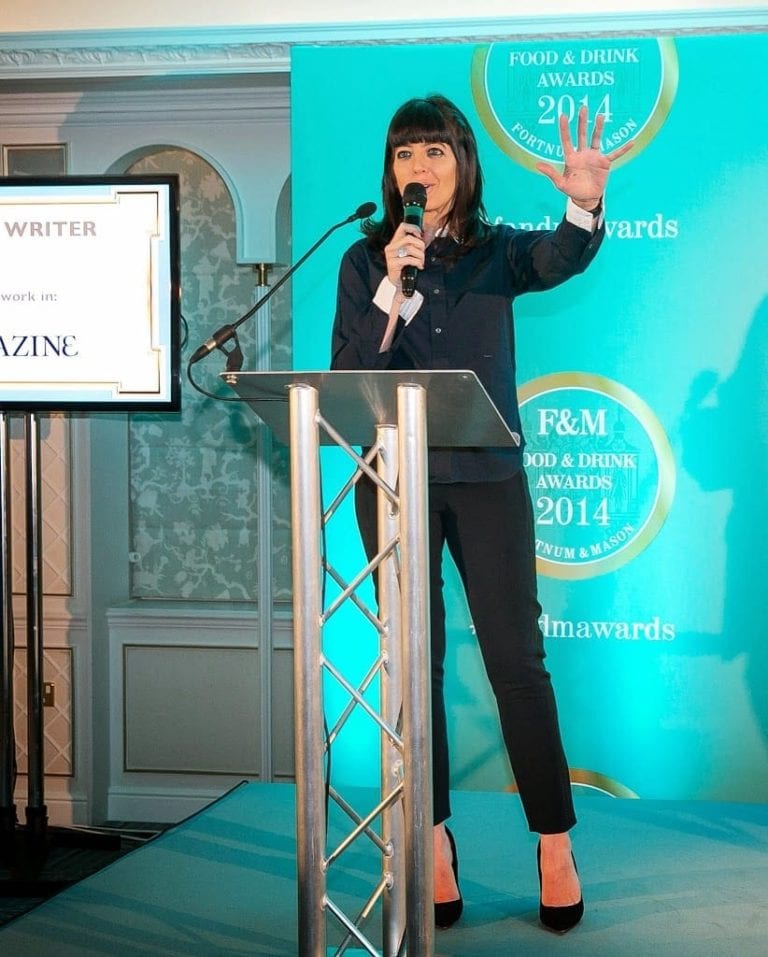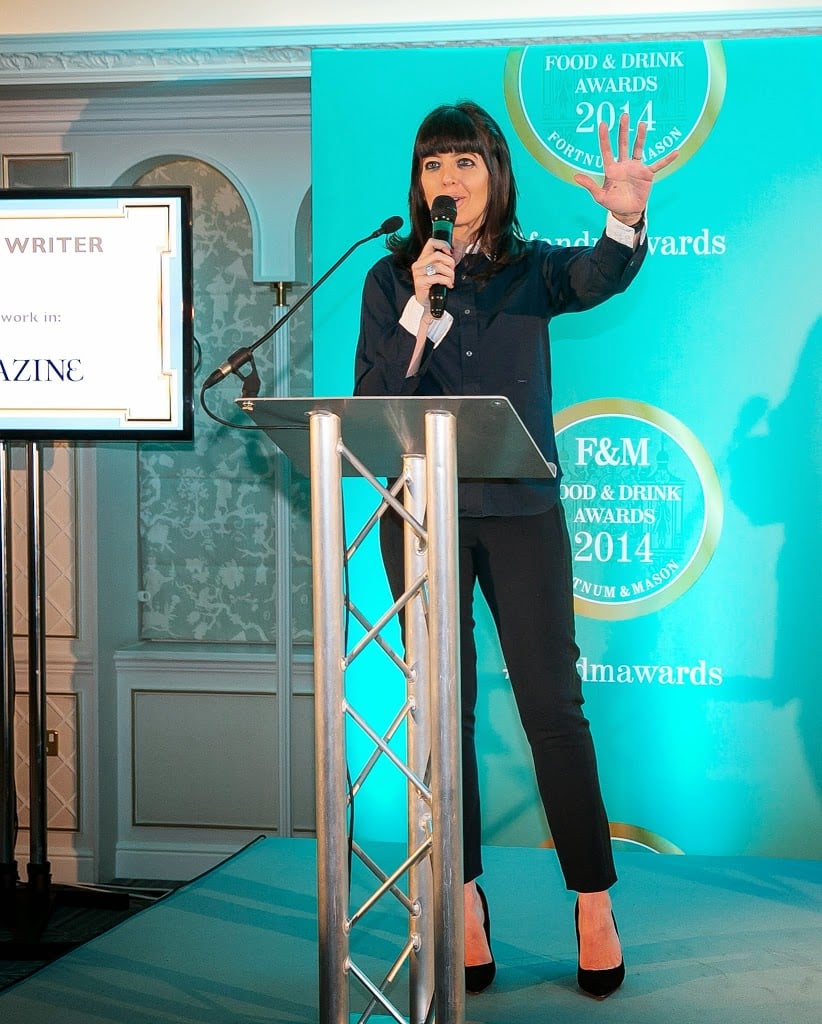 Say Fortnum & Mason and most people immediately think 'Christmas', goodie-filled hampers and a hotspot for gorgeous biscuits, jars of posh jam and tins of loose-leaf tea (did you know the company has been selling tea for more than 300 years?). Not forgetting the hordes of perfectly coiffed women sipping tea and eating doll-sized cakes in the tea room. But the store has reinvented itself of late. The doors open automatically, for one thing – good for all those tourists weighed down with overloaded bags of turquoise-wrapped presents.
Last night was a very different F&M – a night of fizz and star-studded revelry. Not a cup of tea in sight. Among the crowd gathered to hear the results of the country's glitziest food awards were Stephen Fry, Ronni Ancona, Mary Berry, Michel Roux Jr (team confession: his picture is on the door of the delicious. test kitchen fridge), Valentine Warner, Aggie MacKenzie, the Hairy Bikers and too many more to mention.
The host was
Claudia
Winkleman (above, aka 'our Claude'), who was funny and concise – the perfect combo when you know there's a long list of awards to be waded through. Yes, a good time was had by all. So much so that I'm not sure many would have been able to remember the details the following morning. (I'm not including national-treasure Mary in that, of course…)
Without further ado, th
e winners were…
FOOD BOOK of the year
WINNER: The Modern Peasant by Jojo Tulloh (Chatto & Windus)
SHORTLIST: Cooked by Michael Pollan (Penguin Books)
SHORTLIST: Great British Bakes by Mary-Anne Boermans (Random House)
DRINK BOOK of the year
WINNER: World's Best Cider by Pete Brown & Bill Bradshaw (Jacqui Small)
SHORTLIST: Knackered Mother's Wine Club by Helen McGinn (Macmillan)
SHORTLIST: World Encyclopedia of Champagne & Sparkling Wine by Tom Stevenson (Absolute Press)
FOOD WRITER of the year
WINNER:
Tim Hayward for work in FT Weekend Magazine
SHORTLIST: Alex Renton for work in Intelligent Life and The Observer Magazine
SHORTLIST: Andrew James Williams for work in Beaten & Creamed
DRINK WRITER of the year
WINNER: Nina Caplan for work in the New Statesman
SHORTLIST: Henry Jeffreys for work in The Spectator
ONLINE FOOD WRITER of the year
WINNER: Kerstin Rodgers for work on msmarmitelover.com
SHORTLIST: John Ferris for work on forked.ie
ONLINE DRINK WRITER of the year
WINNER: Tim Atkin for work on timatkin.com
SHORTLIST: Joss Fowler for work on vinolent.net
SHORTLIST: Tom Sandham for work on telegraph.co.uk
COOKERY WRITER of the year
WINNER: Rose Prince for work in the Telegraph magazine
SHORTLIST: Diana Henry for work in The Sunday Telegraph Stella
SHORTLIST: Lulu Grimes for work in Olive
SHORTLIST: Susan Elizabeth Clark for work in Resurgence & Ecologist Magazine
RESTAURANT WRITER of the year
WINNER: Marina O'Loughlin for work in the Guardian Weekend Magazine
SHORTLIST: Giles Coren for work in The Times Magazine
SHORTLIST: Jay Rayner for work in The Observer Magazine
ONLINE RESTAURANT WRITER of the year
WINNER: Chris Pople for work on cheeseandbiscuits.co.uk
SHORTLIST: Edward Smith for work on rocketandsquash.com
SHORTLIST: Joe Warwick for work on thelondonmagazine.org
RADIO SPECIAL AWARD
WINNER: BBC Radio 4, The Food Programme
TV PROGRAMME of the year
WINNER: Victoria Wood's A Nice Cup Of Tea (Keo Films)
SHORTLIST: Can Insects Save The World? (Plum Pictures)
SHORTLIST: Heston's Fish & Chips (Betty and Snail Porridge)
SHORTLIST: Rick Stein's India (Denhams)
VISUAL WORK of the year
WINNER: Romas Foord for work in Historic Heston (Bloomsbury)
SHORTLIST: James Murphy for work in Rick Stein's India (BBC Books)
SHORTLIST: Michael Roulier for work in Le Livre Blanc (Jacqui Small)
JUDGES' CHOICE
Claudia Roden
TV PERSONALITY of the year
Dave Myers and Simon King, the Hairy Bikers
Subscribe to our magazine
Subscribe to delicious. magazine for HALF PRICE
Subscribe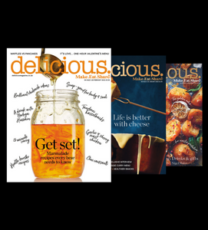 Join our newsletter
Packed with menu ideas, recipes, latest competitions and more...