Student Guide to basic kitchen equipment
There are so many gadgets and silly machines that try to make basic tasks easier.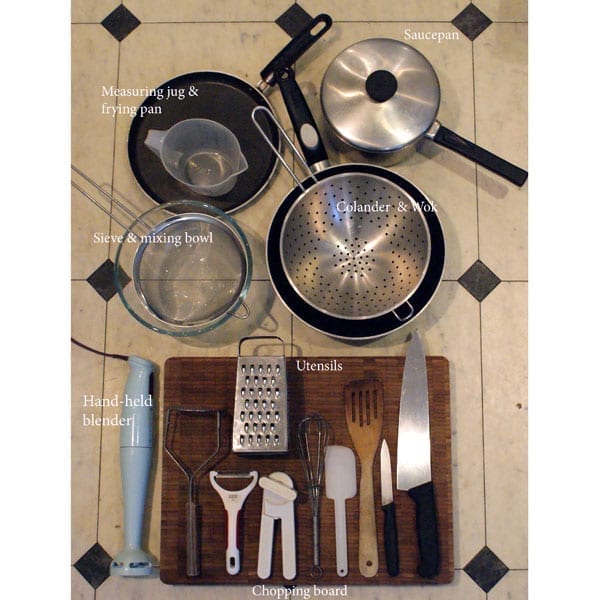 But Tiffany Goodall, author of the Ultimate Student Cookbook, isn't a fan of squeezy pipettes and general fad gadgets; she suggests you invest in a few great basics.
Saucepans
A small saucepan is great for boiling vegetables, eggs, potatoes. A larger one is useful if you are going to cook a soup or a huge stew for a large group. I have a huge one, which is ideal for a large bolognese.
Measuring Jug
As cheap as chips yet invaluable, a large plastic measuring jug is not only useful for measuring liquids such as water and stock, but can also be used as an impromptu mixing bowl.
Frying Pan
I love a good non-stick frying pan for everything from a good English breakfast to frying mushrooms – it's an essential item and a solid investment. You can buy a thin-edged frying pan that is perfect for pancakes and omelettes.
Colander
Brilliant for draining water from pasta, rice, potatoes, vegetables. The list is endless. Plastic and metal versions work equally well.
Wok
For the best price and quality, my tip is to go to a Chinese supermarket to buy your wok. They come in handy all the time, from a quick stir-fry to a gorgeous curry. Don't worry if you haven't got a wok, though, a large high-sided frying pan is a perfectly good substitute.
Sieve
I tried to live without a sieve as most flours now say 'no need to sieve', however I found myself needing one all the time for all sorts of things, especially when baking, so it's a useful thing to have.
Mixing Bowl
I would strongly advise a Pyrex mixing bowl, as it's heatproof. Use it for melting chocolate, cake mixing, making pesto, home-made burgers and whipping up swift salad dressings.
Hand Held Blender
I always use a hand held blender. None of the recipes in my book require a food processor. I use this hand held blender for everything from soups to smoothies and cocktails.
Chopping Board
I am obsessed with thick wooden chopping boards. Some are quite pricey, but if you are savvy you can find them for good prices – just shop around. Plastic works fine too.
Potato Masher
Brilliant for mashing not only potatoes, but also vegetables such as butternut squash and carrots. Vegetable Peeler Essential, especially for a roast lunch.
Can Opener
Imperative for the kitchen – from cans of beans to tuna, coconut milk and wonderful canned tomatoes.
Grater
Brilliant for grating cheese but also great for grating garlic and ginger.
Whisk
Even though you can whisk eggs fairly well with a fork, a whisk is very handy when making omelettes as it gives them a lovely light texture. More obviously, you'll need a whisk to whip cream or egg whites.
Spatula
A plastic spatula is a great implement for scraping up all the leftovers from a mixing bowl. It's also ideal when you need to fold a mixture gently – as with a chocolate mousse. A metal version is useful when you need to lift and drain fried food, such as when cooking a breakfast fry-up.
Wooden Spoon or Spatula
These are used extensively in baking. They aren't used as much in savoury cooking as they tend to absorb the flavours and smells of foods such as garlic, onions and chillies. However, they won't scratch the bottom of non-stick saucepans, unlike metal spoons.
Small Fruit Knife
One of these makes cutting or slicing fruit or fine vegetables very easy. It's great to have one when making a delicious fruit salad.
Large Knife
My large knife is the most useful of my kitchen tools. I use it to chop herbs, meat, garlic, the works.
DOWNLOAD AN ESSENTIAL STUDENT SHOPPING LIST AND RECIPES
From Pasta to Pancakes: The Ultimate Student Cookbook, by Quadrille.
BUY THE BOOK
Subscribe to our magazine
Food lovers, treat yourself this Christmas... Enjoy 12 months of magazines for £29.99 – just £2.50 an issue.
Subscribe
Unleash your inner chef
Looking for inspiration? Receive the latest recipes with our newsletter