Five minutes with Nicholas Balfe
Nicholas Balfe is the director of three London restaurants, one in Brixton – Salon – and two in Peckham – Levan and Larry's, the newest of which opened just two days before the first UK lockdown in 2020. Nicholas has just opened his first restaurant outside of the capital in Somerset, which will have bedrooms as well, from spring 2022.
We caught up with Nicholas to find out about the experience of opening a restaurant in the middle of a pandemic, what he's excited about on the menu, and what to expect at new restaurant, Holm.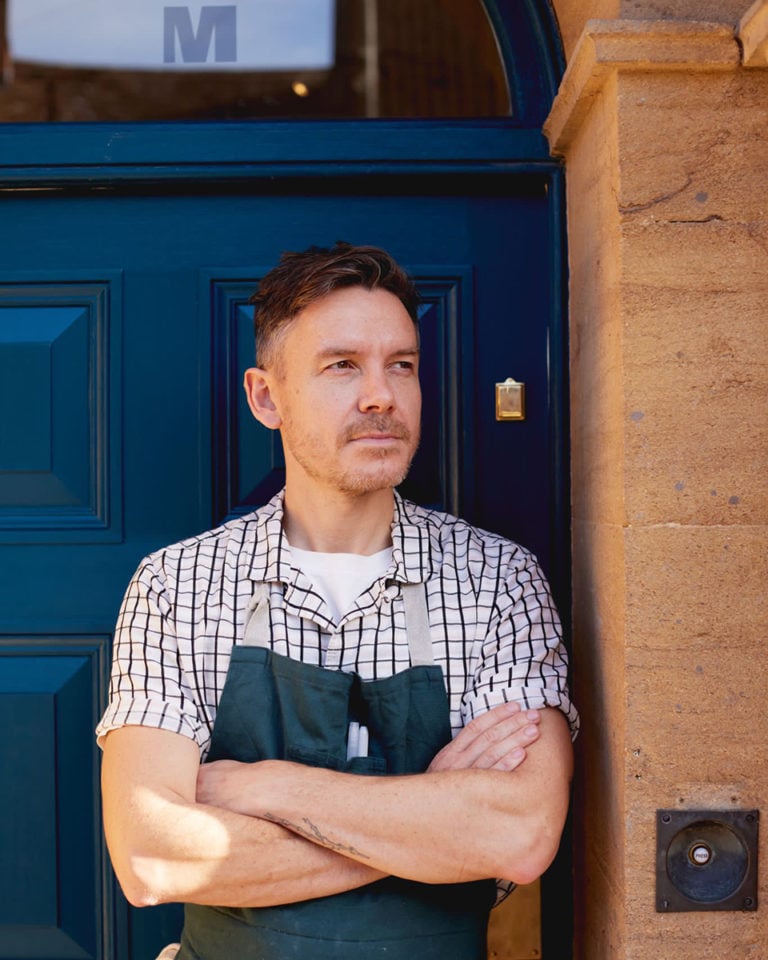 What's your very first memory of food?

Food was a big part of my upbringing. Mum would cook from scratch every evening for dinner, whilst my dad baked bread and made more elaborate meals at the weekend. We used to grow veg when I was young too. I distinctly remember the gooseberry bush in our back garden, and picking elderflowers with my grandma. Those are two flavours I still love to put together to this day.
What's the first recipe you properly learned to cook and who taught it to you?

In secondary school, we had the choice of religious education or home economics – obviously I went for home economics as it meant I got to cook. I remember making tuna pasta bake in the first lesson. I didn't drain the tuna, so it was a bit oily – but still delicious!
What's the one ingredient that you'd take to a desert island with you?

I adore tomatoes when in season. I'd happily eat them as part of every meal in summer. Assuming tomatoes grew on the island; I'd take some good quality olive oil and extract sea salt from surrounding waters for the basis of a great salad.
What's the meal you'd miss the most whilst there?

I love roast chicken. We have it almost every Sunday and it's a really nice way to round off the week and spend time as a family. That would be hard to go without.
You can have a one-off dinner party on your island… who would you invite?

Probably a bunch of friends, who, given the industry I work in and the busy-ness of life generally, I see all too rarely.
What's the one condiment you couldn't live without?

I'm currently really into crispy chilli and black bean oil – it goes with everything. We make a good one at Larry's so I'd take a jar of that.
Which cookbook would you take with you to the island?

The new Septime book, which I've bought but haven't had a chance to read yet.
What's the restaurant (anywhere in the world) you are most looking forward to eating at, now that travelling more widely is possible again?

Coombeshead in Cornwall is high on my list, as is L'enclume, and Carter's of Mosely. I'm going to Sicily in spring so looking forward to good seafood and wine in a rustic, beachside setting.
Your restaurants in Peckham are named after famous DJ Larry Levan. Tell us why…

Before we opened Levan, we were on the train back from a research trip in Paris, listening to a Larry Levan / Paradise Garage mix. We were drinking wine, to get the creative juices flowing of course, and my business partner Mark suddenly said "le vin, Levan… let's call it Levan!". It landed immediately and has proved to really connect with people.
How was it opening Larry's just before a nationwide lockdown? How have things been since opening back up?

In a word, stressful! We officially opened on 19th March 2020, the lockdown was announced on 22nd and it just felt like the rug was pulled from underneath us. But through tenacity, creativity and a lot of hard work, we managed to get through. The restaurants all evolved throughout the lockdowns and have come out stronger, particularly our management teams who really flourished.
Your London restaurants are all south of the river. Tell us about your connection to Brixton and Peckham.

I briefly worked in Brixton in 2010 a couple of years before I opened Salon. I was living in East London at the time, which I loved, but I found the energy and diversity in Brixton completely enthralling. The market itself has a totally unique vibe; charming and scruffy in equal measure. I guess there's an unexpectedness about having a fairly high end restaurant there, but somehow it works.
Peckham briefly felt like the hipster capital of London. That title's moved elsewhere now, but it's still inspiring to be in an area so full of creative energy. The thing that ties the two together is that they are incredibly diverse areas with a huge mix of cultural backgrounds. Both areas are raw, real-life London.
What's your favourite dish on the menu at the moment?

For the first time ever, I've handed over much of the creative control at the London restaurants. I have an incredible Executive Chef, Tom Hurst, who has been my eyes, ears and taste buds whilst I've been focusing on the Holm opening. As new dishes come onto the menu, I get an immense sense of pride that the teams have been empowered to create food so representative of Salon/Levan/Larry's. I've really missed cooking at each place, however, and I'm looking forward to coming back to do a service. The comte fries at Levan and 'nduja croquettes at Salon will always have a special place in my heart.
You are about to open your fourth restaurant, Holm, in Somerset. How has the move to the country been?

We moved with a three week old baby, so the transition was intense. But we are loving life in the countryside and feel very lucky to be taking steps into a new chapter.
Please tell us more about the new restaurant…

Holm is our biggest project to date, inspired by the Somerset surroundings with a large outdoor terrace and rooms to stay which will open in spring 2022. The food is driven by provenance and sustainability and the atmosphere is casual yet refined. So far it's been well received, the feedback is excellent, and whilst there is plenty of room to grow, I'm really pleased with the quality of the food and service.
If you can't make it to any of Nicholas's restaurants – try your hand at his recipe for aubergine parmigiana sandwiches here.
Subscribe to our magazine
Subscribe to delicious. magazine for HALF PRICE
Subscribe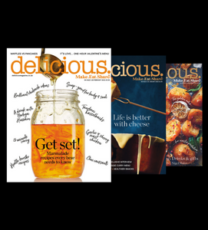 Join our newsletter
Packed with menu ideas, recipes, latest competitions and more...