Five minutes with Shaun Rankin
Yorkshireman Shaun Rankin has had an illustrious career. He honed his skills at The Mayfair Hotel in London, and then in Western Australia, Chicago and France, moving on to spend the majority of his career in Jersey, where he gained his first Michelin star in 2005.
In his new role at Grantley Hall, Shaun has embarked upon a different Michelin culinary journey altogether, back in his home county: Yorkshire. He leads his team of young chefs out foraging, plants most of the garden himself, and the garden's produce determines the menu. Much of the produce is proudly from Yorkshire, with dishes such as beef dripping tea, toast and butter or home-grown and fermented Yorkshire rhubarb ice.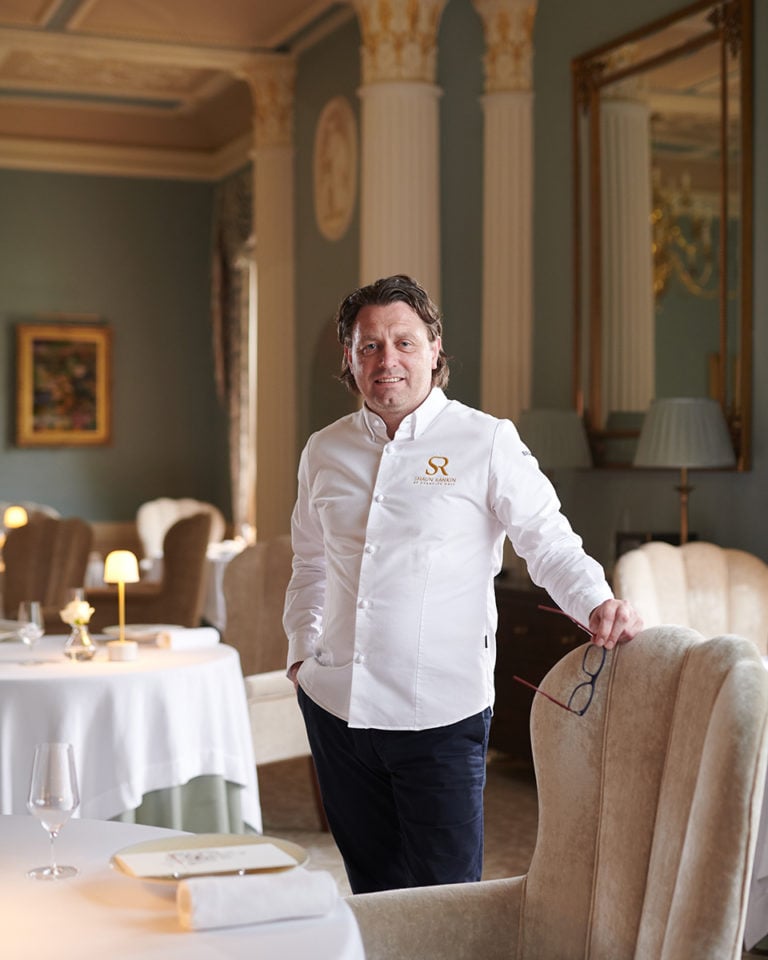 What's your very first memory of food?
It's got to be homemade apple pie and custard. The smell of an apple pie cooking away will never not make me think of Sundays at home growing up.
What's the first recipe you properly learned to cook and who taught it to you?
I have fond memories of learning to cook Yorkshire puddings with my mum at home. I still use her recipe today – it's unbeatable.
What's the one ingredient that you'd take to a desert island with you?
A decent bottle of Yorkshire rapeseed oil of course! It'd be good for cooking, or dressing whatever leaves and grasses I can get my hands on!
What's the meal you'd miss the most whilst there?
Definitely a proper Sunday roast – Yorkshire roast beef, mum's Yorkshire puds and all the trimmings. Colman's mustard also non-negotiable!
You can have a one-off dinner party on your island… who would you invite?
David Attenborough would be my number one – he's a big enough character! I've met him once before and only had five minutes in his company so we'd definitely have lots to talk about over dinner.
What's the one condiment you couldn't live without?
HP Sauce for sure – the best of the British sauces.
Which cookbook would you take with you to the island?
I'd take Elizabeth David's French Provincial Cooking. The stories she tells remind me of cooking in France, and her love for traditional methods is inspiring.
What's the restaurant (anywhere in the world) you are most looking forward to eating at, now that travelling more widely is possible again?
I've been trying to get over to Chef Thomas Keller's The French Laundry in Yountville, California for a long time. Thomas is a really good friend of mine and we've also worked together so it's definitely at the top of my list for this year.
You've worked in kitchens all over the world – which country did you love working in the most?
I loved cooking and living in France. The quality of the ingredients is second to none and I really admire the care that goes into making the food and growing the produce.
You were brought in as a consultant at Grantley Hall to help design the 3 restaurants there. Talk us through that…
As the food & beverage consultant, I helped design the kitchen, back-house areas and production kitchens of all three restaurants. I conceptually designed the dining areas down to details like glassware (crystal glasses from Cumbria) and cutlery (all Sheffield silver dipped from Lincoln House). We also focused on three concepts for the restaurants; sustainable fine dining for Shaun Rankin at Grantley Hall, which showcases the very best local and seasonal produce with ingredients from the kitchen garden. With Bar & Restaurant EightyEight, which overlooks the Japanese garden, owners Valeria Sykes and her son, Richard, wanted to combine Yorkshire produce with the tantalising flavours of the East with a Japanese inspired menu. And with Fletchers Restaurant, which sits at the heart of the hotel, we focused on creating delicious British and European dishes – the finest Yorkshire steaks and seafood from the East Yorkshire coast – proper all-day hotel specials!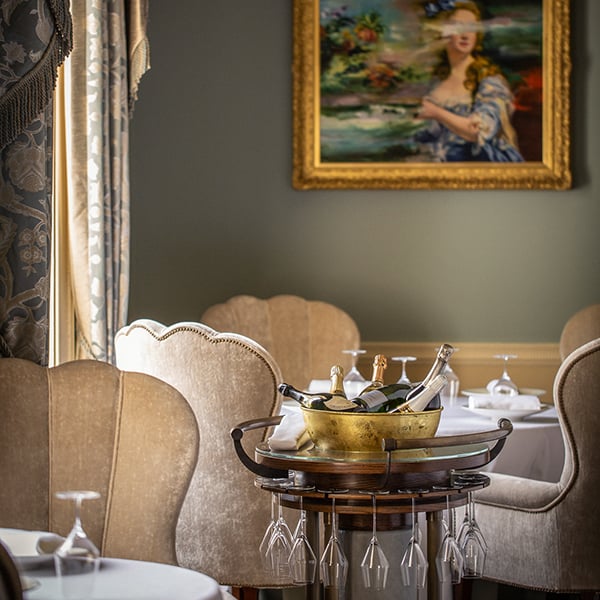 There is a big emphasis on growing your own produce in the kitchen garden at Grantley. What's that been like?
Straight away when I came on to consult, we solidified what the aspirations of the restaurant were. We created a clear and powerful philosophy which focuses on sustainability above all. Being Yorkshire-born I am proud of the produce we have on our doorstep, and want to show the world its beauty too. So, the emphasis had to be on home grown and local ingredients as we are conscious of our carbon footprint. Growing our own herbs, fruits and vegetables in the kitchen garden made perfect sense. It was a real collaborative effort, I worked closely with the hotel to find our amazing gardener and we designed and dug out the garden together. The kitchen team get stuck in too, and we scour the local grounds together – foraging the best native scents, herbs and more to use on the menus. Whether that's local mushrooms, elderflower, wild garlic, dandelion – you name it, we will use it.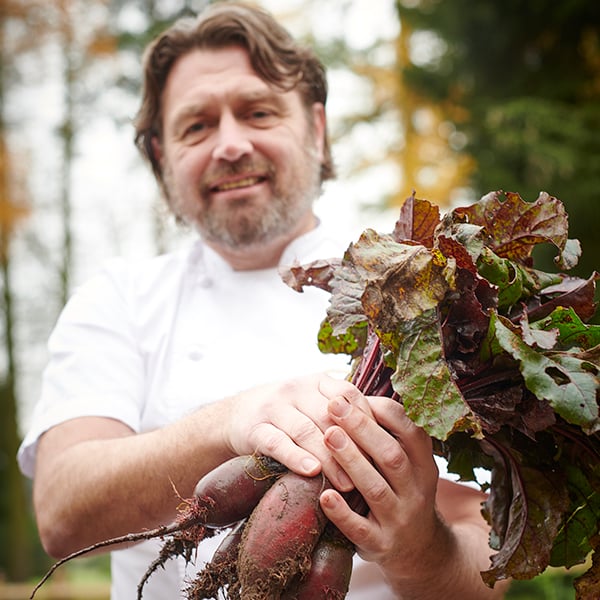 Can you tell us about some of your favourite local producers near Ripon?
Grantley is surrounded by so many fantastic farms and farmers. All of the produce for the Taste of Home menu is sourced within a 30-mile radius – nothing is from outside the UK. I'm very proud of that. The local lamb and beef are a phenomenal heritage breed; the best cheeses in the UK including Wensleydale, of course, are produced on our doorstep, and the county's light, sandy soils are perfect for asparagus which we get from just outside Ripon. It feels like a family affair, working with local artisans, farmers and producers who take real pride in their work.
You grew up in North Yorkshire. How does your connection to the place influence the menu at Grantley?
I created our menu taking inspiration from my childhood and the idea of coming home. Each dish on the menu is based around the flavours of the ingredients I was raised on. We take traditional, nostalgic dishes such as scampi from the amazing Yorkshire coast (one of my favourites growing up) and give it a fresh take using new techniques to elevate the dish. That said, I still love scampi from the chippy – there's always a time and place for good fish and chips!
What's your favourite dish on the menu at the moment?
My favourite right now is our Yorkshire venison with blackcurrants (which we preserved last August when they were juicy and ripe), with celeriac – both of course grown in our kitchen garden!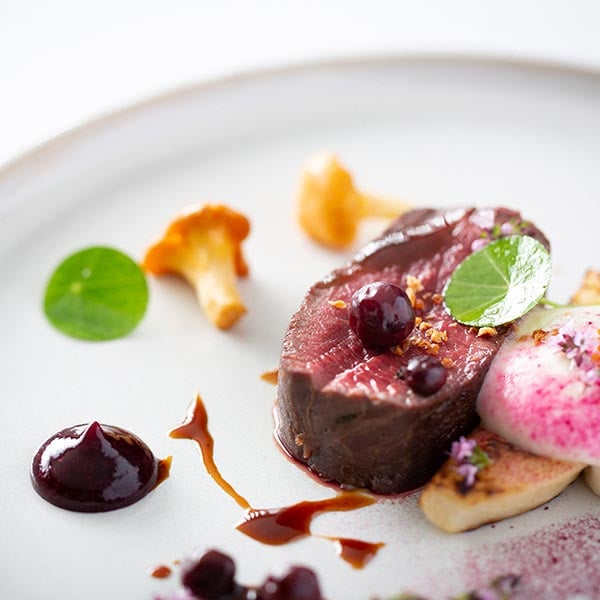 To find out more about Grantley Hall or book a table, click here.
Subscribe to our magazine
Subscribe to delicious. magazine for HALF PRICE
Subscribe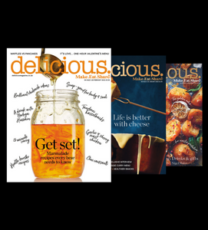 Join our newsletter
Packed with menu ideas, recipes, latest competitions and more...