Q&As with Allegra McEvedy
Allegra McEvedy, MBE, is a chef, food writer, part-owner of the Leon restaurants and all-round good egg. Food critic Giles Coren said of Leon: "It's a miracle. Leon is the future." And he's not wrong. Here, Allegra explains why she'll never be tempted to take her healthy fast food chain down the 'Golden Arches' route.
Why is the chain called Leon?
When me and my two business partners Henry and John had the idea of
setting something up, we had a focus group conducted, and it was
suggested we have a high-powered, cutting edge, end-in-a-hard consonant
name – that sort of thing. And we were dying inside!
So it's named after John's dad, Leon (whose recipe for spaghetti Milanese features in the book). It sounded
right. But we like to think it's about more than the name – the food, maybe? These things need to be attractive but ultimately we have to deliver.
The restaurants are proving very popular…
We have eight restaurants now and one in
opens in the New Year, and
in the spring. We've had more Christmas bookings this year than in the last
three years; maybe it's because we're doing a three-course lunch for
£15 (click
to visit the website for restaurants' details).
Why are there not more fast food restaurants like Leon, that use fresh,
seasonal ingredients at affordable prices?
I think it's mad that it hadn't happened
already. A lot of people in London eat breakfast and lunch out, but
what was on offer is not what people wanted to eat. Lunch affects your afternoon and your energy levels, and no one was
producing good food in a takeaway format. What I eat at home,
I want to be able to eat on the street. At Leon, people feel at
home in the restaurant.
The Leon style is sexy and fun – is it aimed at a younger audience?
It depends on the restaurants' location but I've yet to find a
demographic that doesn't like Leon. Leon has levels – it's a nice place
to have coffee, or a takeaway or a casual dinner.
Are you planning to extend out of London?
We plan to have lots and lots of Leons. We like that we're giving
people a choice, that we make food like people make at home. Eventually, there'll be Leons in Bristol,
Manchester, Europe and America.
Are you concerned that with expansion you'll end up becoming as corporate as McDonald's?
We're nothing like the Golden Arches. It's very important to us not to
be homogenised on the high street, to be lots of individual restaurants
rather than a chain. So our restaurants are different-looking and
sympathetic to each particular street or location.
Who chose the recipes that went into the book?
All me, I'm wholly responsible. I've listed everything I ever made for the Leon menu. I chose interesting recipes, good for each season, and
family and friends' recipes personalise it; they helped Leon grow.
So Leon is very much a collaboration?
My sister did the drawings, my sister-in-law the bean collage (pictured in the pulses section), and staff at Leon did designs (for the book).
It's a book of two halves: why did you
choose a different format from a traditional cookbook? Was it your
intention to be educational?
John and I talked about doing something more than a recipe book,
something a bit more from the heart. It's much more about learning,
sharing the knowledge. We see Leon as a place of sunshine; sunshine is essential for us and
our ingredients. The book is good for stealth learning; hence it's an
ingredient book (as well as a recipe book). It's useful.
Did you discover a new favourite dish or ingredient when you compiled the book?
As a chef you've got to keep your mind open – staying seasonal but up
for a change. The thing I go nuts about is vinegar; it's got such a good
flavour. I have about 14 at home – there's the ciders, sherrys, malts, red
wine – it's my fetish of the moment.
Thinking about the credit crunch, can you recommend a Leon recipe from the book that's cheap to recreate at home?
One of the things that's great about the book is that the recipes have
to be the equivalent (price) of Pret a Manger or Eat to be affordable,
so everything in there is a cheap eat. It's bloody good value; the
recipes are really affordable and good, filling dishes (we heartily
agree – check out Allegra's chilli pumpkin and wild mushroom soup recipe
).
You're known for being a food writer and chef as well as part-owning Leon; what other projects are you working on?
Well, I've got
the Guardian
(Allegra writes a weekly column for the newspaper), and I'm working with
– I'll be working with the nut farmers in Kerala. It's important to tell the story of Fairtrade; people think that supermarkets cream it but that 2p really does go back
to the farmers and does make a difference. I'm also working on the new
BBC series of
Supersize Me
– it will be on food from the 1920s It's a good decade, a
boom time, the food fits the mood – expect a large champagne fountain!
Subscribe to our magazine
Subscribe to delicious. magazine for HALF PRICE
Subscribe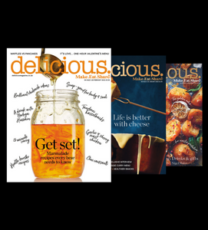 Join our newsletter
Packed with menu ideas, recipes, latest competitions and more...