10 golden rules for the perfect roast potatoes
In search of the perfect roast potato? Follow our expert guide and you'll achieve crisp, golden potatoes with soft fluffy insides. We'll guide you through the whole process, from choosing the best spuds and fat, to tips for parboiling, steam-drying and how long to roast the potatoes for. Get ready for perfect roasties…
Check out all of our roast potato recipes here.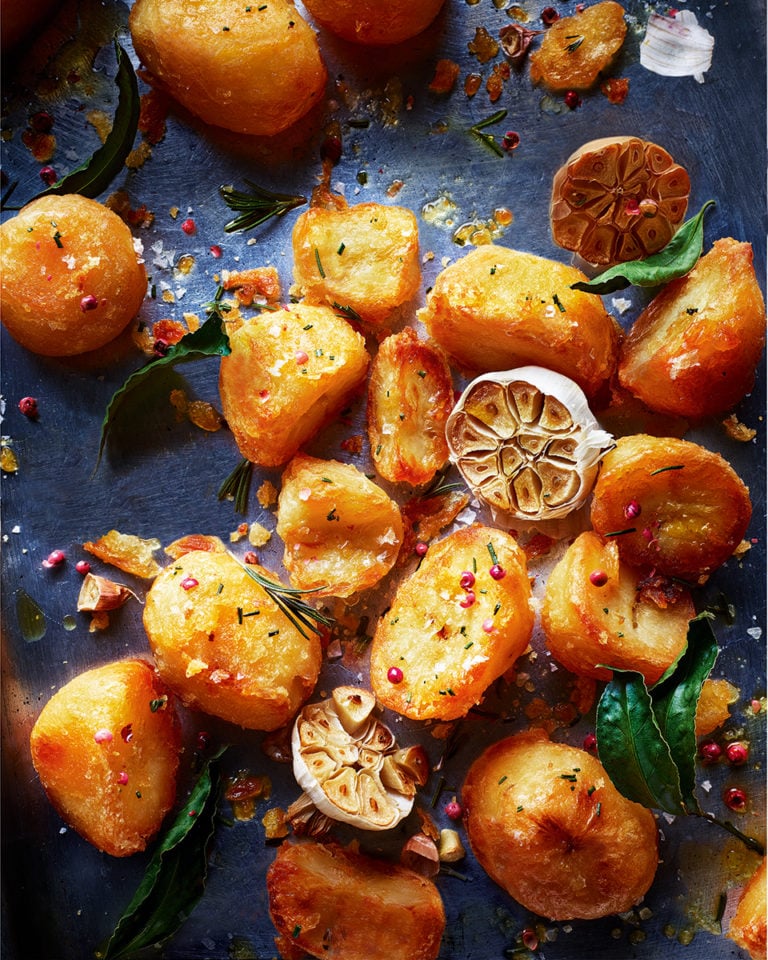 Stick by these ten rules and you'll achieve perfect roasties every single time…
1. Choose the right potato
You want a flavourful, floury variety with a dry texture to give you a fluffy middle and crunchy exterior. If you're wondering which type to go for: you really can't go wrong with maris piper or king edward.
2. Choose the right fat
First of all, don't skimp on fat. For an average roasting tin, you'll need at least 5 tbsp (75ml) fat. We often use vegetable oil to be veggie and vegan friendly, but if you prefer, use goose fat or duck fat. Our other new favourite for cooking potatoes is ghee: as the butter is clarified, it's less likely to burn, and it gives the finished roasties a wonderfully rounded, brown-butter flavour.
3. Size of potato matters
Very small pieces will cook more quickly but have a thinner crispy exterior. Medium chunks have more time to develop a thicker crust and contrasting interior, but don't go very large – the ratio of exterior to interior reduces with size.
4. Parboiling is key
This is essential as it causes gelatinisation on the surface of the potatoes. The cooked starch granules absorb water, swell and separate a little from each other, becoming fluffy. This causes myriad tiny cracks on the outside of the potatoes into which the hot oil can penetrate, creating a greater cooking surface area – so the outside cooks more rapidly and crisps up. Boil potatoes until they're tender on the outside but still firm in the middle.
5. Rough up your spud
Once the potatoes have been par-boiled, drain them well, put them back in the pan, then put the lid on and give the pan a good shake to bash up the edges (the potatoes will only roughen up if they've been cooked for long enough). This is what gives a good roastie its light crisp edges that almost look like frills when they've been sizzling in the hot oil.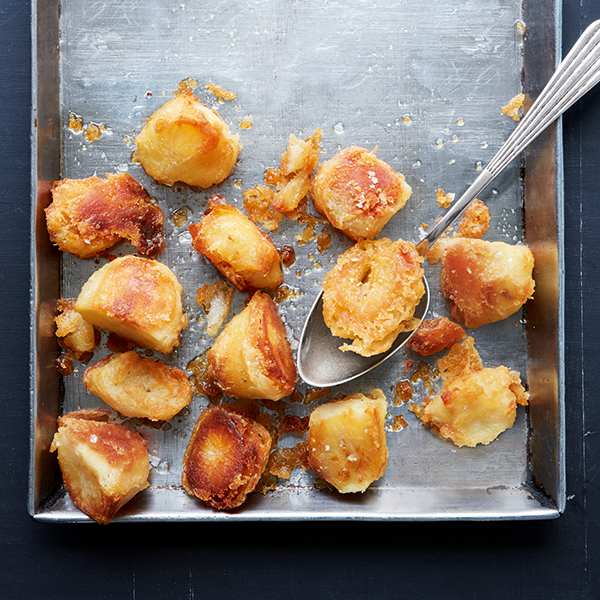 6. Don't forget to steam-dry
Leave the parboiled, roughed-up potatoes in the still-warm pan to dry for a few minutes before adding them to the hot fat. The drier the potato, the crisper the end result – it enables the puffed-up starch granules on the exterior to recrystallise and firm up, ready to be browned to a crisp.
7. Use hot fat
To maximise crunch, the fat has to be hot when the potatoes hit that pan. Heat up the fat in the oven for a few minutes before adding the roughed-up potatoes, and turn them in the hot fat so they're well coated before going in the oven.
8. Don't overcrowd the tray
Tempting though it is to pack more potatoes into the roasting tin when you're cooking for a crowd, DON'T. The potatoes will steam rather than roast – or take a very long time. Use two tins instead if you're short on space.
9. Don't forget seasoning
Salt is essential – so if you're going for just one seasoning, make it that – but we love the pep of pink peppercorns, earthy bay and garlic. Rosemary, sage and thyme work well too (give herbs a bash before adding to the pan to release their essential oils). For more crunch, toss in a few fine breadcrumbs or some grated parmesan 10 minutes before the end of the cooking time (no longer or the crumbs/ parmesan will burn).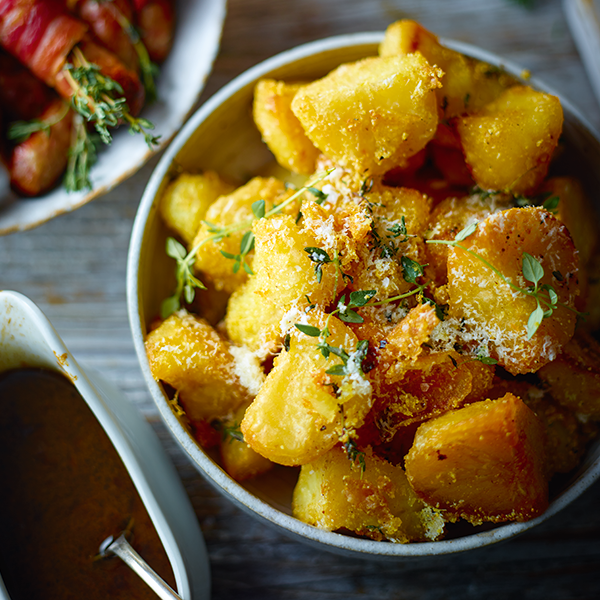 10. Give it time
A golden crisp exterior doesn't happen in moments – you need to give potatoes time to cook properly, especially if you're opening and closing the oven door several times to put in other trays of food. You can't rush a roastie…
And with all that said and done, make sure you check out over 25 of our finest roast potato recipes here!
Subscribe to our magazine
Subscribe to delicious. magazine for HALF PRICE
Subscribe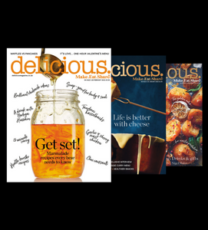 Join our newsletter
Packed with menu ideas, recipes, latest competitions and more...