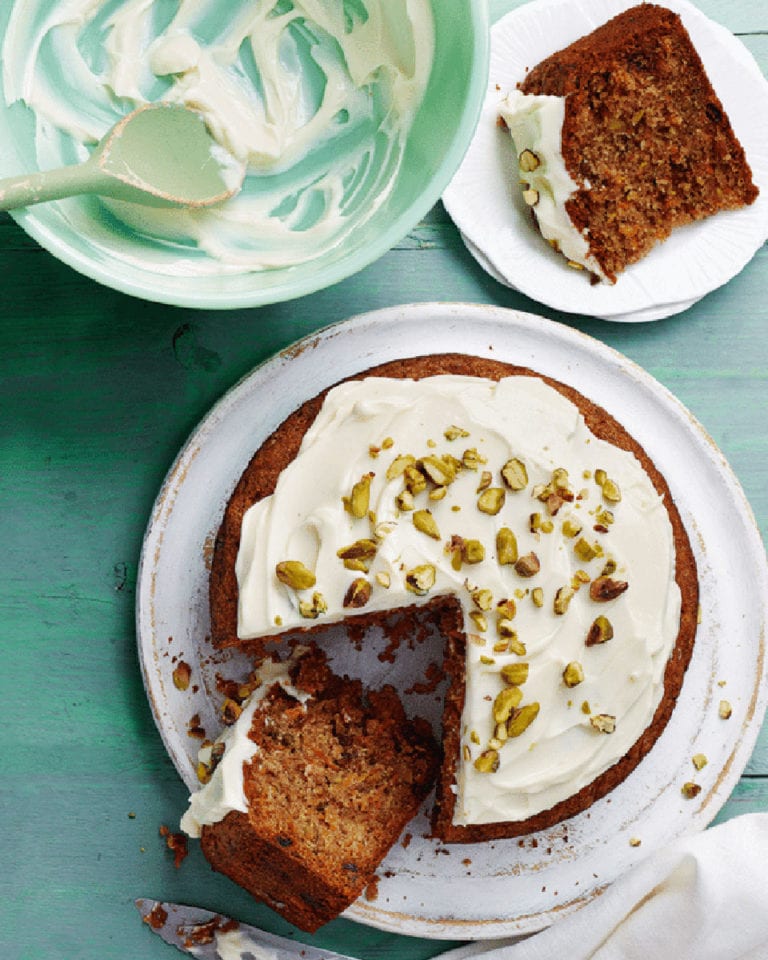 A well-made carrot cake, with its warming spices, moist sponge and silky cream cheese icing, is a fail-safe cake guaranteed to draw the crowds in. The good news is that we've got a recipe to cater to all your carrot cake needs, whether it's a teatime classic, an alternative carrot cake recipe or a show-stopping celebration cake.
So, what is a carrot cake made of?
Put simply, carrot cake is baked sponge that contains carrots blended into the batter, with most carrot cake recipes topped with a white cream cheese frosting.
It usually features nuts, such as walnuts and pecans, and spices, like cinnamon and nutmeg, to achieve warming flavours and a moist texture.
How do you make carrot cake from scratch?
A carrot cake is simple and easy to make. Mix all the ingredients for the cake in a large mixing bowl using a wooden spoon until well combined. Pour the mixture into the cake tin, then bake on the middle shelf of the oven.
Take a look at our easy carrot cake recipe for a simple recipe to start with, or follow this step-by-step guide.
Is carrot cake healthier than regular cake?
Though carrot cakes do contain healthy ingredients, such as carrot and nuts, they still do contain fat, sugar and carbohydrates. It's still cake, at the end of the day! 
What do you use to decorate a carrot cake?
The decorating possibilities for a carrot cake are endless! We like to top our carrot cakes with chopped pistachios, walnuts, orange zest and sugared petals. Alternatively, no decorations can look just as effective!
Why do carrots turn green in cake?
If your carrots are turning green when you make a carrot cake, it probably means your batter contains too much baking soda. If it keeps happening, try lowering the amount of baking soda you mix into the batter.
The good news is they're still perfectly safe to eat, and taste no different than normal cakes. So no need to fret!
Our best carrot cake recipes to make
A popular, simple-to-follow recipe which everyone should keep in their repertoire, try this softly spiced carrot cake steeped in sherry for an afternoon treat made in heaven.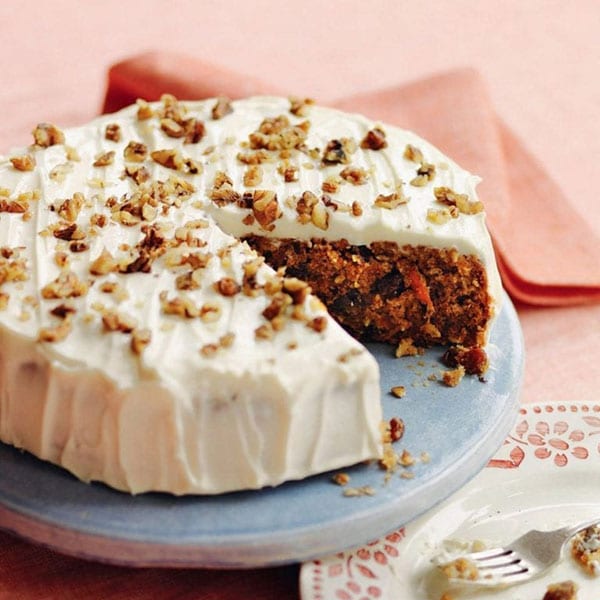 Classic recipes always stand the test of time, and carrot cake is no exception. Carrots, walnuts, cinnamon, a good grating of nutmeg and a dreamy cream cheese icing is all you need to achieve carrot cake perfection.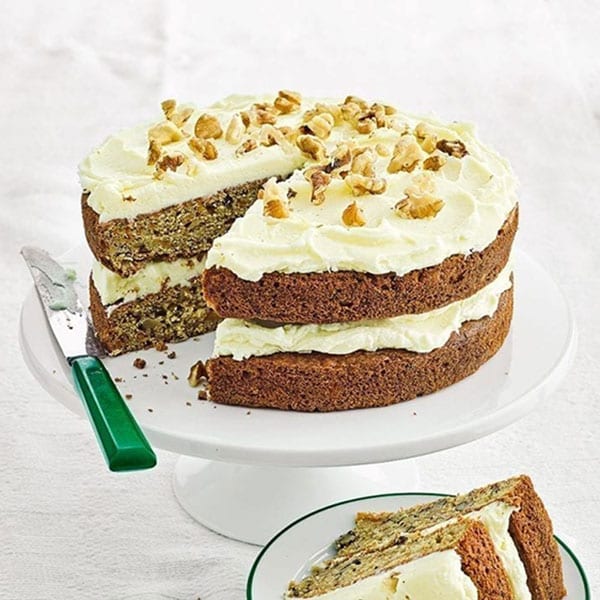 We hate to have favourites, but this is a carrot cake that ticks all the boxes: subtle notes of cinnamon and nutmeg in a moist sponge, sweetened with dark muscovado sugar and slathered in a soft cream cheese icing. Make this and you'll enter carrot cake heaven!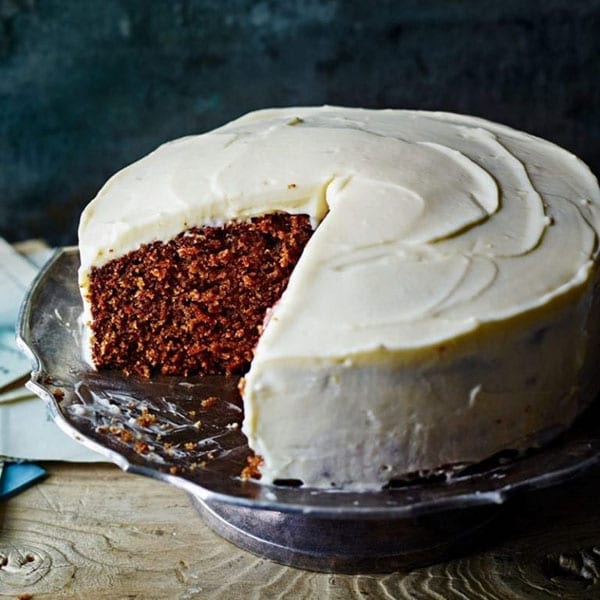 Paul Hollywood's ultimate carrot cake
For a truly show-stopping celebration cake, look no further than Paul Hollywood's ultimate carrot cake; it truly takes the traditional recipe to new heights.
Carrot cake with cream cheese frosting
This classic-looking carrot cake by Marcus Wareing is a testament to simplicity being key. Imagine cutting into the thick cream cheese frosting to reveal the beautiful rich innards – a truly mouth-watering scene!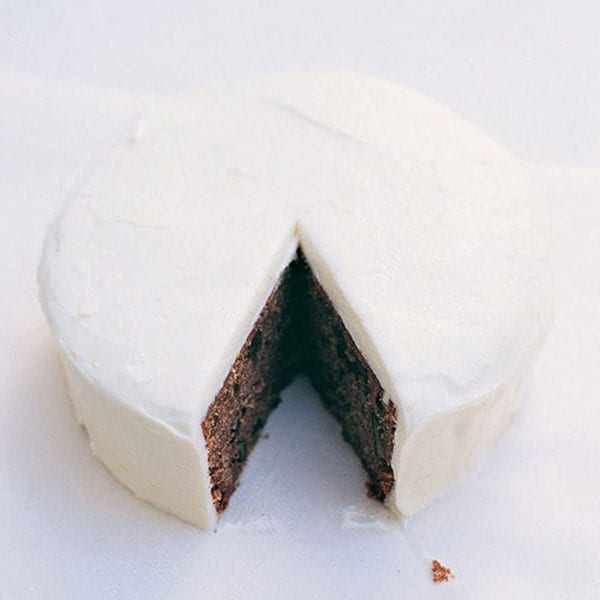 For a slightly different spin on the traditional carrot cake, try this halwa-inspired recipe. It's covered in a brown sugar buttercream sprinkled with pistachios for a burst of vibrant colour. It might just become your new go-to recipe!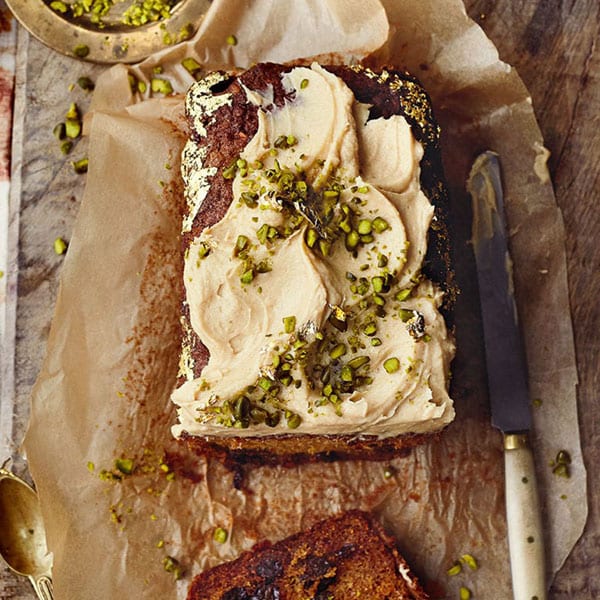 Using only the best ingredients and method to make it a true showstopper, you can't go wrong with this classic carrot cake in your repertoire. Perfect when paired with a just-made cup of tea. It's classed as 'naked' as – apart from frosting on top – its sides are naked!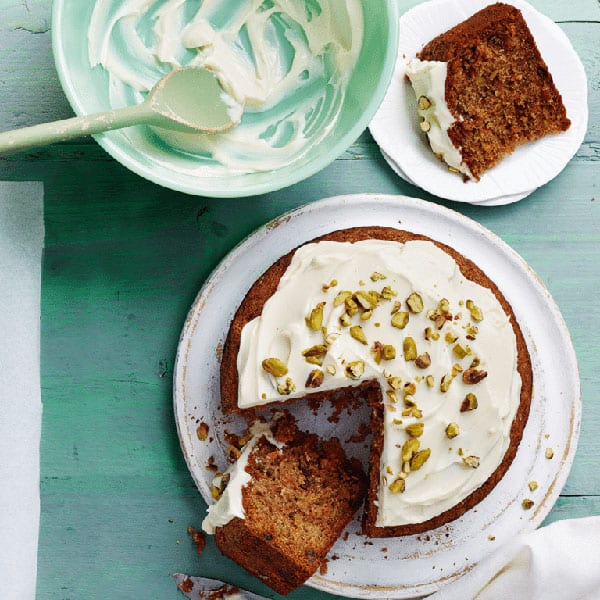 Carrot bundt cake with honey cream cheese icing
Carrot cake gets a bundt update, and we're BIG fans. It'll go down a storm at your next afternoon tea or birthday; we deem it time to try something new!
Need more uses for your bundt tin? We've got lots of different bundt cake recipes for you to try.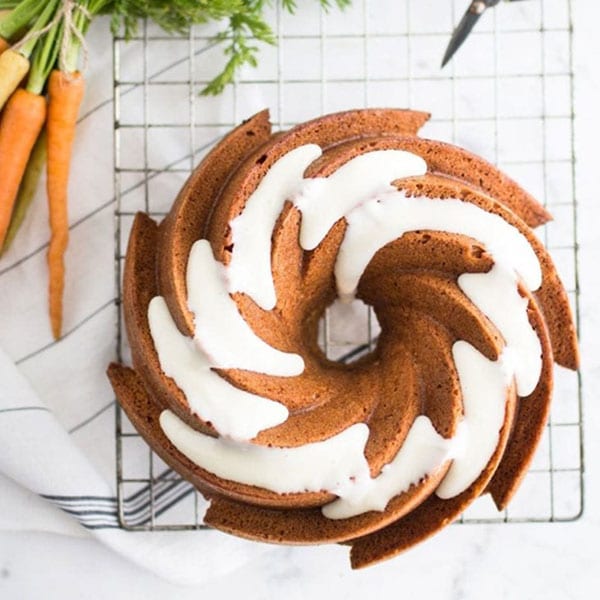 Carrot and cheesecake layer cake
Picture this: four layers of carrot cake sponge, sandwiched between a chocolate and vanilla marbled cheesecake filling and covered in thick layers of cream cheese icing. It's a truly show-stopping celebration cake which is ideal for feeding a crowd.
Want more layer cake ideas? Take a look at our Daim layer cake and try not to drool over this apple caramel creation.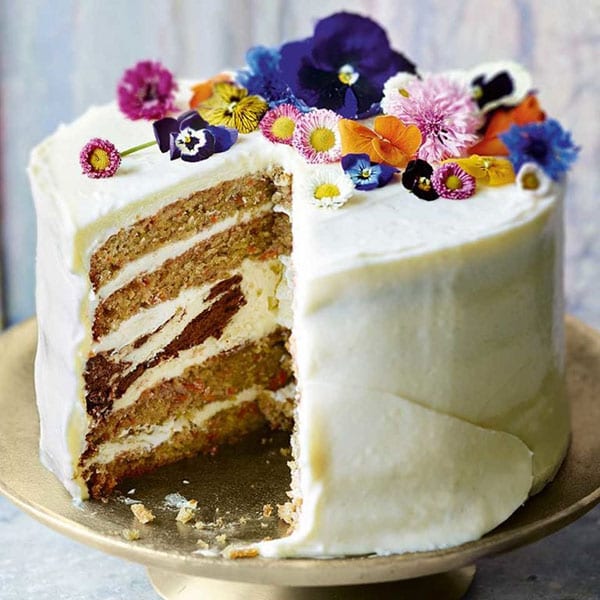 Eric Lanlard's carrot and pumpkin celebration cake
What better way to celebrate than with this masterpiece of a carrot cake? Adding pumpkin to this multi-layered carrot cake lends a rich, moist texture, plus it's as simple to follow as it is impressive. What's stopping you from giving it a go?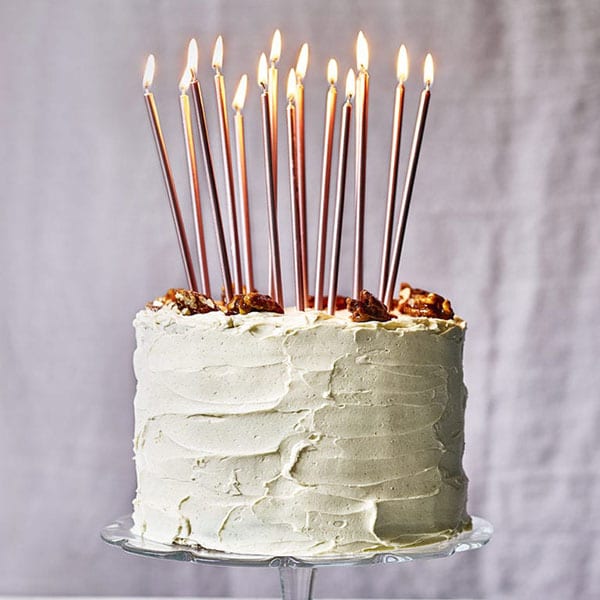 We can't name a better cake pairing than carrot and walnut. What's more, this lusciously moist cake is packed with sultanas, desiccated coconut and covered with a zesty cream cheese icing. It's the recipe you didn't release you needed until now!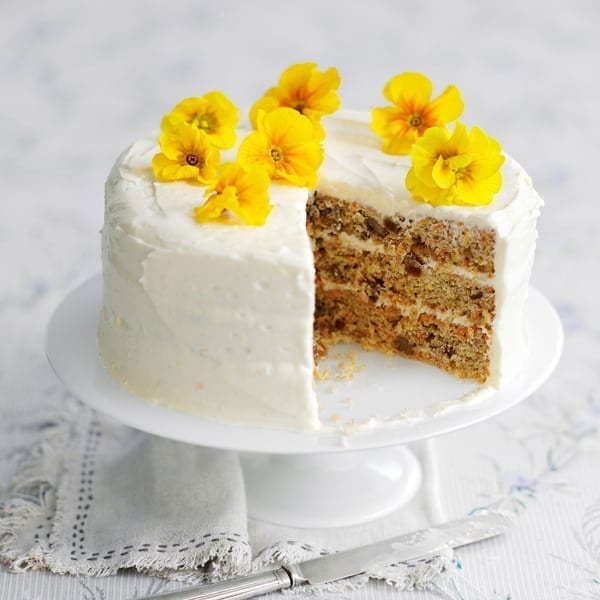 Carrot and parsnip cake with rose frosting
Looking for a cake which is extra special? Take a look at this beauty: it flaunts an unusual marriage of flavours which work brilliantly together. It's pure indulgence (you can thank us later).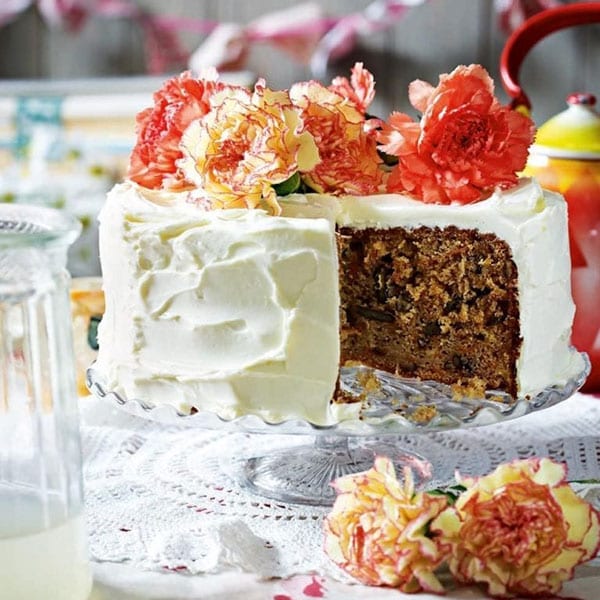 It's time to flaunt your baking skills with this best-ever carrot cake recipe. It's the gold standard of carrots cakes, with the sugared petals adding an air of elegance to the finished piece.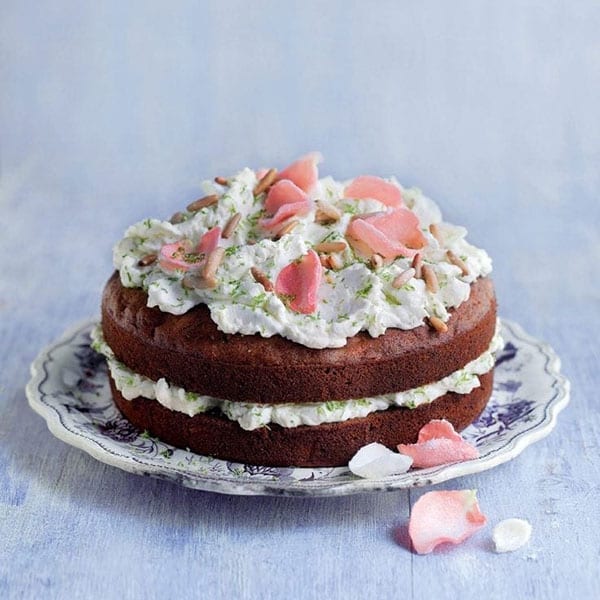 Are you celebrating a birthday or wedding? Whatever the occasion, make it one to remember with one our celebration cake recipes.
For more afternoon tea inspiration, discover our bumper pack of afternoon tea recipes in our collection.
Take a look at our quick and easy buttercream icing recipe, perfect for cupcakes, fairy cakes or birthday cakes.
Baking doesn't have to be complicated. Bake one of our easy cake recipes and you can wow friends and family without the fuss!
Subscribe to our magazine
Food lovers, treat yourself this Christmas... Enjoy 12 months of magazines for £29.99 – just £2.50 an issue.
Subscribe
Unleash your inner chef
Looking for inspiration? Receive the latest recipes with our newsletter