16 of the best cheesecake recipes you simply have to try
A standout centrepiece at any occasion, a rich and creamy cheesecake has got to be one of the most popular desserts around. Whether you're a fan of a dense baked cheesecake or prefer the low-fuss method of a no-bake version, we're bound to have a cheesecake recipe up our sleeves for you.
Browse our very best recipes, from a classic New York cheesecake to a gin and tonic creation, plus a rather special savoury idea too.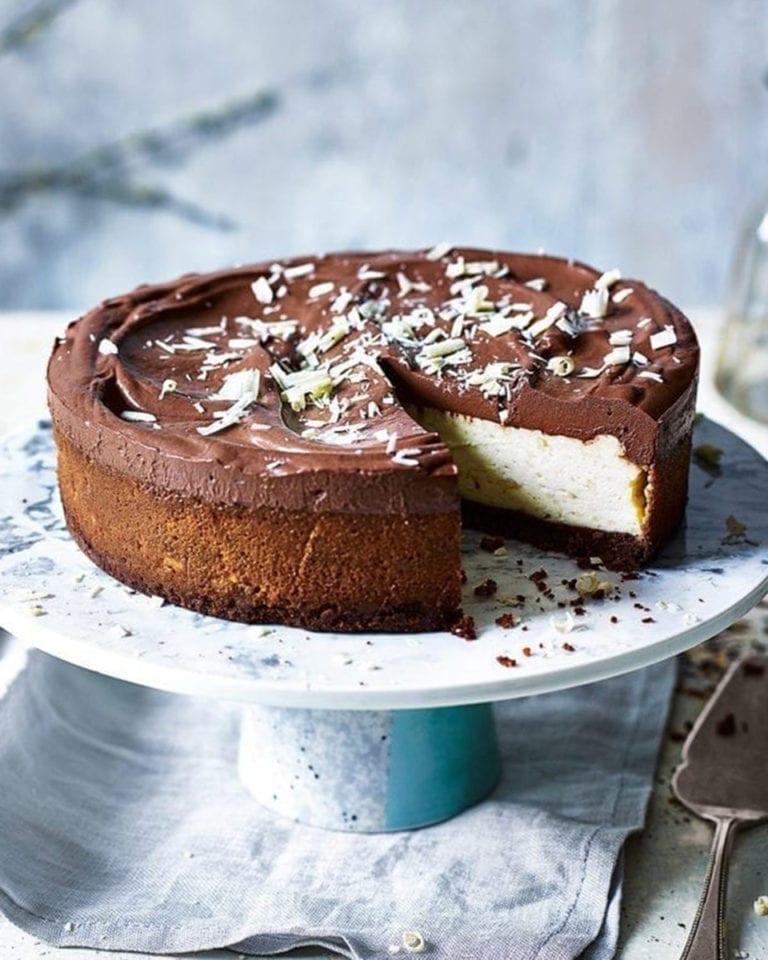 To bake or not to bake? That's the question…
If you've ever found yourself scratching your head wondering what the difference is between a baked cheesecake and a no-bake cheesecake, you've come to the right place.
Aside from the obvious – i.e. one is baked and one isn't – the cheesecakes themselves are totally different in texture. A baked cheesecake contains eggs and sometimes flour to help it set as it cooks, which creates a much firmer and denser cake. Conversely, a no-bake cheesecake doesn't require eggs and is often whipped to create a much lighter, creamier filling, before chilling in the fridge until properly set. Some unbaked cheesecakes contain gelatin to help with this process, so do watch out if you're feeding vegetarians.
Both can be made in advance though, which makes them a great choice if you're cooking for lots of people.
Tips for baking cheesecake
Don't over mix. Filling that's been mixed on too high a speed, or for too long, risks letting too much air in a baked cheesecake. The danger of this is that it can lead to cracks by creating air pockets or causing the cheesecake to rise too fast.
Don't open the oven. Another thing which could cause a less than perfect appearance or an uneven bake is letting the hot air escape, by taking a peek in the oven too soon. Resist the urge.
Be careful not to overbake. You want to turn the oven off and allow the cheesecake to cool slowly when the edges are just beginning to set but the centre is still retaining a slight wobble.
Tips for no-bake cheesecake
Be timely! Make the cake well in advance (the night before is good) as chilling takes a lot longer than baking.
Hold back from decorating the cheesecake until it's fully chilled, and put on the finishing touches when you are ready to serve to avoid any decorations drying out in the fridge.
Use room-temperature cream cheese (take it out the fridge about an hour in advance of prepping the cake) to avoid a lumpy mixture.
Our best-ever cheesecake recipes
The magic of this burnt cheesecake recipe is that it's made with just FIVE ingredients!⁠ And don't worry – when we say 'burnt' we mean perfectly toasty and caramelised…⁠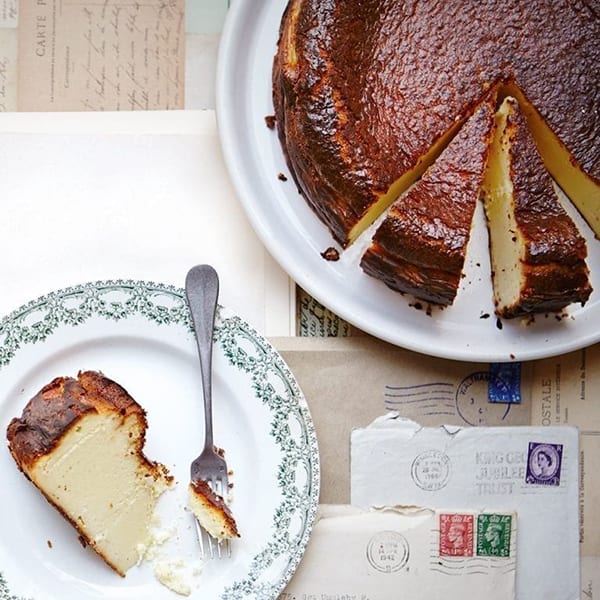 A cheesecake recipe inspired by the nation's best-loved tipple – a G&T. We recommend serving a slice of this stunning dessert with an ice cold glass of the classic cocktail too – oh you just know it makes sense.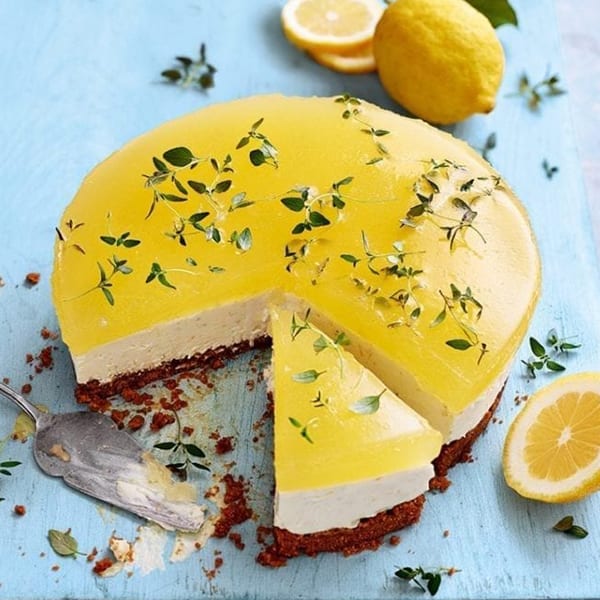 If the cream-loaded, sugary sweetness of a vanilla cheesecake is a little too much for you, try adding a dash of tangy lemon curd as we've done here. It's got a citrusy kick that makes it a refreshing end to any meal, while still retaining that much-loved indulgence factor.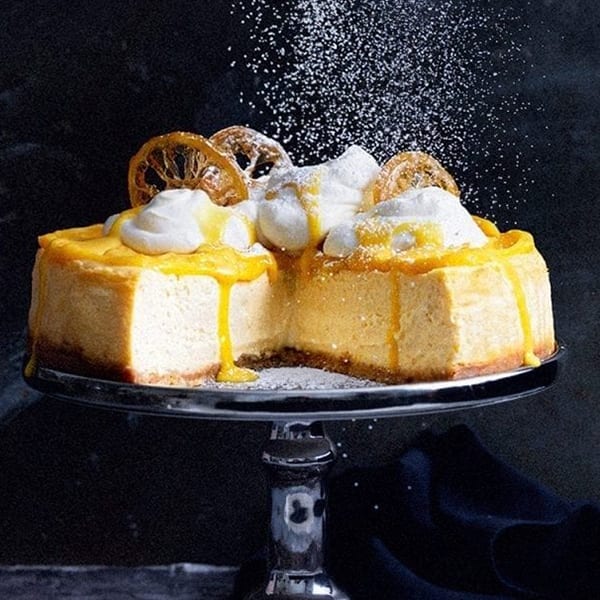 New York cheesecake with chocolate soured cream topping
A New York cheesecake is good – sure – but this triple-layered version with a chocolate soured cream topping is better.
When we say this cheesecake is properly boozy, we mean it. A buttery, hazelnut biscuit base is topped with a rich cream cheese filling and a punchy negroni jelly in this knock-your-socks off dessert.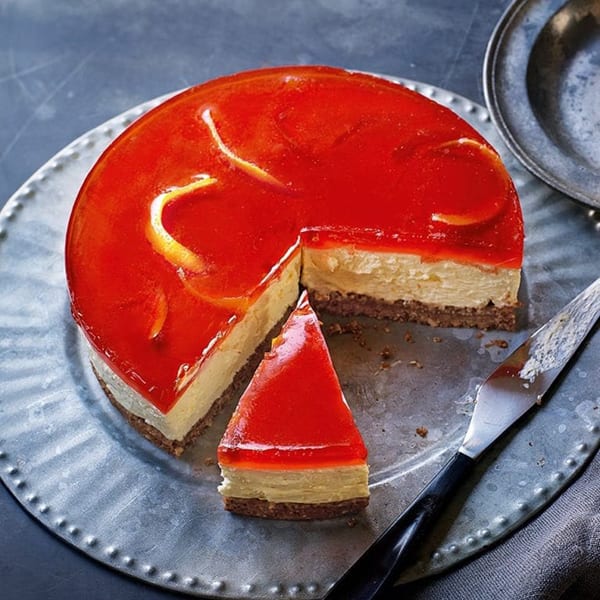 Savoury cheeseboard cheesecake
For those who can never decide between dessert or a cheese for afters, this savoury creation has been put on this earth for you.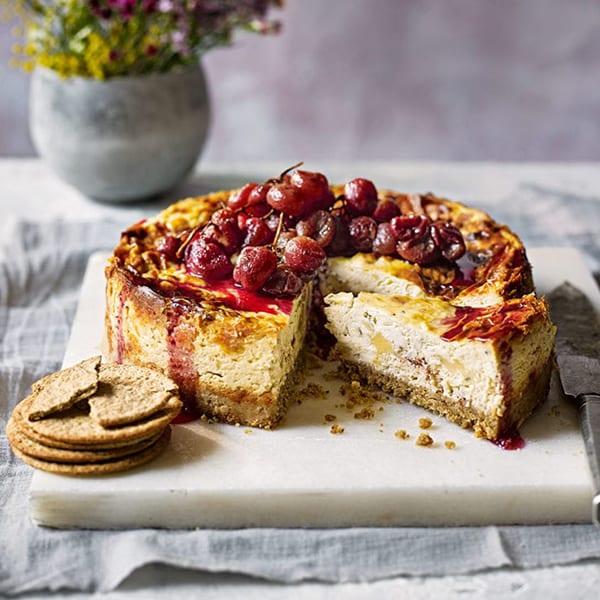 White chocolate and limoncello cheesecake
Biscoff + cream cheese + limoncello + lemon curd = the holy grail of grown-up cheesecakes. Want to make it kid-friendly? Simply leave out the limoncello.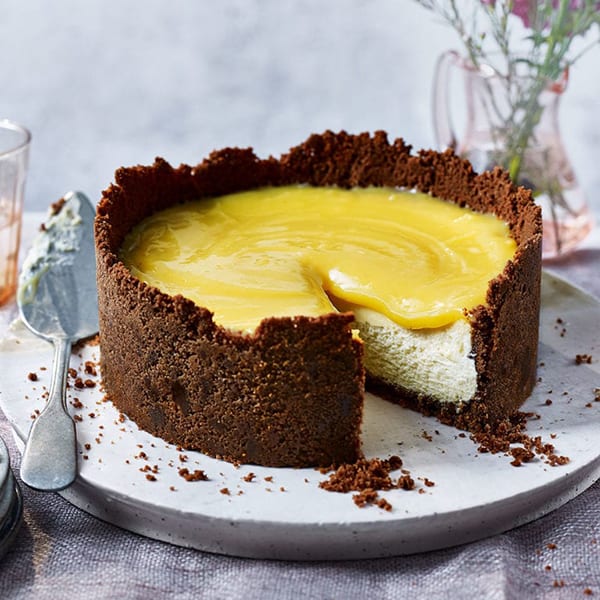 A really simple lemon cheesecake that's baked until smooth and just-cooked in the middle.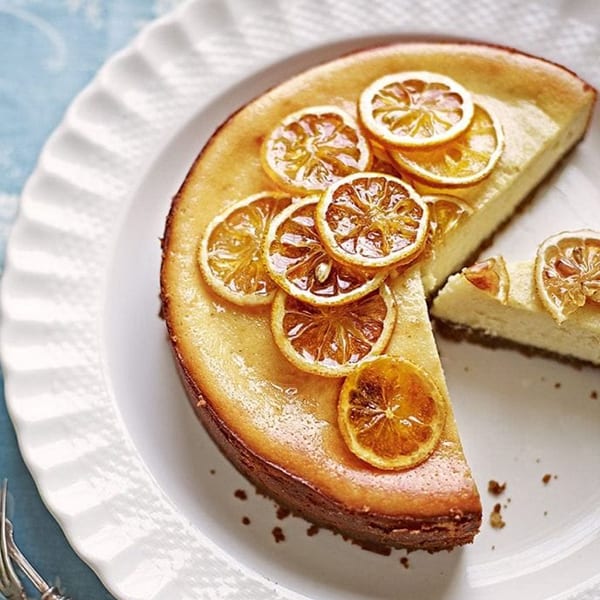 Salted caramel cheesecake with a dark chocolate base 
Chocolate and salted caramel is always going to be a winner. Throw a layer of cheesecake in the mix and you've got yourself a dessert to be reckoned with.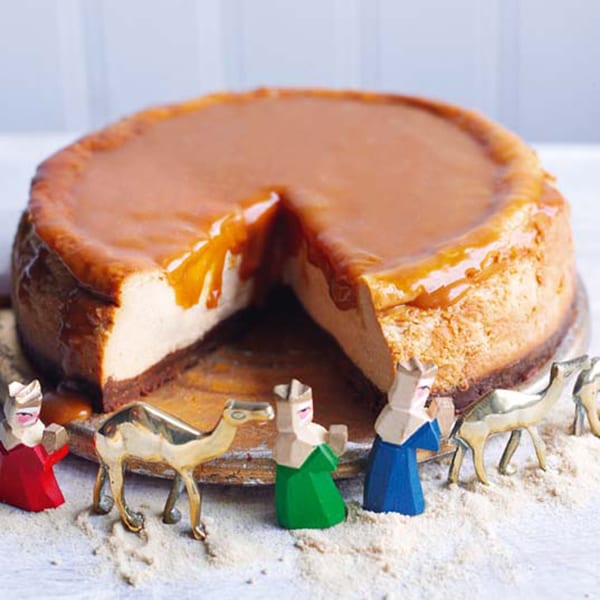 Here it is…a classic New York cheesecake. It's rich, dense, heady with vanilla and has a slightly salted biscuit base. You can't knock it.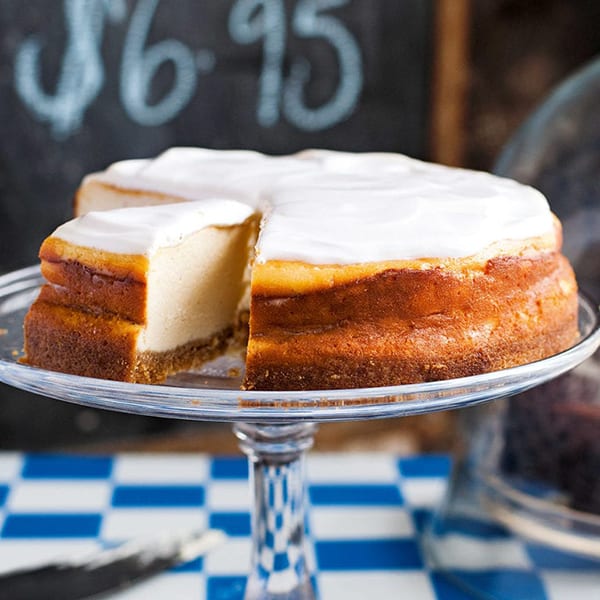 A deep-filled cheesecake with a biscuity pecan base, a rich cream cheese filling and a decadent topping of whipped cream, bananas and salted caramel sauce. It's a go-big-or-go-home dessert and one that doesn't disappoint.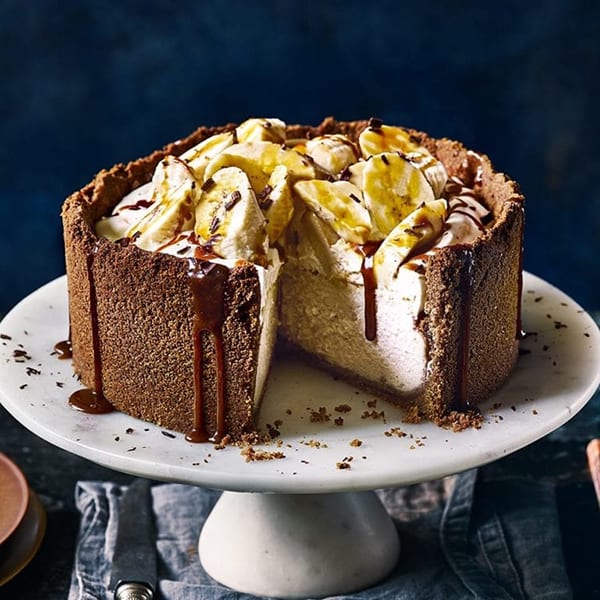 Rhubarb and lemon baked cheesecake
A pink rhubarb curd is swirled through this lemony cheesecake for pretty effect. Oh, and it tastes pretty good too…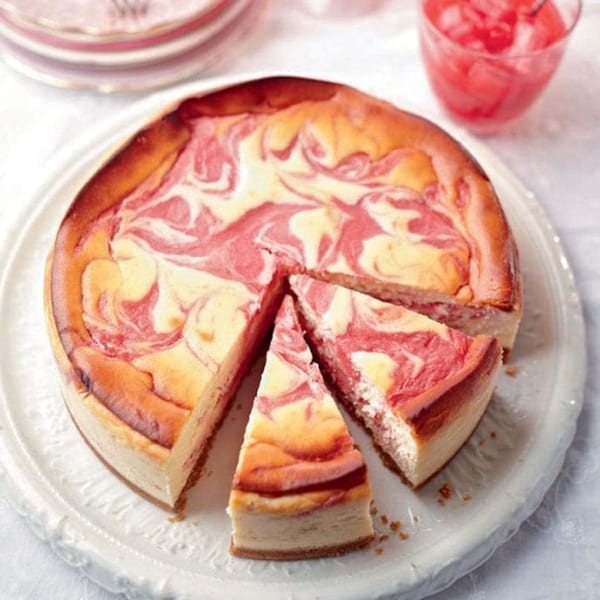 Caramelised orange cheesecake with spun sugar crown
This has got to be the most majestic cheesecake you've ever seen. It's got a spun sugar crown for goodness' sake!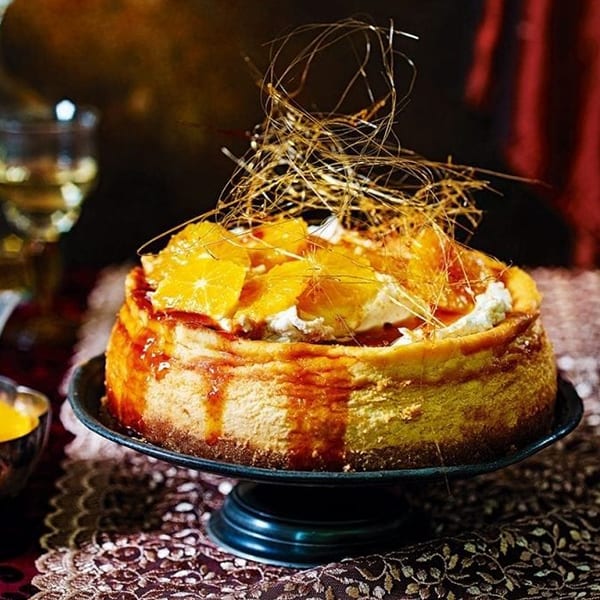 Everyone will want an invite to the party with this Baileys and chocolate cheesecake on the menu.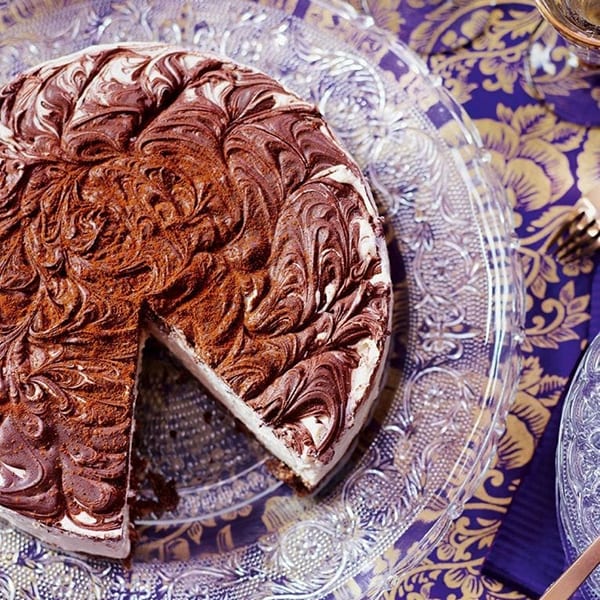 A rich cheesecake filling and a tangy blueberry compote are swirled through gooey white chocolate blondies…No ifs or buts – make them now!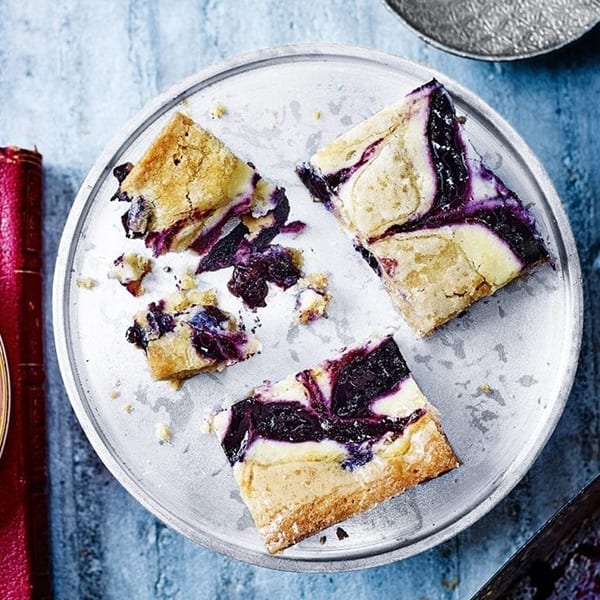 Lemon, lime and passion fruit cheesecake tart
Part cheesecake and part tart, this zesty lemon, lime and passion fruit extravaganza will lift spirits – and tastebuds.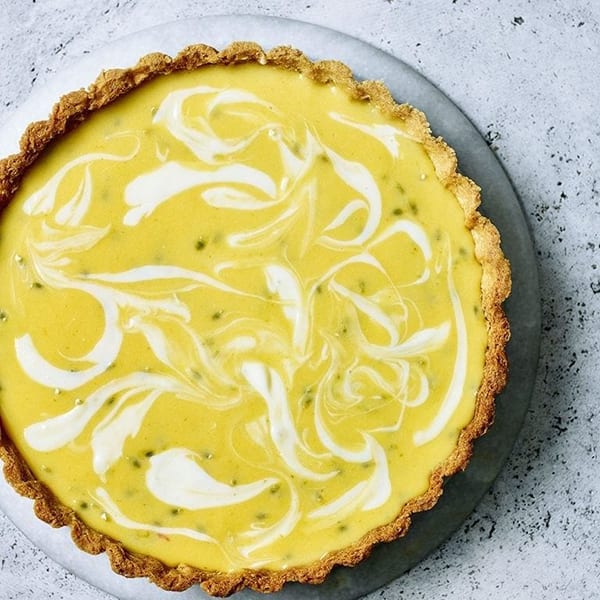 Check out all our cheesecake recipes for even more incredible creations. 
Subscribe to our magazine
Food lovers, treat yourself this Christmas... Enjoy 12 months of magazines for £29.99 – just £2.50 an issue.
Subscribe
Unleash your inner chef
Looking for inspiration? Receive the latest recipes with our newsletter