Cookbook road test: Davina's Sugar-free in a Hurry
Following the success of her first book, Davina's 5 Weeks to Sugar-Free, the bubbly TV personality and now low-sugar campaigner Ms McCall is back with more recipes to get us eating better.
This time, the focus is on cooking without the faff – and I'm all for that.
The recipes
True to Davina's on-cover promise, they're 'smart and fast' – each dish can be on the table in an hour or thereabouts (some in as little as 20 minutes). The book is divided into six sections: light meals and soups; speedy salads; easy suppers; weekend specials; guilt-free snacks; and sweet things.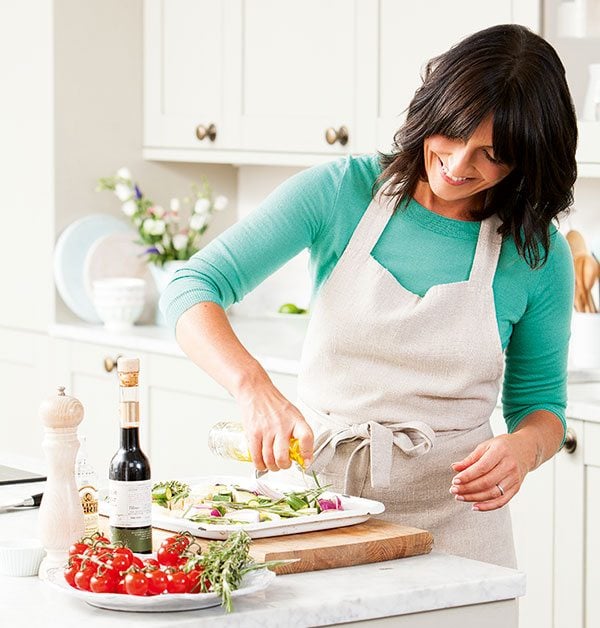 Tempted by the sugar-free promise, my first stop was the sweet section. With health professionals constantly lamenting the nation's excessive sugar consumption, I was intrigued to see how Davina is managing to put cake on the table without it.
Ah – she isn't. Written in the small print (okay, not so small – but hidden on the back cover) is the caveat that these recipes aren't exactly sugar free, they're REFINED sugar free. Hence why maple syrup and honey sit boldly in the ingredients lists. So the title 'Sugar-free in a Hurry' is more than a little misleading. Honeys and syrups are, after all, still sugars – and the kind we're being told to cut down on, refined or not. That said, they are used in relatively modest amounts, the sweet taste being boosted instead by naturally-sweet fruit and veg such as prunes and sweet potatoes.
Feeling cheated, I turned instead to the savoury recipes – and was instantly appeased. No added sugars here! My mouth watered at simple but vibrant images of supergreen soup, generous and (better still) INTERESTING salads, creamy risotto and pies, and hearty stews. What to cook…?
The recipe test
I finally settled on the chicken cacciatore recipe from the Weekend Specials chapter – it was Friday night and we had guests for dinner, so it seemed fitting. The ingredients list was pleasingly short and easily attainable, and the method comprehensive.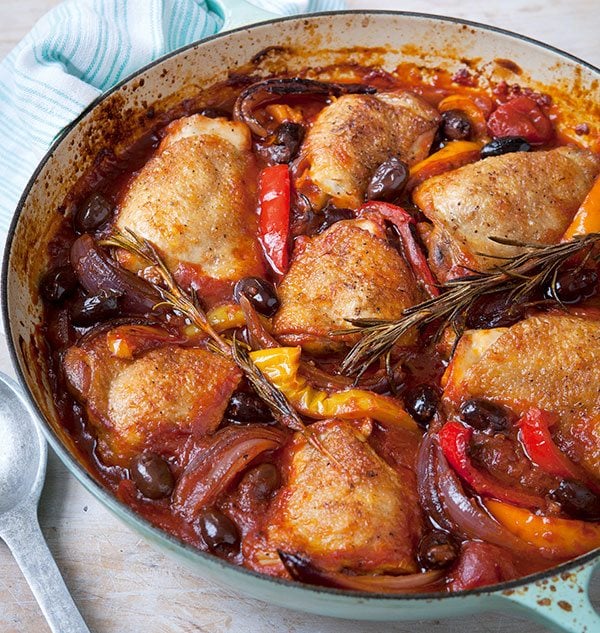 After the initial chopping and browning of the veg and chicken, you simply bung everything into one dish and leave it to do its thing in the oven, save for a few final flourishes. Meaning I could catch 30 minutes relaxation before it was time to serve up. Perfect.
As for the taste? So. Good. Our guests tucked in hungrily and my husband requested I make the dish again after only a few mouthfuls – I even broke the cook's code and let out a few 'mmmms' of content myself. The rich tomatoey, chilli-and-rosemary-spiked sauce, salty olives and oh-so-tender chicken and veg took my tastebuds to a sunny Italian terrace. Simple, crowd-pleasing grub done well. Good job, Davina.
You can find Davina's recipe here.
The verdict
This book is a helpful handbook for time-pressed cooks wanting to eat a healthy diet without the need to fill a storecupboard with hard-to-find, expensive 'superfoods'. But if you're buying it thinking the cakes and bakes are good for you, too – proceed with caution. Added sugar is added sugar (whether that's the refined white stuff or unrefined syrups) and needs to be consumed in moderation. By all means, make the recipes – they certainly look good – but take them for what they are: sweet treats.
Davina's Sugar-free in a Hurry by Davina McCall (Orion, £16.99) is out now.
Subscribe to our magazine
Subscribe to delicious. magazine for HALF PRICE
Subscribe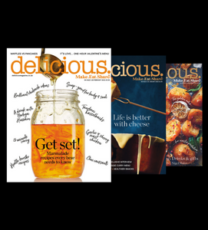 Join our newsletter
Packed with menu ideas, recipes, latest competitions and more...