2017 delicious. Produce Awards winner: Conti's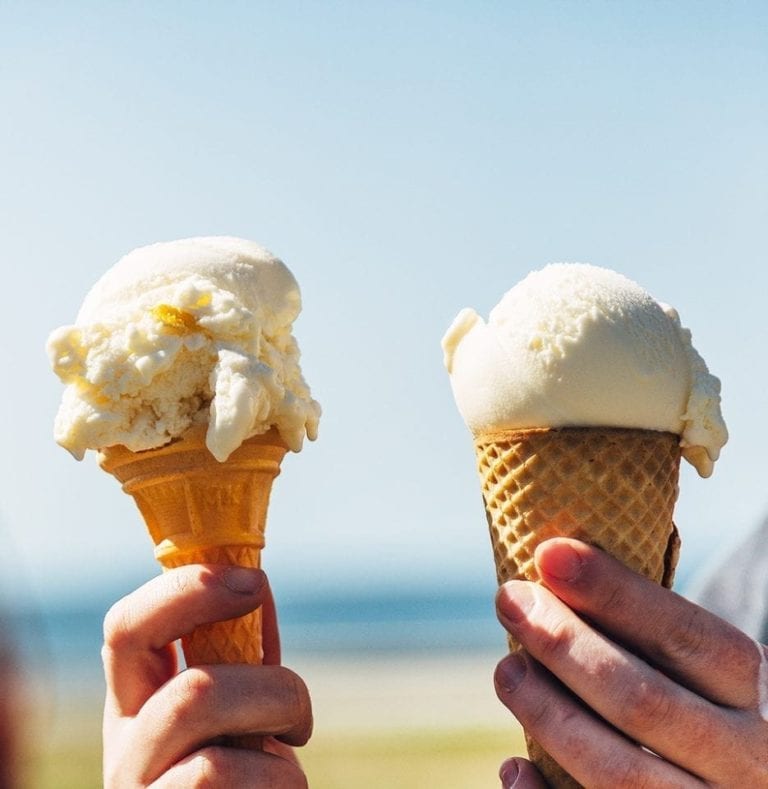 An Italian heritage, a secret recipe and some serious ambition – it's a winning combo. Phoebe Stone heads to Wales to visit Conti's, the family firm making exceptional ice cream.
The Conti family story is the stuff of legend. In the 1930s, Artillio Conti made the journey from northern Italy to Wales – on foot. He was just 13 and the Italian economy was on its knees. The trees sprouted tall and straight in the hills above Parma where he grew up – just the thing to shore up the thriving Welsh coal mines. Walking alongside the horse and cart full of logs, Artillio "followed the wood", as his granddaughter Jo tells me, to the Valleys. Instead of making the return journey home, Artillio stayed, opening the first Conti café with his two brothers.
The trio went on to own 17 cafés in Wales and in 1946 began producing their own ice cream. Today, Lampeter is home to the last of the original, old-style Conti cafés. It's owned by Jo, whose son Tom Lewis is chief ice cream maker. His girlfriend Heulwen is the café manager.
Lampeter is a small university town with an independent spirit. When I arrived I strolled past locally owned cafés, a traditional butcher and a department store complete with regal royal-blue awning. Conti's café sits on a roundabout in the middle of the high street. Within minutes I was seated at a comfortable wooden table with a cup of tea and plate of cheese on toast, chatting to Jo and Heulwen (pictured below).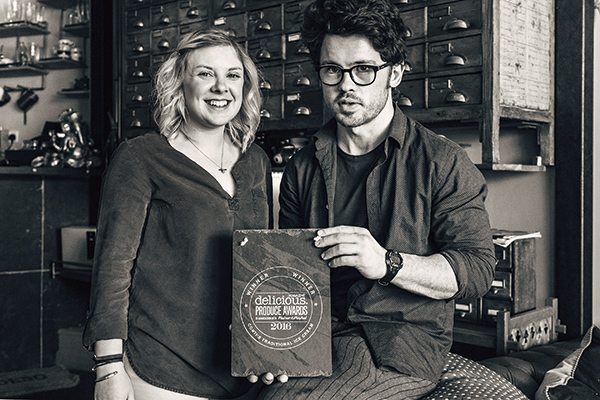 "It's quite a tale," agrees Jo, recounting in a soft Welsh accent her grandfather's passage. "Can you imagine it happening these days? But the Welsh landscape was similar so it felt homely to them." The ice cream went down a storm with the miners too. "They used to get really dusty throats, so when they'd come up from the mines the ice cream was soothing," she says.
Jo was born upstairs in the Lampeter café, which her father Leno ran until he was in his 90s. She helped out from a young age, clearing tables and selling cigarettes. It's a place where memories have been made for countless locals, and students who, years later, return from around the world to reminisce and eat the ice cream once more. The interior was famous for having barely been altered since it opened – until last September, that is.
Phoenix from the flames
Mere days after the team learned they'd won the 'From the Dairy, Artisan' category in the 2016 delicious. Produce Awards, the café suffered a freak fire. "I was cooking that morning in the shop and cracked two eggs, both of which were double yolkers," recalls Heulwen. "I thought, 'It's my lucky day!' But half an hour later we were evacuating." The fire started on the third floor, used for storage, and took three fire engines of water to extinguish, leaving the café interior badly damaged. "It was like it was raining indoors," sighs Jo (pictured below).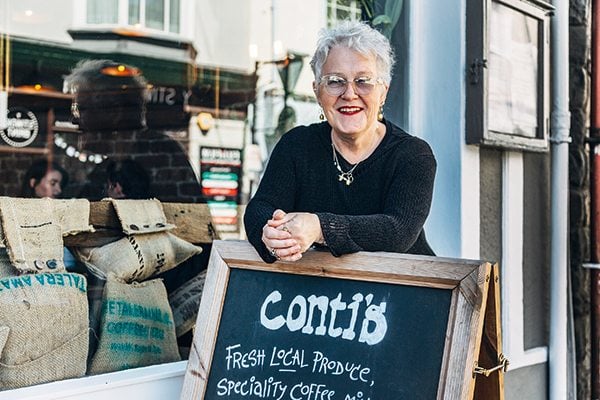 Immediately, the community rallied around. Ushering customers out onto the street, Heulwen apologetically promised a free meal when the café reopened, to be met with replies of, "No, put it towards the fund." The builders and plumbers were family friends, and miraculously the café reopened just six months later – with a new look designed by Jo. But with 27 other cafes in the town and a reputation to maintain, change was hard. "Reopening was terrifying," she concedes. "But everybody seems to love it."
The secret recipe
Jo works as a costumier for the BBC on programmes such as Casualty. So why did she decide to take on the family café? "I wanted something for Tom to have as a career," she says. "Round this area, there's nothing for youngsters to do. There are lots of little jobs that pay badly, and it's hard to get yourself up from that."
It's a challenge Tom has more than risen to. I meet him at Conti's nearby ice cream production unit, surrounded by machinery and ice cream tubs. In the five years since he took the reins, Tom has expanded Conti's offering to more than 20 flavours, including blackberry, elderflower and → salted caramel, all from the Conti family's base recipe, which contains nothing more than butter, cream, milk and unrefined sugar – the traditional flavour that won unanimous praise in the Awards.
UK industry regulations requiring products sold as ice cream to contain 5 per cent dairy fat were scrapped in 2014, in line with European legislation, but Conti's won't have any "chemicals and crap". Jo fondly recalls watching tractors arrive with churns of milk for her father's little ice cream shed; today it's delivered twice a week, direct to the unit from the local Calon Wen organic farmers' co-op.
The flavourings are local too. Elderflower is from a small cordial brand stocked at Watson & Pratt's, a grocery bursting with produce just opposite the unit. Honey has to be Welsh (it's currently out of production due to lack of supply). "We're expensive and can't compare price-wise to bog-standard ice cream because of our ingredients, but we feel we've got a bit of a niche," Jo says. While production has moved on from hand-churning, the ice cream is so thick the tubs have to be filled by hand, which are then labelled in English and Welsh (translated by Tom's aunt).
The family recipe is a closely guarded secret – even manager Heulwen isn't privy to it. "We had a little argument the other day," she laughs. "I was in the unit and Tom said, 'I'm going to make ice cream now, you have to leave!' I thought, 'I've been here three years!'"
Expanding the brand
Heulwen, 'sunshine' in Welsh, is a fitting name for someone with such enthusiasm – she talks fast, with a mellifluous accent. Day-to-day, she keeps on top of paperwork, delivers ice cream and manages the three other new-style Conti's outlets in the region. "One of the goals for us is to train local people and send them off. Just because you're from a small area, it doesn't mean you can't go on to big things," Heulwen says. Jo and husband Ian support the young team. "It's good to let them do their own thing," says Jo. "They do a good job if you leave them alone."
I see this for myself after Jo has whizzed back to Cardiff for filming. Heulwen and Tom take me to Llanerchaeron, a National Trust estate where they took over the café in 2015. It perches on a knoll surrounded by forest, and on this sunny afternoon customers are spilling out onto the grass. Inside, a fridge is packed with tubs of ice cream, and Heulwen's dad David is serving behind the counter.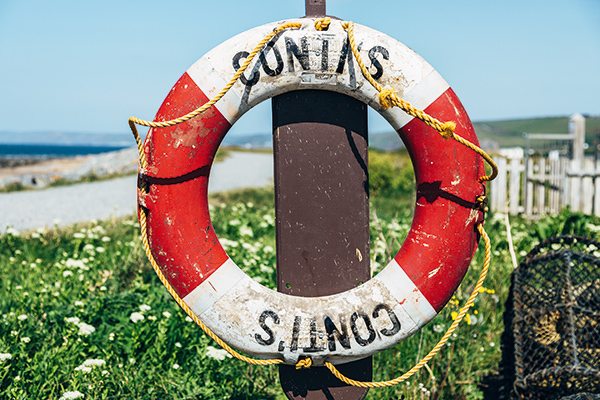 We end the day at Conti's new hut on the beach at Aberaeron, which opened this spring. The door is barely unlocked before a coachload of day-trippers pull up and make a beeline for the kiosk. Heulwen works her charm while she and Tom scoop away. Does she see this as her future, I ask? "I do," she says with determination. "Conti's has such a name, it would be a shame for it to disappear." With this team at the helm, I don't see that happening anytime soon.
You can buy ice creams in the café at 5 Harford Square in Lampeter and from the other outlets mentioned. Find stockists for tubs of Conti's across Wales at contisicecream.com.
Want to try making something delicious to go with Conti's ice cream? How about our recipe for salted chocolate honeycomb?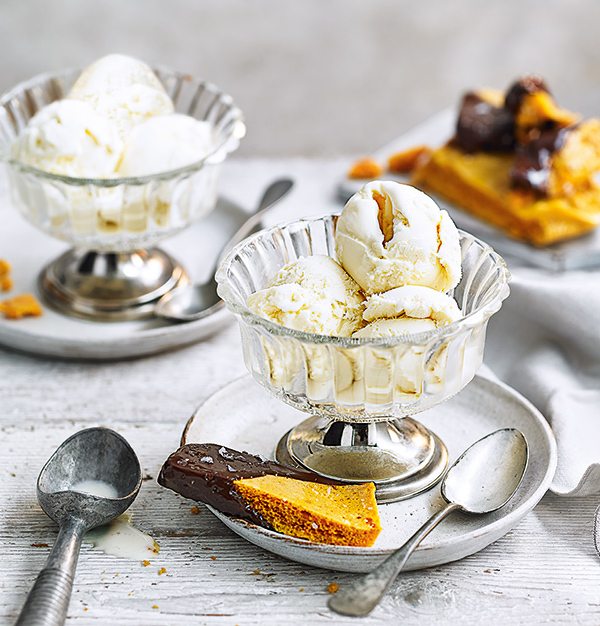 Find out more about the delicious. Produce Awards here.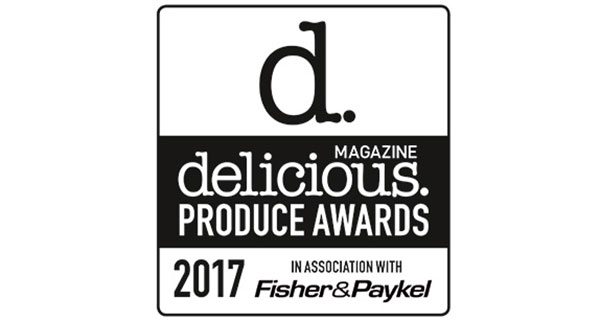 Subscribe to our magazine
Subscribe to delicious. magazine for HALF PRICE
Subscribe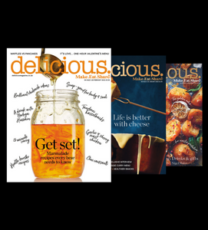 Join our newsletter
Packed with menu ideas, recipes, latest competitions and more...