How to make a casserole
A good casserole recipe is invaluable, especially when you can easily transform it into a French dinner party classic, a spicy chilli and a fragrant Indian curry.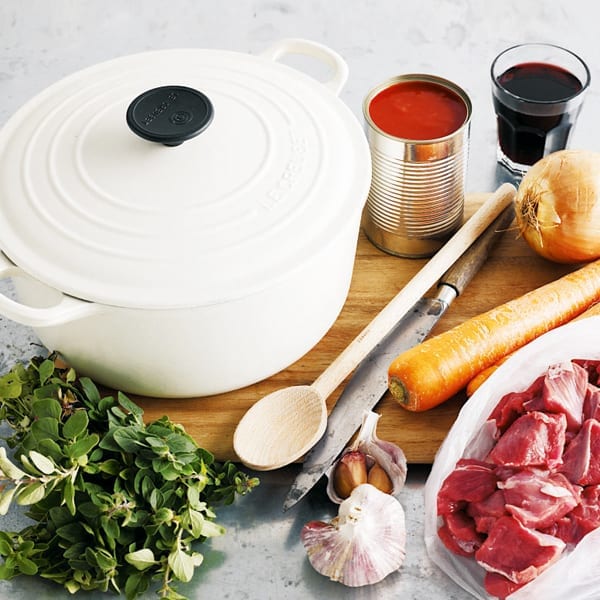 About Casseroles
Slow-cooking meat in earthenware dishes is a centuries-old technique. The word casserole comes from the French for 'stew pan' and can describe both the finished dish and the vessel its cooked in.You want a heavy-based casserole for slow-cooking as it will evenly distribute the heat and prevent the meat and vegetables from sticking and burning on the bottom. Browning the meat is essential to add colour and flavour. Do this in batches as overcrowding the pan can make the meat sweat.
Which meat is best?
The right cuts of meat will make all the difference to your finished dish. Cheaper cuts are often best because they are marbled with fat, and when cooked over long periods the fat melts and bastes the meat, keeping it tender. With beef, go for braising steak, which is part of the rump or flank, or stewing steak, which is from the neck. Also good for casseroles are chuck steak, skirt steak, silverside and topside.
Can I freeze it?
Yes, casseroles will freeze for up to 3 months. If you are freezing, though, omit the fresh herbs. Allow the casserole to cool to room temperature. Put in a freezerproof container and pop in the fridge until chilled. Transfer to the freezer and freeze. Defrost in the fridge overnight before reheating until piping hot throughout, then add the fresh herbs to serve.
| | |
| --- | --- |
| | You can vary the flavourings in this casserole by replacing the red wine with a rich, tasty ale such as Guinness or stout. Look out for chocolate stout, which creates the most delicious sauce when combined with beef. Alternatively, you could try lamb leg steaks, cut into cubes, instead of the beef, and vary the vegetables – pumpkin is great if you're using lamb. |
| | This much-loved French dish can be made by first making a batch of our Classic beef casserole (see recipe first) then adapting it according to these instructions. |
| | This creative Mexican-style dish can be made by first making a batch of our Classic beef casserole (see recipe first) then adapting it according to these instructions. |
| | This Indian favourite can be made by first making a batch of our Classic beef casserole (see recipe first) then adapting it according to these instructions. |