How to throw a ramen party
It's the Japanese sensation that's sweeping the nation… Restaurants around the UK serving big, steaming bowlfuls of flavourful stock, stretchy wheat noodles and a variety of toppings. None near you? Here's the good news: ramen is easy to make – and it's a great dish to serve for friends to share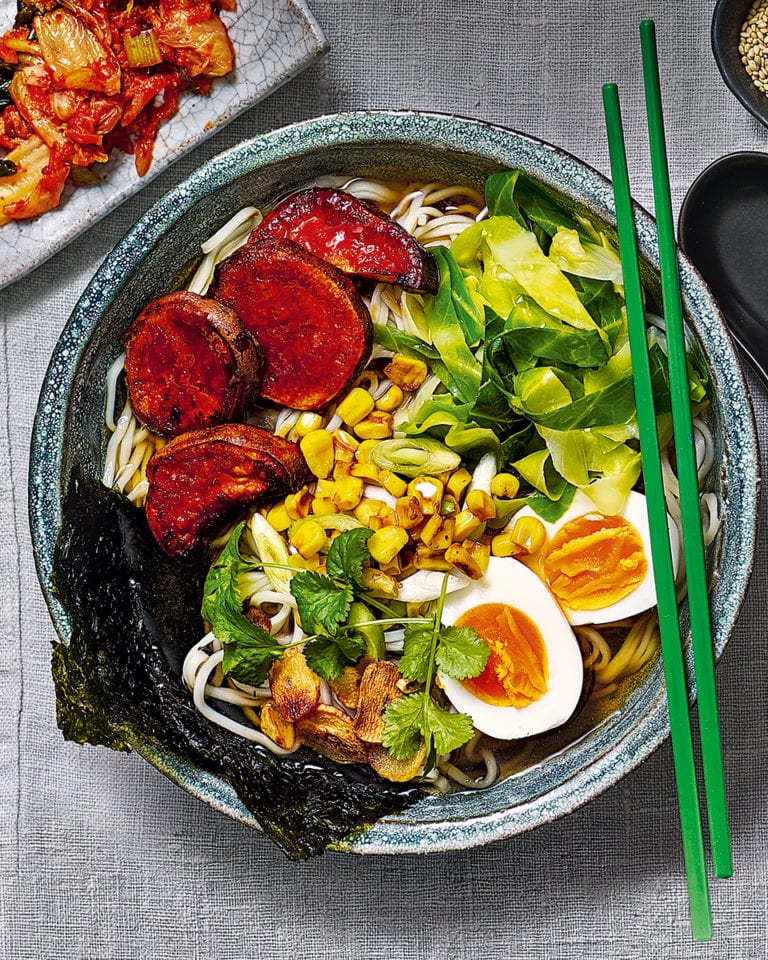 The background of ramen
Ramen as we know it is a Japanese dish but has its roots in China, arriving in Japan in the 19th century with Chinese immigrants. Once basic sustenance for this marginalised community, ramen has grown to become an international culinary sensation akin to sushi. And rightfully so: it's affordable, versatile and nourishing – a dish that's impossible not to love.
Why ramen is great for a party
It's a mix-and-match sharing feast and everything can be prepped ahead. Japanese ramen has lots of regional variations, made with different stocks and toppings depending on its origin. See delicious. kitchen to read more, then prepare as many of the tasty toppings as you fancy – or devise your own.
We went for a miso-based stock because it's simple and quick to make, plus it's suitable for vegans and vegetarians. Once done, it's just a matter of cooking the noodles and assembling the toppings. Everything except the noodles can be made the day before – keep the items covered separately in the fridge and reheat, either on the hob or in the oven, to serve.
The chicken and mushrooms can be plunged quickly into the broth to heat through (as long are there are no vegetarians at the table), then removed with a slotted spoon and put in separate bowls for people to help themselves.
How to serve ramen
Put the miso broth and ramen noodles on the table, chopsticks and spoons at the ready, and encourage your guests to dig in and make their own ramen creation, adding whichever toppings they fancy.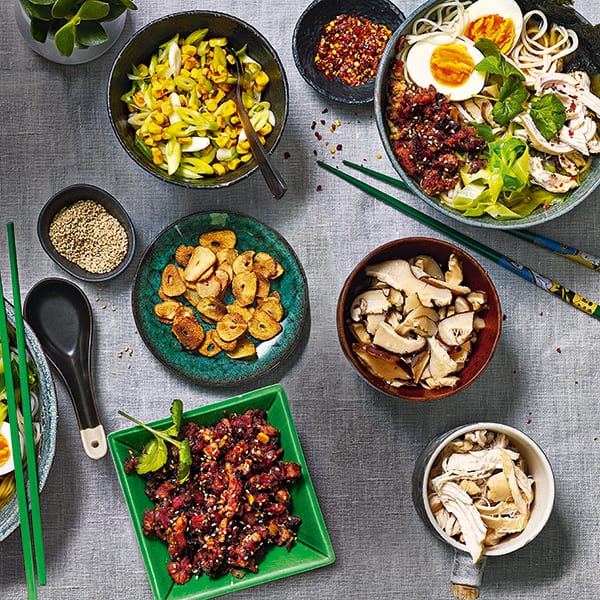 The (vegan) ramen base recipe
THE BASE
Miso stock
Serves 6. Ready in 10 min
30g dried shiitake mushrooms (from Tesco and Sainsbury's)
2 litres good quality fresh vegetable stock
5-6 tbsp brown rice miso paste (we used Clearspring, from Waitrose) or red miso paste
2 tbsp soy sauce
Thumb-size piece fresh ginger, grated
Put the dried mushrooms in a heatproof bowl and pour over freshly boiled water to cover. Set aside for 20 minutes to soften.
In a large stockpot, mix the stock with the miso paste, soy sauce and ginger. Whisk together, then bring to a gentle simmer over a low-medium heat and season to taste.
Remove the mushrooms, roughly chop and transfer to a bowl (serve these as a topping). Pour the soaking liquid through a fine sieve into the miso stock, discarding any grit.
Keep the miso stock over a very low heat until ready to serve, or cool, cover and chill, then reheat the next day. Bring the pot to the table with a ladle for everyone to dig in.
THE NOODLES
Ramen noodles
Serves 6. Hands-on time 10 min
We used one 5 x 200g pack Yutaka frozen ramen noodles, available from ocado.com, but use any brand (fresh or frozen) you prefer. If you can't get hold of ramen noodles, use dried egg noodles, allowing one nest (50-60g) per person. Cook according to the packet instructions and divide among bowls, ready for the stock and toppings.
MIX-AND-MATCH TOPPINGS
Honey and sriracha sweet potato
Serves 6. Hands-on time 10 min, oven time 35-40 min
Heat the oven to 200°C/180°C fan/gas 6. Cut 2 sweet potatoes into 1cm thick slices, then spread in a single layer on a baking tray lined with non-stick baking paper. Brush with vegetable oil and roast for 20 minutes, turning halfway through.
Mix together 3 tbsp sriracha chilli sauce, 3 tbsp soy sauce, 1½ tbsp runny honey and 1½ tbsp vegetable oil until smooth. Brush over the sweet potato and return to the oven for 10 minutes. Turn the slices over, brush with the remaining sriracha mix and roast for 5-10 minutes until caramelised.
Transfer the sweet potato to a plate (or chill, covered, then reheat in a medium oven to serve).
Poached chicken
Serves 6. Hands-on time 5 min, simmering time 10-12 min
Gently poach 2 free-range skinless chicken breasts in the miso stock for 10-12 minutes until cooked through. Transfer to a board and shred with 2 forks. If you have vegetarian guests, poach the chicken in a pan of water instead, so the stock remains vegetarian. Transfer to a small serving bowl (or chill, covered, and reheat to serve).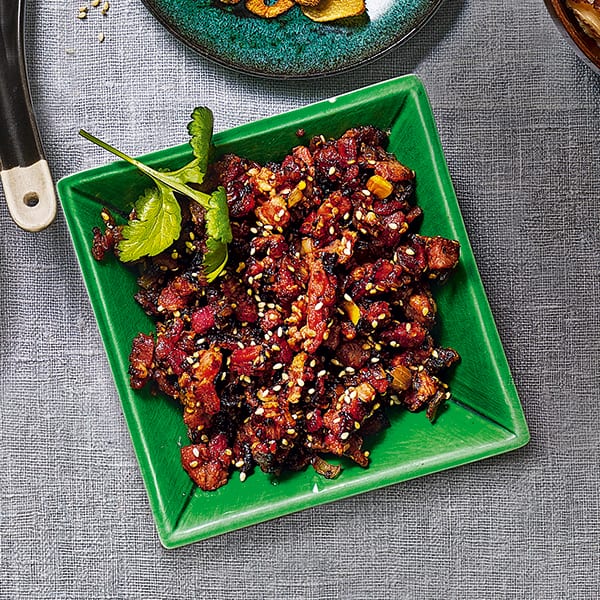 Miso bacon
Serves 6. Hands-on time 20 min
Heat 1 tbsp vegetable oil in a large frying pan over a medium heat. Add 8 finely sliced free-range smoked bacon rashers and fry gently for 6-8 minutes, so the bacon is crisp.
Add 1 finely chopped red onion to the pan and cook for another 5 minutes until the onion is soft.
Add 2 tbsp miso paste, 2 tsp sesame seeds and ½ tsp dried chilli flakes to the pan and stir together. Transfer to a serving bowl (or chill, covered, and reheat to serve).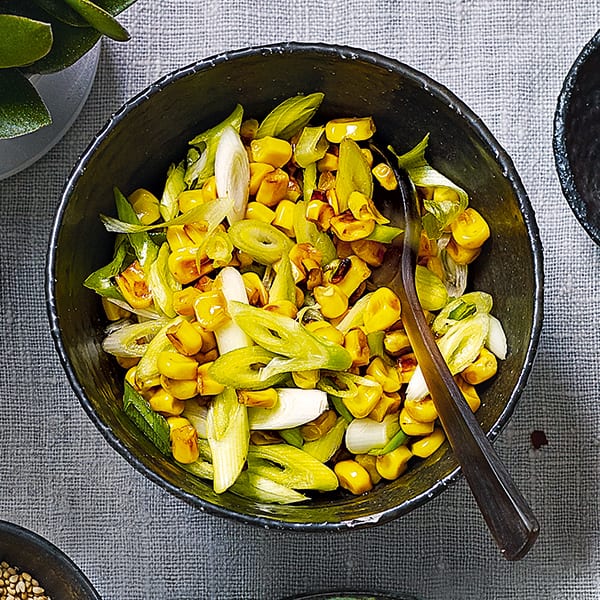 Fried sweetcorn and spring onion
Serves 6. Hands-on time 15 min
Heat 1 tbsp vegetable oil in a large frying pan over a medium-high heat. Add the drained kernels from a 360g tin sweetcorn to the pan and fry for 8-10 minutes until lightly charred (be careful as they may spit). Transfer to a serving bowl and stir in 4 finely sliced spring onions (or chill, covered, and reheat to serve).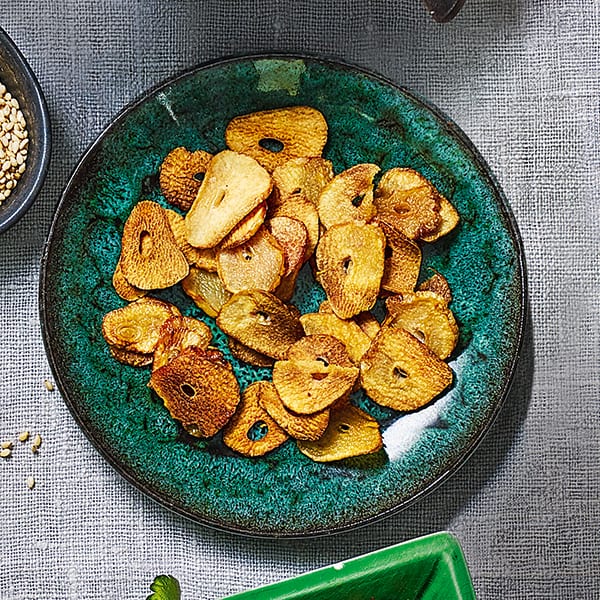 Garlic chips
Serves 6. Hands-on time 10 min
Heat 2 tbsp vegetable oil in a small frying pan over a medium heat. Add 5 very finely sliced garlic cloves and cook gently, turning regularly, until just golden. Watch them like a hawk as they burn easily. Remove with a slotted spoon and transfer to a plate lined with kitchen paper to drain. Put the garlic chips in
a serving bowl (or chill, covered, and bring back to room temperature to serve).
FINISHING TOUCHES
Give your ramen creations a final flourish with some or all of the following:
½ hispi cabbage or ⅓ savoy cabbage, shredded and lightly steamed or blanched in the miso stock
300g beansprouts, rinsed and refreshed in cold water
Kimchi (we like Kim Kong Kimchi, available at amazon.co.uk and planetorganic.com)
A few handfuls of fresh coriander
Seasoned nori sheets (seaweed) available in larger supermarkets
Sesame seeds
Dried chilli flakes
Sriracha chilli sauce (we used Flying Goose, available from most supermarkets)
Peeled soft-boiled eggs, halved
Nutritional information for ramen
For the vegetarian ramen bowl, plus toppings and finishing touches (for 6)
504kcals, 12.8g fat (2.2g saturated), 21.9g protein, 71.3g carbs (19.5g sugars), 2.4g salt, 8.3g fibre
Chicken ramen bowl, plus toppings and finishing touches (for 6)
603kcals, 20.8g fat (5.7g saturated), 44.6g protein, 55g carbs (13.3g sugars), 3.2g salt, 8.6g fibre
Subscribe to our magazine
Subscribe to delicious. magazine for HALF PRICE
Subscribe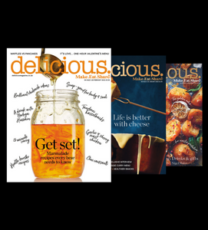 Join our newsletter
Packed with menu ideas, recipes, latest competitions and more...