4 three-course menus for March
Find 4 three-course menus to make in March including dinner party inspiration, a vegan lunch and a marvellous menu for Mother's Day.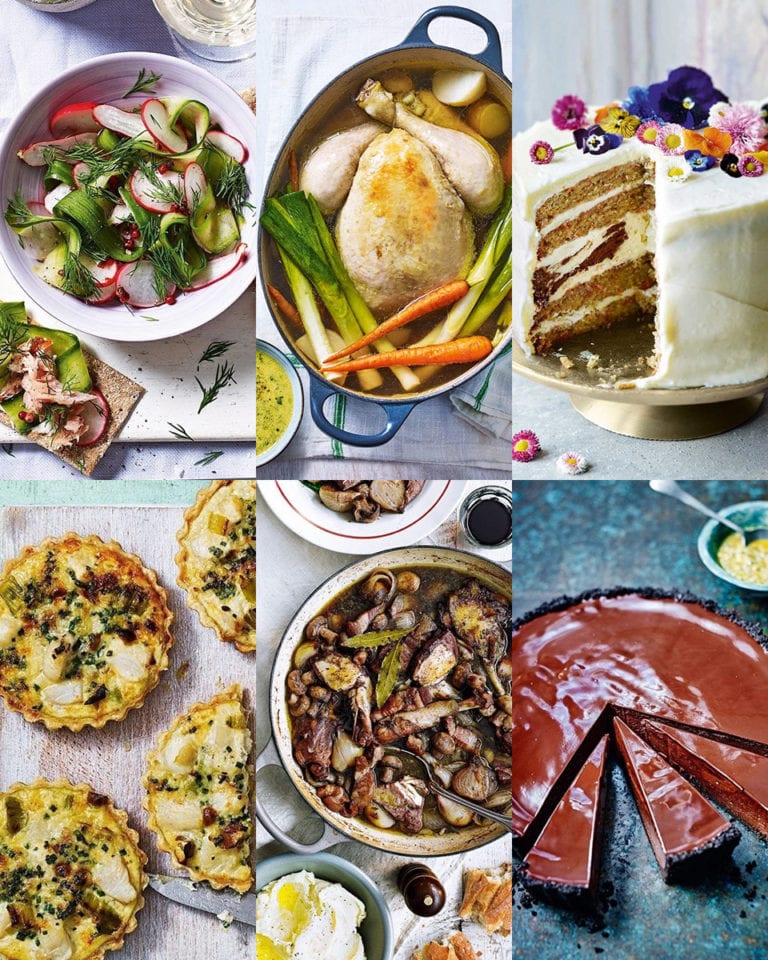 The show-stopping dinner party menu
Hold on to your hats because this show-stopping dinner party menu might just blow you away. There's something a tad decadent about enjoying an entire tart to oneself, and we're proposing exactly that with these smoked haddock, leek and chive tartlets. They're small and dainty, so you can demolish one to yourself, but filled with wonderfully rich flavours of cheese and crème fraîche. For mains, impress guests with this classic French dish – coq au vin. If you can't marinate the meat overnight, that's absolutely fine, as the slow-cooking process will still yield a fabulously rich and flavoursome sauce.
End your three-course feast with one of our all-time favourite desserts: this chocolate mousse and passionfruit tart. It's gloriously glossy and encased in an Oreo biscuit base – yes, we thought it was a good idea too.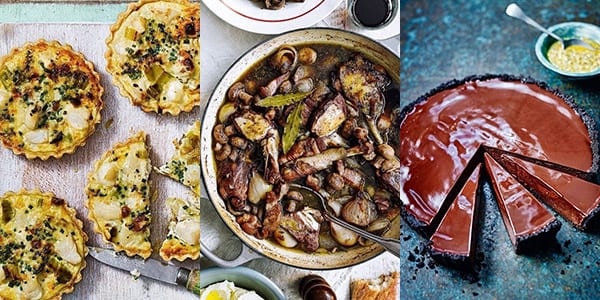 The vegetarian (and vegan) dinner party menu
This vegan menu delivers on simplicity and elegance and could be served for either lunch or dinner. Start with our pea and roasted garlic soup – it uses easily accessible ingredients (hello frozen peas) and is a whizz to make, literally. For mains, this sweet caramelised onion tart contains a hidden layer of cashew cream and bakes in an almond pastry case – everyone will go nuts for it! Finally, whip up these 5-ingredient lime and coconut syllabubs for an easy 15-minute dessert.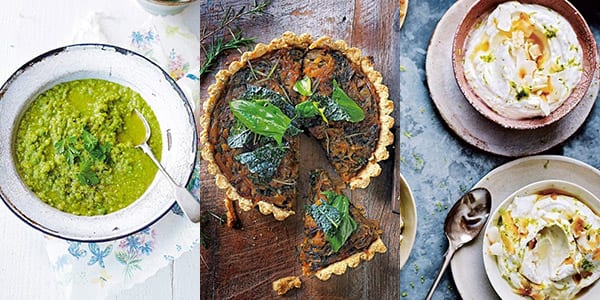 The menu for Mother's Day
The star of the show in our Mother's Day menu is this carrot and cheesecake layer cake: four layers of carrot cake sponge are sandwiched between a chocolate and vanilla marbled cheesecake filling, alongside thick layers of cream cheese icing. It's pretty special.
But before you get to that, treat mum to two special courses first. We've kept them light to save room for dessert – top rye crispbreads with hot-smoked salmon and this punchy pink peppercorn and vodka pickle salad for a light and easy starter. Then, give our Provencal-style poached chicken a go. It's cooked  in one pot with spring vegetables and new potatoes, then drizzled in a mustard and parsley dressing – simple, fresh and nourishing.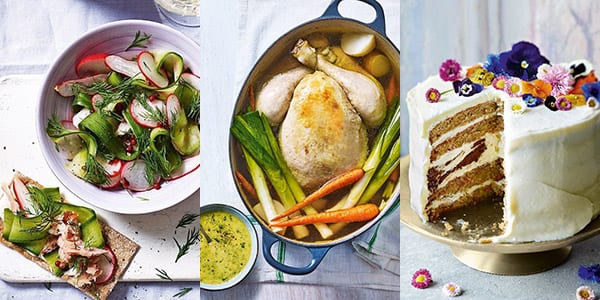 The make-ahead menu
This really is a wonderful combination and each element is designed to be made ahead of time. For starters, whip up our smoked mackerel paté (it literally takes 5 minutes!) and serve with the quick-pickled radishes. The latter is optional but they really do add a zingy burst of colour and flavour to the dish. Next, this baked ham with sticky raisin, tamarind and chipotle relish makes a versatile main (serve with potato salads, vegetable dishes, bread and more). Plus, if cooking ahead, it will keep in the fridge for up to 7 days!
Finally, the great thing about meringues is that they store really well. Make them in advance for these mini coffee pavlovas then, when ready to serve, whip up the coffee and mascarpone cream ready for topping.