Restaurants on the A1
We discover all the best places to eat, drink and shop along the A1 – the UK's longest road – and we've included postcodes so you can satnav your way to the destinations.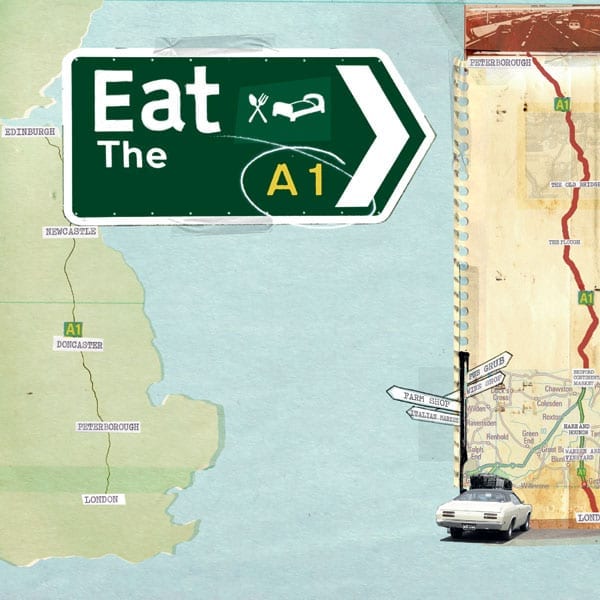 THE SOUTH: London to Peterborough
The Sword Inn Hand
Westmill, Buntingford, Hertfordshire, SG9 9LQ Tel: 01763 271356
Situated just off the A1 but worth a few minutes' diversion is The Sword Inn Hand, in Buntingford, Herts, a lovely, old family-run pub. It has a welcoming, relaxing interior and it serves superior pub food at great prices.
The Fox at Willian
Letchworth Garden City, Willian, Hertfordshire, SG6 2AE Tel: 01462 480233
Further north, just half a mile off the A1, is The Fox at Willian (SG6 2AE). It's a lovely building in a picturesque old village and specialises in seafood – perfect for lunch.
The Warden Abbey Vineyard
Bedford Road, Biggleswade, Bedforshire, SG18 9LS Tel: 07981 112714
Head north to Old Warden near Biggleswade, home of Bedfordshire's only winery. The Warden Abbey Vineyard (SG18 9LS) produces several award-winning wines – buy them at the Estate shop.
The Hare and Hounds
The Village, Old Warden, Bedfordshire, SG18 9HQ Tel: 01767 627225
Then stop at village pub, the Hare and Hounds (SG18 9HQ). Emma, Ben and the Team serve a proper pint and rustic food at affordable prices.
Potton Brewery
8 Market Place Square, Potton, Sandy, Bedfordshire, SG19 2SP Tel: 07789 680049
Ten miles east is Sandy – pop into the reinvigorated Potton Brewery Company dedicated to quality small batch beer.
Gunns Bakery
8 Market Square, Sandy, Bedfordshire, SG19 1HU Tel: 01767 680434Also, in Sandy is Gunns Bakery, home of the Bedfordshire Clanger – suet pastry with savoury filling at one end and sweet at the other.
Bedford Gourmet Market
Harpur Square, Harpur Street, Bedford, MK40 1PG Tel: 01763 288449A home of markets – Bedford offers Charter Market, Wednesday and Saturday, Gourmet Food Market, Thursday, Home and Garden Market, Friday. Check out Mobi Pizzeria for an authentic wood fired pizza
The Plough
Bolnhurst, Bedfordshire, MK44 2EX Tel: 01234 376274
Six miles north of Bedford (take the St Neot's turning off the A1), you'll find The Plough Inn, Bolnhurst, where Martin & Jayne Lee provide honest food with often a twist on the classical. Independently owned they source from the best producers of food and drink, fuelled by their pursuit of excellence. Starters include white onion soup, smoked ham hock, crispy shallot & parsley oil; while mains might include roast Devon partridge, rosti potato, braised savoy cabbage roast baby onions, red win and game sauce.
The Saddle
26 High Street, Kimbolton, Huntingdon, Cambridgeshire, PE28 0HA Tel: 01480 860408
Just up the road is Kimbolton, a lovely village with a selection of pubs and cafes such as The Saddle, serving traditional pub fare of jumbo fish and chips or hand-made pies.
Buttercups
15 High Street, Kimbolton, Huntingdon PE28 0HB Tel: 01480 861 000Also check out a great coffee and cake stop called Buttercups.
The Old Bridge Hotel
1 High Street, Huntingdon, Cambridgeshire, PE29 3TQ Tel: 01480 424300
Our last stop is a beautiful townhouse hotel, The Old Bridge in Huntingdon, serving everything from Champagne and canapés to club sandwiches and good real ale. It's a great place to watch the world go by after a walk by the river Ouse.
THE MIDLANDS: Peterborough to Doncaster
The Sacrewell Farm and Country Centre & Stables Restaurant
Thornhaugh, Peterborough, PE8 6HJ Tel: 01780 782254
Great for kids, just off the A1 turning for Stamford, is Sacrewell Farm and Country Centre, around 10 miles north-west of Peterborough. It has shire horses, tractor rides and farm trails, plus Origin8 café serving sandwiches, paninis, freshly baked scones and cakes (try the courgette cake!).
The Mad Turk
8/9 St Paul's Street, Stamford, Lincolnshire, PE9 2BE Tel: 01780 238001
Take a detour to the historic Lincolnshire town of Stamford, on the A16, and visit The Mad Turk (PE9 1PG) for traditional, rustic Turkish Cypriot food. Chef Kaz brings a new spice to the town with meats cooked over charcoal and a selection of vegetarian dishes, all ideal for sharing.
Rutland Water Fruit Farm
Manton Road, Edith Weston, Oakham, LE15 8HB Tel: 07875 479533
Take the A606 turning to Oakham, after 20 minutes you'll arrive at Steve Makey's Rutland Water Fruit Farm, Manton (LE15 8HB). He grows soft fruit on a golf course, on the shore of glorious Rutland Water. Visit to pick your own – no appointments needed. Call Steve on
Hambleton Hall
Hambleton, Oakham, Rutland, LE15 8TH Tel: 01572 756991
On the outskirts of Oakham is Hambleton Hall (LE15 8TH), with 15 stunning bedrooms and breath-taking views of Rutland Water. The restaurant has the longest retained Michelin star in the UK, since 1982. Expect to try dishes, such as Launde farm lamb, baby aubergine, ewe's curd or unwaxed lemon soufflé with sorrel ice cream– wow!
Northfield Farm Shop
Cold Overton Lane, Whissendine, Oakham, Rutland, LE15 7QF Tel: 01664 474271
Around ten minutes' drive away on the Rutland and Leicestershire borders in Cold Overton is Northfield Farm Shop (LE15 7QF), which supplies the breakfast ingredients for The Olive Branch Pub. The shop sells meat from rare and traditional breeds alongside English cheeses like; Cornish Nettle Yarg and Cropwell Bishop Stilton, plus honey, preserves and mustards.
The Olive Branch & Beech House
Main Street, Clipsham, Rutland, LE15 7SH Tel: 01780 410355
Thirteen miles up the A1, take the turning for Clipsham and you'll find The Olive Branch, an award-winning village inn. It is in the Vale of Belvoir and to me this is the capital of food in England. The birthplace of Stilton, Melton Mowbray pies and Belvoir cordial, the vale also provides butter, fresh vegetables and fruit – all fundamental resources for a chef – and here on their doorstep. Ben Jones and Sean Hope bought the pub in 1999 and also run a guesthouse across the road, the Beech House. The Olive Branch host regular events such as cookery demonstrations, wine masterclasses, and game dinners.
Melton Mowbray is a diversion from the A1 (around 15 miles west along the A606) but is worth it for England's oldest pie shoppe, Ye Old Pork Pie Shoppe (LE13 1NW). Supplying the town's famous pork pie since 1851 as well as sausages and cheeses. The bakery also hold pie-making demonstrations and a group Pork Pie Experience, a rare opportunity to taste a pie raised by your own hands.
Nags Head
20 Main Street, Harby, Melton Mowbray, Leicestershire, LE14 4BN Tel: 01949 869629
The Nags Head in Harby (off the A607) put on live music in a historic 14th century building. The restaurant menu provides an array of pub classics, extensive burger list and classical twists, all at reasonable prices.
THE NORTH: Doncaster to Newcastle
Pontefract Liquorice
Heading north 16 miles from Doncaster, you come to Pontefract – try this lovely old market town's famous Pontefract cakes, or pay a visit to the annual Liquorice Day in July.
Betty's Cafe Tea Rooms
1 Parliament Street, Harrogate, North Yorkshire, HG1 2QU Tel: 01423 814070
Harrogate is 10 miles off the A1, and home to Bettys Café Tea Rooms (HG1 2QU) – the most English of tearooms. A byword for elegance since 1919, it serves breads, cakes and chocolates to more than a million customers a year. There are five other Bettys tearooms in the area.
The General Tarlton
Boroughbridge Road, Ferrensby, Knaresborough, HG5 0PZ Tel: 01423 340284
Not far from Harrogate – and just three miles from the A1 at Ferrensby – is a highly regarded former 18th-century coaching inn called the General Tarleton (HG5 0PZ). It's more than a gastropub really, with an incredible menu – fish, game, lamb and beef all as local as you like – and smart bed and breakfast rooms. In fact, it holds two AA Rosettes for the restaurant and five AA stars for the rooms. Relax in the 'GT Cocktail Lounge' after a day exploring Yorkshire's attractions.
The Crab and Lobster
Crab Manor Hotel, Dishforth Road, Asenby, Thirsk, North Yorkshire, YO7 3QL Tel: 01845 577286
Well worth a visit 15 miles further north is the Crab & Lobster Restaurant, Thirsk (YO7 3QL). This is a five-star establishment with quirky design – plastic crabs and lobsters crawling all over the thatched roof. The food is seriously, seriously good, fish focused, although the meat's just as good. Try its famous fish club sandwich, or for something more substantial – local codling fishcakes or oven-roasted Scarborough woof (firm-fleshed white fish).
Ampleforth Abbey
Ampleforth, York, YO62 4EN Tel: 01439 766778
Take the A170 turning to discover Ampleforth Abbey Orchards (YO62 4EN), situated between the villages of Ampleforth and Oswaldkirk. Planted by the monks who lived in the 400-year-old Benedictine abbey some 200 years ago, the trees are now presided over by Father Rainer Verbourg. There are more than 40 varieties including the local Ribston Pippin. Try the apple juice, cider and apple brandy.
The Star Inn
High Street, Harome, North Yorkshire, YO62 5JE Tel: 01439 770397
A few minutes' drive NORTH and you'll arrive at Helmsley. The Star Inn (YO62 5JE) is two miles east – quite a distance from the A1, but worth it! Daily specials allow the chefs to take advantage of catch-of-the-day fresh fish, limited availability game and kitchen garden produce. The building is a 14th-century longhouse with a fantastic English kitchen garden growing over 500 different vegetables and herbs.
Hunters of Helmsley
13 Market Place, Helmsley, North Yorkshire, YO62 5BL Tel: 01439 771307
Hunters of Helmsley (YO18 5BL) is a fantastic delicatessen a few miles away with 70% of products available sourced from within Yorkshire, such as locally made 'Brymor' ice cream.
The Cleveland Tontine
Staddlebridge, Northallerton, North Yorkshire, DL6 3JB Tel: 01609 882671
Between the North Yorkshire Moors and the Yorkshire Dales is Staddlebridge (where the A19 meets the A172), home to a great bistro at The Cleveland Tontine (DL6 3JB). It has a great atmosphere and unbelievable food, start with one of their legendary breakfasts, then quintessential afternoon tea, and end your day with Yorkshire highlight of game or beef, hung and aged on site.
THE BORDERS: Newcastle to Edinburgh
Jesmond Dene House
Jesmond Dene Road, Newcastle-upon-Tyne, NE2 2EY Tel: 0191 212 3000
The A1 passes through the outskirts of Newcastle, so we'll start with boutique Jesmond Dene House (NE2 2EY). It's a beautiful Arts and Crafts building set in a wooded valley, a mile-and-a-half from Newcastle city. There are 40 bedrooms and the dinner menu may include Yorkshire pig, Whitby crab and herbs from the hotel garden.
The Blagdon Farm Shop
16-18 Milkhope Centre, Berwick Hill Road, Blagdon, Newcastle-upon-Tyne, NE13 6DA Tel: 01670 789924
Seven miles' north of Newcastle is the Blagdon Estate (NE13 6DA). The Blagdon Farm Shop shop sells everything, from locally reared meats, artisan cheeses, handmade pies and quiches to fresh fruit and vegetables.
The Northumberland Cheese Company Ltd
The Cheese Farm, Green Lane, Blagdon, Northumberland, NE13 6BZ Tel: 01670 789798
Half a mile away on the Blagdon estate is the Northumberland Cheese Company (NE13 6BZ). Mark Robertson has been producing award-winning cheeses since 1984, focussing on only sourcing from single herds. Try the selection in a Ploughman's lunch next-door at a quaint British coffee shop, The Cheese Loft.
Northumberland Arms
The Peth, West Thirston, Northumberland, NE65 9EE Tel: 01670 787370
Twenty-five miles up the A1, in the very heart of Felton, is the Northumberland Arms (NE65 9EE). A beautiful bar and restaurant with rooms by the River Coquet, serving dishes which include; ham hock, Northumberland sausage and locally foraged wild mushrooms. The perfect get-away spot.
The Jolly Fisherman
Haven Hill, Craster, Northumberland, NE66 3TR Tel: 01665 576461
As the A1 veers close to the sea, you'll come to Craster – a small fishing village famous for its kippers. The Jolly Fisherman (NE66 3TR) is a traditional boozer which serves a great crab sandwich and an excellent pint.
L Robson and Sons Ltd
Craster, Northumberland, NE66 3TR Tel: 01665 576223
While in Craster, drop in at the 150-year-old smokehouse run by Neil Robson – L Robson and Sons Ltd (NE66 3TR).
Alnwick Castle
The Gardens, Denwick Lane, Alnwick, Northumberland, NE66 1YU Tel: 01665 511350
Seven miles inland from Craster is Alnwick, home to Alnwick Castle (NE66 1YU) and its famous gardens. The Treehouse restaurant is exactly that – a huge wooden structure with the living tree growing through it – a magical dining experience to remember.
Heatherslaw Mill
Heatherslaw Corn Mill, Ford Forge, Cornhill-on-Tweed, Northumberland, TD12 4TJ Tel: 01890 820448
Forty miles north (take the B6353 turn-off) in the Ford and Etal Estate is Heatherslaw Mill (TD15 2QA), a working mill and museum. Heatherslaw Tearoom is over the road and sells cakes and pastries using flour and cereals from the mill.
The Black Bull
Etal, Cornhill-on-Tweed, Northumberland, TD12 4TL Tel: 01890 820200
Nearby is the recently re-furbished Black Bull – Northumberland's only thatched pub – serving local real ales.
Chain Bridge Honey Farm
Horncliffe, Berwick-upon-Tweed, Northumberland, TD15 2XT Tel: 01289 386362
Last stop before Edinburgh, near Berwick-on-Tweed, is the Chain Bridge Honey Farm (TD15 2XT) at Horncliffe. Browse honey and beeswax products at the Visitor Centre and sample sweet goodies on a double-decker bus! The café bus serves honey delights including heather honey ice cream (made by Doddington Dairy).
Subscribe to our magazine
Subscribe to delicious. magazine for HALF PRICE
Subscribe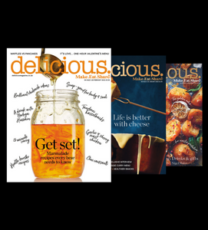 Join our newsletter
Packed with menu ideas, recipes, latest competitions and more...