The most sustainable restaurants in London
It's been a buzzword for about 10 years, but nowadays the term 'sustainable' is in danger of becoming a cliché. With so many products, brands and restaurants trying to market themselves under the umbrella, it's hard to separate out those with a legitimate claim on the word from the bandwagon-jumpers. A sustainable restaurant needs more than paper straws.
Here, we've done the hard work and put together our favourite sustainable restaurants in London, each ticking more than a few boxes when it comes to watching their carbon footprints. From a vegan restaurant inside Selfridges, to restaurants using nearly 100% British produce, these are establishments that you can go to certain in the knowledge that they are doing all they can to get things right.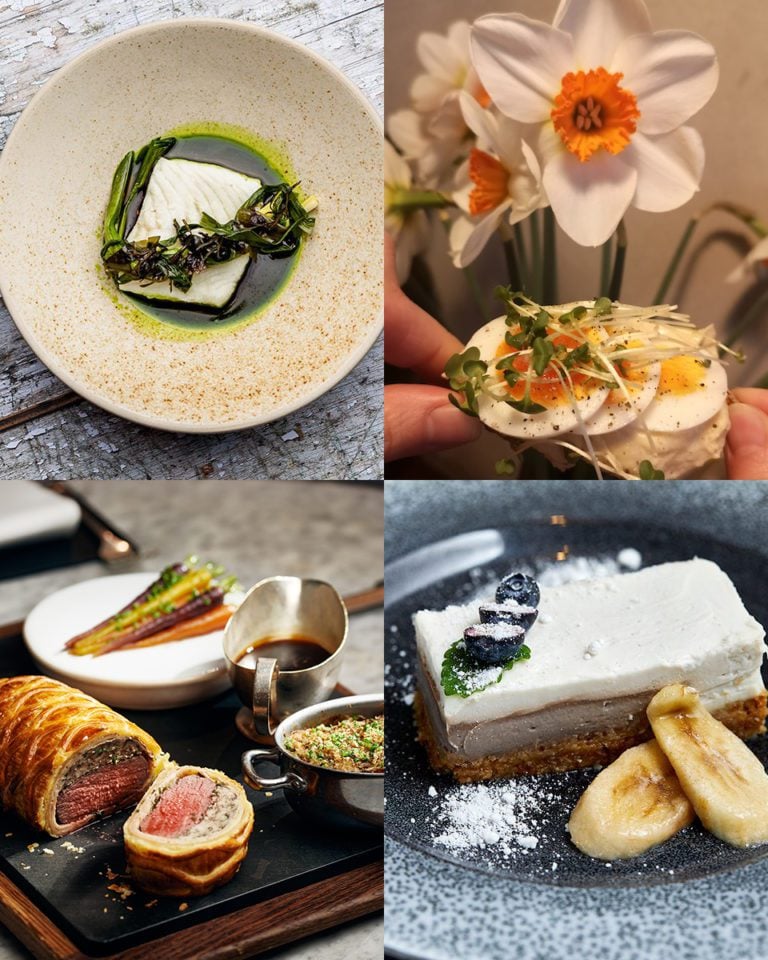 Heritage restaurant Native is known for its seasonally focused menu, which makes the most of British produce, and ingredients that would otherwise go to waste. Expect dishes like a fish trim toast with apple hoisin, which tastes like the most juicy prawn toast you've ever had (while making use of yesterday's bread). Wild and foraged herbs (think wild garlic, nasturtium and sea purslane) crop up all over the menu, with sustainable meat also being a highlight: a subtly spiced wood pigeon kebab comes with homemade harissa and beetroot hummus. A highlight of the current menu is Nutbourne grown tomatoes, served with day old bread, Graceburn cheese from Kent, and a smoked salsa verde – the tomatoes come in a dressing of their own juice that is out of this world. We highly recommend you drink every last drop. Produce is sent to the restaurant direct from farms near London (they work with small, ethical producers via wholesale grocer Shrub Provisions), with an aim to minimise deliveries into the city.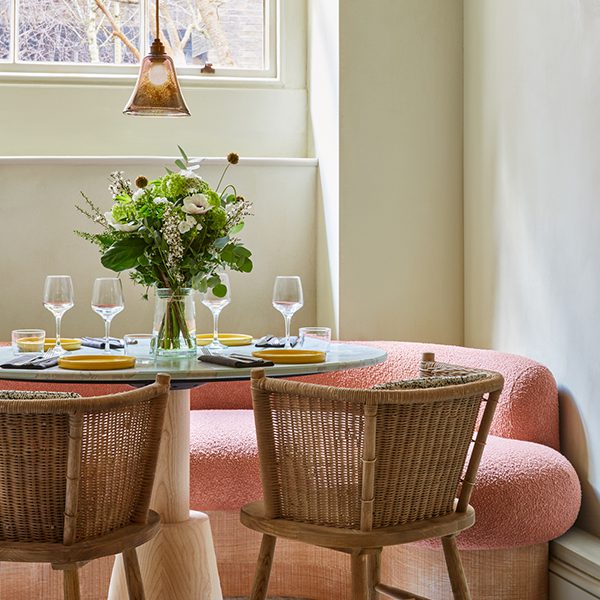 Warehouse is located at The Conduit in Covent Garden, and is a new restaurant from the ex-head chef of Silo, Brendan Eades. The menu is based around carefully sourced ingredients from renowned suppliers with a commitment to sustainability (you can read about them on their menu). Expect Northern Irish oysters the size of your head (seriously, prepare to take in two bites); full-flavoured meat from The Ethical Butcher, including cull beef from retired breeding cattle; and desserts featuring chocolate from Pump Street who work directly with cocoa farmers for a completely traceable bean-to-bar product. Decor is sourced from developing countries and the producers of the furniture and fittings are paid a fair price for their craftwork.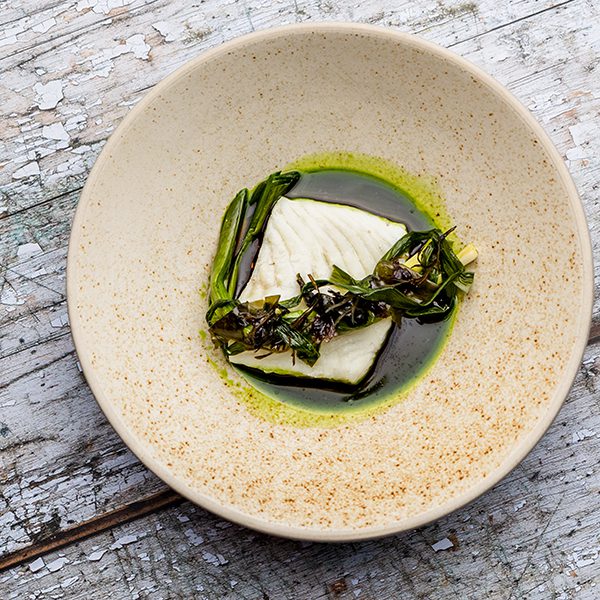 Treat your staff and the planet well: that's the ethos underpinning Ravinder Bhogal's Jikoni restaurant in London's Marylebone. Walk inside and an abundance of bright cushions beckons you to sit, while tables dressed in block-print cloths promise flavourful food to come. Jikoni's menu focuses on dishes influenced by family cooking; dishes that blend cultures and demonstrate the power food has to unite. But beyond the cosy vibe, Ravinder, husband Nadeem and their team have made an unswerving commitment to sustainability. Last summer, Jikoni became the first indie restaurant to declare itself carbon-neutral… But what does that mean? Ingredients are sourced from local sustainable businesses, waste is kept to a minimum, and as much as possible of the waste they do produce is recycled. Any that can't be is used to generate green energy. It's an impressive mission that marks Jikoni out as a pioneer in hospitality.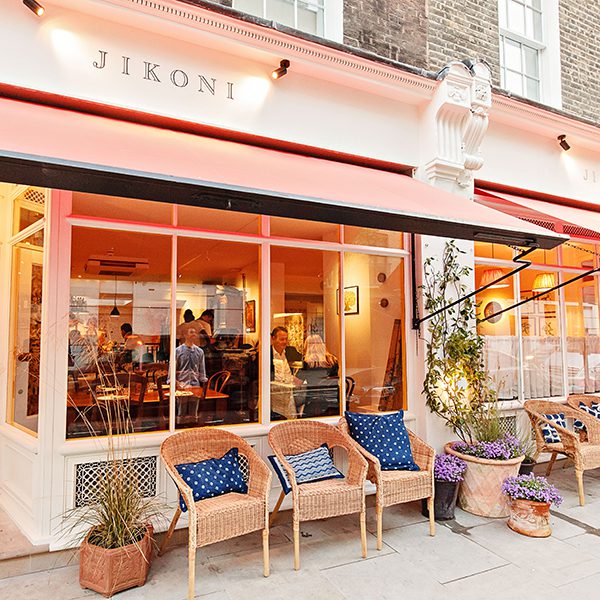 As part of Selfridges' Project Earth, the retailer invited Matthew Kenney to open up Adesse. A leading chef in plant-based cuisine with success in New York, Kenney has crossed over the pond to give Londoners a taste of his sustainably lead menu. Produce is seasonal and as locally sourced as possible, and you will leave the restaurant wondering how you too can make a crab cake out of jackfruit. Make sure not to skip dessert – coconut and banana 'cream pie' (below), or lime parfait with avocado and spiced macadamias were two stand-outs.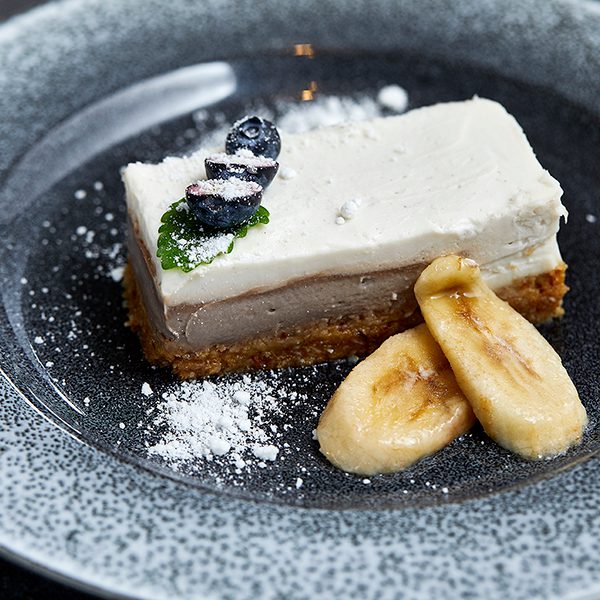 For lovers of seasonality, 40 Maltby Street is a dream restaurant. Chef Steve Williams' menu changes weekly and his dishes are proof that the produce of this island ought to be celebrated. With influences from our European neighbours, expect dishes that are at once beautifully simple and inspired: pumpkin fritters with mushroom ketchup; smoked fish and egg canapés; salads of raw mushrooms or carrots; or stewed fruit and junket. What sounds straightforward on the menu is always magical on the plate. The restaurant consistently has that skill of creating dishes that are every bit as comforting as home cooking, but never something you could actually quite recreate yourself. When it comes to wine, an extensive and varied list comes from Gergovie Wines (the importing business of co-owner Raef Hodgson) which sources bottles from small-scale producers who avoid the use of chemical fertilisers and pesticides. Whatever you choose will be juicy, refreshing and alive.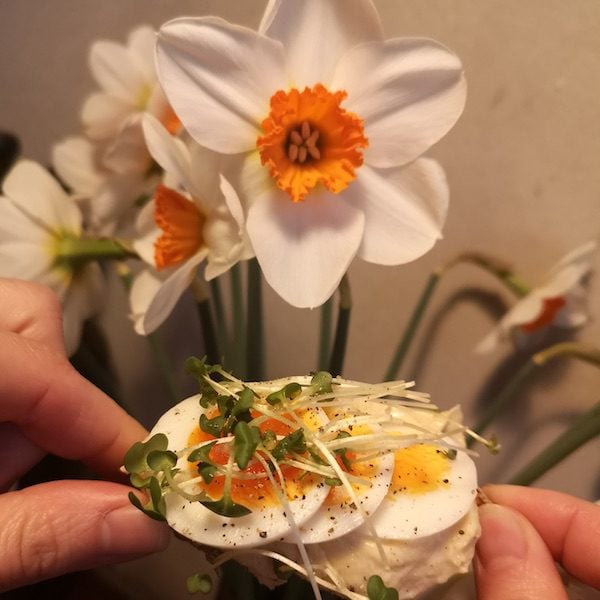 You don't need to spend £50 on dinner to be sure you're supporting sustainable practices though. Pizza Pilgrims is a chain of pizzerias taking bold steps to become more sustainable. Their Selfridges project is where they're building the groundwork for this: from working with producers of (for example) hydroponic basil, regenerative wheat and (whisper it) natural wines to looking again at the materials from which the chain builds their restaurants. Fully vegan Pinatex, a leather alternative made from pineapples, replaces leather on furniture, and tables and chairs are made from recycled materials. The developments made at the Selfridges restaurant will then be rolled out to other branches once proven successful. And of course, those pizzas are damn fine too.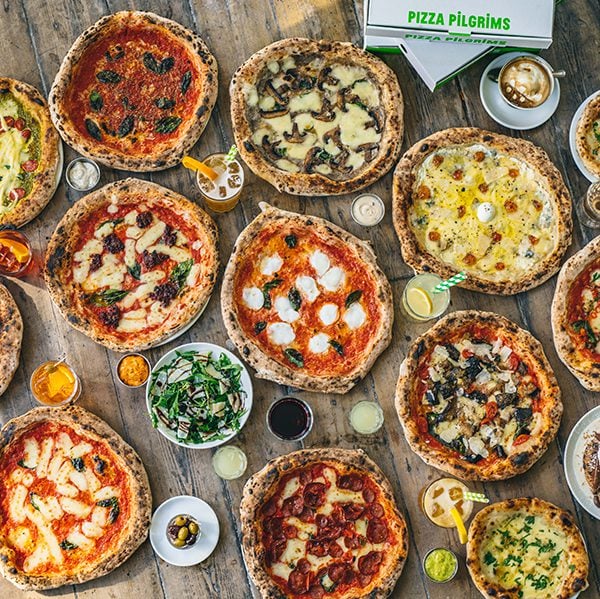 Vegan burger chain Neat Burger don't just use ethically sourced plant-based patties, they've also got all the finer details right too. They work with the Eden Reforestation Project and plant a tree for every burger sold (320,000 trees so far); their takeaway boxes and cutlery are fully biodegradable, and their entire menu is climate labelled, meaning you can easily find out the carbon footprint of your chosen meal. We were impressed by the burgers and fries, which pack flavour, though sauces are on the sweet side.
At the smart end of the scale, The Game Bird at the Stafford Hotel in Mayfair offers local, seasonal produce in an elegant setting. Venison is one of the most sustainable meats, and if you're going to eat it, the venison wellington at the Game Bird is the way to do it! The restaurant's Executive Chef Lisa Goodwin-Allen (also exec at the Northcote in Lancashire) oversees the menu, working collaboratively with the Stafford Hotel's Executive Chef, Jozef Rogulski. The menu showcases British and Irish produce, supporting small producers, such as the Lancashire Three Beets (which comes with the theatrical frozen Lancashire bomber), or a dish called the Game Bird which shines the spotlight on pigeon. The restaurant group (a member of the Sustainable Restaurant Association) also asks kitchen suppliers to make plastic and cardboard-free deliveries, instead using collectable and reusable crates, and is working towards a zero-plastic F&B operation with a cling film-free kitchen.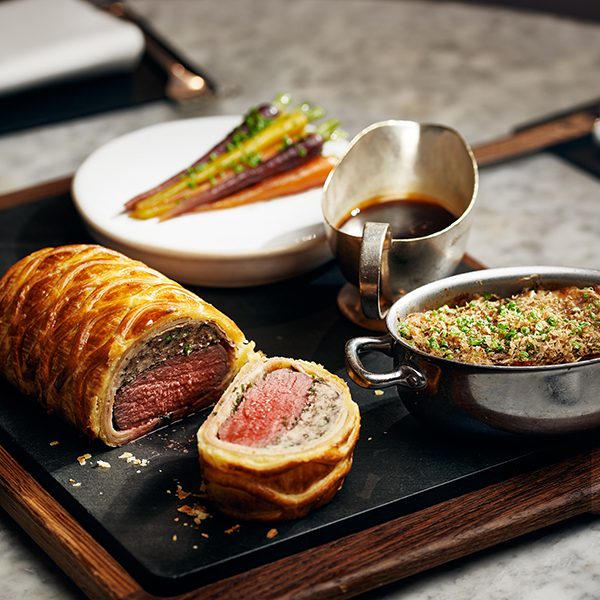 Honest Burgers
It stands to reason that a chain restaurant making significant changes will have more of an impact on the environment than one independent restaurant and Honest Burgers is doing just that. Their meat comes from small farms in Gloucestershire and the potatoes for their unforgettable rosemary chips are from a fifth generation potato farmer in West Sussex. They work with small, independent producers and create specials in collaboration with small local businesses (at the time of writing there are Mama Nati hot sauce and The Cheese Truck collabs in Hammersmith and Camden, and the spring seasonal special is made with wild garlic pesto and Westcombe Dairy Cheddar – an artisan cheese made in Somerset). All Honest Burgers restaurants serve at least one beer from a nearby brewery, the packaging is recyclable and they've opened an all-vegan restaurant too on Garrick Street in London.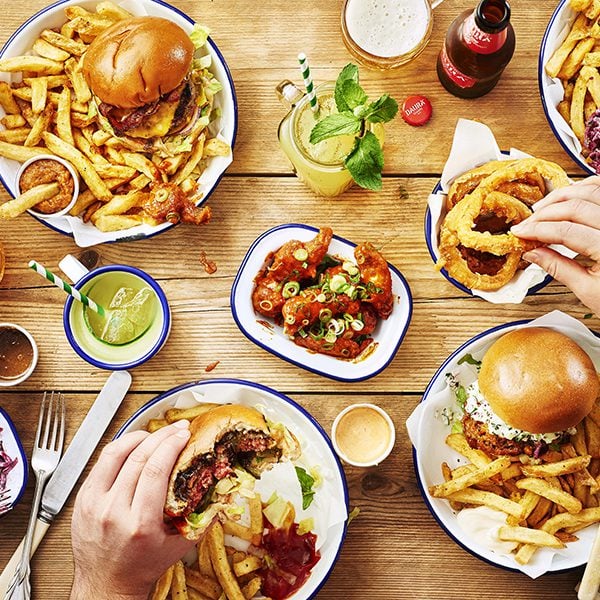 Gaucho
Perhaps not a name you'd have expected to see on this list, nationwide Argentinian steakhouse Gaucho have drastically refreshed their approach to sustainability over recent years, with a plan to work directly with their farmers in Argentina to reduce carbon emissions at source. Remaining carbon emissions are offset through reforestation projects as part of a partnership with  the charity Not For Sale, which creates solutions to break the cycle of modern-day slavery. Within the restaurants themselves, Gaucho's sustainable drinks programme offers biodynamic, organic and natural wines on tap, dramatically reducing their carbon footprint. All Gaucho restaurants also operate a zero food to landfill policy and all sites run on 100% renewable energy. If you're local to London, check out their new monthly sustainable supperclubs at the Charlotte Street branch, which highlight the restaurant's carbon-neutral beef offering.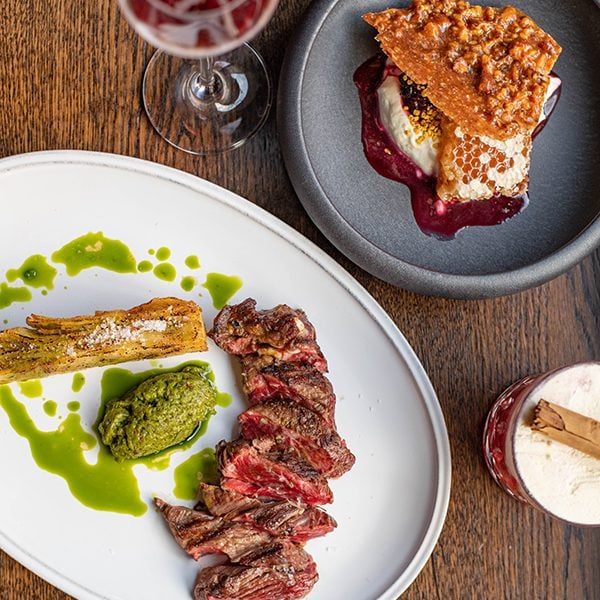 Subscribe to our magazine
Subscribe to delicious. magazine for HALF PRICE
Subscribe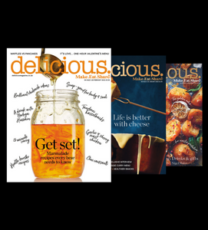 Join our newsletter
Packed with menu ideas, recipes, latest competitions and more...