Where to eat in Myanmar
Burma (or, if you prefer, Myanmar) is the most brilliant, beautiful, unforgettable, wondrous (my list of positive adjectives could go on forever) country I have visited.
The reason for my visit wasn't for a relaxing holiday – far from it. I went there to cycle 359km and raise money for Action Against Hunger – you can read more about it here.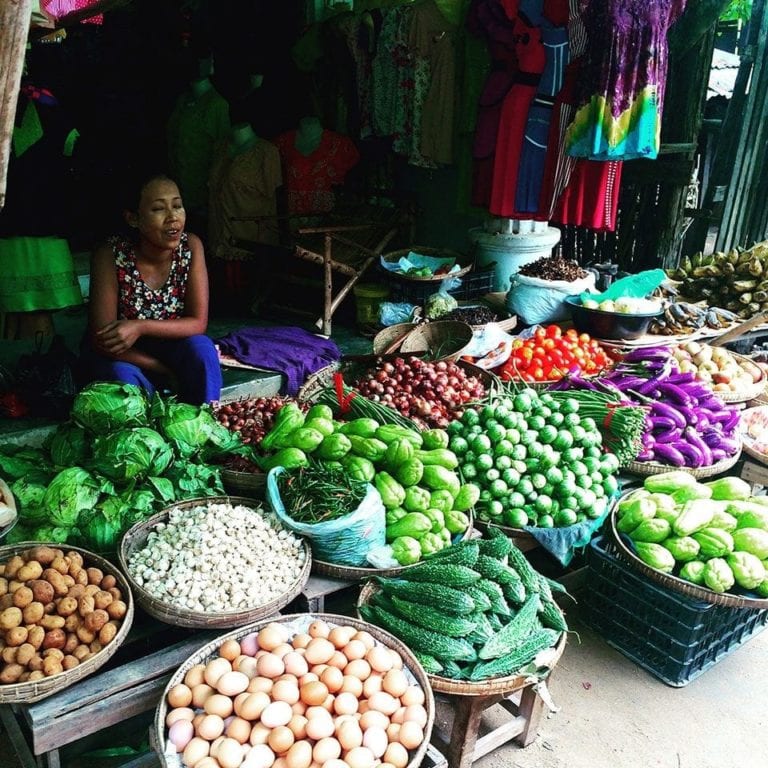 Along with 12 new-found friends from the restaurant industry, I cycled up what seemed like endless inclines, in temperatures reaching 42ºc, for six days.
Our daily routine would go something like this: wake at 5am, eat a huge breakfast, cycle, stop for a snack, cycle, stop for a snack, cycle, stop for lunch, cycle, stop for a snack, cycle, have a huge dinner and celebrate our day of cycling, then bed. What I'm trying to say is; we ate a lot.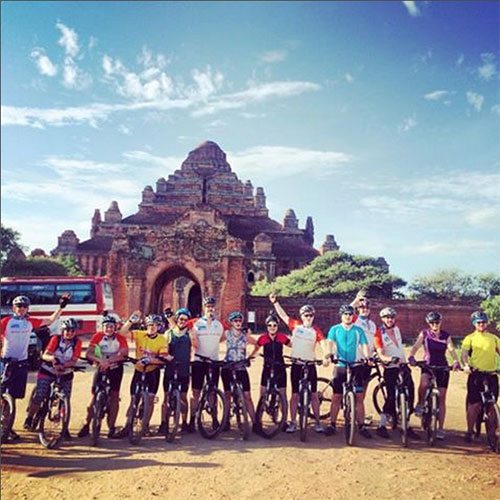 Since I got back from Burma a lot of people have asked me what the food was like. It's hard to explain because it's all so different. The country borders India, Bangladesh, China, Thailand and Laos – so it takes influences from them but also uses its own ingredients and techniques.
Travelling with 12 people who are so into food, and always keen to try new things, was eye-opening. From chicken feet to tripe – and everything in between – here's just some of what the 13-strong cycling team ate while we were in Burma.
The hotels we stayed in treated us royally. Some days we'd have a buffet-style breakfast where we could choose from an assortment of food. There'd be western-style things such as toast, yogurt and fruit, but it was the local food that everyone tended to go for: noodles, rice, vegetables or, for Dan Doherty, congee.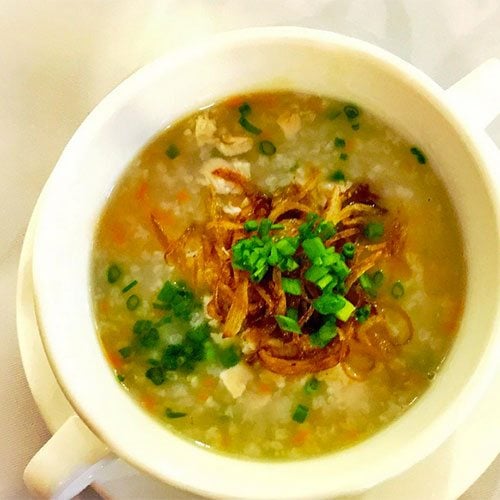 Sometimes we'd sit down and eat whatever was placed in front of us. At one particular hotel, Mickael Weiss, executive chef at Quaglino's, was served everything they had to offer: toast, fruit, salad, soup, noodles and fried egg with rice.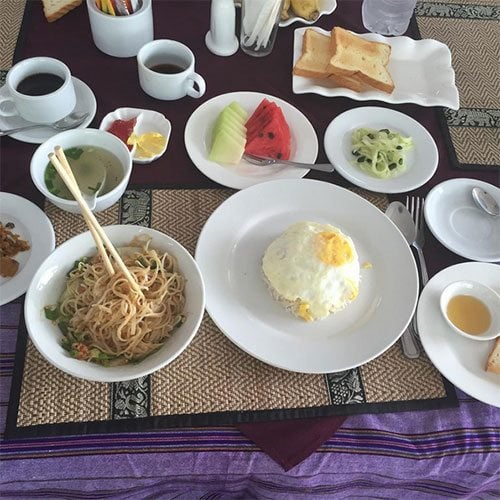 We ate a LOT of snacks. Whether it was at the little places we stopped at mid-ride or the street food stalls at the side of the road, we all wanted to taste as much of Burma as we possibly could.
Below is Burmese-style tofu made with chickpea flour instead of soy. It came with a spicy dip and was unanimously the best snack we ate. So much so, we took another bag along with us for the ride. Jane Alty, head chef and owner of The Begging Bowl in Peckham, is hoping to have the very same thing on her menu soon.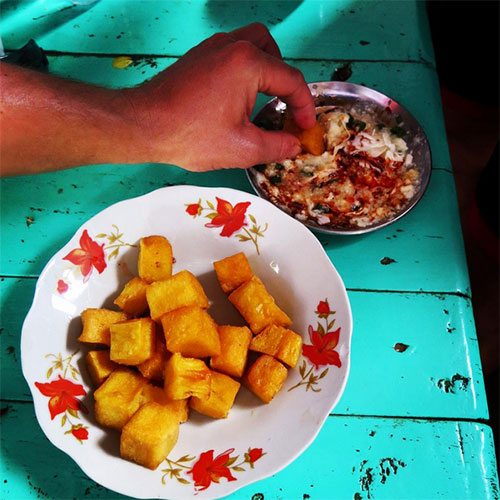 Coming a close second in the snack stakes were these mini pancake-style treats. We saw them at several places across the country, sometimes stuffed with pork or vegetables, but these particular ones, found by
Jane Alty
, had a quail's egg hiding inside.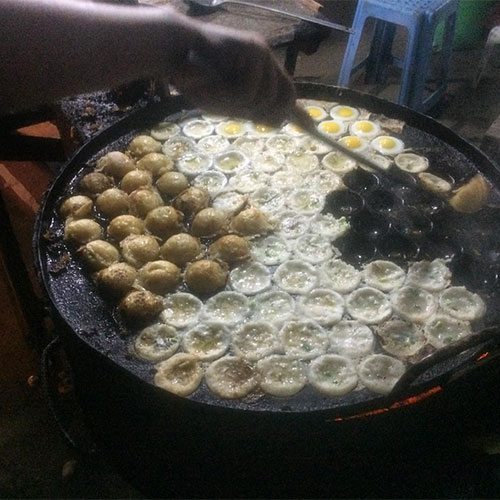 One night we went to a barbecue bar where lines of fridges were filled with lots of different food skewered on sticks. The idea is you choose the sticks you like and hand them to a waiter. The sticks are then taken to the kitchen and cooked over a stove and bought to your table when they're ready.
James Knappett, head chef at Bubbledogs and Kitchen Table, captured the kitchen perfectly with this snap.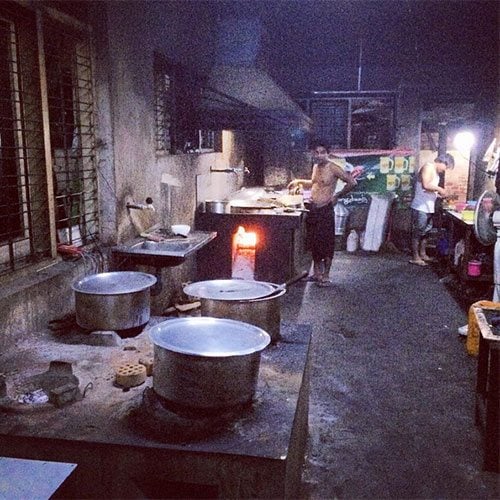 Tom Hunt
, owner of
Poco
, chose the sticks, which included dried fish fin, dried goat meat, starchy round fruits and corn, as well as other unidentifiable dishes. They all came to the table one-by-one and we tried everything, passing the plates between us. The majority of them were brilliant but the most unforgettable was the tripe – unforgettable for all the wrong reasons.
Ross Shonhan
, chef-patron of
Bone Daddies
and
Flesh & Buns
, discovered the culinary influence that India has had on Burma with these samosas, which were made fresh to order and cooked over a wood fire. I also tried what I think were 
the best samosas
in Yangon.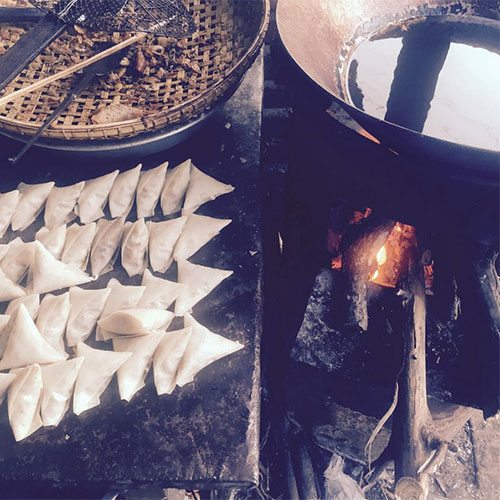 Nick Gibson
, owner of The Drapers Arms in Highbury, was not one to shy away from the more adventurous foods in Burma (he actually liked the aforementioned tripe) and wasn't scared to try deep-fried chicken feet.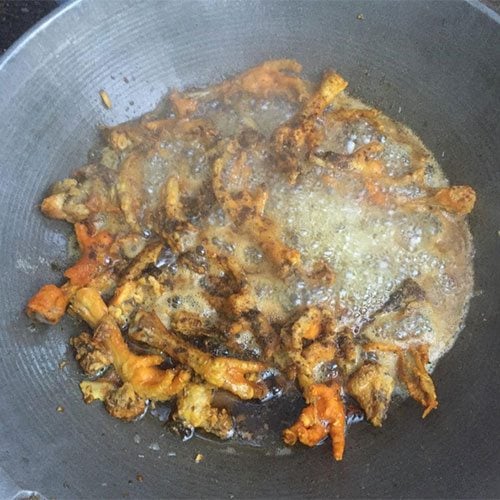 Nieves Barragan
, executive chef at
Barrafina
, found sweet street food with these coconut pancakes.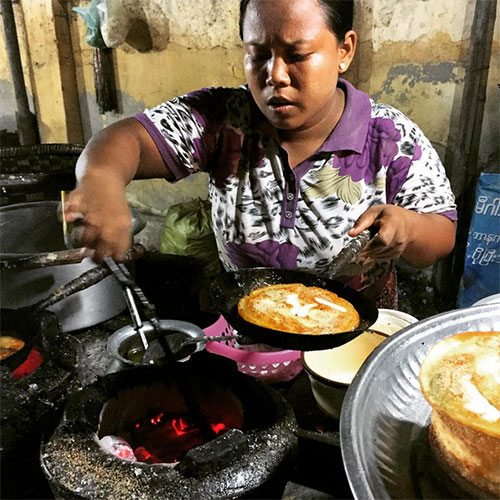 The best thing about Burma, hands down, is the people. They are so welcoming and so generous; they loved nothing more than us trying their home-cooked food and seeing the pleasure on our faces as we enjoyed it.
One day, a day off cycling, we went to a small village in Kayah state to see the brilliant work that Action Against Hunger is doing in Burma. After a beautiful all-singing, all-dancing welcome, the villagers went about creating a lunch feast for us.
Tom Allerton, freelance restaurant accountant, captured the men at work – they were making minced chicken sausage encased in pig's intestine.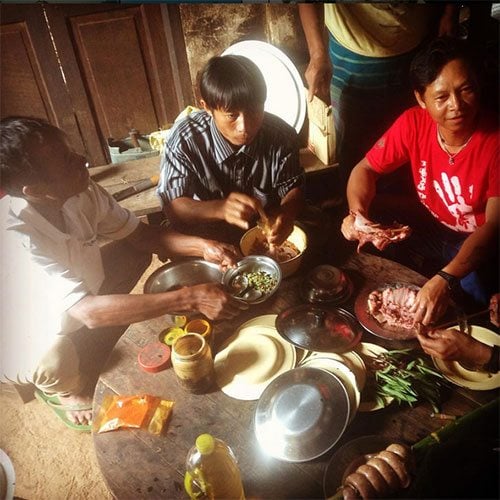 Dan Doherty
snapped the sausages, curled around bamboo skewers, as they were being slowly cooked over a wooden fire pit.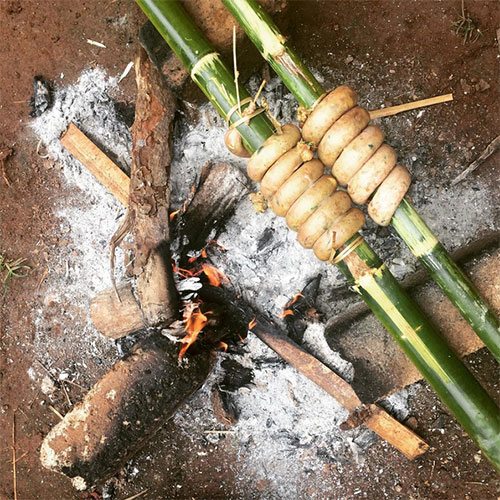 The chicken sausage, which tasted incredible, was served with an assortment of soups and salads. One on the most popular salads was a nutty green bean salad, one that we ate time and again in Burma.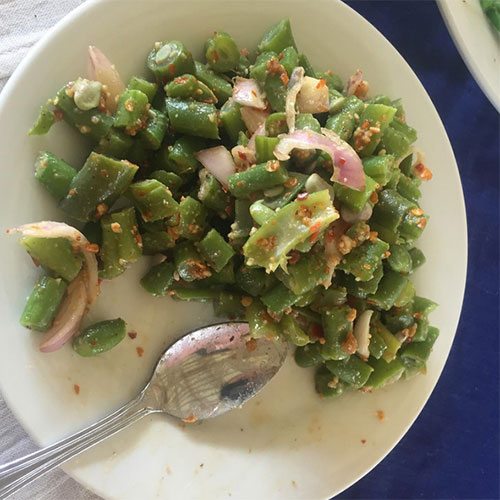 The villagers also made sweet and sticky glutinous rice – we were each treated to a string of rice parcels on our departure from the village.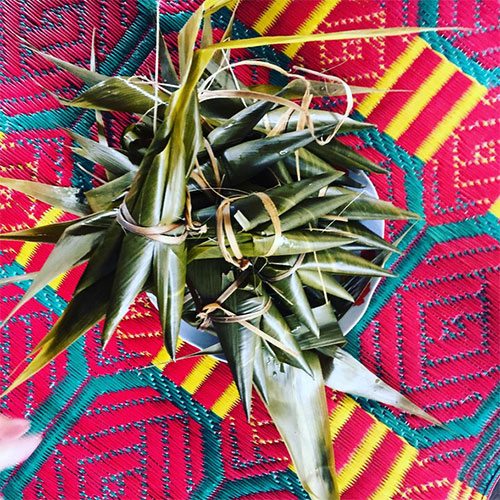 We were lucky enough to visit lots of different markets in Burma, from the hustle and bustle of the huge Rangoon (Yangon) market selling swathes of fabric, glistening gold and handmade ornaments, to the simple stalls at the side of the road selling home-grown produce.
The latter were the most colourful – Shaun Searley, the head chef of The Quality Chop House, encapsulated the brilliance of the colours at this lady's tomato stall.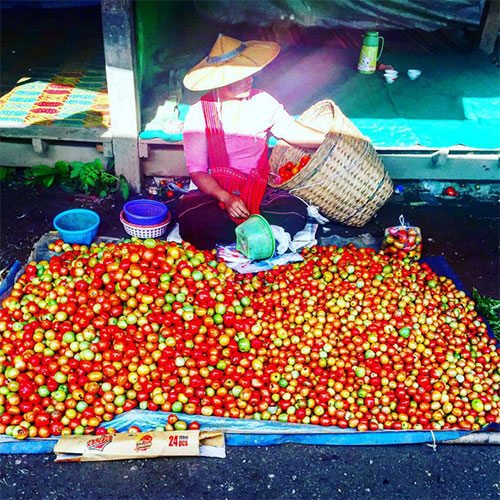 And, considering I work in an office that's so close to Borough Market, I'd never seen anything quite so vibrant as this stall of fresh vegetables.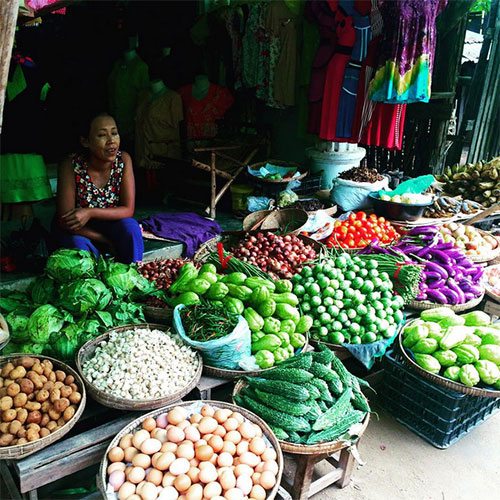 If you're visiting Burma, my advice to you is: be brave – try as many different foods as you can. You can be sure that wherever you go, the people there will be more than happy to ply you with food and drink.
Subscribe to our magazine
Subscribe to delicious. magazine for HALF PRICE
Subscribe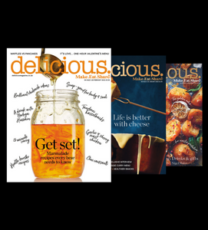 Join our newsletter
Packed with menu ideas, recipes, latest competitions and more...