Cookbook road test: Meats, Eats, Drinks & Leaves by Penny Ericson
The author…
Penny Ericson published this cookbook in 2014 to celebrate the chefs, restaurants and producers of Hampshire and the Isle of Wight. Penny's husband, Simon, was diagnosed with bowel cancer in 2009 and was saved by a revolutionary surgery performed by the staff at the Pelican Cancer Foundation. All of the chefs and establishments featured in the book helped Penny raise money for the foundation.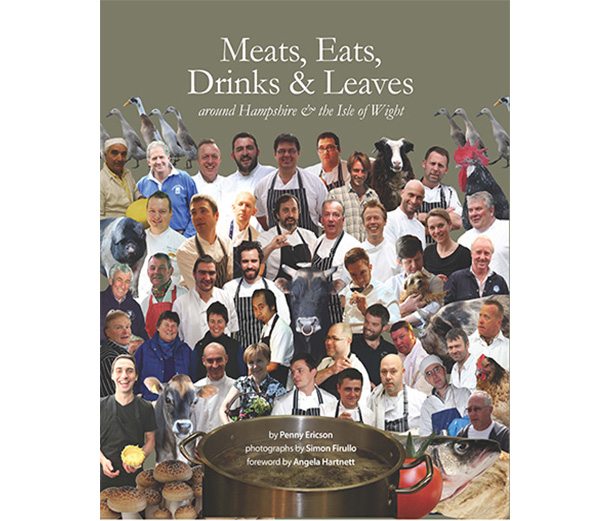 The theme…
The book sets out to capture the essence of Hampshire and the Isle of Wight by featuring 22 of the area's best known chefs, their restaurants, and the local producers they partner with. It's an ode to the modern, innovative chefs that flock to the area, as well as to establishments that have been around for centuries, and it embodies the farm-to-fork mantra, and values of food provenance, that are important to the region. 
What about the recipes?
They're sometimes straightforward and sometimes, very, very complicated. These are recipes from chefs, after all…
Some of the restaurants will only source ingredients within a five-mile radius. Many of them will forage the land around their restaurants and many smoke and cure their own meats. This is a bit of an obstacle for the home cook (even if you do happen to live in Hampshire or on the Isle of Wight).
The notes in the beginning of the book own up to the fact that some of these recipes are downright impossible or very difficult to replicate. The intention is that they should be appreciated as an opportunity to see into the mind of a renowned chef instead of being literally executed. Let's face it, not everyone has an espuma canister and two nitrous oxide capsules at home.
Quick tip: If you're throwing a dinner party, meals from this book are sure to impress – and you'll get cachet from name-dropping some of the recipes' origins. 
The recipe test…
I chose to make the Squid ink garganelli with crab and parsley recipe (pictured above) from Hartnett Holder & Co restaurant at the Lime Wood Hotel. This recipe was fairly straightforward, but does require a pasta maker, and a garganelli board (also known as a gnocchi ridger) to achieve the intended pasta shape. That's the hardest part – and it's really not that hard with the right equipment.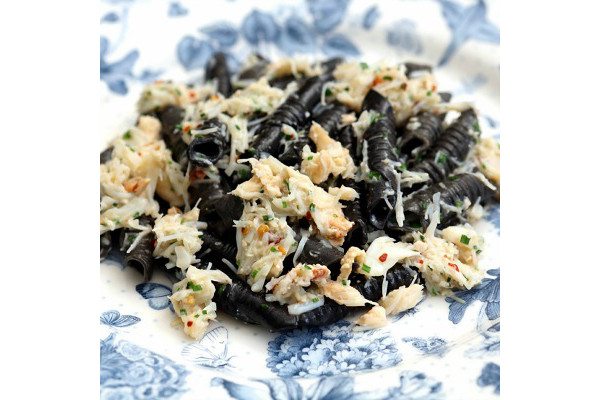 I made the recipe exactly as stated, using the food processor to combine the ingredients of the pasta dough. I've always mixed my pasta ingredients by hand, and was pleased to see that the technique worked well and saved my arms from that inevitable, shaky fatigue. The only adjustment I made to the recipe was the addition of a little black food colouring, to turn the pasta dough super black. The little trick worked and my garganelli came out perfectly al dente and shiny, with a deep black hue.
The crab mixture couldn't have been simpler to throw together – a few fresh ingredients do all the talking. Tossed with the pasta, the crab, fresh parsley and chilli were a match made in heaven. I served it as a main for two, along with some grilled vegetables and a loaf of bread. There was enough pasta left over for one person to enjoy it for lunch the next day. Sadly, I was not that one person, though I was informed it tasted even better the next day…
Here's my recipe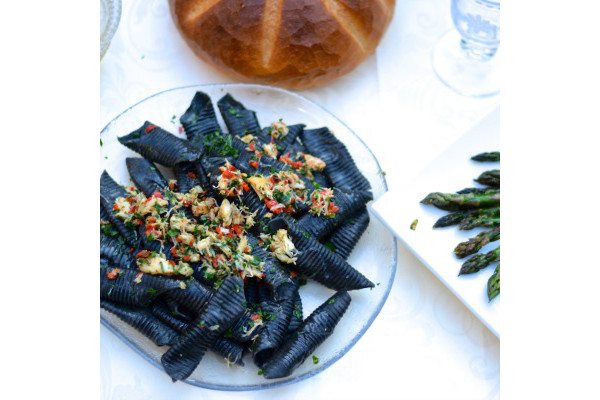 Squid ink garganelli with crab and parsley
Serves 4 as a starter
Equipment: pasta machine, garganelli board and rolling pin
2 Lymington crab, white meat only (reserve the rest for other things)
1 red chilli, very finely chopped
A small bunch of parsley, finely chopped
A knob of butter
A splash of olive oil
A few chives, chopped
Salt and pepper
Garganelli
200g pasta flour ('00')
7 egg yolks
50ml squid ink
"Garganelli is typical of the Emilia-Romagna region of Italy. It's an egg-pasta with an open-rolled flap and is usually ridged horizontally for texture and, of course, Northern Italian style."
1. For the pasta, blend the flour, egg yolks and squid ink together in a food processor until a rough dough is formed. Leave to rest in a refrigerator for 1 hour before use. Roll through a pasta machine to medium thickness (the number will depend on your pasta machine). Lay the sheets on a garganelli board and gently roll to create ridges. Once rolled, blanched for 20 seconds in boiling, salted, oiled water and refresh in iced water. You can cook them in boiling water as you need them, or warm them and serve them al dente.
2. For the crab, heat the oil and butter in a pan, add the chilli and crab and, when nicely cooked, add some parsley and chives. Season to taste.
3. To serve, place the pasta in a deep dish, dress with hot crab and drizzle the residual liquid from the pan. Sprinkle with chives and serve hot.
This recipe is from Luke Holder of Harnett Holder & Co of Lime Wood Hotel in the New Forest and has been taken from Meats, Eats, Drinks & Leaves (2014) by Penny Ericson. It's available from all good bookshops and online retailers.
Subscribe to our magazine
Subscribe to delicious. magazine for HALF PRICE
Subscribe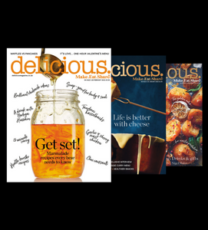 Join our newsletter
Packed with menu ideas, recipes, latest competitions and more...