How to make beef carpaccio
Beef carpaccio is a wonderful dish to serve as a sharing plate, and easy to prepare with this step-by-step guide.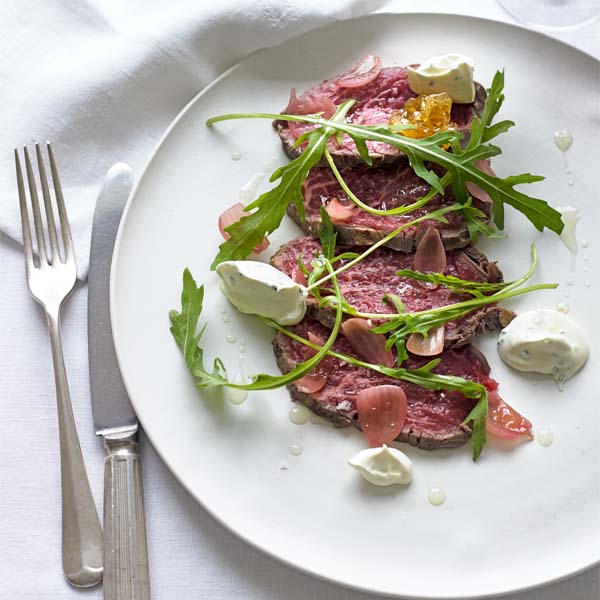 Carpaccio is often served with spicy wild rocket, a drizzle of top quality extra-virgin olive oil and a squeeze of lemon juice. Here it is served with black pepper-flavoured oil, sweet and sour onions and a zingy, gingery crème fraîche dressing.
Beef carpaccio
Serves 6-8. Takes 1 hour to make, 8-10 minutes to cook, plus overnight freezing and steeping
Ingredients:
For the beef
50ml sunflower oil
30cm piece beef fillet, at room temperature (see tips)
25g salted butter
Rocket and sea salt to serve
For the black pepper oil
200ml sunflower oil
Black peppercorns, roughly crushed using a pestle and mortar
For the sweet and sour onions
330ml distilled malt vinegar
300g caster sugar
3 medium onions, finely sliced
For the shallots
2 juniper berries
2 black peppercorns
125ml cranberry juice
25g caster sugar
20ml sherry vinegar
4 small shallots, topped and tailed, quartered and layers separated
For the chive crème fraîche
250ml crème fraîche
15 chives, finely sliced
Juice of ½ lime
25ml double cream
Sea salt and ground ginger
Know-how
It's much easier to slice beef carpaccio thinly when it's still a little frozen. Normally the meat is cut on a slicer – cutting by hand makes it slightly thicker, but it still melts in the mouth. There's no need to worry about eating raw meat: almost all the harmful bacteria is found on the outside, and the hot searing process kills it off.
Tips
If beef fillet is out of your price range, ask your butcher for a cylindrical, single muscle of either rump or topside (explain it's for carpaccio). It will be a little more chewy, but still good.
The sweet and sour onions are also fantastic with cheese or cold meats. Try adding chopped dried apricots or pistachios to the onions at the very end of the recipe.
Make ahead
You'll need to start at least 1 day before you plan to eat (you can freeze the seared beef for up to 3 days). There are a lot of stages, but they're simple and can all be done the night before.
If you want to pre-slice the beef (step 7) it can be stored in the fridge for 2-3 hours between layers of cling film. Allow to come to room temperature before you serve.
How to make beef carpaccio
For the beef, heat the sunflower oil in a large frying pan. When the oil shimmers, add the beef, searing all over for 8-10 minutes until browned and crisp.
Add the butter to the pan and lower the heat. When the butter has melted and smells biscuity, spoon over the beef to baste.
Once the browned beef has been basted all over, remove it from the pan and allow it to cool on a rack set over a tray, pouring the butter from the pan all over it. Once completely cool, wrap tightly in cling film, transfer to the freezer and freeze for 24 hours (or up to 3 days).
Meanwhile, prepare the rest of the dish. For the black pepper oil, pour the sunflower oil into a small saucepan, add the pepper and heat very gently until the oil just begins to shimmer – don't let it boil. Turn off the heat and allow to cool. Cover and steep the peppercorns in the oil overnight. The next day, strain through a sieve into a jar to remove the larger bits of pepper, then set aside.
For the sweet and sour onions, put the vinegar and sugar in a heavy-based saucepan and bring to the boil over a high heat. Add the onions, then boil hard for around 20 minutes, stirring often, until the liquid has reduced to a sweet, sticky, almost orangey caramel. Take off the heat and set aside.
For the shallots, put all the ingredients except the shallots
in a small saucepan, then heat gently until steaming. Add the shallots and cook over a very gentle heat for 1-2 minutes until they just start to take on a pink colour, then remove from the heat and allow everything to stand so the shallots can steep in the liquid. Drain when ready to serve.
For the chive crème fraîche, mix everything together and stir until combined. Season with sea salt and ground ginger to taste. Chill.
Remove the beef from the freezer around 5-6 hours before you want to serve it. At normal room temperature it will take this long out of the freezer to defrost partially. To serve, cut the beef into thin slices (it should still be a bit frozen) and arrange on serving plates. It will finish defrosting very quickly when sliced.
Let the sliced beef defrost and come to room temperature by letting it stand for 10-15 minutes. Drizzle with the black pepper oil, then spoon on the sweet and sour onions (if they've become too stiff and sticky, put the pan in a bowl of warm water to loosen them up a little). Sprinkle over the shallots, dot the plate with teaspoons of the chive crème fraîche, then dress with rocket. Scatter with sea salt and serve.
PER SERVING
(based on 8) 438kcals, 25.5g fat (10.9g saturated), 32.9g protein, 18.2g carbs (16.9g sugars), 0.2g salt, 0.9g fibre
Subscribe to our magazine
Subscribe to delicious. magazine for HALF PRICE
Subscribe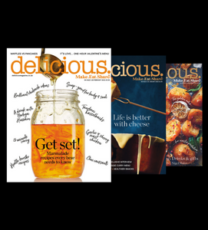 Join our newsletter
Packed with menu ideas, recipes, latest competitions and more...