How to make flavoured butters
Flavoured butters have the power to turn a simple dish or snack into something totally new and exciting. And the good news is homemade flavoured butters are actually really simple to make.
If you want to go the next stretch and make your own butter from scratch, we've included a recipe to help you do that. Otherwise, these recipes can easily be made with shop-bought butter instead. Take a look at some of our favourite flavoured butters and let us know your favourites…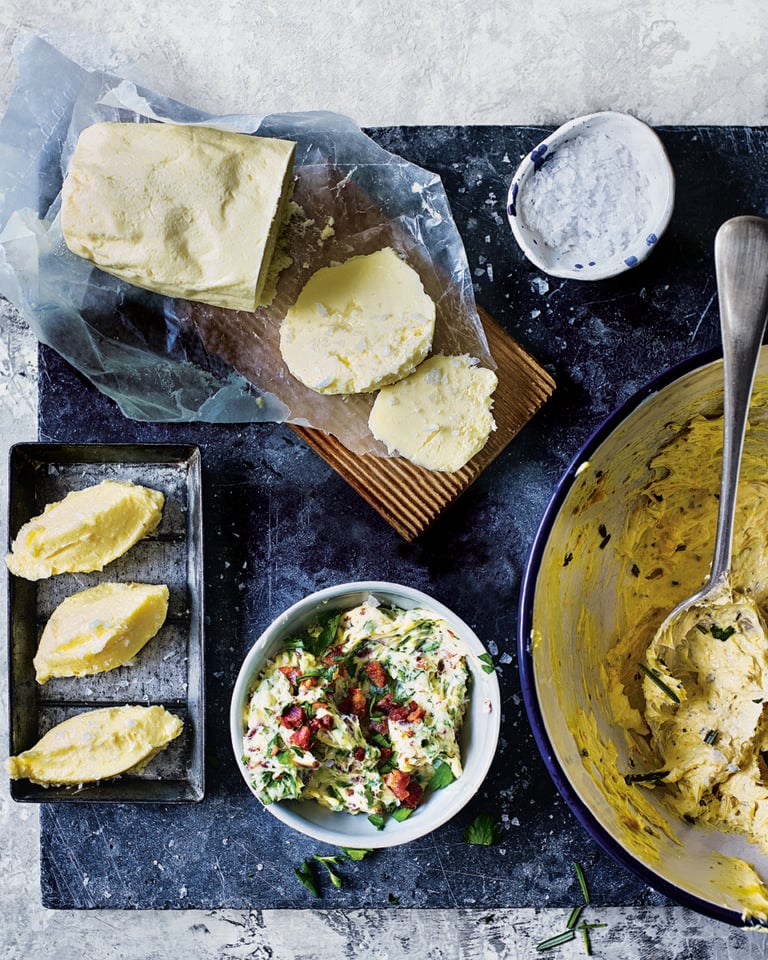 Flavoured butters are an effortless way of adding a touch of luxury to a dish – and they're ever so quick and doable to make at home. Serve lashings of the stuff with fresh bread, use to top steamed vegetables, stir into soups or melt over grilled fish or meat. Plus, once you've wrapped them in cling film, they keep easily in the freezer. Simply slice off discs as and when you need them or store in the fridge for up to a week.
How to make homemade butter
Makes: 300g butter
Hands-on time: 20 min, plus chilling
All you need is…
600ml double cream, at room temperature
Method…
Put the cream into a stand mixer with the whisk attachment and whisk to soft peaks, then swap the whisk for the paddle attachment. Depending on how warm the cream is, you'll need to beat it for anything between 2 and 6 minutes. It will split into butter and buttermilk. As soon as the buttermilk starts sloshing around in the bowl, drain it off and keep beating until all the buttermilk has come out.
Drain off any remaining buttermilk from the bowl. If you're going to use the butter straightaway, it's ready. However, if you want to store it, add ice-cold water to the mixing bowl (not the ice you chilled it with). Push the butter around in the water, then drain off the water and repeat until the water runs clear. This is to wash off all the buttermilk, which will turn the butter sour within 24 hours if you're not careful.
When the butter is ready, shape it to fit your preferred butter dish or wrap in wax paper and keep covered in the fridge for up to a week.
Tips: For smaller quantities, use a sealed jar. Shake vigorously until butter forms and separates from the buttermilk. Drain the buttermilk and keep shaking until no more comes out, then store the butter as in step 2 or flavour it. Keep any buttermilk covered in the fridge – it will turn sour in a few days and then can be used in recipes that require buttermilk.
Our favourite flavoured butters and how to make them…
Whipped orange, honey and rosemary butter
Put 300g room-temperature butter in a mixing bowl with 3 tbsp clear honey, the grated zest of 2 oranges, 1 tbsp finely chopped fresh rosemary and a pinch of salt. Using an electric hand mixer, beat for about 4-5 minutes until light and smooth, with a whipped consistency. Eat straightaway or store, covered, in a cool room until needed.
Parmesan garlic butter
Put 300g room-temperature butter in a bowl and leave to soften. Finely grate 50g parmesan on top and add 2 crushed garlic cloves. Using an electric hand mixer beat together until just smooth, or whisk further to create a whipped consistency. Serve straightaway or set aside, covered, in a cool room until needed.
Caramelised bacon and anchovy butter
Bring 300g butter up to room temperature. Meanwhile, heat a medium frying pan and fry 200g smoked bacon lardons for 10-15 minutes on a medium-high heat until cooked, golden and crisp. Add 5 anchovy fillets in oil, drained, and fry for 1-2 minutes, then turn off the heat and leave to cool. Finely chop the cooled bacon/anchovies, then beat into the butter with a bunch of chopped fresh flatleaf parsley. Serve right away or chill until needed.
You're going to need some bread with all that butter! Luckily, we've got plenty of delicious bread recipes to pair them with. 
Subscribe to our magazine
Subscribe to delicious. magazine for HALF PRICE
Subscribe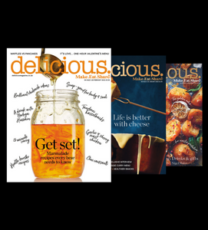 Join our newsletter
Packed with menu ideas, recipes, latest competitions and more...