How to make salt hake fritters with orange alioli
Ben Tish's light fritters work well on their own as a starter or as a tapas dish at a Spanish-themed dinner.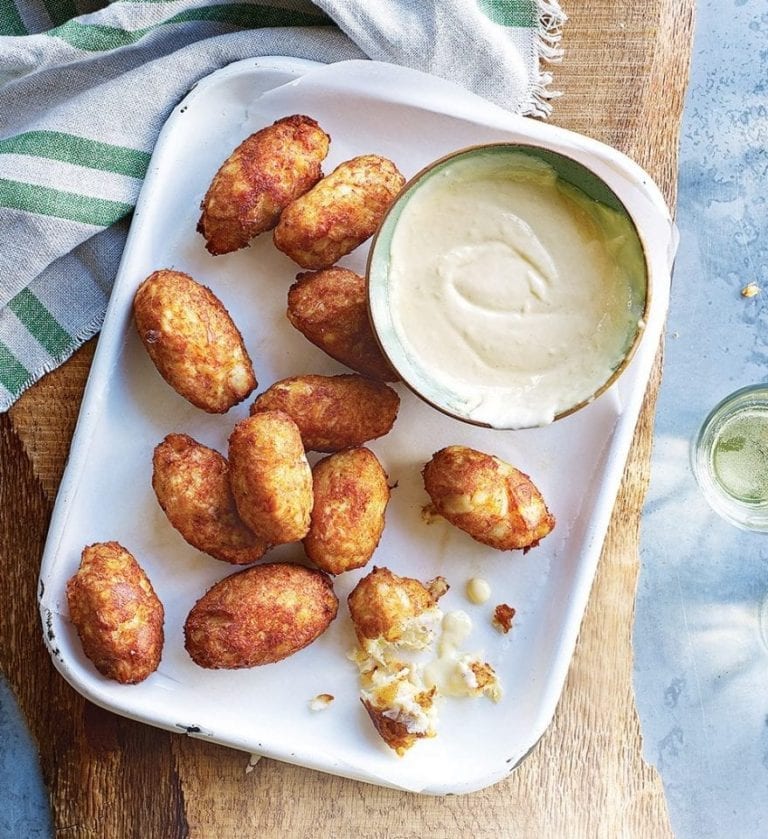 You will need:
FOR THE SALT HAKE
250g rock salt
5 fresh thyme sprigs, 
roughly chopped
4 garlic cloves, 
chopped
600g fresh hake, 
skin on

FOR THE FRITTERS 
100g rock salt
1 large maris piper 
potato (about 400g), pricked several times with a fork
Salt hake – see above, well rinsed (or see tip)
550ml whole milk
3 garlic cloves, 
crushed
1 bay leaf
Large fresh rosemary sprig
40g cold unsalted butter, diced
50g plain flour, sifted
2 medium free-range eggs, beaten
1 tbsp orange juice
2 litres sunflower oil for frying
FOR THE ORANGE ALIOLI
100ml freshly squeezed orange juice
125g good quality alioli (garlic mayonnaise)
YOU'LL ALSO NEED…
A deep-fat fryer or digital probethermometer
1. To make the salt hake, put half the 250g salt in a non-reactive dish (glass or ceramic are good choices) along with half the thyme and half the chopped garlic. Put the hake on top, then completely cover with the remaining salt, thyme and garlic.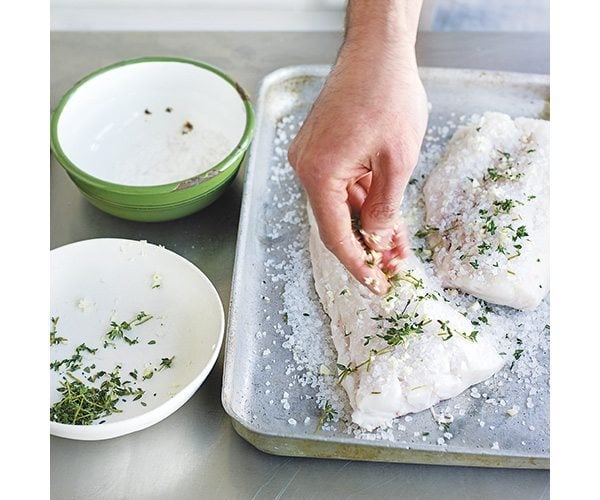 2. Cover the dish with cling film, then chill for 24 hours, turning the fish and re-covering with the salt mix every 8 hours. After 24 hours, remove the fish from the salt and soak in a bowl of cold water for 15 minutes. Drain, add fresh water, leave the fish for 15 minutes more before draining and rinsing again, then pat it dry.
3. To make the fritters, heat the oven to 200°C/180°C fan/gas 6. Sprinkle the 100g rock salt in a baking tray and put the potato on top (the salt will help to draw moisture out of the potato). Cook for 11⁄4 hours or until the potato is soft. When it's cooled a bit, peel, then break up the flesh.
4. While the potato is cooking, make the orange alioli: put the 100ml orange juice in a small saucepan, then bubble until sticky and reduced by two thirds. Whisk it into the alioli, then cover and chill until needed.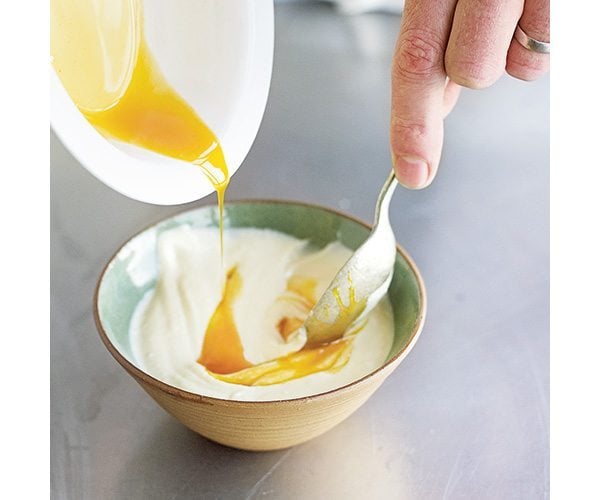 5. Put the salt hake in a pan and cover with the milk. Add the garlic, bay and rosemary, bring to the boil, then turn off the heat and leave the fish to cook in the residual heat from the milk. Set aside to cool.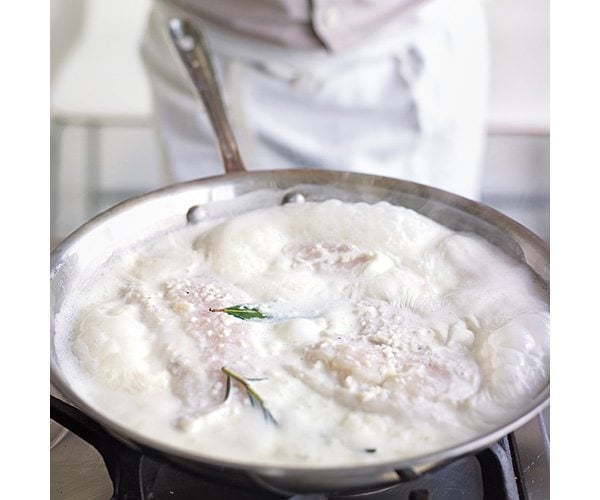 6. Bring the butter and 150ml cold water to the boil in a large saucepan, then stir in the flour. Beat well with a wooden spoon until a dough forms and comes away from the sides of the pan. Remove from the heat and cool for 5 minutes.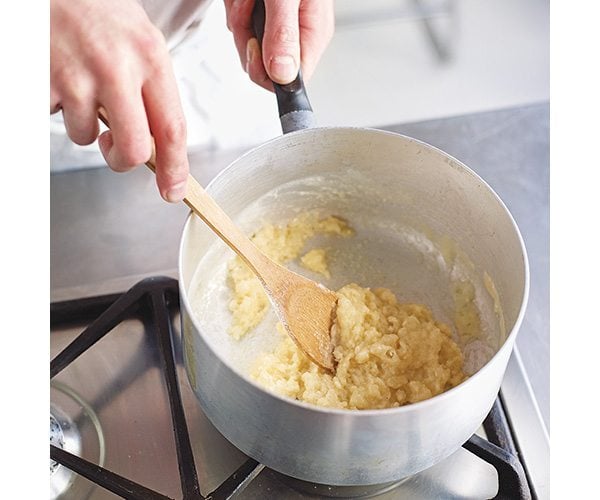 7. Slowly add the eggs, beating in well to make a smooth, shiny choux paste.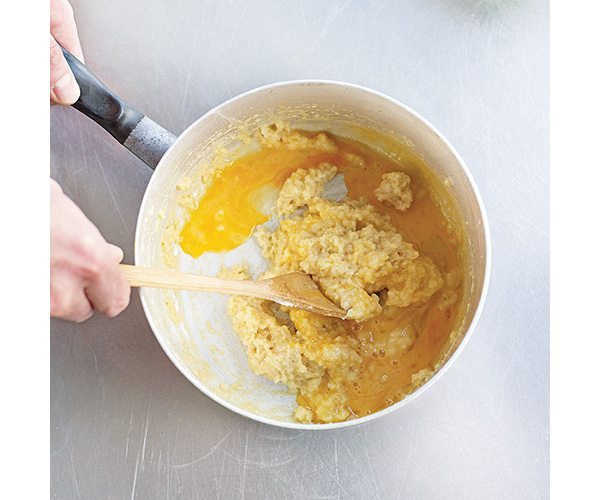 8. Remove the cooled hake from the milk, then flake into large chunks into a bowl. Add the potato, hake, 1 tbsp orange juice and some pepper (it won't need salt) to the choux paste [F]. Mix well, then cover and chill for 2 hours (see Ben's tips, below).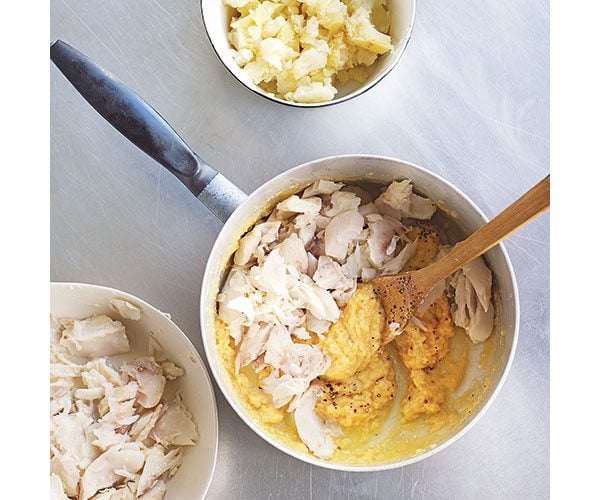 9. Shape into small balls or croquettes, then chill for at least 20 minutes to firm up (see Ben's tips below).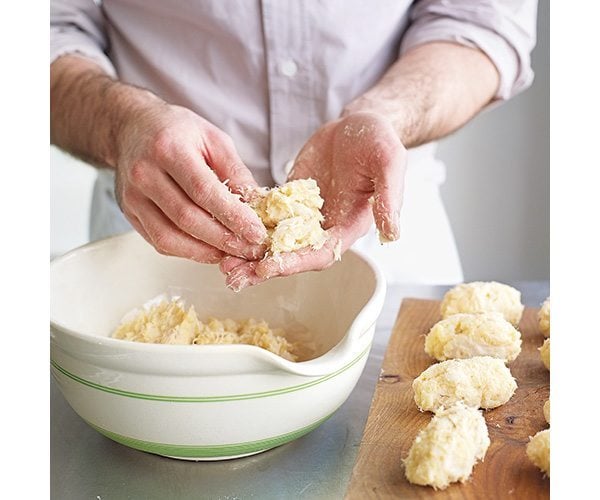 10. Heat the vegetable oil to 180°C in a deep fat fryer (or half-fill a large pan with the oil, then heat to 180°C on a digital probe thermometer). Fry the fritters for around 3-4 minutes until golden – you'll need to do this in batches so as not to cool the oil down too much.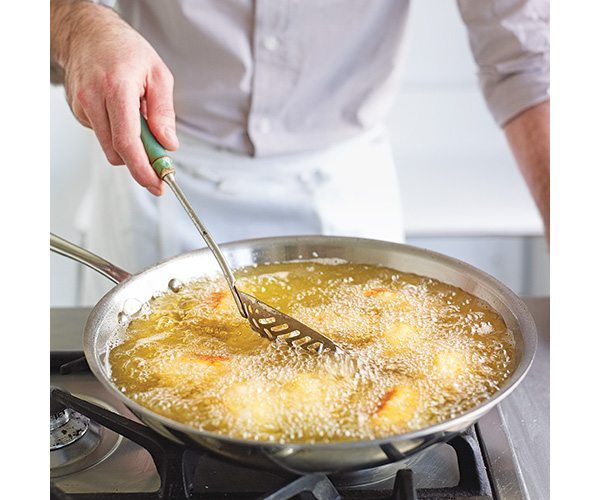 11. Remove with a slotted spoon, then drain well on kitchen paper. Serve with the alioli.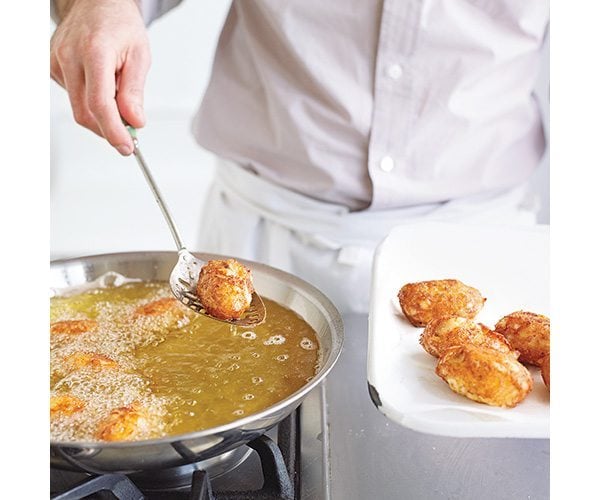 MAKE AHEAD
Make the fritters up to the point of frying them, then keep uncovered in the fridge for up to 12 hours. Bring to room temperature before cooking. Ben says: "You can freeze the shaped fritters on a tray, then defrost and cook as in the recipe.
KNOW-HOW
Salting the fish for 24 hours extracts moisture from it, giving a firmer texture.
FOOD TEAM'S TIPS
We used hake but cod is just as good (use the same quantities). You can buy salt cod if you like. This is drier than the homemade stuff so you'll need about 350g. It will need overnight soaking, with several changes of water – follow the pack instructions.
BEN'S TIPS FOR SUCCESS
It's important to leave the fritter mixture for 2 hours in the fridge to firm up before shaping (step 7) – it'll be much easier to work with.
Don't smooth the fritters too much when shaping. They'll look more natural and any rough edges will crisp up better. → Chilling the shaped fritters helps them keep their shape when they're frying in the oil.
NUTRITIONAL INFORMATION PER FRITTER 181kcals, 12.4g fat (2.3g saturated), 9.8g protein, 7.3g carbs (0.9g sugars), 1.8g salt, 0.7g fibre
WINE EDITOR'S CHOICE Unoaked Iberian white such as a Douro region blanco or a Galician albariño
Subscribe to our magazine
Subscribe to delicious. magazine for HALF PRICE
Subscribe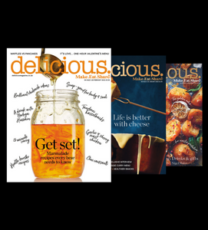 Join our newsletter
Packed with menu ideas, recipes, latest competitions and more...